Concept of Career Planning
A career may be defined as 'a sequence of jobs that constitute what a person does for a living'.
Career planning is a process by which one selects career goals and the path to those goals. It involves a clear selection of career goals and career paths. Career planning encourages individuals to explore and gather information, which enables them to syn­thesize, gain competencies, make decisions, set goals, and take action. It is a crucial phase of human resource development that helps the employees in making a strategy for work-life balance.
Career goals
Career goals are the desired future positions an employee strives to reach as a part of the career.
Career path
Career path is the sequential pattern of jobs during a career. It can cover a period of 30 years or more till retirement of the employee. It takes a long-term perspective of the job.
Career planning is a continuous process. HRM should facilitate it by providing career education, information, and counseling to employees for career planning purpose.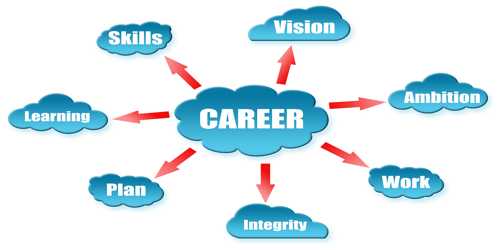 Career education
Career education increased employee awareness about career planning through a variety of educational techniques, such as:
Workshops and seminars about career planning
Memoranda and position papers about career planning
Speeches about career planning
Career information
Career information provides information to employees about career planning. Such information can be available through Human Resource Information System. HR specialists can advise about career goals and alternative career paths.
Career counseling
Career counseling is done by professional counselors. They listen to employees and provide job-related information. They help employees to uncover their career interests. Employee self-assessment and environmental assessment are made during for career counseling.
Features of Career Planning and Career Development:
It is an ongoing process.
It helps individuals develop skills required to fulfill different career roles.
It strengthens work-related activities in the organization.
It defines life, career, abilities, and interests of the employees.
It can also give professional directions, as they relate to career goals.
Information Source: