Clinoptilolite is a natural zeolite comprising a microporous arrangement of silica and alumina tetrahedra. It has the complex formula: (Na,K,Ca)2-3Al3(Al,Si)2Si13O36·12H2O. The name is derived from the Greek words klino (κλίνω; "oblique"), ptylon (φτερών; "feather"), and lithos (λίθος; "stone").
It is used in many applications such as a chemical sieve, a gas absorber, a feed additive, a food additive, an odor control agent and as a water filter for municipal and residential drinking water and aquariums. It was described in 1969 from an occurrence in Owl Canyon, San Bernardino County, California.
General Information
Category: Tectosilicates Zeolites
Formula: (Na,K,Ca)2-3Al3(Al,Si)2Si13O3612H2O
Crystal system: Monoclinic
Unknown space group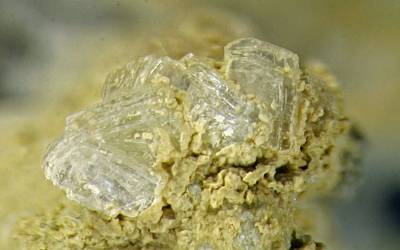 Properties
It forms as white to reddish tabular monoclinic tectosilicate crystals with a Mohs hardness of 3.5 to 4 and a specific gravity of 2.1 to 2.2. It commonly occurs as a devitrification product of volcanic glass shards in tuff and as vesicle fillings in basalts, andesites, and rhyolites.
Mohs scale hardness: 3.5 – 4
Luster: Vitreous
Color is colorless, white, pink, yellow, reddish and pale brown.
Transparency: Crystals are transparent to translucent.
Crystal Habits include blocky or tabular crystals with good monoclinic crystal form.
Fracture is uneven.
Specific Gravity is approximately 2.2 (very light)
The streak is white.
Structure
The structure of clinoptilolite is the same as heulandite and is sheet-like. It forms a series with heulandite:
Clinoptilolite-Ca – heulandite-Ca solid solution series
Clinoptilolite-K – heulandite-K solid solution series
Clinoptilolite-Na – Heulandite-Na solid solution series
Use of clinoptilolite in industry and academia focuses on its ion exchange properties having a strong exchange affinity for ammonium (NH4+). A typical example of this is in its use as an enzyme-based urea sensor. It is also used as fertilizer and sold as a deodorizer in the form of pebble-sized chunks contained in a mesh bag.
Information Source;