A clawback is a contractual provision whereby money already paid to an employee must be returned to an employer or benefactor, sometimes with a penalty. The term refers to any money or benefits that have been given out but are required to be returned (clawed back) due to special circumstances or events, such as the monies having been received as the result of a financial crime, or where there is a clawback provision in the executive compensation contract. This is a special contractual clause, used mostly in financial firms, for money paid for services to be returned under special circumstances or events as stated in the contract.
Clawback is a provision under which money that's already been paid out must be returned to the employer or the firm. The primary aim of such a provision is to prevent managers from using incorrect accounting information.
Clawbacks involve a penalty, making them different from simple repayments or refunds. Many companies use clawback policies in employee contracts for incentive-based pay like bonuses. They are most often used in the financial industry. According to research, after the provision of clawback is included, investors develop more confidence in a firm's financial statements. Most clawback provisions are non-negotiable. Clawbacks are typically used in response to misconduct, scandals, poor performance, or a drop in company profits. It is mostly used in securing tax incentives, abatements, refunds, and grants.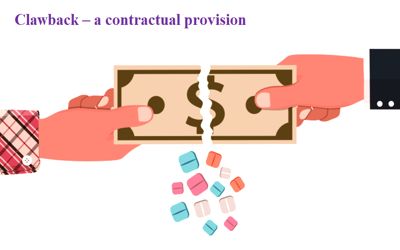 Clawbacks are a situation in which a government or company takes back money that it has already paid. They are different from other refunds or repayments because they often come with a penalty. It is a contractual requirement that presupposes that funds previously assigned to an employee must be returned to an employer or sponsor, sometimes with a fine. In other words, an employee must pay additional funds to the employer in case the clawback is put into effect.
Clawbacks are a significant part of the strategy because they help rebuild the trust and loyalty of investors and society to a business. They are considered an important part of the business model because they help to restore the confidence and faith of investors and the public in a company or industry. Many businesses use it in agreements with their employees for rewards like bonuses. For example, banks implemented clawback provisions following the financial crisis as a way to correct any future mistakes by their executives. For instance, they can serve to avoid the improper use of fiscal data by a financial company's employees.
Information Source: