Banking Overview of Dhaka Bank Limited
Dhaka Bank Limited (DBL) is the leading private sector bank in Bangladesh offering full range of Personal, Corporate, International Trade, Foreign Exchange, Lease Finance and Capital Market Services. The Bank has launched Online Banking service and being fully equipped with industry standard IT infrastructure, Online Banking, E-Commerce, Internet Banking (iBank) and SMS Banking – Dhaka Bank is one of the fastest growing private banks in Bangladesh. Dhaka Bank Limited is the preferred choice in banking for friendly and personalized services, cutting edge technology, tailored solutions for business needs, global reach in trade and commerce and high yield on investments, assuring Excellence in Banking Services.
Historical background of DBL
The Bank was incorporated as a public limited company under the Companies Act. 1994. The Bank started its commercial operation on July 05, 1995 with an authorized capital of Tk. 1,000 million and paid up capital of Tk. 100 million.
The Company went for the public issue of shares on 18 November 1999 and its shares are listed with the Stock Exchange of Bangladesh. Now it has 56 branches all over Bangladesh, an offshore banking unit at EPZ, Dhaka, 6 SME Service Centers and 6 units of Capital Market Services(CMS).As envisaged in the Memorandum of Association and as licensed by Bangladesh Bank under the provisions of the Banking Companies Act 1991, the Company started its banking operation and entitled to carry out the following types of banking business:
(i) All types of commercial banking activities including Money Market operations.
(ii) Investment in Merchant Banking activities.
(iii) Investment in Company activities.
(iv) Financiers, Promoters, Capitalists etc.
(v) Financial Intermediary Services.
Two other branches of the bank are run under Islamic Shariah, the modus operandi of which is substantially different from other non- Islamic branches. The bank is listed with Dhaka Stock Exchange and Chittagong Stock Exchange as a publicly quoted company for its general class of shares. Dhaka Bank is also the member of Central Depository of Bangladesh Limited (CDBL).
The Company/Bank carries out international business through a Global Network of Foreign Correspondent Banks.
Vision of DBL:
At Dhaka Bank, we draw our inspiration from the distant. Our vision is to assure a standard that makes every banking transaction a pleasurable experience. Our endeavor is to offer you supreme service through accuracy, reliability, timely delivery, cutting edge technology and tailored solution for business needs, global reach in trade and commerce and high yield on your investments.
Our people, products and processes are aligned to meet the demand of our discerning customers. Our goal is to achieve a distinct foresight. Our prime objective is to deliver a quality that demonstrates a true reflection of our vision – Excellence in Banking.
Mission of DBL:
To be the premier financial institution in the country providing high quality products and services backed by latest technology and a team of highly motivated personnel to deliver Excellence in Banking.
VALUES of DBL:
Customer Focus
Integrity and Honesty
Quality
Teamwork
Respect for the Individual
Responsible Citizenship
Transparency and Accountability
Environmentally Conscious
High Morale
Functions of DBL
(a) The main task of DBL is to accept deposits from various customers through various accounts.
(b) Provides loans on easy terms and conditions.
(c) Creates loan deposit.
(d) Invests its fund into profitable sectors.
(e) Transfers money by Demand Draft (DD), Pay Order (PO) and Telegraphic Transfer, etc.
(f) Does transaction of bill of exchange, cheque, etc on behalf of the clients.
(g) DBL assists in the foreign exchange by issuing leer of credit.
(h) Insures the securities o valuable documents of clients.
(i) Brings the increasing power of dimension of transaction.
(J) Above all, DBL helps the businessmen by giving them discount facilities for bills of Exchange and by providing the facility of Letter of Guarantee
ACHIEVEMENTS
Certificate of Merit from lCAB – 2008
Bangladesh remittance Awards – 2009
Best Bank Award – 2009
CSR Award – 2009
Products & Services of DBL: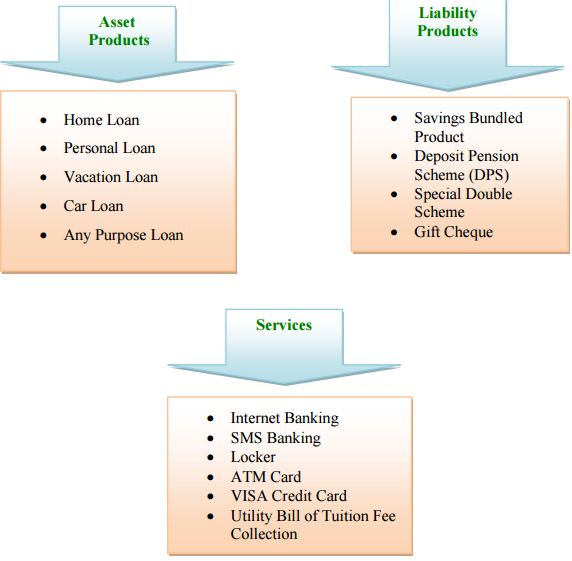 STRATEGIC OBJECTIVE OF DBL:
The objectives of DBL are to conduct transparent and high quality business operation based on market mechanism within the legal and social framework spelt in its mission and reflected in its vision.
The greatest concerns are customers to provide them continually efficient, innovative and high quality products with excellent delivery system.
The motto is to generate profit with qualitative business as a sustainable ever growing Organization and enhance fair returns to shareholders.
Committed to community as a corporate citizen and contributing towards the progress of the nation as corporate social responsibility.
Promote employees well being through attractive compensation package, promoting staff morale through training, development and career planning.
Strive for fulfillment of responsibility to the government through paying entire range of taxes and duties and abiding the other rules.
Cautious about environment & climatic change and dutiful to make homeland a green and clean soil.
Ethical Principles of DBL:
DBL is committed to the following ethical principles:
Compliant to country's laws and regulations.
Reject bribery and corruption.
Avoid compromised gifts and entertainment.
Speak up if suspect any actual, planned or potential behavior that may breach any laws and regulations.
Compliant to Anti Money Laundering guidelines and other prudential regulations 7.provided by regulators.
Resolve customer complaints quickly and fairly.
Maintain confidentiality and fidelity of our customer.
Treat our colleagues with fairness and respect; work with highly motivated team spirit and fellowship bondage.
SWOT Analysis of the DBL
SWOT Analysis is an important tool for evaluating the companies Strengths, Weaknesses, Opportunities and Threats. It helps the organization to identify how to evaluate its performance and can scan the macro environment, which is turn would help the organization to navigate in the Turbulence Ocean of competition. Following is given the SWOT analysis of Dhaka Bank Ltd: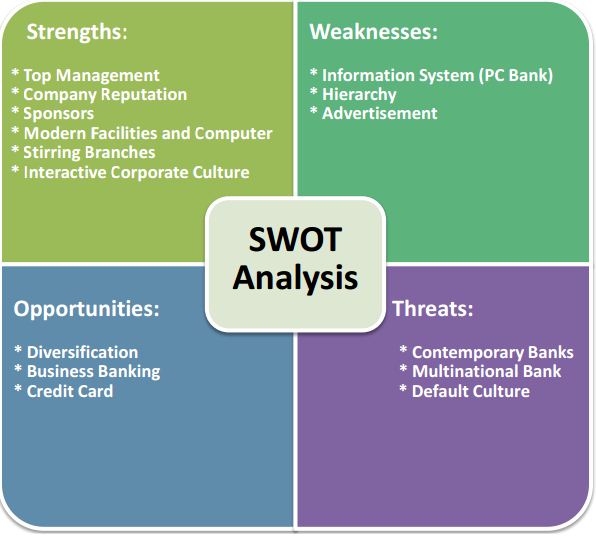 Strengths
Top Management
The top management of the bank, the key strength for DBL has contributed heavily towards the growth and development of the bank. The top management officials are highly educated and some of the most experienced banking personnel of our country.
Company Reputation
The reputation of the bank is increasing day by day. People are relying on this bank gradually.
Sponsors
The sponsors of the bank are some of the top companies and top business personnel of our country.
Modern Facilities and Computer
From the very beginning DBL tries to furnish their work surroundings with modern equipment and facilities. For speedy service to the customer, DBL had installed money-counting machine in the teller counter. The bank has computerized banking operation under software called Flex cube. More over computer printed statements are available to internal use and occasionally for the customers. DBL is equipped with telex and fax facilities.
Stirring Branches
From the formative stage of DBL tried to furnish their branches by the impressive style. Their well-decorated branches gets attention of the potential customer, this is one kind of positioning strategy. Khilgaon Branch is also impressive and is comparable of foreign banks.
6. Interactive Corporate Culture
The corporate culture of DBL is very much interactive compare to other local organization. This interactive environment encourages the employee to work attentively. Science the banking jobs is very much routine work oriented and lovely environment boots up the work capability of the employees.
Weaknesses
Limitation of Information System (PC Bank):
PC bank is not comprehensive banking software. It is desirable that a more comprehensive banking system should replace PC bank system.
Hierarchy Problem:
The hierarchy problem treated as a weakness for DBL, because the employee will not stay for a long. So there will be a chance of brain drain from this bank to her bank.
Advertisement Problem:
There is another weakness for DBL is advertisement. Their media coverage is not so rich that people can know the bank thoroughly.
Opportunities
Diversification
Dhaka Bank can pursue diversification strategy in expanding its current line of business. They do not serve not only the army but also the general people.
Business Banking
The investment potential of Bangladesh is foreign investors. So DBL has opportunity to expand in business banking.
Credit Card
There is an opportunity to launch Credit Card in Bangladesh by DBL. Beside this, DBL can acquire services for cards like VISA, MASTER CARD etc. So that they can enhance the market based card service.
Threats
Contemporary Banks
The contemporary banks of Dhaka Bank like: Bank Asia, Dutch Bangla Bank, National Bank, The Trust Bank, Mutual Trust Bank is its major rivals. They are carrying out aggressive campaign to attract lucrative clients as well as big time depositors. DBL should remain vigilant about the steps taken by these banks, as these will in turn affect DBL strategies.
Multinational Bank
The Rapid expansion of multinational bank poses a potential threat to new PCB's. Due to the booming energy sector, more foreign banks are expected to operate in Bangladesh. Moreover, the existing foreign banks such as HSBC, AMEX, CITI N.A, and Standard Chattered are now pursing an aggressive branch expansion strategy. Since the foreign banks have tremendous financial strength, it will pose a threat to local bank to a certain extant in terms of grabbing the lucrative clients.
Default Culture
Default culture is very much familiar in our country. For a bank, it is very harmful. As the bank grows older it might become big problems.
SPECIFIC RESPONSIBILITIES OF THE JOB
Internship Program: Handling the internship program which include placement of intern, provide appointment letter to them, look after a database of Internship Program and prepared internship certificate for interns. Updating list of interns and look out appropriate opportunity to find provisions for interns in the bank.
Resource Planning Unit: I have helped my seniors to sort out CV's for new Recruitment and handled a database for that. I have called those candidate who had been shortlisted for written exam and told them to collect their admit card for exam.
New Employee Hiring: Assist with recruitment strategies and events for employment and Collect data and compile overall hiring report. I have participated in orientation sessions and served necessary papers to them.
Compensation Management Unit: I have to develop leave application and give entry of those process leave in HRIS. Next to this I also have to look after in employee liabilities and loan status and for provident and gratuity fund also maintain a database of employee nominee list.
Training and Development: I have participated in Training and Development session with my seniors who helped me to understand responsibilities and rules of this bank.
Update old files: Before all employees files based on paper, which creates lots of problems to maintain. So I have converted it from paper based to computer based.
Strategies of Staffing at Dhaka Bank Limited:
Staffing is the process of acquiring, deploying and retaining workforce of sufficient quantity and quality to create positive impacts on the organization effectiveness and DBL always try to maintain this with some steps. When they recruit candidates they always focus positive interaction of the candidate qualification and job characteristics are match with each other or not. Basically they always try to match person with the particular job. Moreover they emphasis on develop the talent rather than acquiring. They have a separate training and development unit where they train their existing employees and try to make then efficient for their job.
In every year DBL do annul business plan, this plan is done once in a year and which determines the upcoming year's required headcount. And based on that information they recruit people. DBL basically maintain plan based HRP and time frame of this planning is 1 year. They mostly prefer internal hiring for advanced position but for entry/junior level or MTO/TCO position they go for external one. In DBL the number of employees is 1458. Among the total workforce 6 people are in top management, 32 are in senior management, 136 are in middle management, 561 are in junior level, 643 are in officer level and 80 people are working as supporting staff in bank.
CRITICAL OBSERVATIONS
In Dhaka bank HR division they follow transparent selection process to recruit right candidates for the right position.
They focus more concentration on previous experience, educational background, length of services when they search for any experienced people.
They concentrate more on pro-activeness, creativeness, ideas which related with the post when they select entry level candidates so that they can select the right people.
There is a lack of swiftness and performance of HRIS Software (SCALED).
They strictly follow the rules and policy when the recruitment process executed.
RECOMMENDATIONS:
As their IT department is not properly developed because most of the day their system was hanged and did not work properly. So DBL authority should concentrate more on their IT Division.
Dhaka Bank should solve their HRIS software (SCALED) problem so that they can conduct their day to day activity properly.
Management should concentrate on employees overall benefits and motivational policies as they are facing retention problem.
In spite of having educational quality, they do not become able for apply. It not only makes upset the students but also Dhaka Bank loses a huge number of qualified candidates. A huge number of students study in national university but no one is eligible for Dhaka Bank; it cannot be agreed. As employing the most suitable person is major concern of DBL, DBL should give more importance on talent, intelligence, merit rather than age for its welfare.
In order to overcome this problem, DBL can extend the age limit up to 32 years instead of 30 years so that every year DBL can get maximum number of eligible candidates which makes easier for DBL to select perfect employees for it.
All these above mentioned recommendation can make the recruitment and selection procedures more acceptable as the guidelines have been suggested on the basis of analysis.