Executive Summary:
 This term paper is prepared over the telecommunication sector of Bangladesh. In this term paper we discuss about all the companies that are currently running their business in market. Any one can easily get the idea about all the companies as well as the current market situation in telecommunication sector. In this term paper we mainly focus on each of the company's product and promotional activities, their operations and also about the services to customers. By studying this term paper any one have the clear idea about different product of different companies that are currently available in this market.
Objectives of the Term Paper
Main object of this term paper is to know about the 'Telecommunication Industry in Bangladesh'. Continuous Improvement of customer satisfactions and resource management.
Methodology
We have conducted the literature search connected to the topic to support and direct the research. This search was mainly conducting on the University databases, Journal databases, Library Journals, websites and Textbooks.
We have searched the databases provided by University library access, like Emerald, Business Insight, ABI/Inform, Global Information Inc (professional Research reports) and search engines like Google scholar and university special search engine connected to all databases and textbooks. The key words mainly used were Bangladesh Telecom industry, Telecom future, Trends in Telecom, Bangladesh telecom Market.
In the full range of articles and journals on the subject of internationals marketing, investing in a new market, the We have found one of them very useful on the subject of "Bangladesh Telecom Brief 2004" This paper tells the inside of offering and the potential what Bangladesh market offers, not exactly the same subject but one major side of our paper has the subject of same interest.
The Theoretical Framework has been created with the help of some text books on International Marketing and marketing in general. Text books of marketing such as "International marketing" by Cateora & Ghauri (2006), "Internationall Marketing" by Bennett & Blythe (2002) and On Competition of Porter M. (1998) has been used for this project.
Limitations
This report is not out of some limitations. Throughout the report we have faced a lot of problems. Some of this are-
Limitations regarding appropriate locations
Lack of information on recent wind speed.
No definite government rules regarding about company Act etc.
Primary data are not available enough
Introduction
The liberalization of Bangladesh's telecommunications sector began with small steps in 1989 with the issuance of a license to a private operator for the provision of inter alia cellular mobile services to compete with the previous monopoly provider of telecommunications services the Bangladesh Telegraph and Telephone Board (BTTB). Significant changes in the number of fixed and mobile services deployed in Bangladesh occurred in the late 1990s and the number of services in operation has subsequently grown exponentially in the past five years.
The incentives both from government and public sectors have helped to grow this sector. It is now one of the biggest sector of Bangladesh. As a populous country, it's huge market has attracted many foreign investors to invest in this sector.
Telecom Infrastructure in Bangladesh
Many foreign investors are now interested to do business in telecom sector in Bangladesh which reveals that Bangladesh has become a significant hub for telecoms. It has been forecasted that the average revenue from telecoms sector will be Tk1500crore2 a year. Bangladesh is a country which is densely populated and also is a flat and easily extends able coverage. The infrastructure and Tele-density is low which on the other hand made the market a perfect place for telecom business. The demand is very high and the consumer base is very large but the investment is low because of the topographic layout. The government has a receptive foreign investment policy with no restrictions on repatriation of profit. Even though the current infrastructure is not much developed but it is suitable for foreign investment.
Bangladesh has a huge potential in WiMax and submarine cable which is a new technology in the country and has attracted the foreign telecom operators. Many foreign telecom operators are coming to Bangladesh to explore the potentiality of the technology. Some interested international telecom operators who want to start a business in Bangladesh are UK-based Orange Telecom, South Korean SK Telecom and UAE's Etisalat.
The government is encouraging private sector to invest more in the industry as they think that the industry is playing a vital role in developing the socioeconomic structure of the country. And to ensure that, the government has taken several attempt. Giving private sector the license for fixed line telephone is one of those attempts. Due to the environmental facts, the foreign entrants should adjust their equipments according to demand of the environment
Mobile Price War
According to Mr Shah, the entry of Banglalink in February 2005 has sparked a price war. Banglalink's attractive launch offer included a new connection and handset at a low start-up cost of US$51. Following Banglalink, three other private operators – Grameen Phone, Robi and CityCell – have also come up with various value-added offers resulting in an intense price battle.
The development of a competitive mobile phone market is expected to prompt an easing in cellphone tariffs going forward, after years of escalation in what was a captive market. Consumers will also benefit from cheaper connection and call rates.
State-owned operator Teletalk, however, is expected to struggle in this new environment as it is still grappling with poor network coverage and inefficient management.
New SIM Tax
Controversially, the country's 2004/05 annual budget (delivered in June 2005) imposed a tax of US$18 on each new SIM card connection, raising a huge furore among cellphone operators. Operators think that the new tax will pose a serious entry hurdle for low-income earners and will significantly stifle growth expectations.
According to the latest figures from BIS Shrapnel research, the sale of mobile phone connections has picked up after an initial slowdown in June and July 2006. The tax on SIM cards was revised to US$13.50 in August in response to fierce demands from operators
Mobile Handset Market
In tandem with the growing subscriber base, sales of mobile handsets has increased at a phenomenal pace. However, nearly 70% of mobile handsets available in the local market have been entering through informal channels, depriving the Government and importers of a huge amount of revenue each year. In a serious bid to turn around this drastic situation, the Bangladesh Government reduced the tax on mobile handset imports from US$22.50 to only US$4.50 in mid 2005. Mr Shah explains that although this initiative has revived the situation to a certain extent, the effect on the grey market has not been as significant as was expected by distributors and importers.
Interviews conducted by BIS Shrapnel with leading distributors reveal that the grey market is currently holding around 40% market share, but they are hopeful this will diminish over the coming months.
According to BIS Shrapnel research, Bangladesh's mobile handset market is dominated by first-time users (nearly 85%), as the country is still in its infancy in terms of mobile phone usage. Further, 80% of the handset market is dominated by ultra-low to low-end handsets, available for less than US$68, due to the country's low per capita income levels.
As with many other Asia-Pacific countries, the Bangladesh mobile handset market is predominantly captured by global handset giant Nokia (approximately 52% market share) followed by Siemens.
Mr Shah explains that the success of these two vendors can be attributed to excellent handset quality, ease of use, an efficient sales and distribution network, dedicated after-sales service, and regular launches of low-priced handsets to meet market demand.
The Mobile World Statistics
According to The Mobile World, at the end of Q3 2005, the country's penetration has just nudged over 5% – with 7.3 million customers. Grameen Phone is the market leader with 4.2 million customers. Number two in the market is Robil (Telekom Malaysia) with just over 2 million customers. Sheba Telecom has just over 600,000 customers while Pacific Bangladesh Telecom has just over 300,000 customers and Teletalk Bangladesh picks up the tail with 120,000 customers. Airtel Telecom had not reported figures at the time."
OVERVIEW OF MOBILE TELECOM MARKET IN BANGLADESH:
Currently there are 6 mobile operators in Bangladesh. They are namely-
Grameenphone – Joint venture ownership 62%Telenor and 38%Grameen Telecom .
Banglalink – Joint venture with Orascom Telecom Co. originated from Egypt.
Robi – Joint venture between Telecom Malaysia Berhad TM and A. K. Khan& company limited
Waried Telecom – An investment of Dubai and Abu Dhabi Group UAE.
TeleTalk – Public limited company but 100% share have been owned by the government of Bangladesh.
Citycell – Joint venture with SingTel Asia pacific investment Pvt. limited.
Over the last two to three years, the number of mobile subscribers in Bangladesh has been more than or close to more than doubling on an annual basis. By end-2007, the subscriber base had reached 34 million and was continuing to grow at an annual rate of around 60%. With the momentum that has been developed on the back of the government's deregulation process, the strong growth seemed likely to continue. The entry of new operators into the market has certainly helped to further boost the competitive environment. This report describes how the mobile market is growing and the impact this is having on the developing nation, as well as providing an outline of the main players. The report also has a brief overview of the TV broadcasting sector.
Consumer demand in Bangladesh makes the mobile market one of the fastest growing markets in the world. During first six months of 2007, Bangladesh recorded 7.7 million (1.3 million/month) subscribers. At this pace, the expected mobile subscribers by the end of 2007 were 35 million and a market penetration of around 25%, signifying year-on-year growth of up to 70%. The following figure can give an over view of the potential market of Bangladesh in near future. (Telecom Insight 2007)
The rivals and their brief profile:
Now we will see the brief company profile of these rivals:
grameen phone
Grameenphone is a GSM (global system of mobile communication)-based cellular operator in Bangladesh. It has started operations on March 26, 1997. It is partly owned by Telenor (62%) and Grameen Telecom (38%). Grameenphone is the largest mobile phone company in Bangladesh with 23.04 million customers as of october, 2008. It is also one the fastest growing cellular telephone network in Bangladesh. At the end of 2008, it had about 5200 BTS (Base Tower Stations) around the country. Grameenphone's stated goal is to provide cost-effective and quality cellular services in Bangladesh. On the 16th of November, 2006 GP formally changed its logo to match its parent company Telenor's logo. According to GP the new logo symbolizes trust, reliability, quality and constant progress. Grameenphone has already picked up 425 core taka of Non-convertible Senior Coupon Biasing Bond @ interest rate of 14.5 by the help of ten financial group of the companies. The company is recently going to call for IPO (Initial Public Offering) to collect capital from share market of the country of 6 core 50 lakh dollar (449 core taka). GP has submitted the prospectus of proposal for IPO in 12/12/2008 to the chairman of SEC (Security and Exchange Commission). The name of present CEO of GrameenPhone is Odver Heszedal.
The name Grameenphone was kept as part of the new identity because the name Grameenphone carries with it all of the heritage, success and values of the companies past, added the then CEO of Grameenphone Erik Aas.
Hawaii, and Ericsson provides technological support to GrameenPhone. The tower range of GP exists 5-7 km. The technology used by Grameenphone is 1G (First Generation) which is supportable to 2G (Second Generation).
>>Products offered
Grameenphone offers subscription in two categories, Prepaid Subscription and Postpaid Subscription.
>>Prepaid subscriptions are sub-divided into three plans:
Smile:
smile (mobile to mobile connectivity within Bangladesh),
smile PSTN (nationwide and international mobile and land line connectivity)
djuice (a youth based mobile to mobile connectivity within Bangladesh).
>>Postpaid plan:
xplore (nationwide and international mobile and landline connectivity)
Grameenphone also offers different value-added services including SMS, MMS, Welcome Tunes (Ringback Tones), Voice SMS, SMS Push-Pull Service, Voice Mail Service (VMS), and Fax and Data among others. Grameenphone was the first mobile operator in Bangladesh to offer EDGE services to its subscribers.
>>Other activities
>>Village phone
With the help of Grameenphone, Grameen Telecom operates the national Village Phone programme, alongside its own parent Grameen Bank and the International Finance Corporation (IFC), acting as the sole provider of telecommunications services to a number of rural areas.
>>Community Information Centers
Community Information Center (CIC) or GPCIC is aimed at providing internet access and other communications services to rural areas. In February 2006, 26 CICs were established across the country as a pilot project. In this project, Grameenphone provides GSM/EDGE/GPRS infrastructure and technical support and other partners Grameen Telecom.

>>Grameenphone Centers
A grameenphone center (GPC) serves as a "one stop solution" for customers, with all telecommunications products and services, under a single roof. A grameenphone center also sells phones from vendors like Nokia, Samsung, Motorola,Sagem and Benq. EDGE/GPRS modems and accessories such chargers and headphones are also sold at GPCs.
CSR(Corporate social responsibility):
Grameenpnone focuses its CSR on the field of followings:
It contributes its responsibilities toward countries education, empowerment & health sector.
Beautification of the city towns.
It is the official sponsor of Bangladesh Cricket Board (BCB).
SWOT analysis:
According to the executive opinion we have analyzed the SWOT of the company. According to a executive of GP their-
Strength: Network coverage (94%of total area of the country.) &Total number
of customer.
Weakness: Short term defensive strategy & high call rate, which may hamper
the company's good will & Future competition.
Opportunity: To get link to the up coming technology i.e. Wi-Max.
Threat: Up coming technology may not support the present technological
infrastructure. And Banglalink.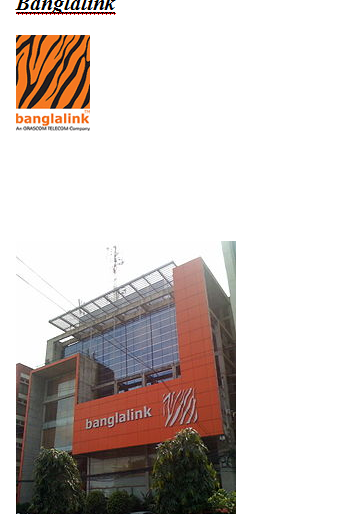 With a slogan of "making it difference"- banglalink started operations in February 2005. Previously, it was known as Sheba Telecom Pvt. Ltd that had been providing GSM (global system of mobile communication) services in Bangladesh since 1998. Orascom Telecom bought 100% share of Sheba Telecom in 2004 and gave its new name as banglalink.
banglalink, is the second largest cellular service provider in Bangladesh. As of August, 2008, banglalink has a subscriber base of more than 10 million. It is a wholly owned subsidiary of Orascom Telecom. banglalink had 1.03 million connections until December, 2005. The number of banglalink users increased by more than 253 per cent and stood at 3.64 million at the end of 2006, making it the fastest growing operator in the world of that year. In August, 2006, banglalink became the first company to provide free incoming calls from BTTB for both postpaid and prepaid connections. banglalink provides its powerful network by 5500(approx) BTS (Base Tower Stations) is covering 486 Thanas reasonably and 61 districts, covering a total population of around 90% till mid of 2008. After Govt. withdrawal of the restriction of planting network infrastructure from the three hilly districts (i.e. Banderbarban, Kagrachori & Rangamati) banglalink covered the 64 districts within very short time. The name of present CEO (Chief Executive Officer) of banglalink is Ahmed Abu Domer.
The logo of the company is designed on keeping the national animal i.e. Royal Bangle Tiger in mind, which symbolize to the faster growth. During the 3rd quartile of this year which means july-september, 2008 the company earned 524 core BDT. And the companies market expanded to 10.17 million customers. An banglalink's executive opinion about this was, the quality of product & service and continuous development of network has help them to reach this position. He also hoped that the customer size of the company will increased to 10.35 million by the end of this year. banglalink serves their customers with more than 700 CCP(Customer Care Point). Till now banglalink has invested 6,324 cores BDT. for the development of network and infrastructure.
Nokia-Siemens network & Hawaii provides technological support to banglalink. The tower range of banglalink exists 5-9 km. in case sometime it varies to about 13-15 km. The technology used by banglalink is 1G (First Generation) which is supportable to 2G (Second Generation). Banglalink also has
1500 km. of Fiber Optic cable which gives the surety of good network. During the occasional periods banglalink ensures much better service than the other operators.
Products Offered
Prepaid Packages
banglalink currently offers two prepaid plans. All the prepaid plans come in two phases—Standard (T&T incoming and outgoing with NWD and ISD) and M2M. All connections provide GPRS to subscribers.
ü desh, with the slogan One country, one rate, is one of the cheapest prepaid plans in the country by tariff.
ü ladies, first!, with the slogan Shomporker Network (means network of relationship), is tailored for women.
Postpaid Packages
Currently there are three postpaid plans from banglalink. These packages are called enterprise personal. All packages come with T&T local, NWD, ISD and e-ISD connectivity.
ü personal package 1
ü personal package 2
ü personal call and control
banglalink enterprise offers a wide range of products and services to suit the needs of the business community. The current packages are:
ü enterprise corporate; targeted at the corporate segment
ü enterprise SME; targeted at the SME segment
ü enterprise personal
banglalink CU package is targeted at the shopkeepers, which offers PCO facility to the general public. It comes in two varieties:
ü CU
ü CU call and control
banglalink points are aimed at providing a complete mobile solution, connections, handsets, accessories and provide selected customer services like SIM replacement, reconnection, bill payment etc. They are strategically located at key points around the country. Kallol Group a local distribution company had partnered with banglalink to operate at least forty banglalink points through out the country. As of March, 2008, the deal with Kallol Group has been called off and banglalink is focusing on managing its own customer care centers.
CSR(Corporate social responsibility):
Banglalink focuses its CSR on the field of followings:
Tradition & culture of Bengal.
Beautification of the city towns.
It is the official sponsor of Bangladesh Tourism Corporation.
It has under taken the voting campaign to vote for Cox-bazaar and sunder-boon and cleaning Cox-bazaar.
It has provided Trolley for the passengers of ZiaInternationalAirport.
 SWOT analysis:
According to the executive opinion we have analyzed the SWOT of the company. According to a executive of GP their-
Strength: Active distribution management and sales personnel & brand
image. And network coverage (95% of total population).
Weakness: Time constant with other companies are not suitable.
Opportunity: Rural market & corporate customers.
Threat: Only time sense.
The executive also emphasized banglalink – as best mobile company of the country. And are capable to be a market leader within short period of time. According to him team sprite, superior-subordinate relationship, and working environment is excellent. The company is ready to take any challenges and have the capability to overcome it.
Robi Axiata Limited is a joint venture company between Axiata Group Berhad, Malaysia and NTT DOCOMO INC, Japan. It was formerly known as Telekom Malaysia International (Bangladesh) which commenced operations in Bangladesh in 1997 with the brand name ROBI. On 28th March 2010, the service name was rebranded as 'Robi' and the company came to be known as Robi Axiata Limited.
Robi is truly a people-oriented brand of Bangladesh. Robi, the people's champion, is there for the people of Bangladesh, where they want and the way they want. Having the local tradition at its core, Robi marches ahead with innovation and creativity.
To ensure leading-edge technology, Robi draws from the international expertise of Axiata and NTT DOCOMO INC. It supports 2G voice, CAMEL Phase II & III and GPRS/EDGE service with high speed internet connectivity. Its GSM service is based on a robust network architecture and cutting edge technology such as Intelligent Network (IN), which provides peace-of-mind solutions in terms of voice clarity, extensive nationwide network coverage and multiple global partners for international roaming. It has the widest International Roaming coverage in Bangladesh connecting 600 operators across more than 200 countries. Its customer centric solution includes value added services (VAS), quality customer care, easy access call centers, digital network security and flexible tariff rates.
Robi offers an array of different packages. In addition to offering the fundamental pre-paid and post-paid mobile services, it offers a wide range of value added products and services such as, SMS, GPRS, mobile data services, infotainment services, SMS banking, Caller Ring Back Tone, Ringtones download, Picture Messaging, MMS, Voice Greetings, Call Blocking on 4th August 2008, which give subscriber to control which call he or she receive or not and Bengali SMS.
ROBI has 19 CustomerCareCenters and 200 Customer Service Points in 61 allowable districts all over the country. Robi has another 670 Robi Touch Points (ATP) scattered along the most densely populated areas.
CSR(Corporate social responsibility):
Robi has been offering scholarships to three Bangladeshi students every year for bachelor courses in engineering, information technology and business administration since 1998 to study at MultimediaUniversity in Malaysia. It is the founding member of Chittagong Skills Development Centre (CSDC) that is offering technical training and business management education through its strategic partnership with Penang Skill Development Centre (PSDC) of Malaysia and its internal members. It also beautifies the city areas. In 2007 Robi received Standard Chartered-Financial Express Corporate Social Responsibility (CSR) Award 2006 for their significant contributions to CSR and philanthropic activities.
SWOT Analysis
According to the executive opinion we have analyzed the SWOT of the company. According to a executive of GP their-
Strength: Call rate superiority (at present situation.) & network system
Weakness: poor customer service & late response to competitors offer.
Opportunity: great opportunity to expand market by present network
system which adopt the Wi-Max technology.
Threat: other potential GSM network like Airtel(NGN)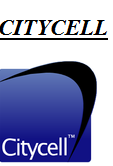 Citycell (Pacific Bangladesh Telecom Limited) is the first mobile communications company of Bangladesh. It is the only CDMA (Code division multiple access) network operator in the country. As of 1st March, 2008, Citycell's total mobile subscriber base is 1.56 million, up 137 per cent or 680,000 from two years ago, giving it the best growth rate of the company till date. Citycell is currently owned by Singtel with 45% stake and the rest 55% owned by Pacific Group and Far East Telecom.
In 1989 Bangladesh Telecom Limited (BTL) was awarded a license to operate cellular, paging, and other wireless communication networks. Then in 1990 Hutchison Bangladesh Telecom Limited (HBTL) was incorporated in Bangladesh as a joint venture between BTL and Hutchison Telecommunications (Bangladesh) Limited. HBTL began commercial operation in Dhaka using the AMPS mobile technology in 1993 and became the 1st cellular operator in South Asia[2]. Later that year Pacific Motors bought 50% of BTL. By 1996 HBTL was renamed as Pacific Bangladesh Telecom Limited (PBTL) and launched the brand name "Citycell Digital" to market its cellular products. Michel Seymour is the present CEO of Citycell
Hawaii, Ericsson & Motorola provides technological support to Citycell. The tower range of Citycell exists to 5-6 km. in case sometime it varies to about 9 km.(Max.) The technology used by Citycell is CDMA1X(Code division multiple access). Citycell is consolidating its position in wireless data by launching their Zoom EV-DO (evaluation data optimize) for the broadband wireless internet service.
Although CDMA1X technology is the latest technology citycell could not not flourishing the companies market position although it was the first company to launch Mobile cellular phones. Executive opinion abut this is that the failure of the policy maker to take right decision in right time is the main cause . But he also appreciated the policies of present CEO of citycell for capturing the market position. He also thinks that the countries most Mobile companies are GSM, so they may induce the GSM union to capture the market.
Citycell offers prepaid, postpaid and fixed phone plans. Since Citycell operates in CDMA, RIM's are usually sold with a phone mostly cheap Chinese sets produced by ZTE, Huawei, Samsung, Motorola and Alcatel. Citycell currently has the cheapest phone+connection tariff at 1399 taka.
There are 6 Customer care centers of Citycell in the country. One for each division and there are another 500 Customer care Points scattered around the country
ü World operator rank by connections : 258th
ü Market Share : ≈4.5%
ü Market Penetration : ≈1.1%
[*Data – Q2 2008]
CSR(Corporate social responsibility):
Citycell focuses its CSR on the field of followings:
It contributes its responsibilities toward countries education, anti-drug & health sector.
Beautification of the city towns.
It is the official sponsor Bangladesh Football federation.
SWOT analysis:
According to the executive opinion we have analyzed the SWOT of the company. According to a executive of GP their-
Strength: Digital technology CDMA1X. And network coverage (92% of
total population).
Weakness: Failing of making consciousness to the people about CDMA1X
technology.
Opportunity: Broadband wireless technology of EV-DO (evaluation data
optimize). And up coming technologies are supportable to the
present technology.
Threat: GSM technology where people habited with the change of
Handset.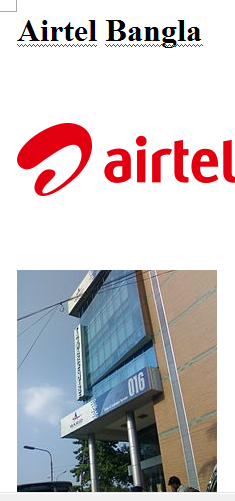 Airtel Bangladeshsales and customer services and their Head Quarters at Tajwar Center in Banani, Dhaka.
In December 2005, Airtel Telecom International LLC paid US$ 50 million to obtain a GSM license from the BTRC and became the sixth mobile phone operator in Bangladesh.
In a press conference on August 17, 2006, Airtel announced that its network would be activated two months ahead of schedule, in October, 2006. Again in October, 2006 Airtel Telecom put off the launch of its cellphone services in Bangladesh until April, 2007 after its major supplier Nokia walked out on an agreement over a payment dispute.
Airtel had a soft launch at the end of January 2007. It gave away complimentary subscriptions among a selected group of individuals, whose job was to make 'test calls' and the operator adjusted its network's quality based on their comments.
On May 9, 2007, Airtel in an advertisement in some daily newspaper stated that it would be launching publicly on May 10, 2007. However, no call rate nor any package details were revealed. The advertisement included an announcement for the people interested to buy Airtel connections to bring the documents like ID Card, etc., to the designated franchise and customer care centres.
On October 1, 2007, Airtel Telecom expanded its network to five more districts raising total number of districts under Airtel coverage to 56, said a press release. Mymensingh, Jamalpur, Sherpur, Rajbari and Narail towns were covered by Airtel network.
On November 10, 2007, 61 districts under Airtel network coverage.
On June 10, 2008, Airtel Telecom expanded its network to 3 more districts Bandarban, Khagrachhari and Rangamati. Now all 64 districts of Bangladesh are under Airtel network coverage meaning Airtel Telecom now has nationwide coverage.
On December 20, 2010, Airtel Telecom was rebranded to airtel.
Airtel provides both post-paid and pre-paid connection plans. The post-paid plan is branded and marketed across the country under the name Zahi Post-paid, which means leader or royalty. The pre-paid segment is branded and marketed as Zem Pre-Paid.
The Zem Prepaid category is divided into four segments:
ü Zem (24 hours)
ü Zem 1 Sec
ü Zem Fun
ü Zem FnF
The Zahi Postpaid category is divided into three segments:
ü Zahi Royal
ü Zahi extra
Zahi-Post-paid and Zem Pre-paid user enjoy various value added services(VAS), such as SMS, MMS, GPRS, 64K SIM, Dual SIM product, Corporate packages for product advertising via SMS, and a host of other features. However, International Roaming is available only to Zahi (post-paid) users.
Customer Care Centers and Franchises
Airtel Telecom Franchise.
Airtel has ten customer care centers around the country located at key locations. These centers are directly run by Airtel itself. Airtel has another 120 franchises spread across Bangladesh, the largest chain of retail outlets in the country, which is further backed up by a chain of sub-franchises, affinity partners & distributors.
SIM Cards, Scratch Cards and sometimes mobile sets are sold at these outlets. Bill collection for post paid users and Zem top up for pre-paid users can also be availed at the franchises. These franchises directly appoint dealers and sub-dealers in their designated areas.
SWOT Analysis
According to the executive opinion we have analyzed the SWOT of the company. According to a executive of GP their-
Strength: Customer service & NGN network.
Weakness: Product design & product marketing.
Opportunity: Adopting Wi-Max which will definitely supported by the
3G(NGN) network.
Threat: Other potential competitors.
Teletalk Bangladesh Limited is a public limited company, registered under the Registrar of the Joint stock companies of Bangladesh. Total shares owned by the Government of the Peoples Republic of Bangladesh.
We continue to grow and engage our customers through our clear commitment to offering high quality products and services as well as leading customer retention and loyalty programmers. Teletalk continues to be a part of the revolution that's connecting millions of Bangladeshi people and around the world.
Teletalk Bangladesh limited was established keeping a specific role in mind. Teletalk has forged ahead and strengthened its path over the years and achieved some feats truly to be proud of, as the only Bangladeshi mobile operator and the only operator with 100% native technical and engineering human resource base, Teletalk thrives to become the true people's phone – "Amader Phone".
Product offered:
Teletalk offers an array of different packages. In addition to offering the fundamental pre-paid and post-paid mobile services, it offers a wide range of value added products and services such as, SMS, GPRS, mobile data services, infotainment services, SMS banking, Caller Ring Back Tone, Ringtones download, Picture Messaging, MMS, Voice Greetings.
The pre-paid packages are-
ü Standard
ü Shapla (Pre-paid)
ü Shadheen
And the post-paid packages are-
ü Standard (rajanigandha)
ü Shapla (Post-paid)
Teletalk Customer Care Point(CCP)
Teletalk has established their customer care point only in the divisional cities and the big citied only. In their CCP's they provides free services to their customer and also sells the mobile hand sets, and mobile accessories.
SWOT Analysis
According to the executive opinion we have analyzed the SWOT of the company. According to a executive of GP their-
Strength: Govt. owned public ltd. Co. & they use the frequency of BTCL
Which is covered all around the country.
Weakness: Poor customer service & bad product design.
Opportunity: great opportunity to expand market by present network
system which adopt the Wi-Max technology.
Threat: other potential GSM companies.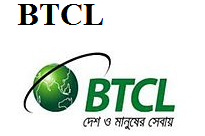 Bangladesh Telecommunications Company Limited (BTCL)
BTCL or Bangladesh Telecommunications Company Limited, formerly BTTB, began operations on July 1, 2008. The Bangladesh government initially owns all shares of BTCL but it would offload shares in the next one year for public. The value of BTCL is estimated to be at Tk 15,000 crore. BTCL has a total of 12,636 officials and staffs.
In pursuance of an ordinance promulgated by the president on 24 February 1979, the department was restructured into Bangladesh Telephone and Telegraph Board (BTTB) with a mandate to provide basic telecommunication services throughout the country. Now it has become BTCL.
BTCL provides land-line telephone services in the urban areas, domestic long-distance calling and international services. In 2004, Bangladesh Government issued a number of PSTN licenses but they were barred to provide service in the lucrative Dhaka market (which account for majority of the nationwide market). This monopoly of BTCL was broken when 6 other operators started to receive their licenses from 2007. These 6 operators include PeoplesTel, RanksTel, National Telecom Limited, WorldTel, Dhaka Phone and Telebarta.
BTCL provides dial-up Internet access in all 64 districts of the country, making it the most-accessible Internet service provider in the country. As of January 2009 its total dial-up subscriber is 32,433. Since the beginning of 2007 BTCL have improved its Dial-up Internet service for better customer satisfaction. It also handles the .bd domain.
Forecast about telecommunication market in Bangladesh:
Over the last two to three years, the number of mobile subscribers in Bangladesh has been more than or close to more than doubling on an annual basis. By end-2007, the subscriber base had reached 34 million and was continuing to grow at an annual rate of around 60%. With the momentum that has been developed on the back of the government's deregulation process, the strong growth seemed likely to continue.
IEMR's Mobile Forecast on Bangladesh provides over 65 operational and financial metrics for the Bangladesh wireless market. We cover quarterly historical data starting in 1Q2004 and ending in 1Q2008. We also provide four-year forecasts at the operator level going out to 2010. Operators covered for Bangladesh include: Bangalink/Sheba (Orascom Tel), GrameenPhone (Telenor), TM Int'l (Telekom Malaysia), PBTL (SingTel), and Airtel BTTB. Our Mobile Forecasts are updated quarterly and are available for one-time delivery or through regular updates. Notable highlights of the 3Q08 Bangladesh Mobile Forecast include:
1) Total subscribers in Bangladesh will increase from the projected 46.9 million in 2008 to 58.2 million in 2010. We, therefore, forecast that the level of wireless penetration will increase steadily in Bangladesh from our projected 29.0% in 2008 to 34.7% in 2010.
2) The level of competition in the wireless market will continue to increase, and the HHI index will go down from 0.298 in 2008 to 0.285 in 2010. The three largest operators in the country (Bangalink/Sheba, GrameenPhone, and TM International) will be losing market shares to Airtel.
3) The largest operator in the country will continue to be GrameenPhone (Telenor), but its market share (by subscribers) will decrease from 45.0% to 42.9% in the forecast period, 2008 ? 2010.
Market penetration should be reached by 50% by the end of 2009 and can be increased by 75% during the forecasted period. So, according to the forecast, by the year 2011, mobile subscribers will be 115millions. That sounds like a great potential market. (ibid)
The reality is close to the forecast. According to BTRC, The total number of Mobile Phone Subscribers has reached 32.33 million at the end of October 2007, when BMI's expectation was about 35 millions. Mr. Manzurul Alam, Chairman BTRC while answering a question, has given the latest information. As of April 2008, the total number of mobile phone subscribers stands at 40.34 millions. And the average growth rate falls in the range of 1 million subscribers per month.
Brief about PSTN Operators in Bangladesh:
Beside the six mobile telecommunication companies there are twelve PSTN (public switched telephone network) – companies in Bangladesh. Among these BTTB was only govt. owed company, which has been converted into Public Ltd. Co. in august this year and now it is working as a name BTCL (Bangladesh Telecommunication Company Ltd.). Accept BTCL all other PSTN use wireless system CDMA (Code division multiple access) technology. The raise of private PSTN companies made the market of PSTN in the country very competitive. Now the call rate of PSTN has been reduced than the previous rate.
Here the list of PSTN subscribers of the country is shown in a figure with their customer size bellow:
| | | | |
| --- | --- | --- | --- |
| Operators | SubscribersDecember 2007 | SubscribersSeptember 2008 | SubscribersOctober2008 |
| BTTB | 872.409 | 872.409 | 873.265 |
| Ranks Telecom Ltd. | 112.560 | 148.173 | 149.495 |
| Telebarta Ltd. | 55.809 | 56.424 | 56.424 |
| Jalalabad Telecom Ltd. | 3.948 | 4.949 | 5.110 |
| Onetel Communication Ltd. | 30.126 | 38.364 | 38.529 |
| National Telecom Ltd. | 17.521 | 48.467 | 51.496 |
| Peoples Telecom Ltd. | 32.961 | 46.211 | 53.085 |
| Westec Ltd. | 17.400 | 17.000 | 17.000 |
| Dhaka Telephone Co. Ltd. | 27.793 | 58.074 | 59.436 |
| Sheba Phone Ltd. (ISL) | 8.232 | 10.018 | 9.930 |
| S.A Telecom System Ltd. | 8.134 | 14.372 | 14.804 |
| Banglaphone | 0.026 | 0.026 | 0.026 |
| Total | 1,186.919 | 1,314.487 | 1,328.600 |
*Subscribers in Thousands Source: BRTC
Industry analysis:
Star:
Grameen phone. Currently grameen phone is in the first place of the telecommunication sector in Bangladesh. It has the largest market share of Bangladesh telecommunication sector. Grameen phone capture its market through providing the best network facilities which other existing companies cannot. And as it's a first mover in market with GSM (Global System Modulation) technology it has the first mover advantage. Although its call charge is slightly high compare to its competitors but stills its in the star position because of its network facilities and of course the customer service.
Cash cow:
Banglalink, here we can say banglalink is the follower of grameen phone in terms of number of customer and the quality of their services and also they have vast customer service facilities all over the Bangladesh. The bundle offers, customer service, customer care facilities, networking and commitment to customers make them to gain second position in telecommunication sector of Bangladesh.
 Question mark:
Robi, due to the recent promotional activities and network improvement robi Company able to gain sudden growth in their business. In recent time they offer different packages according to the customers demand which make the customer much easier to choose which one they actually need. From the recent activities of robi we can place it into question mark.
Dog:
Airtel, last company introduce in telecommunication sector of Bangladesh. It has slow growth in market share as well as its growth. From all side like, network facilities, commitment to customers, number of customers, customer service and the customer care facilities make them in the forth position in telecommunication sector in Bangladesh.
There are also other two companies of which one is GSM system name Teletalk and other one is CDMA system name citycell. These two companies currently failed from all side to capture the market as well as retain their existing customer. Because of their poor network system and customer service they currently loose their customer which kicks out them from competition.
 Findings:
Depending on the above information and data and discussion we may say that current telecommunication sector of Bangladesh is very promising and very competitive. It has a bright future. As it's a competitive market, each company try to provide their service to their customer in low price of which customers are benefited. Because of the competition there is no chance of gaining supplier powerful over customers. In Bangladesh telecommunication market customer have full freedom to choose and switch one operator to another in no time.
CONCLUSION
The buyer is powerful in the industry, but since the market is growing largely, it will be easy for the company to hold its own share, because of poverty; the population will be unlikely to avail the switching cost. And this also reduces the risk of high availability of substitutes.
The supplier is not powerful in this case which is a plus for the company and the company can play with the price to keep the production cost low. Since the market is yet to be matured and growing very fast, we assume that the suppliers companies are also increasing. Some multinational companies are showing their interest to enter into the market. This can lead some new suppliers to arrive into the market and make the environment more competitive. So at some stage the bargaining power of the suppliers will become very low.
So from the above discussion, it can be said that the Bangladesh telecom market has a lot of potential to offer considering strategically ignorable or somehow alterable threats. The market looks very potential and prospective. Lots of opportunities are waiting.
Bangladesh has cheap skilled and willing to be skilled labor. Communication infrastructure is in good condition and has the ability to serve the international entrants. Customer demand for telecom product is very high due to the high growth rate of the market. As the industry is becoming bigger, availability of supporting industries are increasing and already there are lots of supporting companies in the market. And finally the government policies are very welcoming and liberal.
From the above discussion we can comment that the mobile telecommunication of Bangladesh is very competitive & the rivals are facing huge competition in the market. Therefore we observe that the mobile companies are changing their strategies day to day to survive in the market. So it will be difficult for any new company to enter in this market. But we can simply say that the mobile telecom market of Bangladesh is a well balanced & fully competitive.