Most firms consider the lost customer a lost cause. In this recession period, PRISM Research proves that winning back lost customers can be a rich source of renewed revenue and customer loyalty for any firm. With the average company losing 20 to 40 percent of its customers every year (for Web-based companies, defection rates are substantially higher), it is imperative that firms create outsourced strategies, not only for acquisition and retention but also for win-back.
In the field of Customer Retention & Win back PRISM Research is the big giant, providing the world class services in U.K. and entire world.
We are committed to delivering quality research. We are a complete Market Research Company to serve your business needs.
Customer Win Back
There are three main marketing objectives:
1. Acquisition of new customers
2. Retaining and developing existing customers
3. Winning back lost customers.
When solving his tasks a marketing manager has to focus on both customers and potential
customers who are the most loyal and profitable ones. Calculation of CLV will be a wise way to
decide where or not to invest in the market.
Because of an increasing defection and churn in most market sectors (say Telecom and the
Financial Services Industry) and increasing acquisition costs the interest of how to Win Back
successfully the most profitable lost customers is now a major focus area in many companies. The
problem is that the know how and data about Win Back is lacking because of Win Back being an
unexploited area so far. Most companies still do not have a Win Back strategy. Most companies still
only make ad hoc transactional Win Back activities.
Therefore Loyalty Management has developed a new Win Back concept/product. The consultancy
solution is aiming at helping clients to create and implement a Win Back strategy based on both
customer loyalty and profitability.
The definition of Win Back is: "A structured process for regaining the most loyal and profitable of the lost customers".
New international research reports have concluded that not all defected customers are worth winning back. This is similar to the fact that not all potential customers are worth acquiring to
become new customers. Further research reports have concluded that the CLV (Customer Lifetime Value) of a regained customer will not be the same CLV as before the customer defected.
Therefore Loyalty Managements Win Back concept differs between the First CLV (CLV before defection) and the Second CLV (CLV if regained).
It may sound strange, but the fact is that a customer who has defected and has been regained will usually have a higher CLV than before he or she defected. There are several reasons for this
paradox.
* The company might have improved its customer service or changed other factors that caused the defection.
* The customer may have tried other suppliers since defecting and realised that the original
company offers better added value. This is a good situation: the recovered customer will be
less interested in competitors' communication and it will be more difficult for a competitor to entice him away.
* A recovered customer might choose to buy more products from the company than before the
defection, and might thus become a Total customer with a higher Retention rate and a higher CLV.
Before a company decides whether to try to win back defected customers it needs to realise that not all defectors are worth winning back. Thus it is wise to at least segment lost customers into a four- quadrant matrix based on two criteria: The profitability of the second CLV and the probability of winning the customer back. The figure below shows the matrix.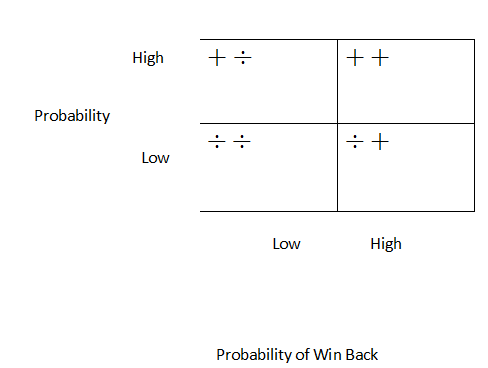 A structured Win Back project at least includes the following steps:
* Analysing of the situation (defection causes etc)
* Making a business case for Win Back (including reporting international best practise)
* Defining Win Back objectives
* Creating a Win Back strategy
* Planning the implementation (including organisational development and Win Back
processes)
* Evaluating the economy and resources