Dell Market Research:
 Executive Summary
The Customer Research Process on Dell Laptop on is given as the requirement of the course entitled Consumer Behavior. I have choose product as Dell Laptop, Inc. It is among the world's leading computer manufacturers that has transformed diversified into variety of business segments over the year. However, the research is realistic, which has a good possibility to be succeeded. Usually there are many laptops in the market and the market of laptop is competitive.  However, we can compete in this tough competitive market because the Dell laptop is not only providing a very high quality and security and safety but also expensive. This research analysis the current situation, followed by customer research process on Dell laptop, different opportunities and threats, then Motivation as a psychological force, Model of the motivation process, Needs of Goal, Comparison of positive and Negative motivation, afterwards it also discusses the Maslow's Hierarchy of Needs, Types and system of Needs, and finally the conclusion.
INTRODUCTION
Statement of the Research problem
This term Paper is prepared for Dr. Shohidul Islam, course instructor of the Undergraduate program, School of Business; at University Of Information Technology and Science as a partial requirement of Consumer Behavior. This Paper is prepared during the Summer, 2011 semester and would be submitted in the same semester. The standard procedure for formal Paper (given by the instructor) has been followed.
Scope & objectives of the study
The operational activities are very vast Dell Inc. in Bangladesh. But this study limited to the find position, attitude, preference, and the consumer purchasing intuition on the product.
General objective
The objective of this research work was to find out the problems why the sell is not increased compare with other brands and at the same time, imply some strategy that would help the corporate sales department to improve its performance which would help the organization to maintain a high customer retention ratio.
Paper Objective:
To analyze the existing corporate customer's attitude, I examined the following issues in this research work:
   Quality.
   Service.
   Technology.
     Easy to add update parts.
   Competitive pricing policy and tariff plan.
   Delivers promise.
HYPOTHESIS
In this research study, the null and alternative hypotheses are –
H0: Dell Inc. customer's attitude toward the price and easy to add update parts are negative.
Ha: Dell Inc. customer's attitude toward quality and security and safety are positive or neutral
METHODOLOGY OF THE STUDY
The study is basically a combination of primary & secondary data. I have interviewed associated personnel of the Sales department & it was not very difficult for me. As the secondary source, information was also taken from books and other vouchers and as well as from World Wide Web.
Research Design
For this research I have adopted the primary research design. The information about the research components are as follows –
Kind of information – For this research I found out individual respondents' information.
Method of administering the questionnaire – I used a survey questionnaire for collecting information for the research.
Nature of questionnaire – For the research work, close ended questions was asked. The average interviewing time was approximately 10 – 15 minutes.
Sample size –for this research work the sample size was 50.
Data Collection
I obtained necessary data for this Paper by surveying 50 customers. I went to the different offices, neighbors, friends, and institute and asked them to fill up the questionnaire if they are using corporate cellular phone.
Data Analysis
For the analysis of the collected data I used by manually. Some cross-tabulations were conducted to show the difference in the service quality, brand image, and customers' attitude toward the laptop in Bangladesh. For the hypothesis testing I used manually. In some analysis I found out frequency, and percentage. A regression analysis was also used for this research work. The analyzed date is presented both in graphical and tabulated format.  Depending on the result of the analyzed data I made some recommendations which I believe would be helpful for the decision making strategy for the corporate sales and production departments of Dell laptop.
Quantitative research designs: A quantitative research study consists of a research design, the data collection methods and instrument to be used, and the sample design.
Observational Research
Observational research is an important method of consumer research because marketers recognize that the best way to gain an in-depth understanding of the relationship between people and products is by watching them in the process of buying and/or using the products. I have done some report by observation
Mechanical Observation
It uses a mechanical or electronic device to record customer behavior or response to a particular marketing stimulus.
Physiological Observation
Marketers also use physiological observation devices that monitor respondents' patterns of information processing.
Experimentation
A controlled experiment of this type ensures that any difference in the outcome (the dependent variable) is due to different treatments of the variable under study and not to extraneous factors.
Surveys
Personal interview surveys most often take place in the home, institutes, friends. The latter, referred to as mall intercepts are used more frequently than home interviews because of the high incidence of not-at-home working women and the reluctance of many people today to allow a stranger into their home.
Telephone surveys are also used to collect consumer data; however, evenings and weekends are often the only times to reach telephone respondents, who tend to be less responsive-even hostile-to calls that interrupt dinner, television viewing, or general relaxation. The difficulties of reaching people with unlisted telephone numbers have been solved through random-digit dialing, and the costs of a widespread telephone survey are often minimized by using toll-free telephone lines. Other problems arise, however, from the increased use of answering machines and caller ID to screen calls. Some market research companies have tried to automate telephone surveys, but many respondents are even less willing to interact with an electronic voice than with a live interviewer. I have done also by the telephone.
Mail surveys are conducted by sending questionnaires directly to individuals at their homes. One of the major problems of mail questionnaires is a low response rate, but researchers have developed a number of techniques to increase returns, such as enclosing a stamped, self-addressed envelope, using a provocative questionnaire, and sending pre-notification letters as well as follow-up letters.
Online surveys are sometimes conducted on the Internet. Respondents are directed to the marketer's (or researcher's) Web site by computer ads or home pages. Because the sample's respondents are self-selected, the results cannot be projected to the larger population.
Report format
This research paper format is formal in nature. For the formatting I used APA format.
THE LAPTOP USER OF THE RESPONDENT
Figure 1: The laptop user of the respondent
The mode for the responses of this question is 2, that is the majority respondents are using GP Corporate connections. The frequency table shows that among 120 respondents, 43.4% respondents are using GP connection, while 23% respondents are
using banglalink, 17.2% using CityCell, and remaining 14.2% respondents are using AKTEL corporate connection.
Comparing the above sample result it can said that majority of the corporate clients are using GP connection while banglalink got the second position in case of subscriber base of the selected sample.
LIMITATIONS OF THE STUDY
The major limitation factor for this Paper was primarily the reluctance and strict adherence to confidentiality maintenance attitude shown by the officials of Dell Inc. Though I knew & had access to much information, but there are still some important things which I couldn't get hold of & they don't even prefer to disclose those in front of general people.
THE CONSUMER RESEARCH PROCESS
company profile
Type
Public
Traded as
NASDAQ: DELL
NASDAQ-100 Component
S&P 500 Component
Industry
Computer Systems
Computer Peripherals
Computer Software
IT consulting
IT services
Founded
Austin, Texas
November 4, 1984
Founder(s)
Michael Dell
Headquarters
1 Dell Way
Round Rock, Texas, U.S.[1]
Area served
Worldwide
Key people
Michael Dell
(Chairman & CEO)
Products
Desktops
Servers
Notebooks
Netbooks
Peripherals
Printers
Televisions
Scanners
Storage
Smart Phones
Revenue
US$ 61.49 billion (FY 2011)[2]
Operating income
US$ 3.43 billion (FY 2011)[2]
Net income
US$ 2.63 billion (FY 2011)[2]
Total assets
US$ 38.59 billion (FY 2011)[2]
Total equity
US$ 5.64 billion (FY 2011)[2]
Employees
103,300 (January 2011)[2]
Subsidiaries
Dell Services
Alienware
Website
Dell.com
Dell, Inc. is an American multinational information technology corporation based in round Rock, TexasUnited States, , that develops, sells and supports computers and related products and services. Bearing the name of its founder, Michael Dell, the company is one of the largest technological corporations in the world, employing more than 103,300 people worldwide. Dell is listed at number 41 in the fortune 500 list. Dell has grown by both organic and inorganic means since its inception—notable mergers and acquisitions including Alienware (2006) and Perot system (2009). As of 2009, the company sold personal computer, servers, data storage device, network switches, software and computer peripherals. Dell also sells HDTS's, cameras, printers, MP3 players and other electronics built by other manufacturers. The company is well known for its innovations in supply chain management and electronic commerce.Fortune Magazine listed Dell as the sixth largest company in Texas by total revenue. It is the second largest non-oil company in Texas (behind AT&T) and the largest company in the Austin area.
Dell traces its origins to 1984, when Michael Dell created PCs Limited while a student at the University of Texas at Austin. The dorm-room headquartered company sold IBM PCcompatible computers built from stock components. Michael Dell started trading in the belief that by selling personal computer systems directly to customers, PCs Limited could better understand customers' needs and provide the most effective computing solutions to meet those needs. Michael Dell dropped out of school in order to focus full-time on his fledgling business, after getting about $300,000 in expansion-capital from his family. In 1985, the company produced the first computer of its own design—the "Turbo PC", sold for US$795. PCs Limited advertised its systems in national computer magazines for sale directly to consumers and custom assembled each ordered unit according to a selection of options. The company grossed more than $73 million in its first year of trading. The company changed its name to "Dell Computer Corporation" in 1988 and began expanding globally—first in Ireland. In June 1988, Dell's market capitalization grew by $30 million to $80 million from its June 22 initial public offering of 3.5 million shares at $8.50 a share.  In 1992, Fortune magazine included Dell Computer Corporation in its list of the world's 500 largest companies, making Michael Dell the youngest CEO of a Fortune 500 company ever. In 1996, Dell began selling computers via its web site, and in 2002, Dell expanded its product line to include televisions, handhelds, digital audio players, and printers. Dell's first acquisition occurred in 1999 with the purchase of Convergent Technologies. In 2003, the company was rebranded as simply "Dell Inc." to recognize the company's expansion beyond computers. From 2004 to 2007, Michael Dell stepped aside as CEO, while long-time Dell employee Kevin Rollins took the helm. During that time, Dell acquired Alienware, which introduced several new items to Dell products, including AMD microprocessors. To prevent cross-market products, Dell continues to run Alienware as a separate entity but still a wholly owned subsidiary.
Lackluster performance, however, in its lower-end computer business prompted Michael Dell to take on the role of CEO again. The founder announced a change campaign called "Dell 2.0," reducing headcount and diversifying the company's product offerings. The company acquired EqualLogic on January 28, 2008 to gain a foothold in the iSCSI storage market. Because Dell already had an efficient manufacturing process, integrating EqualLogic's products into the company drove manufacturing prices down.
Highlights
►        In 2009, Dell acquired Perot Systems a technology services and outsourcing company founded by H. Ross Perot.
►     On September 21, 2009, Dell announced its intent to acquire Perot Systems (based in Plano, Texas) in a reported $3.9 billion deal.Perot Systems brought applications development, systems integration, and strategic consulting services through its operations in the U.S. and 10 other countries. In addition, it provided a variety of business process outsourcing services, including claims processing and call center operations.
►        On August 16, 2010, Dell announced its intent to acquire the data storage company 3PAR. On September 2, 2010 Hewlett-Packard offered $33 a share, which Dell declined to match.
►     On November 2, 2010, Dell acquired Software-as-a-Service (SaaS) integration leader Boomi. Terms of the deal were not disclosed.
Vision
"Its the way we do business. It's the way we interact with the community. It's the way we interpret the world around us—our customers needs, the future of technology, and the global business climate. Whatever changes the future may bring our vision—Dell Vision —   will be our guiding force.
So Dell needs full customer satisfaction. In order to become the most successful computer company, they need the newest technology and loyal customers."
Mission
 "Dell is building its technology, its business and its communities through direct relationships with our customers, our employees and our neighbors "(Dell 1) Dell's mission is to be the most successful Computer Company in the world at delivering the best customer experience in markets we serve. In doing so, Dell will meet customer expectations of:
• Highest quality
• Leading technology
• Competitive pricing
• Individual and company accountability
• Best-in-class service and support
• Flexible customization capability
• Superior corporate citizenship
• Financial stability
Challenge
The famous slogan of Dell Inc. is – "The Power to Do More".
CURRENT MARKET SITUATION
It was somewhat difficult to find an exact up-to-date statement of the market share Dell currently holds in the laptop market, but this report will therefore draw on figures for recent years and a conclusion will be drawn from this evidence and other researched information.
►        Dell laptop is high price in the Bangladesh market.
►     It is so complex to add update parts.
►        The quality of dell laptop is better then other brands.
Motivation as a psychological force
Motivation         is the driving force within individuals that impels them to action. This driving force is produced by a state of tension, which exists as the result of an unfulfilled need. Individuals strive both consciously and subconsciously to reduce this tension through behavior that they anticipate will fulfill their needs and thus relieve them of the stress they feel. The specific goals they select and the patterns of action they undertake to achieve their goals are the results of individual thinking and learning.
Needs     every individual has needs, some are innate, others are acquired. Innate needs are physiological (i.e., biogenic); they include the needs for food, water, air, clothing, shelter, and sex. Because they are needed to sustain biological life, the biogenic needs are considered primary needs or motives.
Acquired needs         are needs that we learn in response to our culture or environment. These may include needs for self-esteem, prestige, affection, power, and learning. Because acquired needs are generally psychological (i.e., psychogenic), they are considered secondary needs or motives.
MODEL OF THE MOTIVATION PROCESS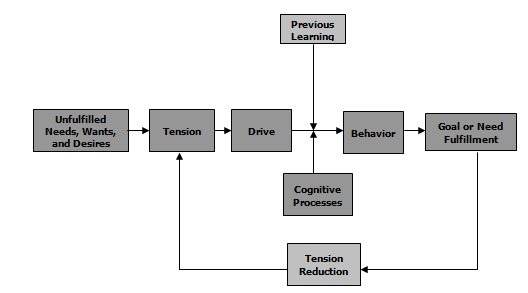 Goals
Goals are the sought-after results of motivated behavior. As motivation Process indicated, all behavior is goal oriented. Our discussion of motivation in this chapter is in part concerned with generic goals, that is, the general classes or categories of goals that consumers see as a means to fulfill their needs. If a student tells his parents that he wants to become a medical doctor, he has stated a generic goal. If he says he wants to get an M.D. degree from UCLA, he has expressed a product-specific goal. Marketers are particularly concerned with product-specific goals, that is, the specifically branded products and services that consumers select for goal fulfillment.
POSITIVE AND NEGATIVE MOTIVATION
Motivation can be positive or negative in direction. We may feel a driving force toward some object or condition or a driving force away from some object or condition. for example, a person may be impelled toward a restaurant to fulfill a hunger need, and away from motorcycle transportation to fulfill a safety need.
Some psychologists refer to positive drives as needs, wants, or desires and to negative drives as fears or aversions. However, although positive and negative motivational forces seem to differ dramatically in terms of physical (and sometimes emotional) activity, they are basically similar in that both serve to initiate and sustain human behavior. For this reason, researchers often refer to both kinds of drives or motives as needs, wants and desires. Some theorists distinguish wants from needs by defining wants as product-specific needs. Others differentiate between desires, on the one hand, and needs and wants on the other. Thus, there is no uniformly accepted distinction among the terms needs, wants, and desires.
TYPES AND SYSTEMS OF NEEDS
Hierarchy of needs
MASLOW'S HIERARCHY OF NEEDS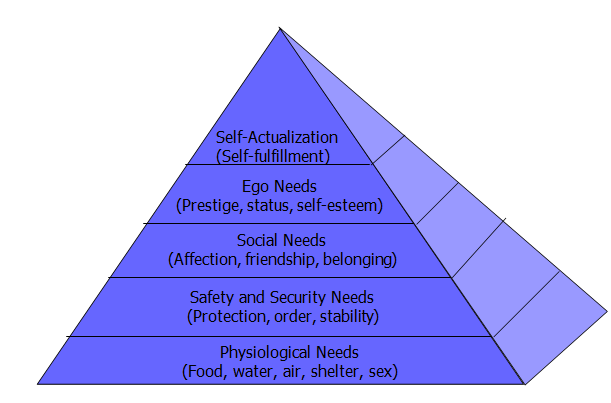 S W O T  ANALYSIS
Market Trends
The market for laptop computers has distinguished itself as one of the fastest growing segments of the commuter industry. Throughout its growth and development, this market, like many others has changed a great deal as a result of customer demands. In an effort to eater to these demands, companies like Dell look to market trends to aid the development of new products. In it's most recent stages the laptop market has been specifically influenced by a number
        Generally, the over all market for Laptop's is being influenced by many of these trends. One in particular, however, is affecting the marketing the market more than any other. Simply, customers are becoming more educated about their purchases. Computers are being sold less to first time buyers and much more to consumers who have personal computers at least once before. As an increasing numberof customers become more knowlwdgeable about other trends are beginning to take shapo.
As a result of this consumereduation, buyers want increased customization of personal compuer. The growing amount of knowledge amont customers is creating the ability for buyers to distinguish their owen personal needs in a computer from a standardized product.
The laptop market is growing at a faster rate than desktop computers. This is beging driven by global in
Strengths
Dell's Direct Model approach of enables the company to offer direct relationships with customers such as corporate and institutional customers. Their strategic method also provides other forms of products and services such as internet and telephone purchasing, customized computer systems; phone and online technical support and next-day, on-site product service. This extensive range of products and services is definitely one of Dell's strengths.
Dell Computer's award-winning customer service, industry-leading growth and consistently strong financial performance differentiate the company from competitors for the following reasons:
Reliability, Service and Support – Dell's direct customer allows it to provide top-notch customer service before and after the sale.
Latest Technology – Dell is able to introduce the latest relevant technology compared to companies using the indirect distribution channels. Dell turns over inventory for an average of every six days, keeping inventory costs low.
The company's application of the Internet to other parts of the business –including procurement, customer support and relationship management — is growing at a rate of 30 percent. The company's Web site received at least 25 million visits at more than 50 country-specific sites.
Weaknesses
Price for Performance – Dell boasts a very efficient procurement, manufacturing and distribution process allowing it to offer customers powerful systems at grater then high  prices.
Customization – A complete Dell system is complex and hard to add new update parts to meet each customer's specifications.
Dell's biggest weakness is attracting the college student segment of the market. Dell's sales revenue from educational institutions such as colleges only accounts for a measly 5% of the total. Dell's focus on the corporate and government institutional customers somehow affected its ability to form relationships with educational institutions. Since many students purchase their PCs through their schools, Dell is obviously not popular among the college market yet.
For home users, Dell's direct method and customization approach posed problems. For one, customers cannot go to retailers because Dell does not use distribution channels. Customers just can't buy Dell as simply as other brands because each product is custom-built according to their specifications and this might take days to finish.
Opportunities
Personal computers are becoming a necessity now more than ever. Customers are getting more and more educated about computers. Second-time buyers would most likely avail of Dell's custom-built computers because as their knowledge grows, so do their need to experiment or use some additional computer features.
Demand for laptops is also growing. As a matter of fact, demand for laptop has overtaken the demand for desktops. This is another opportunity for Dell to grow in other segments.
The internet also provides Dell with greater opportunities since all they have to do now is to visit Dell's website to place their order or to get information. Since Dell does not have retail stores, the online stores would surely make up for its absence. It is also more convenient for customers to shop online than to actually drive and do purchase at a physical store.
Threats
In a volatile market such as personal computers, threats abound. Computers change in a constant sometime daily basis. New software, new hardware and computer accessories are introduced at a lightning speed. It is essential for Dell therefore to be always on the lookout for new things or introduce new computer systems.
The threat to become outmoded is a pulsating reality in a computer business. Not only that, companies must produce products that are high in quality but low in price. This is one challenge that Dell contends with.
One of the biggest external threats to Dell is that price difference among brands is getting smaller. Dell's Direct Model attracts customers because it saves cost. Since other companies are able to offer computers at low costs, this could threaten Dell's price-conscious growing customer base. With almost identical prices, price difference is no longer an issue for a customer. They might choose other brands instead of waiting for Dell's customized computers.
The growth rate of the computer industry is also slowing down. Today, Dell has the biggest share of the market. If the demand slows down, the competition will become stiffer in the process. Dell has to work doubly hard to differentiate itself from its substitutes to be able to continue holding a significant market share.
Technological advancement is a double-edge sword. It is an opportunity but at the same time a threat. Low-cost leadership strategy is no longer an issue to computer companies therefore it is important for computer companies to stand out from the rest.
Technology dictates that the most up-to-date and fastest products are always the most popular. Dell has to always keep up with technological advancements to be able to compete.
FINDINGS & RECOMMENDATIONS
The marketing department  and the production manager have to intention about the high price compare with other brands and production engineer has to create easy insalivations the updated parts what the customers need to full fill their satisfaction. The dell laptop i-5 price is Tk. 55,000 but same functions HP is Tk. 46,000 . So As a poor country our students and the lots of people who are  middle class could not afford the price of Dell Laptop. However, a high level people buy it. They motive and drive from their needs. As Maslow's hierarchy of needs after full fill the necessary then he goes to  Safety and Security Needs Social Needs Ego Needs. So we people are not affort the Dell laptop because of high and could not easy to add update parts because when we buy a laptop for al long period.
CONCLUSION
The current market trends in the personal computer industry, for laptop in particular, are being driven by ever changing customer needs, wants , and demands. As a result Dell Inc. is forced into a constant state of adoption in order to satisfy their customer. By taking full advantage of strength, paying close attention to their weakness and identifying both opportunities and threats from the macro-environment, these companies can position themselves as significant shareholders in an intensely competitive market.