Advertising Philosophies Practiced by
Airtel Bangladesh Limited
Bangladesh was the first South Asian country to adopt cellular technology back in 1993 by introducing Advanced Mobile Phone System (AMPS). In fact, the first mobile license was issued back in 1989 but it took several years to launch the services. The network coverage and number of subscribers had remained very limited due to exorbitantly high subscription cost and call tariff. The telecommunications sector in Bangladesh is one of the fastest growing industries and has helped boost the economic and social development in the country.
Since then, the country's cellular industry never looked back, now it has curved into the prime communications provider during the last decade as sub sector within telecom sector. This subsector has created new opportunities by generating employment, facilitating education and health services for common people.
Now there are six telecom operators successfully running business in Bangladesh. These are: Grameen Phone, Robi, Airtel, Banglalink, Citycell, and Teletalk. The majority shares of all these companies except Teletalk are held by multination telecom corporations. Airtel is the sixth mobile phone carrier to enter the Bangladesh market, and originally launched commercial operations under the brand name "Warid Telecom" on May 10, 2007.
Bharti Airtel Limited took management control of the company and its board, and rebranded the company's services under its own Airtel brand from December 20, 2010. The Bangladesh Telecommunication Regulatory Commission approved the deal on Jan 4, 2010.
Objective of the report
The purpose of this report is divided into two parts and those are described below:
Primary Objective: The primary objective of this report is to get a better understanding about the advertising philosophy practiced by Airtel Bangladesh Limited and also finding out how they developed acceptance among the young generation of Bangladesh.
Secondary Objective: The Secondary objectives of this report are given below-
To know about the advertising strategies they are following.
To recognize various media they are using to promote their brand.
To know how Airtel Bangladesh is managing their corporate goals.
To identify the purpose and principal of publicity of Airtel Bangladesh Limited.
To get a clear impression about how Airtel Bangladesh Limited runs its functions.
To analyze the processes and diverse promotional campaigns now they are running.
To study those factors influencing the advertising concept.
Methodology
For prepare this report I have mainly focused on primary data due to scarcity of secondary date.
Primary Source: The primary information is collected through face to face interview with brand manager of Airtel Bangladesh Limited, personal interview with the marketing team of Airtel Bangladesh Limited, expert opinion and direct observation on the process of making advertising concept for Airtel Bangladesh Limited.
Secondary Source: The secondary information is collected through Airtel Bangladesh Limited website, various online newspapers and journals. Similarly, information collected from Bharti Airtel Limited website. Also the author used some internal information collected from the company with a promise to keep it confidential.
Airtel Bangladesh Limited
Airtel Bangladesh Limited is a GSM-based cellular operator in Bangladesh. Till date, Airtel is the sixth mobile phone carrier to enter the Bangladesh market, and launched commercial operations under the brand name "Warid Telecom" on May 10, 2007. In 2010, Warid Telecom International LLC, an Abu Dhabi based association, sold a majority 70% stake in the company to India's Bharti Airtel Limited for US$300 million and the remaining 30% in 2013. Bharti Airtel Limited took management control of the company and its board, and rebranded the company's services under its own airtel brand from December 20, 2010. The Bangladesh Telecommunication Regulatory Commission approved the deal on Jan 4, 2010. Bharti Airtel made a fresh investment of USD 300 million to rapidly expand the operations of Warid Telecom and have management and board control of the company. This is the largest investment in Bangladesh by an Indian company.
Bharti Airtel Limited, the parent group, is a leading global telecommunications company with operations in 20 countries across Asia and Africa, with headquarters in New Delhi, India. The company ranks amongst the top 4 mobile service providers, globally, in terms of subscribers.
The new funding is being utilized for expansion of the network, both for coverage and capacity, and introduction of innovative products and services. As a result of this additional investment, the overall investment in the company will be in the region of USD 1 billion.
This is Bharti Airtel"s second operation outside of India. The company launched its mobile services in Sri Lanka in January 2009 on a state-of-the-art 3.5G network. The company crossed the 1 million customers mark within six months of launch on the back of innovative offerings as well as rapid expansion of network coverage and distribution.
Currently Airtel Bangladesh has 8.353 million subscribers with 7.3% market share at the end of July, 2014. On September 8 th 2013, Airtel Bangladesh received 5 MHz 3G spectrum with 1.25 million USD.
Customer Service
Customer service is one of promising department of Airtel who are continuously working to improve the customer satisfaction level and deals improving the customer experience, which is the core reason for the survival of any company. Customer service is one of those departments where customers may interact with the brand and the company.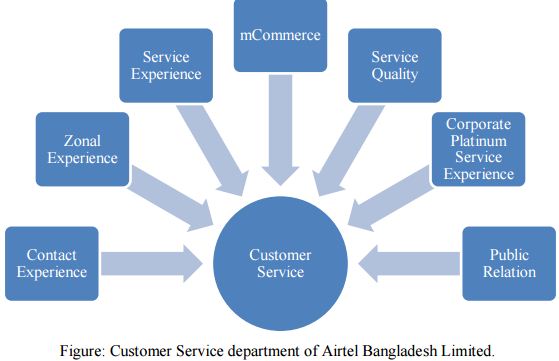 Airtel Logo and Meaning
Symbol & logo: The unique symbol of company is an interpretation of the "a" in Airtel.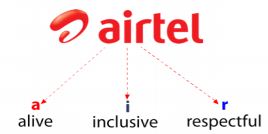 The curved shape & the gentle highlights on the red color make it warm & inviting, almost as if it were a living object. It represents a dynamic force of unparalleled energy that brings it and its customer"s closer. Company"s specially designed logo type is modern, vibrant and friendly. It signals its resolve to be accessible, while the use of all lowercase is its recognition for the need for humanity. Red is part of its heritage. It is the color of energy & passion that expresses the dynamism that has made Airtel the success it is today, in India, and now on the global stage.
Market Share
The competition among telecom operators is increasing day by day though they are trying to capture the mobile market with new features, low call rate, uninterrupted service and upgraded technological infrastructure. The major player of this industry is Grameen Phone Ltd. Though Airtel joined very lately in the industry but in this four year they have more than 7% of the telecom industry. As at the end of 31 July 2014, Grameen Phone Ltd. had a market share of 42%,
Banglalink Digital Communication Limited 26%, Robi Axiata Limited 21%, Airtel Bangladesh Limited 7%, Teletalk 3% and Citycell 1%.
Mobile Phone Subscribers in Bangladesh July 2014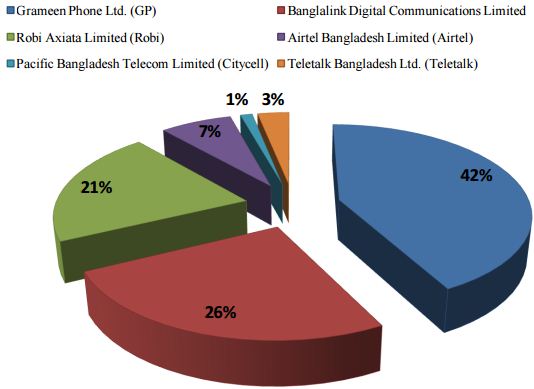 Figure: Overview of telecommunication industry of Bangladesh till July, 2014
SWOT Analysis for Airtel Bangladesh Limited
A SWOT has been done for the better understanding about the ongoing working process and areas where improvement can be possible. SWOT analysis is a strategic planning method used to evaluate the strengths, weaknesses, opportunities, and threats involved in the company. There are so many opportunities that can help the company to be more flourished in the telecom industry of Bangladesh.
Strength
Global brand image
Low call rate
Established management
Competitve pricing strategy
Dedicated and customer oriented employees
Strong economic and financial base
Weaknesses
Limited coverage
Poor Edge/GPRS service
Weak network
Lack of communications among departments
Poor distribution channel in rural areas
Opportunities
Better 3G offers
Increasing commercial usage
Increasing number of active cell phone users
Government's planning of introducing 4G Network
Promoting mcommerce service
Threats
Price wars among compitiors
Government regulations and political instability
Better quality service provided by other companies, specially network coverage.
Summary of Advertising philosophies practiced by Airtel Bangladesh Limited on "Network Campaign"
The advertising campaign of Airtel Bangladesh Limited on Network Campaign was started on April 24, 2014 and run till August 2, 2014. In their network campaign they broadcast three advertisements on air. The network campaigns successfully represent the brand name, theme. color and slogan. The theme of the network campaign was Bondhu Jekhane Network Sekhane. Airtel target audience of this campain was young generation of Bangladesh. Airtel always try to promote their brand among the youth of Bangladesh as they are the most promosing customer of telecommuniucation industry. Among the mobile user rate of Bangladesh the highest number of mobile adoption was adopted by youth. Airtel believes that if they want to become popular in Bangladesh youth is the only target audience who can help them to achieve their corporate objective. The campaign was successfully representing the slogan in Bangladesh. Airtel Bangladesh Limited gave equal priority to TV channels, Radio channels, Newspapers and Social media to promote their network campaign. They followed their brand guideline while making those advertisements. In those TV advertisements they represent the style of young generation, their get up, way of talking, fashions and also those fictions characters whom young generation wants to follow. The campaign fashioned intrinsic performance and followed all the approaches of advertisement. In today"s competitive world, promoting own brand among the target audience is badly needed to achieve success in the industry.
Description of the project
The purpose of this project is to analyzing the various values adopted by Airtel Bangladesh Limited while making their advertisement for their network campaign. My academic supervisor Mr. G M Shafayet Ullah, Lecturer of BRAC University, approved the project topic and allowed me to prepare this report to complete my graduation. My project topic is "Advertising Philosophies Practiced by Airtel Bangladesh Limited" under this title I am analyzing the various promotional campaign currently they are running to promote their network and brand among the young generation of Bangladesh. Reader will get a clear idea about various principals and creative idea about advertising of Airtel Bangladesh Limited.
Objective of the project
The objective of this project is divided into two parts and those are discussed below-
Primary Objective: The primary objective of this project is to know various methods used by Airtel Bangladesh Limited to promote their brand Airtel among the young generation of Bangladesh.
Secondary Objective: The secondary objective of this report is given below-
Analyze various advertising strategies followed by Airtel Bangladesh Limited.
To get a clear idea about how they run their advertising through mass media.
To know about different factors influencing the advertising concept.
To identify diverse promotional campaign they are running to promote network
To know how they are representing their corporate goals through advertisements
Literature Review
Advertising is one of most powerful medium to reach to target audience and create a brand image among them. Among the 4P of marketing, advertising or promotion is one the marketing mix elements which repeatedly used in the industry. Airtel Bangladesh Limited always tries to put a positive impression in the young generation mind through their creative advertisement.
Airtel Bangladesh Limited started four network campaigns advertisement for the consumer of their product which started on April 29, 2014 and run till August 6, 2014. By their network campaigns they tried to promote the theme that Bondhu Jekhane Network Sekhane. Airtel Bangladesh Limited always believes that youth is their ultimate target audience and always wants to be most likely brand for the young generation. Airtel first network campaign was started on April 29, 2014 where its shows some of the friends were in trouble while them are in a road journey. In that advertisement one of the friend called a friend for help and that friend successfully received his message and came to help them. After that, second advertisement telecast on May 5, 2014 which was CG animated advertisement where it shows its network coverage in Bangladesh. Third advertisement telecast on May 15, 2014 which was known as Monkey selfie advertisement where on the friends mobile was stole by a monkey and he upload his selfie picture in the Facebook through Airtel network and by seeing that the owner of the monkey comes forward to help them to get back the phone. The last advertisement was known as Moyna advertisement which telecast on July 28, 2014 where one boy helps an unknown girl who was in trouble. His friends don"t like that the boy helped the girl. The boy helped the girl to reach her desire destination and put some of their journey picture in the Facebook by using Airtel network. The last TV advertisement brings out huge success for the company as it was so much creative and meaningful.
Bottom line of all advertising activities
Creating difference: Airtel wants to create a unique position in the end user mind through their network campaigns.
For value delightment: For building loyal customer and repaid purchase of their products network campaigns helps a lot to Airtel.
Competitive edge: They want to be most preferable brand for young generation by 2015.
Leading to building brand: Airtel entered into Bangladesh as a sixth mobile operator. Within four years they grab already 7% of market share. So, wants to be a leading brand in Bangladesh by targeting youth as they are highest number of mobile user in Bangladesh.
Building brand equity: Airtel was successful to create loyal customer for their product by offering low call rates and varieties of interment offer.
Advertisement promotion through geographical area
Local advertisement: Airtel arrange some event base campaigns in rural area to promote their network coverage and range of products.
Regional advertisement: Airtel does not show regional base advertisement but they place various billboards on various commercial and tourism spots.
National advertisement: For their network campaign they telecast four TV commercial in the national channel of Bangladesh.
International advertisement: Airtel Bangladesh Limited also broadcast their network campaign advertisement on in the international channel like Facebook, YouTube and twitter.
Medium used for advertisement
Print advertising: Airtel promote their network campaigns through the dailies national and local newspaper of Bangladesh. They tried to wrap as much as newspaper exposure they can create.
Broadcast channel: Airtel also followed TV, Radio, and internet media to promote their network campaigns in Bangladesh to put an impression in the youthful age group mind.
Out of home: It includes billboards, bulletins, posters, transits, shop signs and wall painting in the rural and urban area. Alternatively followed transit media in those areas.
Direct mail advertising: Airtel promote their network coverage campaigns also by sending push message to the subscriber to aware them about their coverage.
Purpose of this advertisement
Product advertising: Airtel has 10 prepaid packages and 3 postpaid packages onboard. So promoting these packages was badly needed TV commercial and network coverage campaigns.
Commercial advertising: The ultimate goals of this commercial was earning profit for the organization and carrying out corporate mission.
Actions advertising: In their advertising they promote some action advertising like if you recharge 24 taka you will get the 1 paisa per second offer. As a result consumer will like to do more recharge to avail this offer.
Function and effects of advertising as a marketing tool for Airtel Bangladesh Limited
To identify their products and differentiate them from competitions. For example, they want hit the campaign of GP and Robi network coverage.
To communicate information about the products, its feature and its location of coverage.
To induce consumer to try their various internet offers and to suggest for reuse.
To stimulate the distribution of prepaid package and 3G internet offers.
To increase product use like as various internet offers.
To build value, brand preference and loyalty for the end users.
The economic impact of advertising by Airttel Bangladesh Limited
Effect on the value of product: As Airtel is comparatively new in Bangladesh telecom industry they need to promote their network coverage, prepaid and postpaid products offer, 3G internet offer by advertisement.
Effect on the price: To let know about the low-priced call rate of Airtel advertisement is highly needed. Advertisement helps the company to let know costumers about their product price.
Effect on competition: In Bangladesh telecom industry there is huge competition among the mobile operators. When competitors are proving any new offer Airtel also offer new product and offers for their customers.
Effect on consumer mind: Airtel target audience is youth as it is clearly revealed in their mission. So through their advertisement they put a low priced telecom operator"s impression in the consumer mind. In their advertisement they all the time focus on the youth regarding their choice and preferences.
Effect on consumer choice: It gives Airtel the right to choice advertising concept for their company. In their advertisement they promote young generation as they are the main target customers of the company.
Effect on business cycle: Airtel always telecast their advertisement in the mass media from the beginning of their operation in Bangladesh.
Marketing communication option for Airtel Bangladesh Limited
Media advertising: Through the Radio, TV, Newspapers and various magazine of Bangladesh they did their campaigns for network promotion. They almost choose the top TV channel and radio to broadcast this advertisement in the pick hour.
Direct response advertising: Airtel used their facbook page "Airtel Buzz" to telecast the advertisement and also to make aware about customers their verities of product offering.
Place advertising: In the public place where all the time public gather is happened they put their advertisement through bulletins, bill boards, posters and transits.
Point of purchase advertising: In the retail outlet which known as a point of purchase location for buyers to active the service they also did campaigns in those place. In rural areas almost all point of purchase they have their brochure of the campaign to help customers to understand about the details of the product. They made shelf talker sticker for the retailers.
Consumer promotion: In the network campaigns they did consumer promotion like if you buy any prepaid connection you will get some sort of bonus talk time or SMS. Even, they have the offer of getting bonus talk time on the daily usage.
Event marketing: In the event of Ramadan they did the campaigns in a strong way to motivate customers to buy their product.
Publicity: In the rural area where customers are not that much aware about TV advertising or any sort of other advertising, publicity adverting is must required. Moreover, they did the publicity campaigns in those rural areas as much as they did in urban areas.
Personal selling: As Airtel does not do any personal selling but they let know customers about their new offers by sending SMS.
Airtel Bangladesh Limited role in creating advertising
Administration: Airtel hires advertising agency to make advertisement for the company. In hiring agency they deal with how much to pay the agency and how resource will be allocated.
Planning: Airtel set up the time allocation for making advertisement and where and how those advertisements will be made. So Airtel need to play a great role in there.
Budgeting: Airtel prepare the total budgeting plan for the advertisement.
Coordination: Day to day coordination is needed to make the TV commercial effective and also guidelines need to be followed strictly.
Creating ads: Finally they manage to make the advertisement for the company.
Agency responsibilities towards Airtel Bangladesh Limited
Account management: Agency find out the SBU of the organization for which they are preparing TV commercial,
Research: Agency keeps research and identifies the popular media in which target audience watch the commercial for example it can be Facebook, YouTube or any broadcast media.
Account planning: After getting the budget for making advertisement from Airtel they prepare the account planning.
Creative concept: Agency gathers creative idea for the company and Airtel approve the final concept for the advertisement.
Advertising production: Finally agency prepares the TV commercial for Airtel Bangladesh Limited.
Monitoring: After preparing the advertisement monitoring is required. Basically they telecast their advertisement at the pick hour from 7.00pm to 11.00pm most of the time.
Promotional mix
Advertising: During their four TV advertisement they advertise their network coverage campaign among the youth of Bangladesh.
Direct marketing: In rural and urban area they organized some event promotional campaigns to sale their product.
Internet marketing: In Facebook, YouTube, and twitter and as well in other internet media they used to promote their advertisement.
Sales promotion: In rural area they arranged some sales promotion like if you recharge 24 taka you will get the offer 1 paisa per second.
Publicity: In rural area they prearranged publicity for their network campaigns promotion also for the new prepaid package activation.
Reason for growing importance of IMC for Airtel Bangladesh Limited
Airtel shifts from media advertising to other form of marketing communication as managing errors in media advertising is difficult.
Movement from media advertisement to internet advertisement that emphasizes on target consumers facilitates Airtel.
Rapid growths of database marketing help Airtel to know the actual database of the target customers.
Demand for greater ad agency accountability also desires to be focused.
Change in agency compensation like which media should be picking for broadcasting and which medium will generate maximum opportunities for Airtel to promote its network campaigns is also followed.
Rapid growth of internet also assists Airtel to promote the campaigns as the target audience is very much aware about the use of internet.
Increasing importance of branding like as name, logo, color and tagline needs to promote.
Advantages of advertising and direct marketing for Airtel Bangladesh Limited
Advertiser can control the message Bondhu Jekhane Network Sekhane.
Massage can be customized for specific customers of Airtel.
It is a cost effective way to communicate with large number of audience of mobile phone.
Effective way to create brand images and symbolic appeals.
Often can be effective way to strike responsive chord with consumers and measure the effectiveness of the advertisement.
Direct marketing towards youth allows company to be very selective and target specific segments of customers.
Use of Internet as an IMC tools for Airtel Bangladesh limited
Internet works for Airtel as a medium to inform and educate them about the network coverage of Airtel and various products they offer.
By internet they can make direct sale of 3G internet offers to the target customers.
Internet helps Airtel to directly communicate with buyers. They maintain "Airtel Buzz" Facebook page to interact with the customers.
"Airtel Buzz" webpage assist Airtel to build and maintain a strong relationship with customers and inform them about new features of product.
In "Airtel Buzz" webpage they promoted their four advertisements for sales promotion.
Internet also worked as tools for implementing publicity for their network coverage campaigns. In Facebook, YouTube and twitter page they uploaded their advertisement to get maximum coverage.
Sales promotion uses
Introduce new product: In rural area campaigns of network coverage introduced new product for the new customers and existing customers. Their new offer was by recharging 24 taka you will get 1 paisa per second offer for new and existing connections.
Get existing customers to buy more: The ultimate aim of the advertisement was making existing users to buy more their 1 paisa per second offer.
Attract new customers: To attract new customers through their network campaigns they also brought some exciting offer of 3G internet package for the customers.
Combat competitions: During the Ramadan time they brought some new offer through their advertisement like low call are offer and double usage of internet offer.
Increase retails inventories: In rural and urban areas they provide huge point of selling materials for the retailers to help them to increase their sale.
Advantage of publicity for Airtel Bangladesh Limited
Credibility: Publicity makes people more aware about the network coverage of Airtel mobile operators. As a result, publicity for their product and network was a crying need for Airtel.
Low cost: Publicity sometimes worked as word-of-mouth among the young generation so it cost lower for the company to get publicity.
Promotional management of Airtel Bangladesh Limited
Network promotional campaigns of Airtel coordinate the promotional mix elements to develop a controlled, integrated of effective marketing communication. Consideration for developing the promotional program includes:
Types of buyers: Buyers of Airtel prepaid package belongs to 18 – 30 years age people who are fashions oriented and aware about follow most trends of the universe.
Buyer decision process: The targeted customers constantly like the low-call rate and varieties of internet offer.
Stage of product life cycle: Currently Airtel is in growth level in the telecom industry. So they need to capture huge untapped market through their network coverage.
Channels of distribution: Airtel distribute their product through their retailers to the end users. They have also Airtel Relationship Centre from where consumer can take service.
The marketing plan
Marketing plan is that document describes the overall marketing strategies and programs developed for a company, product or brand. In marketing plan network campaigns they have a detailed plan how to implement their overall strategies to reach to the customers. In the network  campaigns they also followed their objective to be most preferable brand among the young generations. During making the marketing plan they have fixed which media and method will be used to promote their campaigns. Moreover, what is acceptation of young generation from them was also evaluated and examined.
Unique Selling Proposition (USP) of network campaigns
The unique selling proposition of network campaigns advertisement was encouraging youth who loved to be connected all the time with their friends through Facebook. Today"s young generations are very fashion oriented and all the time they are post their updates in the Facebook from shopping to eating in a restaurant or whenever they went out for a vacation. In those advertisements it was clearly exposed that all those adults were connected through Facebook with their friends and whenever they need any help their Facebook friends come forward to help them. In those four advertisements excluding the CG animated one all the three commercials were linked with one another. Through this advertisement it was clearly identified that where ever you go you will be always connected with your friends through Airtel network. Airtel marketing team successfully advertises their USP from beginning to end in the campaigns to grab the attention of new and existing customers.
Positioning strategies development process of Airtel Bangladesh Limited
Identify the competitors: Airtel believes that their close competitor in the mobile industry is Robi and Banglalink. As Robi and Banglalink both encourage the youth of our country. So the competitors for Airtel are Robi and Banglalink.
Assess perception of them: Airtel constantly bring new product and exciting feature for existing customer to compete with the rivals.
Determine the positions: As Banglalink and Robi is 2nd and 3rd position in the number of holding mobile subscriber Airtel hold their position as 4th number mobile phone operators.
Analyze consumer preference: Airtel furnish highlights on consumer choice and preference. They try to keep their promise as a low cost mobile operator for young generation.
Make the positioning decision: Airtel introduced fastest 3G internet connection in Bangladesh to create a position in the customers mind to acquire their connectivity.
Monitoring the positioning: Airtel closely monitor their positioning in the market through various strategies like analyzing competitors, identifying the weakness of the competitors in the market.
Approach to positioning a product or brand
By product or service attributes & benefits: Airtel offers a wide range of prepaid package service. Customer could easily switch to any packages without any charges. They just need to recharge particular amount so they could switch to particular package.
By price/ quality: Airtel call rate is lower than its core competitors Robi and Banglalink. Additionally to that it has better 3G network frequency than that of Banglalink.
By use or application: Users of Airtel can/could use SIM not only for voice call and data packages but also for getting discount. For example – Airtel users were get instant bonus for the talk time they use daily.
By product class: Airtel is a very popular brand among the youth of Bangladesh as it is shows a different class in the industry.
By competition: Inside Telecom industry GP is the leader and Robi is the market competitor for Airtel Bangladesh Limited. In addition, Airtel positioned itself as a low priced quality service provider in the telecom industry.
By cultural symbols: In this particular Advertisement campaign, Airtel focused on young generation fashions, styles and trends they wants to follow.
Finding of the report
To make effective advertisement campaigns Airtel needed to find out the perfect theme that best match with their missions. All the advertisement they broadcast from April 29, 2014 to till August 6, 2014 was effective for them. They diplomatically promoted all the campaigns before and after the Ramadan month which brought huge success for the company.
For making lots of campaigns it is better for company to choose various artists for their advertisement which can make a significant impact on consumers mind. They also need to focus on different content of the campaigns which was successfully made by Airtel.
Four campaigns can promote different service of the company like 3G internet offer, different features of diverse packages they provide. If they talked about different packages it will be better for their campaigns.
Through their network campaigns they promoted the message that forms facebook to phonebook all friends are connected through Airtel network.
All the four advertisement must sustain the theme and content and must be reasonable to all the authentic and probable consumers. All the advertisement of the campaigns can be remembered by a single advertisement.Their four advertisements were connected with each others as a result it is a good signs for the company to make their advertisement meaningful for the company.
It will be better if they made different advertisement with different artist for their campaigns. In their all advertisement all the artistes was remain same.
Recommendations
After analyzing all probable prospect of Airtel network campaigns I made some recommendations for them. Hope that if they put some consideration on these recommendations it will be more effective for them to promote their products among the youth of Bangladesh.
The campaigns could be more successful for the company if Values Added Service was promoted through the network campaigns.
Not any of their advertisement talked in details about the packages they offered for the customers.
Less promotional activity in the urban area as they did maximum promotional campaigns in rural area. They needed to do some rally promotional activity in urban areas.
As they started giving advertisement before the Ramadan month so it was effective for them but they needed to continue their campaigns even after the Ramadan also.
They could keep renowned famous person in the arrangement of artist in this campaign. The youngster was not that much familiar face in TV.
Airtel use new strategies of branding below the line must not be the only way of escalating their visibility. Above the line efforts are equally required to be taken.
At the same time they provide huge bonus talk time or SMS to the customers usable for short time period. Before they notice they bonus they validity almost expired as a result customers became dissatisfied. So they need to increase the time period of this usable bonus talk time or SMS.
Airtel not supposed to be throwing unnecessary SMS to the subscribers. It makes the consumers bothered while a SMS is received during working hours. SMS can be sent on weekend, holidays, during festivals time or in off peak hour so that it does not make the customers disappointed.
Conclusion
Airtel is a very famous brand in worldwide as a strong competitor for the rivals. So, Airtel Bangladesh Limited needs to use their global brand image to be strong competitors in Bangladesh telecom industry. Gradually their businesses activities are growing as assistance of the company are best matched to their target customer and also for quick network development.
Airtel always believe in enriching the life of youth generations so they all the time brings some new and exciting offers for the customers which made a very effective image among the young people. For Airtel the challenge is not only to create satisfied clients as well to produce loyal and delighted customer. At the moment, most of the students and the low earnings citizens are extremely relying on Airtel because of the cheap cost of call rate they provide. It is high time for Airtel to make happy and retain its existing customers with some innovative features. Hopefully by applying or evaluating the proposal of this study Airtel will be one of the market leaders in this industry in the vicinity of future.