About Skin Cancer
Definition
Skin cancer is a common and locally destructive cancerous (malignant) growth of the skin. It originates from the cells that line up along the membrane that separates the superficial layer of skin from the deeper layers. It occurs when the body does not repair damage to the DNA inside skin cells, allowing the cells to divide and grow uncontrollably. Skin cell damage may be caused by a variety of factors, including genetics and skin type. But most cases of skin cancer are caused by overexposure to ultraviolet (UV) light produced by the sun. Skin cancer may appear as a dark spot, lesion, a wound that does not heal or a bump on the skin.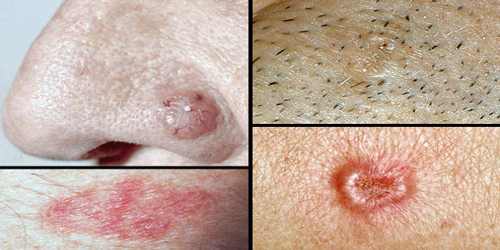 There are three main types of skin cancers: basal-cell skin cancer (BCC), squamous-cell skin cancer (SCC) and melanoma. The type of skin cancer depends on the cells that are damaged. Greater than 90% of cases are caused by exposure to ultraviolet radiation from the Sun. This exposure increases the risk of all three main types of skin cancer. Exposure has increased partly due to a thinner ozone layer. The most common risk factors for skin cancer are as follows.
Ultraviolet light exposure, either from the sun or from tanning beds. Fair-skinned individuals, with hazel or blue eyes, and people with blond or red hair are particularly vulnerable. The problem is worse in areas of high elevation or near the equator where sunlight exposure is more intense.
A chronically suppressed immune system (immunosuppression) from underlying diseases such as HIV/AIDS infection or cancer, or from some medications such as prednisone or chemotherapy
Exposure to ionizing radiation (X-rays) or chemicals known to predispose to cancer such as arsenic
Certain types of sexually acquired wart virus infections
People who have a history of one skin cancer have a 20% chance of developing a second skin cancer in the next two years.
Elderly patients have more skin cancers.
Causes, Sign and Symptoms of Skin Cancer
Most skin cancers are caused by exposure to the sun. This may be long-term exposure or short periods of overexposure. This is because ultraviolet (UV) light from the sun damages the DNA (genetic material) in our skin cells. Some genetic syndromes including congenital melanocytic nevi syndrome which is characterized by the presence of nevi (birthmarks or moles) of varying size which are either present at birth, or appear within 6 months of birth. Nevi larger than 20 mm (3/4″) in size are at higher risk for becoming cancerous. The use of many immunosuppressive medications increases the risk of skin cancer. Cyclosporin A, a calcineurin inhibitor for example increases the risk approximately 200 times, and azathioprine about 60 times.
There are a variety of different skin cancer symptoms. These include changes in the skin that do not heal, ulcering in the skin, discolored skin, and changes in existing moles, such as jagged edges to the mole and enlargement of the mole.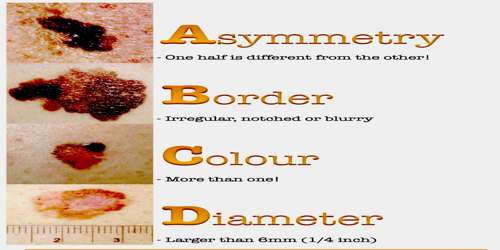 Signs and symptoms of basal cell carcinomas include:
Appearance of a shiny pink, red, pearly, or translucent bump
Pink skin growths or lesions with raised borders that are crusted in the center
Raised reddish patch of skin that may crust or itch, but is usually not painful
A white, yellow, or waxy area with a poorly defined border that may resemble a scar
Signs and symptoms of squamous cell carcinomas include:
Persistent, scaly red patches with irregular borders that may bleed easily
Open sore that does not go away for weeks
A raised growth with a rough surface that is indented in the middle
A wart-like growth
Melanoma: Most melanoma consists of various colours from shades of brown to black. A small number of melanoma are pink, red or fleshy in colour; these are called amelanotic melanoma and tend to be more aggressive. Warning signs of malignant melanoma include change in the size, shape, color or elevation of a mole. Other signs are the appearance of a new mole during adulthood or pain, itching, ulceration, redness around the site, or bleeding at the site. An often-used mnemonic is "ABCDE", where A is for "asymmetrical", B for "borders" (irregular: "Coast of Maine sign"), C for "color" (variegated), D for "diameter" (larger than 6 mm—the size of a pencil eraser) and E for "evolving."
Lymphoma of the skin: Lymphoma, which is cancer of the lymphatic system, may form in a variety of locations in the body, including the spleen, lymph nodes, thymus and skin. This cancer may appear as red or purple patches, moles or pimples on the skin that may itch or ulcerate. Other symptoms may include fatigue and weight loss.
Diagonsis, Treatment and Prevention of Skin Cancer
A skin examination by a dermatologist is the way to get a definitive diagnosis of skin cancer. In many cases, the appearance alone is sufficient to make the diagnosis.
A skin biopsy is usually used to confirm a suspicion of skin cancer. This is performed by numbing the area under the tumor with a local anesthetic such as lidocaine. A small portion of the tumor is sliced away and sent for examination by a pathologist, who looks at the tissue under a microscope and renders a diagnosis based on the characteristics of the tumor.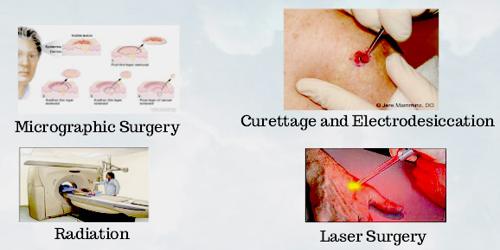 Treatment is dependent on type of cancer, location of the cancer, age of the person, and whether the cancer is primary or a recurrence. Treatment is also determined by the specific type of cancer.
In the case of superficial basal cell carcinomas, some creams, gels, and solutions can be used, including imiquimod (Aldara), which works by stimulating the body's immune system causing it to produce interferon which attacks the cancer, and fluorouracil (5-FU), a chemotherapy drug.
The tumor area is numbed with a local anesthetic and is repeatedly scraped with a sharp instrument (curette), and the edge is then cauterized with an electric needle. The advantage of this method is that it is fast, easy, and relatively inexpensive. The disadvantages are that the scar is often somewhat unsightly, and the recurrence rate is as high as 15%.
Mohs' micrographic surgery (Mohs surgery) is a technique used to remove the cancer with the least amount of surrounding tissue and the edges are checked immediately to see if tumor is found. This provides the opportunity to remove the least amount of tissue and provide the best cosmetically favorable results. This is especially important for areas where excess skin is limited, such as the face. Cure rates are equivalent to wide excision. Special training is required to perform this technique. An alternative method is CCPDMA and can be performed by a pathologist not familiar with Mohs surgery.
Ten to fifteen treatment sessions deliver a high dose of radiation to the tumor and a small surrounding skin area. This form of treatment is useful in those who are not candidates for any surgical procedure. The advantage of radiation therapy is that there is no cutting involved. The disadvantages of this expensive alternative are that the treated area cannot be tested to be sure the whole tumor is gone and radiation scars look worse over time. It is for this reason it is usually reserved for elderly patients.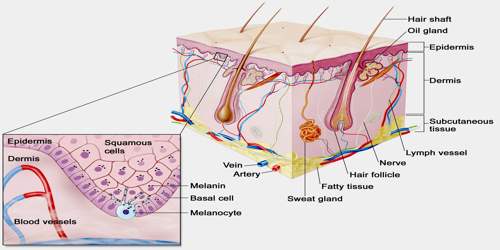 Many skin cancers can be prevented by avoiding triggers that cause tumors to develop. Prevention strategies include protection from the sun by the use of sunscreens, protective clothing, and avoidance of the sun during the peak hours of 9 AM to 3 PM. Parents should ensure children are protected from the sun. Do not use tanning beds, which are a major cause of excess ultraviolet light exposure and a significant risk factor for skin cancer. The American Academy of Dermatology (AAD) has noted a dramatic rise in the numbers and cost of skin cancer. Furthermore, there has been an increase in the total number of skin cancers and that new breakthrough treatments for melanoma, although expensive, comprise only a small portion of the total cost of skin cancer treatment. Most skin cancers are treated cost efficiently by dermatologists in an office setting.
Reference: