About Cholera
Definition
Cholera is an infectious disease that causes severe watery diarrhea, which can lead to dehydration and even death if untreated. Cholera remains a global threat to public health and an indicator of inequity and lack of social development. An estimated 3-5 million cases and over 100,000 deaths occur each year around the world. The infection is often mild or without symptoms, but can sometimes be severe. Approximately one in 10 (5-10%) infected persons will have severe disease characterized by profuse watery diarrhea, vomiting, and leg cramps. In these people, rapid loss of body fluids leads to dehydration and shock. Without treatment, death can occur within hours.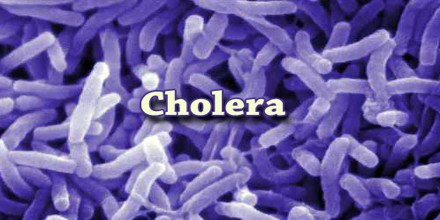 Key Facts
Cholera is an acute diarrhoeal disease that can kill within hours if left untreated.
Researchers have estimated that each year there are 1.3 to 4.0 million cases of cholera, and 21 000 to 143 000 deaths worldwide due to cholera1.
Most of those infected will have no or mild symptoms, and can be successfully treated with oral rehydration solution.
Severe cases will need rapid treatment with intravenous fluids and antibiotics.
Provision of safe water and sanitation is critical to control the transmission of cholera and other waterborne diseases.
Oral cholera vaccines are an additional way to control cholera, but should not replace conventional control measures.
Safe oral cholera vaccines should be used in conjunction with improvements in water and sanitation to control cholera outbreaks and for prevention in areas known to be high risk for cholera.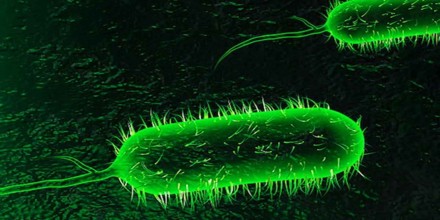 Causes, Sign and Symptom of Cholera
Vibrio cholerae, the bacterium that causes cholera, is usually found in food or water contaminated by feces from a person with the infection. Common sources include:
Municipal water supplies
Ice made from municipal water
Foods and drinks sold by street vendors
Vegetables grown with water containing human wastes
Raw or undercooked fish and seafood caught in waters polluted with sewage
The primary symptoms of cholera are profuse diarrhea and vomiting of clear fluid. These symptoms usually start suddenly, half a day to five days after ingestion of the bacteria. Often, symptoms are mild. But sometimes they are very serious. About one in 20 people infected have severe watery diarrhea accompanied by vomiting, which can quickly lead to dehydration. Although many infected people may have minimal or no symptoms, they can still contribute to spread of the infection.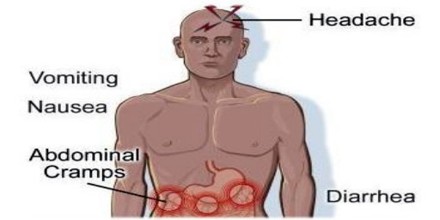 Signs and Symptoms of dehydration include:
Rapid heart rate
Loss of skin elasticity (the ability to return to original position quickly if pinched)
Dry mucous membranes, including the inside of the mouth, throat, nose, and eyelids
Low blood pressure
Thirst
Muscle cramps
If not treated, dehydration can lead to shock and death in a matter of hours.
Treatment and Prevention of Cholera
Cholera is an easily treatable disease. The majority of people can be treated successfully through prompt administration of oral rehydration solution (ORS). The WHO/UNICEF ORS standard sachet is dissolved in 1 litre (L) of clean water. Adult patients may require up to 6 L of ORS to treat moderate dehydration on the first day.
Severely dehydrated patients are at risk of shock and require the rapid administration of intravenous fluids. A 70 kg adult will require at least 7 L of intravenous fluid, plus ORS during their treatment. These patients are also given appropriate antibiotics to diminish the duration of diarrhoea, reduce the volume of rehydration fluids needed, and shorten the amount and duration of V. cholerae excretion in their stool.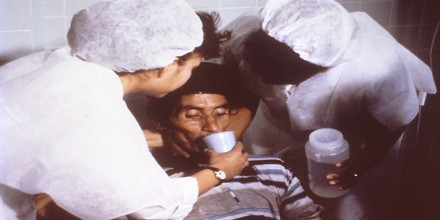 Antibiotics, which kill the bacteria, are not part of emergency treatment for mild cases. But they can reduce the duration of diarrhea by half and also reduce the excretion of the bacteria, thus helping to prevent the spread of the disease.
There are currently three cholera vaccines recommended by the World Health Organization (WHO). These are Dukoral, Shanchol, and Euvichol. All three require two doses to give full protection. Dukoral needs to be taken with clean water, and it provides roughly 65 percent protections for 2 years. Shanchol and Euvichol do not need to be taken with water, and they provide 65 percent protection for 5 years. All the vaccines offer higher protection nearer to the time they are given.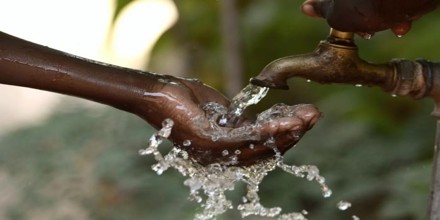 (Handwashing is important to prevent the spread of cholera disease)
A multifaceted approach is key to prevent and control cholera, and to reduce deaths. A combination of surveillance, water, sanitation and hygiene, social mobilisation, treatment, and oral cholera vaccines are used. The long-term solution for cholera control, which benefits all diseases spread by the fecal-oral route lies in economic development and universal access to safe drinking water and adequate sanitation. These measures prevent both epidemic and endemic cholera.