Electrocardiogram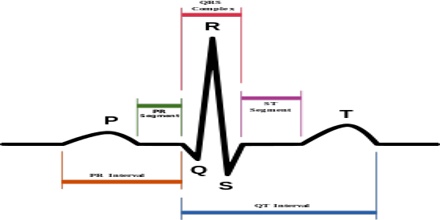 The electrocardiogram (ECG or EKG) is a diagnostic tool that is routinely used to assess the electrical and muscular functions of the heart. While it is a relatively simple test to perform, the interpretation of the ECG tracing requires significant amounts of training. Numerous textbooks are devoted to the subject.
It is a test that checks for problems with the electrical activity of your heart. An EKG shows the heart's electrical activity as line tracings on paper. The spikes and dips in the tracings are called waves.
The heart is a muscular pump made up of four chambers. The two upper chambers are called atria. The two lower chambers are called ventricles. A natural electrical system causes the heart muscle to contract. This pumps blood through the heart to the lungs and the rest of the body.
Medical uses of Electrocardiogram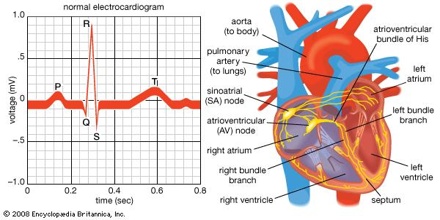 Some indications for performing electrocardiography include:
Suspected myocardial infarction (heart attack) or new chest pain
Suspected pulmonary embolism or new shortness of breath
A third heart sound, fourth heart sound, a cardiac murmur or other findings to suggest structural heart disease
Perceived cardiac dysrhythmias either by pulse or palpitations
Monitoring of known cardiac dysrhythmias
Fainting or collapse
Seizures
Monitoring the effects of a heart medication
Assessing severity of electrolyte abnormalities, such as hyperkalemia
Hypertrophic cardiomyopathy screening in adolescents as part of a sports physical out of concern for sudden cardiac death
Perioperative monitoring in which any form of anesthesia is involved (e.g. monitored anesthesia care, general anesthesia); typically both intraoperative and postoperative
As a part of a pre-operative assessment some time before a surgical procedure (especially for those with known cardiovascular disease or who are undergoing invasive or cardiac, vascular or pulmonary procedures, or who will receive general anesthesia)
Cardiac stress testing
Computed tomography angiography (CTA) and Magnetic resonance angiography (MRA) of the heart (ECG is used to "gate" the scanning so that the anatomical position of the heart is steady)
Biotelemetry of patients for any of the above reasons and such monitoring can include internal and external defibrillators and pacemakers
Why is it done?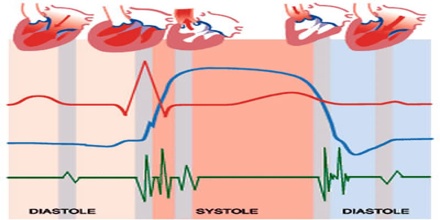 An Electrocardiogram or ECG gives two major kinds of information. First, by measuring time intervals on the ECG, a doctor can determine how long the electrical wave takes to pass through the heart. Finding out how long a wave takes to travel from one part of the heart to the next shows if the electrical activity is normal or slow, fast or irregular. Second, by measuring the amount of electrical activity passing through the heart muscle, a cardiologist may be able to find out if parts of the heart are too large or are overworked.
Types of Electrocardiogram or ECG
There are three main types of Electrocardiogram or ECG:
a resting ECG – carried out while you're lying down in a comfortable position
a stress or exercise ECG – carried out while you're using an exercise bike or treadmill
an ambulatory ECG – the electrodes are connected to a small portable machine worn at your waist so your heart can be monitored at home for one or more days.
Risks and Results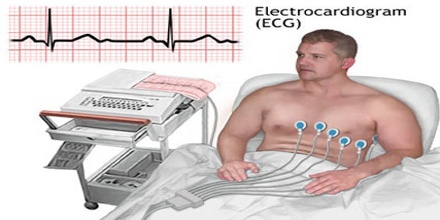 An EKG (Electrocardiogram) is a completely safe test. In most cases, there is no reason why you should not be able to get an EKG.
The electrodes are used to transfer an image of your heart's electrical activity to the tracing on paper. No electricity passes through your body from the machine, and there is no danger of electrical shock.
An electrocardiogram (EKG or ECG) is a test that checks for problems with the electrical activity of your heart. An EKG shows the heart's electrical activity as line tracings on paper. The spikes and dips in the line tracings are called waves.
The EKG is read by a doctor, such as an internist, family medicine doctor, electro physiologist, cardiologist, anesthesiologist, or surgeon. The doctor will look at the pattern of spikes and dips on your EKG to check the electrical activity in different parts of your heart. The spikes and dips are grouped into different sections that show how your heart is working.