Introduction
Amaging Cola is a carbonated soft drink of the Amazing Cola Company. The Amazing Cola Company claims that the beverage is sold in stores, restaurants, and vending machines of Peoples Republic of China. And it is one of the most popular soft drinks in China. The Company produces concentrate, which is then sold to licensed Amaging Cola bottlers in China. The bottlers, who hold territorially exclusive contracts with the company, produce finished product in cans and bottles from the concentrate in combination with filtered water and sweeteners. The bottlers then sell, distribute and merchandise Amaging Cola to retail stores and vending machines.
Amazing Cola Company started making its own cola in 2004. At the beginning, Amazing cola tasted like a cross between Coca-Cola and Pepsi, but bears a red and white label. But later on, the need for differentiation derived the Amazing Cola Company to improvise. It added Ginseng to its ingredient as a differentiator from its competitors. Ginseng has been used in Chinese medicine for centuries, and revered to have ultimate healing powers. For this reason the letter Z was omitted from "Amazing Cola" and a unique brand was created as "The Amaging Cola".
General Company Description
Company overview
Highly accomplished and enterprising, Robin Chan ( Tommy Lee  and Lu Ming ) decided to set up their own soft drink company. Together they pooled their knowledge and competencies in the beverage industry to form the cornerstone of the company called Hangzhou Wahaha Group, which is the second largest beverage company of China. Under the guiding hand of its founders, the company continues to flourish and is now turning in to a major player in the beverage industry of China.
Company Profile
Basic Information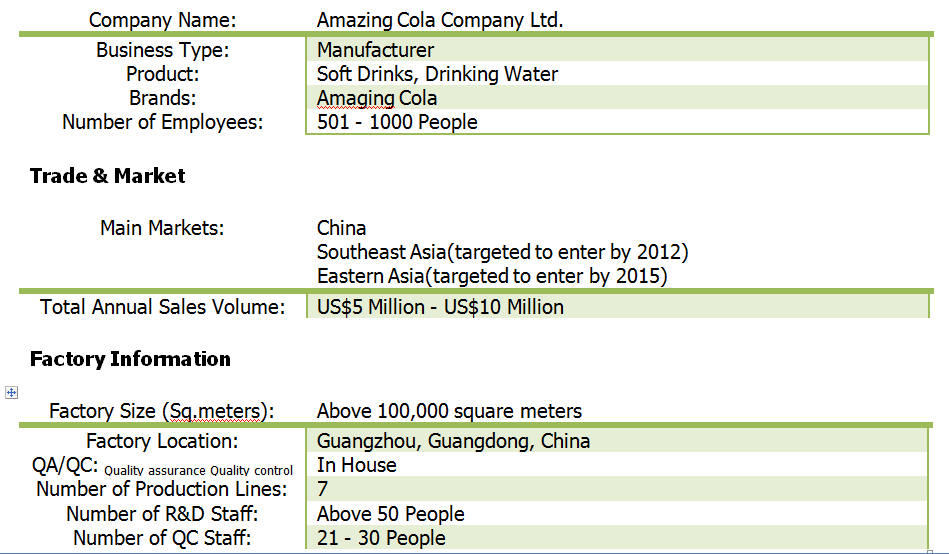 Mission and vision
Mission of The Amazing Cola Company Ltd:
A mission describes the organization's basic function in society, in terms of the products and services it produces for its customer.  The Amazing Cola Company's mission has each of the following elements: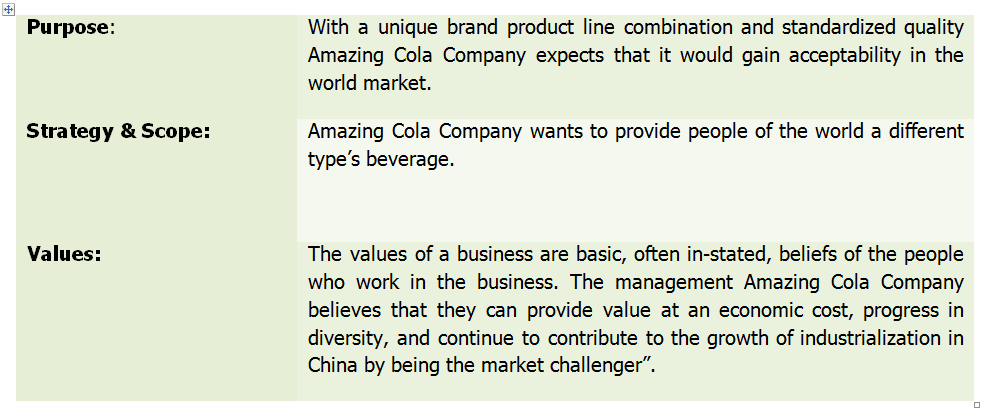 Vision of The Amazing Cola Company:
The Sky is not the limit for us, but the expectation of the company is within limits. Therefore, their imagination soars beyond conventional barriers. To sincere travelers, the way is never too long. The Amazing Cola Company believes in "progress in diversity and service through entrepreneur". They are merchants and missionaries, doers and dreamers, entrepreneurs and professionals and are futuristic with emphasis on creating thinking and dynamic action.
Strengths and core competencies
The strengths of Amaging Cola are as follows:
Concentrated Brand Identity. Focused on mass market only & most advertising are placed in areas where common people can see it.
Product Price. It's affordable for a product that tastes great.
Availability. With Increasing number of plants Amaging Cola is catering every wholesaler to provide retailers a fruitful business
Sales Promotions. To draw more attention to the product Amaging Cola creates contests for people to purchase more.
Social and Community Assistance. Amaging Cola sponsors organizations with their events and gigs.
Proper Placement of Materials. P.O.S. advertising is placed in the right market to achieve proper brand identification.( Point of sale (POS))
Through Amazing Cola Company's extensive distribution network, Amaging Cola dominates rural China ]]=and its second- and third-line cities. Sales in 2009 amounted to 360 million liters, approximately 21% and 52% of the volumes of Coca-Cola and Pepsi-Cola respectively.
Challenges
The challenges that Amaging Cola are facing as follows:
As a competitor in the carbonated soft drinks industry, Amaging Cola is limited only to lower class markets. It cannot cater to high-end customers.
As a differentiated brand in the country, marketing may not be pushed very well. Only selected advertisements and exposure.
Poor bottling design and less volume of bottles available.
Not available on Fast-food chains where large crowd eat.
It doesn't follow much with the global marketing strategies of its competitors like Coca-cola or Pepsi.
As a growing company and adding more bottling plants in the southern part of the country, the opportunity to boost sales is 100%. The product is affordable and has a feel of what the common people are. Promoting the product has been easy for the mother company, so penetration of the lower class public isn't a big deal.
Ongoing campaigns of some soft drinks that are developed and priced for the lower class market poses a threat. But in a healthy competition, AMAGING Cola knows its targets well and caters to what they need. Coca Cola will always be on the top, so AMAGING Cola will produce to accommodate its tied consumers and create more promos to double the purchase of their products.
Product overview
The Amazing Cola Company uses 7 different containers for Amaging Cola and provide in quantity of 250ml, 500ml, 1000ml, and 2000ml pet bottles. Among those quantities, which are, provided by Amaging Cola customer preferred mainly 250 ml can & pet 500 ml bottle.
Ensuring quality can created a great competitive advantage. To ensure quality international quality standards are followed by The Amazing Cola Company. Since, as the customers are not brand loyal they frequently change the brand as it necessary in situation. So The Amazing Cola Company uses quality as a competitive strength for its beverage.
The strength of a product can be ascertained by comparing with the others. The major competitors of Amaging Cola are coke, Pepsi. In both cases, they are exported in concentrated form and then process that form to produce a complete product. But Amaging Cola has its own factory at Guangzhou, Guangdong, China, where they use from the very beginning the latest technology, international quality control, of course our cheap labor to produce the complete product at lowest price. So, the major strength of the product is the lowest price than its competitors. Moreover, it is domestic company using the labor creates its own image as complete domestic product.
Ingredients
Purified carbonated water, raw cane sugar, szechuan peony root, cassia bark, Malaysian vanilla, oils of lemon, lime and orange, nutmeg, cloves, licorice, cardamom, caramel color, citric and phosphoric acids.
Industry analysis in domestic market
The Food and beverage business (F&B) is surely booming in China – home to the world's largest population and a nation whose economy has been rapidly growing since its opening up. According to "the Eleventh Five-year Outline for Commercial Development" issued by China's Ministry of Commerce, the actual growth rate of added value in catering industries is set to increase 9% annually from 2006 to 2010. As a traditional pillar industry in China's service sector, sales of food and beverage has maintained an annual growth rate of over 10% for 16 years.
In China, main competitors of Amaging Cola are China Cola (known in China as Future Cola, marketed by the Hangzhou Wahaha Group), Jianlibao (orange flavored soft drink), Smart (Coca-Cola Company; soft drinks of various fruit flavours such as apple, watermelon, grape, peach, coconut, etc.), Wang Lao Ji(local herbal drink), Laoshan Cola(produced using waters from Mt. Laoshan in Shandong province), Huiyuan(produced in Henan Province sold under the name Juizee Pop).
Market plan
Market analysis
The market analysis investigates both the internal and external business environment. It is vital that Amazing cola carefully monitor both the internal and external aspects regarding its business as both the internal and external environment and their respective influences will be decisive traits in relation to its success and survival in the soft drink industry.
Bangladesh produces a large number of food products and the market is oligopolistic. Bread, biscuits and soft drinks are the dominant food products of Bangladesh. The market for soft drinks is also dominated by a few large firms. Coca cola, Pepsi, RC Cola, Virgin, Uro Cola and Pran Cola are the major producers of soft drinks in Bangladesh. The market shares of Coca Cola, Virgin, Pepsi and RC Cola are 40%, 25%, 20% and 10% respectively.
Marketing Strategy
In China, the Amazing Cola Company adopted three main marketing techniques. First, its advertisements adopt a nationalistic tone. Copy promotes Amaging Cola as "Chinese people's own cola" and incites consumers to select it over Coke or Pepsi. Amaging Cola's focus on rural areas gave the product high penetration at lower costs. It also uses celebrity advertising. Its penetration pricing made it an affordable alternative to its rivals, particularly in the more price-sensitive rural areas.