38 Virginis is an F-type main sequence star in the constellation Virgo. It is approximately 108 light years from Earth. The visual magnitude for 38 Virginis is 6.11. Because of its relative faintness, 38 Virginis should be visible only from locations with dark skies, and it should be invisible from skys affected by light pollution. It is close to the celestial equator, so it is visible from both hemispheres at different times of the year.
Nomenclature
The name 38 Virginis derives from the star being the 38th star in order of right ascension catalogued in the constellation Virgo by Flamsteed in his star catalogue. The designation b of 38 Virginis b derives from the order of discovery and is given to the first planet orbiting a given star, followed by the other lowercase letters of the alphabet. In the case of 38 Virginis, only one was discovered, which was designated b.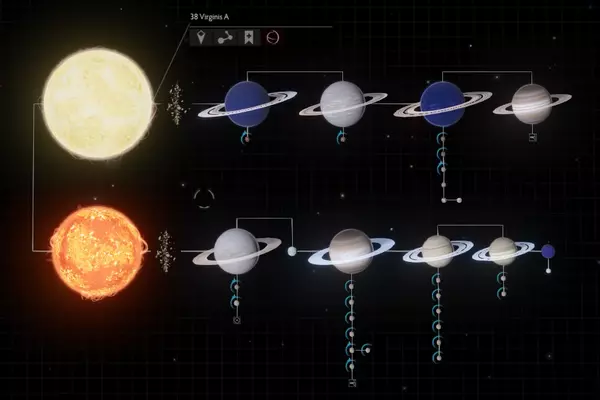 38 Virginis b orbits its star every 825 days at a distance of 1.82 AU (close to Mars's orbital distance from the Sun, which is 1.53 AU). It likely receives 3% more sunlight as the Earth does from the Sun, due to its effective temperature being close to that of the Earth (in fact, only 3 degrees warmer).
Stellar characteristics
38 Virginis is an F-type main sequence star with a mass of 118% that of the Sun and a radius of 145% that of the Sun. It is approximately 1.9 billion years old and has a temperature of 6557 K. The Sun, on the other hand, is approximately 4.6 billion years old and has a temperature of 5778 K.
The star has a metallicity ([Fe/H]) of 0.07 dex, or 117% of the solar amount. It has 3.48 times the luminosity (L) of the Sun.
At a half-arcsecond separation, a companion star is cataloged in the CCDM. Binoculars or a telescope are required to view it because it is too faint to be seen with the naked eye. It is approximately 107 light years away from Earth.