Executive Summary
Wal-Mart was founded in 1962 by a man named Samuel Moore Walton.  He was considered "one of the most influential retailers of the century" (Wheelen & Hunger, 740).  Sam Walton started his retail career in management in 1940 with J.C. Penney Co.  His training and hard work at J.C. Penney Co. led him to his great Wal-Mart idea. He decided that small town populations would welcome, and make profitable, large discount shopping stores.  When Sam Walton created Wal-Mart in 1962, he declared that three policy goals would define his business: "respect for the individual, service to customers, and striving for excellence" (Walmartstores.com).
Wal-Mart stores "sold nationally advertised, well-known-brand merchandise at low prices in austere surroundings" (Wheelen & Hunger, 738).  The 1970's marked significant growth for Wal-Mart with its first Wal-Mart Distribution Center as well as the Wal-Mart Home Office.  By the end of 1979, there were 276 Wal-Mart stores in 11 states and in 1991, the firm had 1,573 stores in 35 states to include the international market. Wal-Mart sales growth continued into the 1980s. Wal-Mart was divided into three business segments: Wal-Mart stores, Sam's Clubs, and the International Division.
In 1983 the company opened its first three Sam's Wholesale Clubs and began its expansion into bigger city markets.  Wal-Mart Supercenters were large combination stores that included a full-line grocery center, a general merchandise discount store, banks and some even offered a food court of restaurants.  Wal-Mart's international expansion accelerated management's plans for expansion and notoriety.   In 2000, Fortune magazine named it as one of the "100 Best Places to Work" and in 2002, "Wal-Mart officially became the world's largest company based on its $245 billion in sales" (Wheelen & Hunger, 731).
Wal-Mart's winning strategy in the United States was based on selling brand products at low cost while still offering the customer a quality product.  Wal-Mart is in the business of selling everything customers need in their everyday lives.  This includes the consumer goods listed above as well as food-service items.    Wal-Mart took pride in its domestic strategies and programs that were based on a set of two priorities:
1) "Customers would be provided with what they want, when they want it, all at a value".
2)  "Treating each other as we would hope to be treated, acknowledging our total dependency on our Associate-partners to sustain our success" (Wheelen & Hunger, 747).
In the year ending January 31, 2006, Wal-Mart's financials reflected the following: (all dollar amounts are in millions)
      Total revenue – $315, 654
      Net income – $11,231
      Total assets – $138,187
      Total liabilities – $48,826
    Total shareholder's equity – $53,171. According to the 2006 consolidated balance sheets total liabilities and shareholders' equity equaled $138,187 not just totals shareholders' equity as previously shown.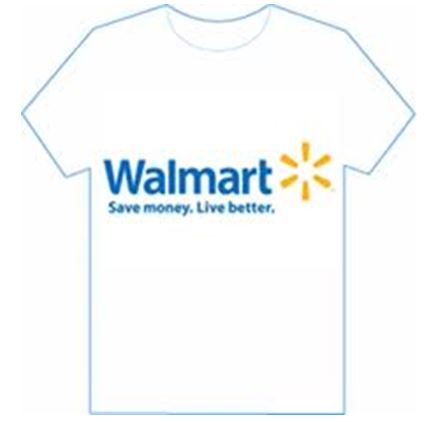 I. Current Situation
A. Current Performance
Wal-Mart (WM) is divided into three business segments: Wal-Mart Stores, Sam's Club, and the International Division. In 2002, "WM officially became the world's largest company based on its $245 billion in sales" (Wheelen and Hunger 19-1).  As of January 31, 2006, the company had over 6,100 stores worldwide, bought products from 70 countries, and 20% of its business was generated outside of the United States (Wheelen and Hunger 19-2).
2006 fiscal year sales of $312.4 billion, a 9.5% year over year increase.
$11.2 billion net income, up 9.4% to $2.68 per share.
Stock price of $46.11, down from $56.98 on January 31, 2002. (Likely due to better competition and future expected growth slowdown.)
B. Strategic Position
1.  Mission
Wal-Mart Stores, Inc. is a global retailer committed to improving the standard of living for our customers throughout the world (Annual Report 2006).
2.  Objectives
Comparative store sales is a measure which indicates the performance of our existing stores by measuring the growth in sales for such stores for a particular period over the corresponding period in the prior year.
 Operating income growth greater than net sales growth has long been a measure of success for us.
 Inventory growth at a rate less than that of net sales is a key measure of our efficiency.
 With an asset base as large as ours, we are focused on continuing to make certain our assets are productive. It is important for us to sustain our return on assets (Annual Report 2006).
3.  Policies
We earn the trust of our customers every day by providing a broad assortment of quality merchandise and services at everyday low prices ("EDLP") while fostering a culture that rewards and embraces mutual respect, integrity and diversity. Putting Our Customers First.
 EDLP is our pricing philosophy under which we price items at a low price every day so that our customers trust that our prices will not change erratically under frequent promotional activity.
Our focus for SAM'S CLUB is to provide exceptional value on brand-name merchandise at "members only" prices for both business and personal use. Internationally, we operate with similar philosophies (Annual Report 2006).
4.  Strategies
      We have developed several initiatives to help mitigate this pressure and to grow comparable store sales through becoming more relevant to the customer by creating a better store shopping experience, continual improvement in product assortment and an aggressive store upgrade program to be instituted over the next 18 months.
      Our expansion programs consist of opening new units, converting discount stores to supercenters, relocations that result in more square footage, as well as expansions of existing stores.
      Sam's Club – We believe that a greater focus on providing a quality in-club experience for our members will improve overall sales, including sales in these categories.
      International – A shift in the mix of products sold toward general merchandise categories which carry a higher margin (Annual Report 2006).
II. Strategic Managers
 A. Board of Directors
      Thirteen members, four affiliated with the company, nine independent, three women, two African Americans, two Hispanic Americans.
      Chairman of the Board,  S. Robson Walton (son of founder.)
 B. Top Management
      Eduardo Castro-Wright Executive Vice President, President and Chief Executive Officer, Wal-Mart Stores Division U.S.
      M. Susan Chambers Executive Vice President, People Division
      Patricia A. Curran Executive Vice President, Store Operations, Wal-Mart Stores Division U.S.
      Douglas J. Degn Executive Vice President, Food, Consumables, and Hardlines, Wal-Mart Stores Division U.S.
      Linda M. Dillman Executive Vice President, Risk Management and Benefits Administration
      Johnnie Dobbs Executive Vice President, Logistics and Supply Chain
      Michael T. Duke Vice Chairman, Responsible for Wal-Mart International
      Joseph J. Fitzsimmons Senior Vice President, Treasurer
      John E. Fleming Executive Vice President, Chief Marketing Officer, Wal-Mart Stores Division U.S.
      Rollin L. Ford Executive Vice President and Chief Information Officer
      David D. Glass Chairman of the Executive Committee of the Board of Directors
      Mark D. Goodman Executive Vice President, Marketing, Membership and E-commerce, SAM'S CLUB
      Craig R. Herkert Executive Vice President, President and Chief Executive Officer, The Americas, Wal-Mart International
      Charles M. Holley, Jr. Senior Vice President, Finance
      Thomas D. Hyde Executive Vice President and Corporate Secretary
      Lawrence V. Jackson Executive Vice President, President and Chief Executive Officer, Global Procurement
      Gregory L. Johnston Executive Vice President, Club Operations, SAM'S CLUB
      C. Douglas McMillon Executive Vice President, President and Chief Executive Officer, SAM'S CLUB
      John B. Menzer Vice Chairman, Responsible for U.S.
      Thomas M. Schoewe Executive Vice President and Chief Financial Officer
      H. Lee Scott, Jr. President and Chief Executive Officer
      Gregory E. Spragg Executive Vice President, Merchandising and Replenishment, SAM'S CLUB
      S. Robson Walton Chairman of the Board of Directors
      Claire A. Watts Executive Vice President, Product Development, Apparel and Home Merchandising, Wal-Mart Stores Division U.S.
III. EXTERNAL ENVIRONMENT: OPPORTUNITIES AND THREAT (SWOT)
A.   

Natural Environment
      Raw materials availability.(O)
      Land availability. (O)
      Electricity usage. (T)
      Oil and Gas usage. (T)
      Water scarcity. (T)
      Hazardous waste storage, transportation and disposal. (T?)
B.    

Societal Economy

1.     

Economic
      Interest rate increases may signal end of economic expansion (T).
      Economic deterioration may mean more frugal shopping habits. (O)
      Increasing commodity costs. (T)
      Increasing transportation costs. (T)
      Currency fluctuations. (T)
      Slowing national economy (T)
2.     

Technology
      Increased usage of RFID for inventory management. (O)
      Internet presence allows for customer options. (O)
      Information technology increasingly important. (O)
3.     

Political-Legal
      Regional trade pacts are making free trade available between countries. (O)
      Differing laws between countries may evoke compliance issues. (T)
      Potential unionization of workforce. (T)
      The Company is involved in a number of legal proceedings. In accordance with Statement of Financial Accounting Standards No. 5, "Accounting for Contingencies," the Company has made accruals with respect to these matters, where appropriate, which are reflected in the Company's consolidated financial statements (Annual Report 2006). (T)
      The Company is a defendant in numerous cases containing class action allegations in which the plaintiffs have brought claims under the Fair Labor Standards Act ("FLSA"), corresponding state statutes, or other laws (Annual Report 2006). (T)
4.     

Socio-cultural
      Aging U.S. demographics. (O)
      Slowing U.S. population growth. (T)
      Wal-Mart seen as a reason for closing of mom and pop stores. (T)
      International cultural differences. (T)
      Green environmental movement. (O)
C.    Task Environment
      United States market saturation. (T)
      Expansion into Europe, China, South America, Canada, and Mexico. (O)
      Rivalry High. Target, Sears, K-Mart (T)
      Chance of new entrants low. (O)
      Purchasing power high. (O)
      Substitute power high. (T)
      Government regulations power medium. (T)
IV. Internal Environment
A.   

Corporate Structure
Three business units, Wal-Mart Stores USA, Sam's Club, and Wal-Mart International (Wheelen and Hunger 19-12). (S)
      Wal-Mart Stores unit had 3,289 locations and included the company's supercenters, discount stores, Neighborhood Markets in the US, and walmart.com.
      Sam's Club unit had 567 locations and included the warehouse membership clubs in the US plus samsclub.com.
      Wal-Mart International had 2,285 locations in 10 countries. The International total was increased in February 2006 by purchasing a majority control of CARHCO with 360 locations in five Central American countries (Wheelen and Hunger 19-12).
B.    

Corporate Culture
      In-depth employee involvement in company affairs. (S)
      Trained employees to be merchants by being responsible for the performance of their own departments. (S)
      Reflection of the founder's values. (S)
      Conservative values create some problems when expanding to larger cities. (W)
      Non-Union stance is viewed unfavorably is some areas. (W)
      Offered $8.5 million worth of grants from its "Safe Neighborhood Heroes" program to recognize emergency professionals. (S)
      Donated $3 million in supplies when Hurricane Katrina devastated America's Gulf Coast. (S)
C.   

Corporate Resources

1.      Marketing
      Advertising costs are expensed as incurred and were $1.6 billion in 2006. Advertising costs consist primarily of print and television advertisements (Annual Report 2006).
      Buy American campaign. (S)
      Green marketing offers the option of buying products which were better for environment. (S)
      Offers quality brand names at lower-than-competitive prices (Wheelen and Hunger 19-19). (S)
      Introduced a "Value Plan" benefits plan to its employees at premiums ranging from $11 to $65 a month. (S)
2.      Finance
      $312.6 billion in annual sales. (S)
      $11.2 billion net income. (S)
      $2.68 earnings per share. (S)
      8.9% return on assets. (S)
      11.4% increase in sales and operating income for the international business (Wheelen and Hunger 19-24). (S)
3.      R&D
      More involved with the development side. (W)
      Focusing on expansion and development of already established business model. (W)
4.      Operations
      Wal-Mart USA. We are intent on driving comparative store sales by being relevant to our broad customer base and by improving our cost structure and inventory flow to strengthen return on investment. (S)
      Sam's Club. We remain committed to serving the needs of our members – where pennies matter – by leveraging productivity improvements and lowering expenses, so that we can provide the products and services they want at the lowest prices in the industry. (S)
      Wal-Mart International. Our approach to ensuring continued profitable growth includes three dimensions – new markets with multiple formats, new store growth in existing markets and increasing sales at existing stores (Annual Report 2006). (S)
5.      Human Resources
      Employees are called associates. (S)
      Employee stock ownership and profit-sharing program. (S)
      Decentralized approach to retail management development. (S)
      Utilizes the Total Quality Management approach. (S)
      Discourages unionization (Wheelen and Hunger 19-23). (W)
6.      Information Systems
      Leader in RFID technology. (S)
      Good internet presence. (S)
      Utilizes satellite communications, data centers, and handheld devices. (S)
V.  Analysis of Strategic Factors
A.   

Situational Analysis

1.      Strengths
      International brand name.
      Financial position.
      Market leadership.
2.      Weaknesses
      Market saturation.
      Public opinion.
      Adjustment to cultural differences after entering a foreign market.
      Supplier alienation.
      Past employee discrimination.
      Employee health benefits.
      International supplier employee violation
3.      Opportunities
      International expansion.
      Environmental leadership.
      Worker's rights leadership.
      Community involvement.
      Social initiatives.
4.      Threats
      Strong U.S. competition.
      Changing demographics.
      Economic uncertainty.
      Current litigation.
      Employee unionization.
VI. Strategic Alternatives and Recommended Strategy
A.   

Strategic Alternatives
  Adopt a friendlier corporate attitude and image
  Pro. Improved customer service
  Pro. Business growth
  Pro. Stronger relationships with its suppliers and customers
  Con. The negative image tarnishes their moral and ethical image
  Con. Popular image is that Wal-Mart comes to town and "locally-owned retailers shrivel up and die" (Parnell, 2008).Ease into foreign   and domestic markets instead of barging in Pro. Create a more positive corporate image by not devouring every business in sight.
      Pro. Creates an image with integrity
      Pro. Customer loyalty
      Pro. Increase friendlier competition
      Con. Creates ill-will among smaller businesses
      Pro. Provides a new source of tax revenue for the community
      Pro. Creates more jobs
      Pro. Promotes community expansion and individuals who will patronize from other communities
      Pro. Opportunities for employee growth in the organization
      Con. Associates may receive unjust wages due to the compensation of lower cost products
      Con. Purchasing practices require most suppliers to manufacture goods in third world countries
      Con. Reduces the value on competing businesses
B.    

Recommended Strategy
      Continue to expand the brand and operations in to urban & rural areas and foreign countries. The company's reputation of being a bully needs to be eliminated by implementing social awareness/advancement programs similar to Boys and Girls clubs or the Police Athletic League. The goal of such a program will be to invite the community to take part in Wal-Mart's growth by mentoring, providing training, internships and/or jobs that will aid the community.
      "Mom and Pop" establishments should not be taken for granted. It is not the intention of Wal-Mart to take from anyone's dream, but to it is Wal-Mart's goal to provide cost savings to its consumers. A possible strategy for easing the anxiety of many small business owners on the onset of Wal-Mart entering the community is offering these owners the opportunity to become a part of Wal-Mart staff in a capacity that would provide them sense of security. Offering small business owners a position will not only eradicate the discontent of loyal customers but will display Wal-Mart's willingness to enter a community and enhance it.
With the attitude of "business is a dog eat dog world", Wal-Mart has been able to enter the market "eat" stores that have tried to follow its precedence but have not been able to attain Wal-Mart's recognition. Entering into foreign markets may be extremely difficult, as many nations are known for their loyalty and enriched cultures. Unlike the United States, countries like China and Japan are accustom to living with less, so the attractiveness of buying more due to cost savings may not be received as well as in the United States. It is in the best interest of Wal-Mart to establish stores in foreign markets, but to adopt the culture of the area and continue to maintain its mission of enhancement not degradation.
VII. Implementation
      Management needs to be open to change regarding clashes with "grass-roots" movements that push to keep new construction of Wal-Mart stores in rural America.  While many residents welcome a new Wal-Mart, there will always be opposition and by developing ways to appease those that oppose the giant retailer, they will be more welcome to the neighborhood.
      Wal-Mart has been steadily reaching into every corner of the earth, but not always with successful results.  Upper management is making the assumption that every culture will welcome box stores and the American culture that Wal-Mart is known for.  As has been proven time and again, this is not always true.  There need to be committees established that can perform thorough research before just barging onto foreign land.
      Several lawsuits have been filed regarding the treatment of employees.  Wal-Mart needs to get involved with developing a way to ensure employees are getting the right benefits that is equal to the retail industry's average worker.
VIII. Evaluation and Control
      Wal-Mart needs to develop "scout" teams that can visit locations of opportunity and solicit the communities concerns if Wal-Mart builds nearby.
      Implement incentivized customer satisfaction surveys and employee surveys, which will increase the chance of them being completed.
      Monitor industry trends in foreign countries of interest.
      Shift from monopolizing to publicly displaying how important "Mom and Pop" establishments are to our society and how Wal-Mart can effectively and efficiently incorporate these individuals and there keen sense of business into the large picture of providing consumers cost savings.
IX. Appendix
EFAS (External Factor Analysis Summary)
| | | | | |
| --- | --- | --- | --- | --- |
| Key Internal Factors | Weight | Rating | Weighted Scores | Comments |
| Opportunities | | | | |
| International expansion | .20 | 3 | .60 | Required to remain competitive & #1 in market |
| Environmental leadership | .05 | 2 | .10 | Will take time |
| Worker's rights leadership | .05 | 2 | .10 | Will take time and initiative to steer towards a win – win |
| Community involvement | .10 | 2 | .20 | Ensures community buy-in and acceptance |
| Social initiatives | .10 | 2 | .20 | Fosters relationships |
| Threats | | | |   |
| Strong U.S. competition | .15 | 4 | .60 | Kmart and Target are capturing an opposing niche while Wal-Mart remains a catch all of convenient shopping |
| Changing demographics | .10 | 3 | .30 |   |
| Economic uncertainty | .05 | 3 | .15 | Domestic recession, lower discretionary spending, increasing unemployment   |
| Current litigation | .10 | 3 | .3 |   |
| Employee unionization | .10 | 3 | .3 |   |
| Total Scores | 1.0 |   | 2.85 |   |
IFAS (Internal Factor Analysis Summary)
| | | | | |
| --- | --- | --- | --- | --- |
| Key Internal Factors | Weight | Rating | Weighted Scores | Comments |
| Strengths | | | | |
| International brand name | .15 | 4 | .60 | |
| Financial position | .15 | 4 | .60 | |
| Market Leadership | .15 | 4 | .60 | Grew stronger as the economy grew weaker |
| Weakness | | | | |
| Market saturation | .15 | 3 | .45 | Embarking on international opportunities |
| Adjustment to cultural differences | .10 | 3 | .30 | |
| Supplier alienation | .20 | 3 | .60 | |
| Past employee discrimination | .05 | 2 | .10 | |
| Employee health benefits | .05 | 2 | .10 | |
| Total Scores | 1.0 | | 1.55 | |
SFAS (Strategic Factor Analysis Summary)
Key Strategic Factors

Weight

Rating

Weighted Score

Duration           S         I         L

Comments

International brand name

.15

4

.60

  X
  X
   X
Name Recognition
Market saturation

.15

3

.45

  X
   X
Supplier alienation

.20

3

.60

  X
  X
   X
International expansion

.20

3

.60

  X
  X
   X
Social initiatives

.10

2

.20

  X
  X
   X
Community outreach programs
Strong U.S. competition

.15

4

.60

  X
  X
  X
Kmart and Target are capturing an opposing niche while Wal-Mart remains a catch all of convenient shopping
Economic uncertainty

.05

3

.15

Domestic recession, lower discretionary spending, increasing unemployment
TOTAL SCORES

1.00

3.20