The "Gateway to Hell" in Turkmenistan has been blazing for more than 50 years, but the country's autocratic leader has apparently ordered it to extinguish. However, the specifics of how this will accomplish still being worked out. The spectacular inferno in the Karakum Desert, also known as the Darvaza gas crater, is supposed to have erupted in the early 1970s when the ground above a cavern collapsed during a Soviet fossil fuel drilling mishap.
The engineers took the risky choice to burn off the fuel after discovering they had just opened up a pocket of natural gas, anticipating the fire to burn for a few weeks. The 69-meter (226 foot) wide, 30 meter (98 foot) deep crater has been blazing for fifty years. Its days may be numbered; according to AFP, President Gurbanguly Berdymukhamedov urged officials to put out the fire in a televised address on Saturday, January 10.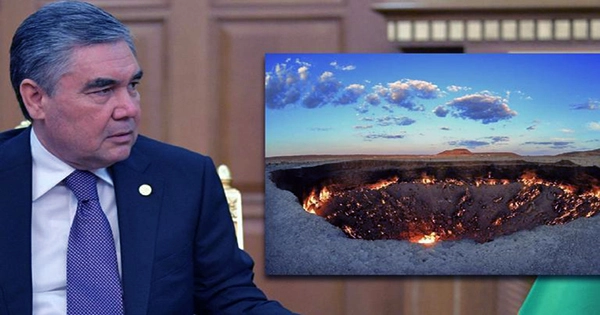 The president highlighted economic concerns in addition to the possible harm the fires could cause to local residents and the environment. Turkmenistan, after all, has one of the world's greatest natural gas deposits but lacks the infrastructure that effectively harnesses it. In broadcast remarks, he remarked, "[The crater] has a bad impact on both the environment and the health of the people who live nearby."
President Berdymukhamedov remarked, "We are losing rich natural resources for which we could make big profits and use them to improve the well-being of our people." However, it is unknown how the pit will be put out. Berdymukhamedov asked scientists to discover a solution to put out the fires in 2010, but no visible progress has been achieved since then.
Although the country is not often thought of as a vacation destination, the Gateway to Hell has become a tourist attraction in recent years. The gas crater also utilized as the setting for a bizarre government film in which President Berdymukhamedov drove a rally vehicle around the crater to prove to his citizens that he was not dead. Details regarding the Darvaza gas crater are scarce, as they are in many aspects of Turkmenistan, not least due to the government's tight control over public life. Human Rights Watch, having a government that "severely restricts all fundamental rights and freedoms", describes Turkmenistan as a "very restrictive country".