Isn't it time to take advantage of affordable ticket prices and fly somewhere warm for a family vacation as the winter weather persists?
It's a terrific time to take advantage of the sun and low seasonal airfare and hotel costs, whether your ideal leisure holiday includes outdoor adventure, cultural immersion, or even a road trip across the desert.
Road trip Arizona's latest attractions
Do you yearn for some fresh air for a relaxing family vacation? A leisurely drive across Arizona's stunning desert and mountain terrain allows you to experience both ancient and new things.
Driving historic Route 66 has always been a must-do vacation experience, and now the town of Kingman has added another reason to do so. Gregg Arnold, a Route 66 artist, has produced a new sculpture called Guardian of Route 66. The sculpture, which stands 13 feet tall and lights up at night, is housed at the Antares Point Visitor Center, which also houses another of Arnold's works.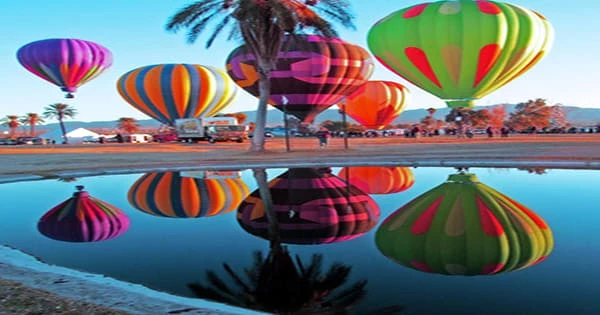 Guardian of Route 66 is comprised of scrap metal, shields, peace signs and more. Of the new sculpture, Arnold suggests, "…everyone deserves a second chance. Reshape the pieces of your past into a bright shiny future."
The town of Lake Havasu City, 60 miles south, offers another open-air adventure. The annual Havasu Balloon Festival & Fair will be held Jan. 20-23, with entrance free for children under the age of ten.
Families can see a mass ascension of bright balloons above the desert skyline, enjoy a night glow of balloons, and enjoy kid-friendly programs and live music at this event.
The new Verde Valley Archaeology Center and Museum has opened in Camp Verde, further inland. Admission is free for the entire month of January to commemorate the opening of the new attraction. The center promotes the Verde Valley's Native American heritage and archaeology via conservation, preservation, and education. There are 12 public exhibition spaces and an interactive children's adventure room in this new facility.
Then see Dale Chihuly's new installations at two historic Arizona locations, the Desert Botanical Garden in Phoenix and Frank Lloyd Wright's Taliesin West in Scottsdale, to get a unique perspective on the Sonoran Desert. Chihuly in the Desert is a show that combines art, architecture, and nature and continues until June 18.
Immersive culture in Panama City
When you're seeking not just a sunny vacation but also an immersive cultural experience, plan a getaway to Panama City, Panama this winter.
Panama City has a wealth of history activities for culturally minded visitors looking for more than a museum visit. Panama's signature pintao hat, for example, may be a prized holiday memento, but due to its long history and prominent involvement in traditional dance and heritage festivals, the hat has been designated by UNESCO as an intangible cultural heritage item.
During a visit to the Pintao Hat Museum in Panama City, visitors can avoid the tourist stores and instead enjoy the local skill of hand-weaving plant fibers to create this recognizable wardrobe staple.
Panama's national dress, the pollera, is another handcrafted local treasure, with layered frills and a one-year production time. Visitors to Panama City's Casco Viejo area will learn about the history of fashion and the techniques used to create it.
Guests can learn about the cutarra sandal and be custom fitted for an ancient, traditional kind of footwear that dates back generations, adding to the cultural wardrobe. In the Los Santos region, artisans still use the old-fashioned method of measuring a guest's foot and weaving strips onto it to tailor the fit.
Panama is also home to seven indigenous villages famed for their wood carvings, woven baskets, and bags, in addition to its fashion history. A boat journey along the Chagres River takes guests to an indigenous community on the water's edge, where eco-tours and immersive experiences are available.
While in Panama City, make sure to visit the city's three unique areas: the old Casco Antiguo district, a reconstructed district, and a modern and cosmopolitan sector. Be sure to try ceviche and grilled seafood, as well as the classic Panamanian soup Sancocho, Yuca Frita, and Hojaldras, a fried bread sprinkled with powdered sugar.
Outdoor adventure in Ventura
Visit Ventura has released its new 2022 Ventura Inspiration Guide, which makes planning day trips, neighborhood discovery, and outdoor adventure easier than ever.
For outdoor enthusiasts, Ventura has it all, with mountains, rivers, the Pacific Ocean, and the Channel Islands all offering fun in the sun. Whether you favor cycling, hiking, or rock climbing, or kayaking, scuba diving, or stand-up paddling, you'll find it here.
In the morning, head to Ventura Harbor for sport fishing, sailing instruction, or kayaking. Then go on a beautiful excursion to Channel Islands National Park, where you can see marine life from the deck and go on a nature walk or hike to see local plants and stunning scenery.
The island of Santa Cruz is the most popular destination for day hikes, and a roundtrip boat ticket makes it simple to spend a few hours exploring the trails. The trailheads at Scorpion Beach begin directly at the boat dock.
Do you want to go on an inland adventure? There are many of paths and gorges to explore in the Coastal Range. The Ventura River Trail is lined with sculpture and assemblage art installations produced by local sculptors and assemblage artists. Because of its location between two estuaries, the Ventura River is an ideal spot for birdwatching.
Visit Harmon Canyon Preserve, which is only 10 minutes from downtown Ventura and offers 2,100 acres of hiking and mountain biking. Do you prefer to take a more leisurely stroll? Visit the Ventura Botanical Grounds for a beautiful walk through gardens that rise up the hillside, with over 160 plant species to discover.
Take the kids for a relaxing bike ride along the Rincon Bike Trail in the sun. This beachfront cycle path is excellent for cyclists of all ages and abilities. The trail is accessible from downtown and runs about 12 miles along the coast to Carpinteria, with smooth and generally flat terrain the entire way.