Customer experience, retail banking division & financial performance evaluation
of BRAC Bank Limited
Banking Industry:
Bank is financial institution and its main job is the transaction of money. This sector is one of the most challenging sectors all over the world. The importance of the sector emerged through its contribution in the economic growth of the country. This sector accelerates economic growth through mobilizing funds from surplus unit to the deficit unit. Banking Industry is moving towards rapid changes due to technological innovation and diversified needs of its customers. There are several types of banks as- central bank, commercial bank, investment bank, foreign bank etc. commercial banks accept deposits from the public surplus and lend them to the deficit unit for a short period of time. Commercial banks are growing faster as they are involving the investment as well as lending for the purpose of economic balance and development.
Banking sector of Bangladesh
The central bank of Bangladesh is named as "The Bangladesh Bank", just after the independence, which was formally known as "The State Bank of Pakistan". The Bangladesh Bank automatically became official foreign exchange reserve institute. It was responsible for currency control, monitoring exchange and credit control. In the early 1970s, the government decided to permit foreign banks to continue their business and nationalize the local banks. After the independence, banking industry in Bangladesh started its journey with 6 nationalized commercialized banks, 2 State owned specialized banks and 3 Foreign Banks. Whereas now, there are 52 commercial banks in Bangladesh, comprising 4 state-owned banks, 31 private, 8 Islamic and 9 foreign banks. In the 1980's banking industry achieved significant expansion with the entrance of private banks. Now, banks in Bangladesh are primarily of two types:
Scheduled Banks:
The banks which get license to operate under Bank Company Act, 1991 (Amended in 2003) are termed as Scheduled Banks. Scheduled Banks are classified into following types:
State Owned Commercial Banks (SOCBs):
There are 4 SOCBs which are fully or majorly owned by the Government of Bangladesh.
Specialized Banks (SDBs):
4 specialized banks are now operating which were established for specific objectives like agricultural or industrial development. These banks are also fully or majorly owned by the Government of Bangladesh.
Private Commercial Banks (PCBs):
There are 39 private commercial banks which are majorly owned by the private entities. PCBs can be categorized into two groups:
31 conventional PCBs are now operating in the industry. They perform the banking functions in conventional fashion as interest based operations.
Islamic Shariah Based (PCBs):
There are 8 Islamic Shariah based PCBs in Bangladesh and they execute banking activities according to Islamic Shariah based principles i.e. Profit-Loss Sharing (PLS) mode.
Foreign Commercial Banks (FCBs):
9 FCBs are operating in Bangladesh as the branches of the banks which are incorporated in abroad.
Non-Scheduled Banks:
The banks which are established for special and definite objective and operate under the acts that are enacted for meeting up those objectives, are termed as Non-Scheduled Banks. These banks cannot perform all functions of scheduled banks.
There are 56 scheduled banks in Bangladesh who operate under full control and supervision of Bangladesh Bank which is empowered to do so through Bangladesh Bank Order, 1972 and Bank Company Act, 1991.
Major Commercial Banks of Bangladesh:
Commercial banks play a major role in Bangladesh's financial system. They are ensuring safety of depositors' funds, supplying loans to people for various purposes, encouraging entrepreneurs with different schemes, helping perform international trade and so on. Some top ranking private banks are- The Prime Bank Limited, Islamic Bank Limited, BRAC Bank Limited, Dutch Bangla Bank Limited, Eastern Bank Limited, Mutual Trust Bank Limited and many other. This report is focusing on BRAC Bank Limited.
BRAC Bank Limited:
BRAC Bank started through BRAC International, around 2001 BRAC found that it cannot afford the loaded customers of microfinance, then they decided to start SME loan through a bank and finally, on 4th July, 2001 BRAC Bank Limited started their journey. It has spread network with166 branches, over 350 ATMs, 458 SME units, 30 Cash Deposit Machines and 1800 remittance delivery points. BRAC Bank is known as the pioneer of SME banking in Bangladesh, it is the 4th largest SME bank in world. It is also providing all other banking facilities. BRAC Bank Limited is a scheduled commercial bank in Bangladesh. It was established under the Banking Companies Act, 1991 and incorporated as a private limited company as on May 20, 1999 under the Company Act, 1994. The chairman of the bank is Sir Fazle Hasan Abed and the CEO is Syed Mahbubur Rahman.
BRAC Bank is a part of a larger alliance GABV from 2009, Global Allaince for Banking on Values, which is an independent network for banks using finance to deliver sustainable development for un-served people, communities and environment. Presently, there are 22 GABV with a combined asset base in excess of USD 30 billion and over 7 million clients.
Retail Banking Division:
Retail Banking of BBL is consisting of different types of depository and loan products to fulfil the changing demands of customers. It also offers lucrative and competitive banking products while giving interest on daily amount as savings accounts, DPS, FDR. BBL Retail Banking Division has five departments as follows-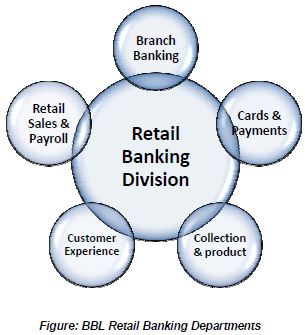 Financial Highlights of Retail Banking Division:
In 2013 Total Asset booked from Branch Banking is BDT 2,174 million, which is 31% more than the booking of previous year.
In 2013 Branch Banking focused on changing the deposit composition by bringing more CASA deposit so that bank can get a low cost deposit base. Even in a year of greatest political unrest Branch Banking ensured CASA deposit net growth of BDT 3,563 million which 11.25 times more than net growth of 2012.
Total Deposit crossed BDT 70 billion mark and strands at BDT 70.85 billion with a growth rate of 20% since 2011.
Retail Current & Savings deposit portfolio grew by BDT 3,692 million (16% growth) in 2013.
453 new current and savings accounts were opened which resulted in 21.85% portfolio growth.
Non funded income increased by BDT 4.3 million (10% growth).
25% increase in FCY sale and 32% increase in FCY purchase.
Total advances strands at BDT 19.79 billion.
Total fund under management grew by 14% in 2012 and strands at BDT 90.65 billion at the end of 2012.
Card acquiring volume growth was 22%.
These financial highlights collected from the BBL Annual Report of 2013.
On 2nd May, 2012, BRAC Bank has re-organized its retail business according to customer profile. This segmentation has been done to deliver more standardized services and reduce operating costs as well. Customer Experience is a separate wing of retail banking division includes 4 segments under Business Development, as –
Premium Banking
Supreme Banking
Excel Bankig
Easy Banking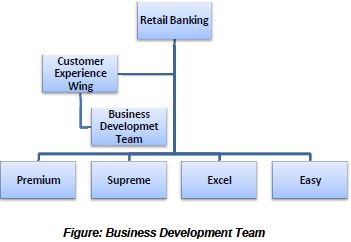 Premium Banking:
Customer who maintains at least BDT 50 lacs (6 month average) is called premium customers. They are highly prioritized. They also enjoy different gift and discount through BRAC Bank.
Benefits:
State of the art banking services from the Premium Banking Lounges
Dedicated "Relationship Managers"
Platinum Debit card and Premium cheque book
Complementary Platinum Credit Card
Invitations to exclusive events, parties and seminars
Festival greetings and gifts
Special occasion based offers
Privileges and benefits with over 200 of BBL partners across the country.
Supreme Banking:
Guests who maintain a balance between BDT 10 lacs to below 50 lacs (6month average) are treated as supreme clients. They enjoy separate service booth and cash deposit booth in the branch along with many other services.
Benefits:
Supreme Debit Card
Dedicated "Relationship Managers" in selected branches
Exclusive service and cash counters in selected branches
Faster service arrangement by Customer Service Managers in non branded branches
Pre-Approved Credit Card
Personalized birthday wishes and surprises
Invitations to exclusive events, parties and seminars
Festival greetings and gifts
Continuous Special occasion based offers
Privileges and benefits with over 200 of BBL partners across the country.
Excel Banking
Client who maintains a balance between BDT 50 thousand to below 10 lacs in an average of 6 months are called excel group of guest. Excel Banking Unit is under the Customer Experience department. This unit has two wings: Business Development Team and Excel Sales Team. The Business Development Manager (BDM) And Senior Sales Manager (SSM) report to the Head of Customer Experience. Associate Business Development Managers and Officers report to the BDM. Sales Managers, Associate Sales Managers, and Sales Officers report to the SSM.
Benefits:
Customer service through branches, SME service units, Apon Shomoy Centers and ATMs
Excel VISA Debit Card
Weekend and monthly offers at various restaurants and lifestyle products
Privileges and benefits with over 200 of BBL partners across the country.
Easy Banking:
These are the general customers who do day to day and traditional banking with the bank. They only require a minimum balance in the account (up to BDT 50 thousand).
Benefits:
An Easy Banking customer will be entitled to get fast and convenient transactional banking services through ATM, CDMs, IVR, bKash, etc.
Easy Banking Customer can avail discounts and benefits from tie up partners by showing their "Planet Card".
Easy Banking Customer can avail our Internet Banking and E-statement facility with free of cost.
SWOT Analysis:
The SWOT analysis is a instrument in business that helps to develop strong business strategies by considering all the strengths and weakness, as well as the opportunities and threats. Strengths and weaknesses are internal to the company includes reputation, patents, location. Opportunities and threats are external as-suppliers, competitors, prices, which is unchangeable as it is out of control.
The Strengths, weakness, threats and opportunities of BBL are given below-
Strengths:
Strong Brand image 'BRAC': BBL has a strapping brand name of the NGO BRAC, which was founded by Sir Fazle Hasan Abed. He is also the Chairperson of BBL, consequently, BBL has the advantage of this brand image of BRAC.
Stable Financial Strength: BBL has a well-built financial sponsorship as the Chairman is Sir Fazle Hasan Abed and the other directors of the board are highly experienced and qualified to face and adopt any difficulties. This is a strength which is taking forward the bank more rapidly. Various Products and Services: BBL is offering different types of loans and depository products to the customers according to their changing demands. They are coming in the market with new and customized products as they have a huge number of customers from all level.
Adopting New Technologies: BBL is introducing new technologies to the customers. They are offering E-banking, through which banking is easier and faster. Customers are being attracted because they can do banking from their own house by connecting through internet. Additionally, customers are getting banking information and solutions over telephone from the callcenter service of BBL. These facilities of new technologies are creating value of BBL.
Pioneer in SME Banking: BBL is the pioneer of 'Small and Medium Enterprise-SME Banking', from the root BRAC by Sir Fazle Hasan Abed. This the 2nd largest SME bank of Bangladesh, with a view to reduce poverty and enhance living standards. For that reason, BBL is reaching to each and every house of the nation with a better solution for all.
Member of GABV: BBL is a member of 'Global Alliances for Banking on Values' since 2009, which is targeted to establish sustainable development for un-served people and environment by using finance. BBL is only bank of Bangladesh with this membership. BBL's view is to touch the billion people with sustainable banking by 2020.
Customer focused: BBL is customer focused as they believe in people, planet and profit. The first priority is customer satisfaction through their products, services and behavior. They are trying to give a trendy baking experience to all the customers.
Weaknesses:
High service charges and hidden charges: BBL is offering different types of services but the service charges are higher compare to other banks. Customers are disappointed in this issue, which is being a major weakness for the bank.
More concentrated on SME Banking: As BBL is the initiator of SME banking so they are more focused on SME banking, consequently, other banking services are not going faster as SME banking. This is proving a limitation for this bank.
Slow banking process: The banking process is slower than other banks, so customers have to wait in a long queue. For that reason, customers get irritated and quit banking with BBL.
Unattractive remuneration package: BBL does not offer attractive remuneration packages for employees, which is creating employee dissatisfaction. As a result, the employee dedication is not up to the level.
Decreasing customer loyalty: Customers are facing many problems regarding banking with BBL as well as they are also paying hidden charges, which is resulting in reduction on customer loyalty.
Customer ignorant in adopting CDM: Regular and average customers of BBL are not accepting the new technology, as they are not having the proper knowledge on the benefits of this. They have to use CDM when the deposit amount is lower than 50000 BDT, that is discouraging customers, for that reason, BBL is losing their regular customers.
Opportunities:
Expansion in retail banking and corporate banking: BBL has a large opportunity to spread the business by focusing in retail and corporate banking. They are already established in SME banking, with this reputation they can also be the topper in retail and corporate banking.
Increase the number of branches and ATMs: The increasing number of branches and ATMs can make strong connection with the increasing number of customers as well as the huge customer pressure on other branches can also be solved.
Introduce Innovative and customized service packages: BBL has the opportunity to incr5ease the number of customers through offering innovative and customized product and services. Almost all banks are going on a similar track, so if BBL can introduce some new and different types of product then customers will be more influenced to start banking with BBL.
Construct skilled and trained workforce: BBL has the opportunity to recruit selective talents as it has a brand image. Additionally, it also can provide more training to the employees to get a strong management system and better service quality.
Threats:
Increasing number of competitors: Day by day the competitor is increasing in banking industry of Bangladesh. New banks are coming in the industry with various products and services, which is a major threat for BBL.
Changing demands of customers: The customer demand is changing as well as demands vary customer to customer. In that case, BBL may face threats of losing customer loyalty. Customers may have more desirability to other banks of new and contemporary packages.
Irregular economic condition: The economic condition in Bangladesh is not regular and prosperous; consequently, it has a negative impact on overall banking industry of the country. BBL may also face the difficulties of irregular economic condition.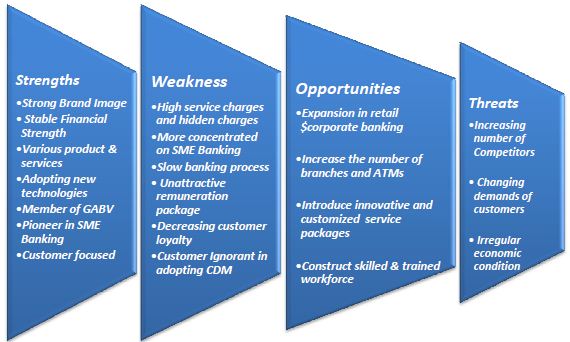 TOWS Analysis:
After analyzing the strengths, weakness, threats and opportunities of BBL, some strategies can be developed that receives benefit by strengths and opportunities as well as avoids weakness and threats. Tows analysis is utilizing the findings of SWOT analysis. The strategies are-
Strengths to opportunities Strategy: That uses the internal strengths to take advantage of external opportunities.
Weakness to Opportunities Strategy: Taking advantage of external opportunities to reduce internal weakness.
Strengths to Threats Strategy: Uses internal strengths to reduce external threats.
Weakness to Threats Strategy: Strategies to minimize companies' weakness to avoid future threats.
Here, the TOWS analysis of BBL is done by the major strengths, weakness, threats and opportunities.
Recommendations:
From the internship experience and analysis I come up with some recommendations for BBL to be more efficient in banking industry. As-
First of all, the information should be provided correctly and updated to the customers including all hidden charges.
The service charges should be minimized as this is the main complains of customer.
BBL should focus on time management while providing services; it may acquire a minimum time limit per customer service.
BBL can start banking through Bkash, as Bkash has a huge customer from every remote place of the country. That can increase the number of customer as well as can generate many future customers.
BBL should recruit more employees to reduce the pressure of customers as well as provide same quality services to all the customers on a short period of time.
BBL should concentrate on their depository products by introducing new offerings and services.
A feedback system for customers should be introduced to know the actual scenario of the customer satisfactory level.
Authority should motivate the employees to be dedicated by attractive remuneration packages as well as non-financial benefits.
The workforce should be skilled and trained to cope up with the new technologies and software execution.
Conclusion:
BRAC Bank is the pioneer in SME banking and it is one of the successful commercial banks in Bangladesh. Banking industry in Bangladesh is improving and adding value to GDP. The economic recession affected the potential growth of the bank, but BBL is being more efficient to overcome the situation and going faster to generate more profit. If BBL can build a skilled workforce in every level, it can provide the highest satisfaction to the customers. Though BBL is customer focused but sometimes it becomes harder to continue the service quality, in that case, BBL has to utilize their strengths to reduce the future threats of losing customer loyalty. Now, BBL has owned a strong market position and competing with other banks in the industry. If BBL continues these strategies it can be the top ranked bank in Bangladesh. To conclude, I would mention that, it was a great opportunity for me to working in BBL as an intern and I gathered lots of knowledge about corporate culture. The most important is I get the basic knowledge of how banks run their business and what challenges they face frequently. This report is a reflection of my working experience and my knowledge. I have tried to give my best while working in the bank as well as preparing this report and I consider this internship experience is a base learning for my future corporate life.