KFC (Kentucky Fried Chicken)
History
Harland Sanders, founder of the original Kentucky Fried Chicken, born in 1890, just outside Henryville, Indiana. After a series of jobs, in the mid 1930s at the age of forty, Colonel Sanders bought a service station, motel and cafe at Corbin, a town in Kentucky. He began serving meals to travelers on the dining table in the living quarters of his service station because he did not have a restaurant. It is here that Sanders began experimenting with different seasonings to flavor his chicken which travelers loved and for which he soon became famous. He then moved across the street to a motel and restaurant, which seated 142 people. During the next nine years he developed his secret recipe of 11 herbs and spices and the basic cooking technique which is still used today. Sander's fame grew. In 1939, his establishment was first listed in Duncan Hines' "Adventures in Good Eating".
Internationalisation Process
In 1952 the Colonel Harland Sanders begins actively franchising his chicken business by traveling from town to town and cooking batches of chicken for restaurant owners and employees. When the reaction was favourable The Colonel awards Pete Harman of Salt Lake City with the first KFC franchise. A handshake agreement stipulates a payment of a nickel to Sanders for each chicken sold.
In 1957, Kentucky Fried Chicken first sold in buckets. During 1960 the Colonel's hard work on the road begins to pay off and there are 190 KFC franchisees and 400 franchise units in the U.S. and Canada.1964 Kentucky Fried Chicken has more than 600 franchised outlets in the United States, Canada and the first overseas outlet, in England. Later that year Sanders sells his interest in the U.S. company for $2 million to a group of investors headed by John Y. Brown Jr., future governor of Kentucky. The Colonel remains a public spokesman for the company. In 1966 the Kentucky Fried Chicken Corporation then goes public.
In 1971 more than 3,500 franchised and company-owned restaurants are in worldwide operation when Heublein Inc. acquires KFC Corporation. In 1979 KFC cooks up 2.7 billion pieces of chicken. There are approximately 6,000 KFC restaurants doing there operations worldwide.
Kentucky Fried Chicken becomes a subsidiary of R.J. Reynolds Industries, Inc. in 1982 (now RJR Nabisco, Inc.) when Heublein, Inc. is acquired by Reynolds. In 1986 PepsiCo, Inc. acquires KFC from RJR Nabisco, Inc. In 1997 PepsiCo, Inc. announces the spin-off of its quick service restaurants – KFC, Taco Bell and Pizza Hut – into Tricon Global Restaurants, Inc. Tricon Global Restaurants, Inc., the world's largest restaurant company, in 2002 changes its corporate name to YUM! Brands, Inc. In addition to KFC, the company owns A&W® All-American Food® Restaurants, Long John Silvers®, Pizza Hut® and Taco Bell® restaurants.
In 2006 more than a billion of the Colonel's "finger lickin' good" chicken dinners are served annually in more than 80 countries and territories around the world. In 2007 KFC proudly introduces a new recipe that keeps the Colonel's 11 herbs and spices and finger-lickin' flavor, but contains Zero Grams of Trans Fat per serving thanks to new cooking oil.
There are over 14,000 KFC outlets in 105 countries and territories around the world. And every day, nearly eight million customers are served around the world.
As a global company with a diverse and ever-changing workforce, we face significant challenges. For example, our rapid growth in emerging markets like India and Russia requires us to adapt our policies to these markets, and to learn from our new partners. Building a diverse foundation at all of our brands gives us a competitive edge and helps us operate as a local business in international markets.
http://www.kfc.com/about/history.aspv
http://www.yum.com/responsibility/diversity.asp
What are the aims and objectives of KFC?
The aims and objectives of KFC are not only to sell chicken to make money and make a profit, they are to expand as a business whether that's to be a world wide business or just to open up a few more restaurants around the country to provide a better and faster service for the customer, to beat competitors/rivals such as McDonalds, burger king, pizza hut etc.
Mission
To sell food in a fast, friendly environment that appeals to pride conscious, health minded consumers.
Stated Objectives
Increase profitability of KFC through the following:
Reduced overhead costs
Increased efficiencies
Improved customer service
Cleaner restaurants
Faster and friendlier service
Continued high quality products
Resolve franchise problems in the United States.
Implied Objectives
Expansion of international operations to provide the following:

Increased percentage of overall sales growth
Increased percentage of profit growth
Increased expansion of franchises into Mexico
Expansion of franchise operation beyond Central America
Continued promotion of healthier image through removal of the word "fried" from the name
Improve menu selection of rotisserie
http://wiki.answers.com/Q/What_is_the_aims_and_objectives_fo_KFC
http://www.Kfc.com/
World famous Menu of KFC
KFC offers world famous menus in there restaurants, which work as there main motives in doing business in the world. Every day, nearly eight million customers are served around the world. KFC's menu includes Original Recipe® chicken — made with the same great taste Colonel Harland Sanders created more than a half-century ago. Whether you're taking back lunch or bringing back dinner, KFC has all your favorite chicken, salads, sandwiches, snacks, sweets and sides.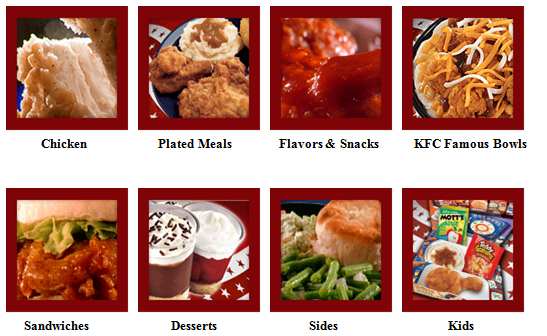 Globalization of KFC
Reasons for going overseas KFC moves beyond domestic markets into international markets for the following reasons:
* Potential demand in foreign market
* Saturation of domestic markets
* Follow domestic customers that go abroad
* Bandwagon effect
* Comparative advantage – some countries possess unique natural or human resources that give them an edge when it comes to producing particular products. This factor, for example, explains South Africa's dominance in diamonds, and the ability of developing countries in Asia with low wage rates to compete successfully in products assembled by hand. Technological advantage – In one country a particular industry, often encouraged by government and spurred by the efforts of a few firms, develops a technological advantage over the rest of the world. For example, the United Sates dominated the computer industry for many years because of technology developed by companies such as IBM.
 "We plan to expand to wherever our customers are and there is no limit to our expansion", said Sandeep Kohli, managing director (Indian subcontinent) of Yum! Restaurants International (YRI), whose flagship brand is KFC.
As KFC expanded their operation in various countries in the world market; so it is impossible to cover all the operations of KFC in this report. So we focused on its operational strategy, motive behind operations etc in selected countries.
KFC in China
KFC location strategy in China

KFC aims China as the most promising market and succeeds in its localization strategies in the huge China market. The most prominent success of KFC in China is not only the outcome of KFC's persistent tenets "quality, service and cleanliness" but also the achievements of its keen perception of cross-cultural marketing and its understanding of Chinese culture.
There is no doubt that China has become the highest-growth market of Kentucky Fried Chicken. Seventeen years after opening the first KFC outlet in China, KFC has celebrated its 1000th restaurant milestone in Beijing on January 16, 2004 (business wire, 2004). As the Yum! Brands, Inc., the parent company of KFC, states in the 2003 annual customer mania report , "China continues to be our Rising Star, driving double digit sales growth for the fifth consecutive year and record operating profit up over 42% in 2003." The number is the best annotation for the announcement–in the year of 2003 China has accounted for $157 million in KFC's operating profit.
The economic reform opened China market to the outside world and improved the standard of living of average Chinese people. The boost of national wealth and the consequent increase in individual's income has led to steady changes in Chinese consumer patterns prevalent in pre-Mao era. China, the world's most populous country with a population of more than 1.3 billion, has become the largest potential consumer market on multinational companies' blueprints for global expansion thus can never be ignored. In the mid of 1980, the acquisition of KFC by PepsiCo provides KFC with heavy financial backing for further growth. In terms of the potential of market, chicken is already familiar in China and much cheaper and more widely available than beef. Chicken has long been regarded as a kind of nutritious food which is especially good for the patients, the elders and children. An increase in health conscious consumers also raises the consumption of chicken.
http://www.franchisetochina.com/h52.htm
http/www.franchisetochina.com/franchisinginchina/
KFC in Philippines
KFC started its operation in the Philippines in 1967; it was managed by different franchisees. On June 1994, Manuel U. Agustines obtained the sole franchise over the sale and distribution of KFC products in the Philippines, under the corporate name of Quick Service Restaurants (QSR) Corporation. At present, the management of KFC Philippines is working hard to maintain the standards and excellence that made KFC one of the fastest growing Quick Service Restaurants in the Industry. It is embarking on a major expansion program not only in Metro Manila area but also in the provincial areas of the country to meet its growing customer demand.
http://www.franchise.nfo.ph/detail/KFC-Philippines/onecat/0/
KFC in India
KFC, the world's largest chicken restaurant chain, set its sights on one of the largest markets in the world, that is India with a population of 1.1 billion, the company will have good prospects for organic growth, say analysts.52 KFC outlets currently operating in the whole of India (under other local franchisees), Sandeep Kohli, managing director (Indian subcontinent) of Yum! Restaurants International (YRI), whose flagship brand is KFC, said "We plan to expand to wherever our customers are and there is no limit to our expansion".
http://in.answers.yahoo.com/question/index?qid=20060623020331AAZbIQj
KFC in UK
With over 750 restaurants in the UK and an annual growth rate of 15% KFC continues to be the fastest growing restaurant brand in the UK. During the last 5 years we have opened over 200 new restaurants and want to increase this level of opening even further over the next 5 years.
We are particularly interested in drive thru sites and food court units; we will also consider drive to/stand alone units
http://www.kfcukdevelopment.co.uk/
KFC in Bangladesh
KFC stands for high quality fast food in a popular array of complete meals to enrich the consumer's everyday life. KFC strives to serve great tasting, "finger lickin good" chicken meals that enable the whole family to share a fun. Uninhibited and thoroughly satisfying eating experience, with same convenience and affordability of ordinary Quick Service Restaurants.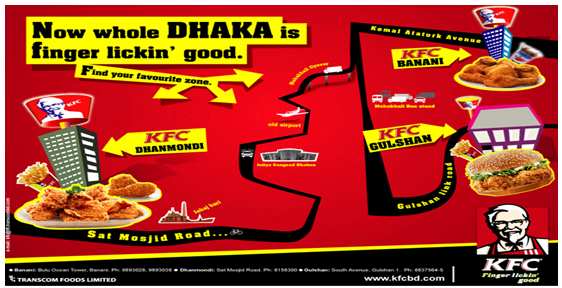 Transcom Foods Limited, a concern of Transcom Group is the franchisee of KFC in Bangladesh. The first ever KFC restaurant has been opened in September at Gulshan, Dhaka with a seating capacity of 178 persons. In the coming days, KFC plans roll out more restaurants in Bangladesh.
Different types of Activities
There's more to KFC than great food. We promote education, diversity and animal welfare in a number of positive ways.
Colonel's Scholars
"The KFC Colonel's Scholars Program is about you, your dreams and aspirations, and the perseverance to succeed. This program is offered to high school seniors planning to attend a public in-state college or university.
The KFC Colonel's Scholars Program® is looking for high school seniors with entrepreneurial drive, strong perseverance, demonstrated financial need, and who want to pursue a college education at an accredited public institution in the state they reside. Students who meet the criteria may apply online to become a KFC's Colonel's Scholar. Students selected for this scholarship are eligible to receive up to $20,000 to complete a bachelor's degree program."
http://www.kfc.com/about/responsibility.asp
http://www.kfcscholars.org/
Social diversity
"Diversity is more than a philosophy at KFC; it is part of our founding "How We Work Together" principles. KFC's global culture is actively developing a workforce that is diverse in style and background, where everyone can make a difference.
We can know more about KFC's diversification system from there Yum! Global Diversity.
For us, diversity is not a target – it's a way of life and a way of doing business. Everyone can and does make a difference in our organization. One of our HWWT2 principles – Believe in all People – underscores the importance of actively seeking diversity in others; believing everyone has the potential to make a difference; and coaching and supporting every individual to grow to their full capacity. This adds perspective and depth to everything KFC do. KFC've also found that a diverse team makes for better problem solvers, services all KFC's customers more effectively, and creates a richer culture for all of us to enjoy.
KFC are also increasing the representation of African Americans, Hispanics and women among our key talent/decision makers, and growing the pipeline of diversity in their mid-level manager ranks. All of KFC's brands have leadership initiatives focused on high-potential diversity talent, and all leaders serve as mentors. In addition, last year each of the brand presidents went into their communities to provide business-growth coaching for local networks of minority businesses.
Making progress in diversity is a business priority and the work of everyone in our system. This commitment is reflected in David Novak's annual goals, or "Blue Chips." KFC also have a dedicated Global Diversity and Inclusion Officer who guides their strategy and a number of initiatives that enhance their inclusive workplace.
Part of KFC's growth strategy will be to ensure that our leadership team, company workforce and culture are as diverse as our customers around the world."
"Diversity, inclusion and engagement are simply part of KFC's core values at Yum.'Believe In All People' means tapping into the diverse skills, cultures, perspectives and experiences of each of our associates to drive great marketplace performance. Our strategic diversity and inclusion vision is to grow leadership, franchisee and supplier pipelines that increasingly reflect our diverse customer and investor base." Said by Terrian Barnes (Yum! Global Diversity and Inclusion Officer)
http://www.kfc.com/about/responsibility.asp
http://www.yum.com/responsibility/diversity.asp
Supplier Code of Conduct
"Yum! Brands are committed to conducting business in an ethical and responsible manner. To encourage compliance with all legal requirements and ethical business practices, Yum has established a Supplier Code of Conduct for its U.S. suppliers
Compliance with Laws and Regulations:
Suppliers are required to abide by all applicable laws, codes or regulations including, but not limited to, any local, state or federal laws regarding wages and benefits, workmen's compensation, working hours, equal opportunity, worker and product safety. Yum also expects that Suppliers will conform their practices to the published standards for their industry.
KFC follows some rules and regulations in performing there operations, which leads a good relations with their suppliers.
Working Hours & Conditions:
In compliance with applicable laws, regulations, codes and industry standards, Suppliers are expected to ensure that their employees have safe and healthy working conditions and reasonable daily and weekly work schedules. Employees should not be required to work more than the number of hours allowed for regular and overtime work periods under applicable local, state and federal law.
Suppliers should implement a policy to effectuate all applicable local and federal laws prohibiting discrimination in hiring and employment on the grounds of race, color, religion, sex, age, physical disability, national origin, creed or any other basis prohibited by law.
Suppliers should not use workers under the legal age for employment for the type of work being performed in any facility in which the Supplier is doing work for Yum. In no event should Suppliers use employees younger than 14 years of age.
Besides above rules KFC also have other rules such as Forced and Indentured Labor and Notification to Employees.
Each Supplier should conduct audits and inspections to insure their compliance with this Code and applicable legal and contractual standards. In addition to any contractual rights of Yum or Unified Foodservice Purchasing Co-op, LLC ("UFPC"), the Supplier's failure to observe the Code may subject them to disciplinary action, which could include termination of the Supplier relationship.
http://www.kfc.com/about/responsibility.asp
http://www.kfc.com/about/supplier.asp
Animal Welfare program
"Yum! A brand, parent company of KFC, is committed to the humane treatment of animals. Yum! A brand is the owner of Restaurant Company's and as a major purchaser of food products, Yum have the opportunity and responsibility, and to influence the way animals supplied to us are treated.
Yum take that responsibility very seriously, and they are monitoring their suppliers on an ongoing basis to determine whether their suppliers are using humane procedures for caring for and handling animals they supply to us. As a consequence, it is Yum's goal to only deal with suppliers who promise to maintain our high standards and share their commitment to animal welfare.
To assist us in that effort, Yum! Brands formed the KFC Animal Welfare Advisory Council, which consists of highly regarded experts in the field. The Council provides Yum with information and advice based on relevant data and scientific research. The Animal Welfare Advisory Council has been a key factor in formulating our animal welfare program.
KFC has implemented a farm level audit program – a program which is industry-leading in the areas of poultry care and handling."
Other services or activities done by KFC are –
KFC's news room services, where they provide updated news of KFC. From where we can know about KFC's new launch menus, prices of new menus, there social service activities and many other activities.
http://www.kfc.com/about/responsibility.asp
http://www.kfc.com/about/animalwelfare.asp
http://www.kfc.com/about/newsroom/default.asp
Criticism of KFC
KFC has been criticized for different things; Critics accuse KFC offences against animal protection regulations. Those disputed animal protection organization PeTA (People for the Ethical Treatment OF Animals) started for its part 2003 a world-wide action with the name "Kentucky Fried Cruelty" ,2003 joined Pamela Anderson PeTA and the campaign against KFC, which pushed consumers to boycott KFC until a better treatment of the "chickens".PETA undercover investigations and videos of these and other KFC suppliers purport to show chickens being beaten, ripped apart, and thrown against walls contradict KFC's claims. PETA has criticized some of the practices of chicken breeders, such as beak trimming and overcrowding, PETA states that they have held more than 12,000 demonstrations at KFC outlets since 2003 because of this alleged mistreatment of chickens by KFC suppliers.
Greenpeace accused KFC of destroying the Amazon Rainforest. This is because KFC bought their soy they use for chicken food from Cargill. The soy has been traced back to the European KFC. Cargill has reportedly been exporting soy illegally for several years. The Greenpeace organization researched the issue and brought it to the attention of the parent company YUM! Brands, Inc.
KFC has a long time to market with new products. Because of the nature of the chicken segment of the fast food industry, innovation was never a primary strategy for KFC. However, during the late 1980's, other fast food chains, such as McDonald's, began to offer chicken as a menu option. During this time, McDonald's had already introduced the McChicken while KFC was still testing its own chicken sandwich. This delay significantly increased the cost of developing consumer awareness for the KFC sandwich.
Conflicting cultures of KFC and Pepsi Co, While KFC's culture was largely based on the Colonel's laid back approach to management, while PepsiCo's culture is more of a "fast track" attitude. Employees do not have the same level of job security that they enjoyed before the PepsiCo acquisition.
The advertising campaign of KFC does not specifically appeal to any segment. It does not appear to have a consistent long-term approach. The U.S. has enormous changes in its demographics. Single-person households have increased from 12% in 1970 to 25% in 1995. With this kind of dramatic change, KFC does not have a proper approach to its target market.
http://www.economy-point.org/k/kentucky-fried-chicken/
http://simple.wikipedia.org/wiki/Kentucky_Fried_Chicken
RECOMMENDATIONS
KFC should meet all legal business requirements to enhance their survival competence.  The Department for Environment, Food and Rural Affairs recommends a maximum stocking density of 34 kg—around 30 chickens—per square meter, and say that in circumstances where beak trimming needs to be carried out to prevent the birds injuring each other, only one third of the beak should be trimmed "measured from the tip towards the entrance of the nostrils".
http://simple.wikipedia.org/wiki/Kentucky_Fried_Chicken
KFC should stop purchasing soy from Cargill, to avoid contributing to the destruction of the Amazon.
KFC should give more emphasis on products innovation strategy and should launch new products rapidly to keep pace with the competitive market.
KFC should conform its culture to PepsiCo.
KFC should have a defined target market.
CONCLUSION
KFC is a global company with a diverse and ever-changing workforce, faces significant challenges in operating their businesses internationally but they faces those challenges strategically, adapt with policies to these markets. KFC Built a diverse foundation to operate as a local business in international markets.Criticism work as a motive toward success. Though criticism rose about KFC but it could not hinder its success because of their policy and strategy. A proverb goes on "prosperity's right hand is industry", by expanding its operations globally KFC facilitated its success and become famous to worldwide, which proves that "Fame is the perfume of heroic deeds".