Infusion Unit: Large Volume Parenteral Formulations
Beximco Pharma's intravenous (IV) fluid manufacturing plant may be regarded as one of the most technologically advanced plants in the world. The plant was designed and installed in collaboration with Pharmaplan of Germany, a sister concern of Fresenius AG of Germany.
In designing the whole process, special care has been taken by providing absolute sterile manufacturing conditions. The prime feature of the process is that there is no human physical contact with the product at any given time. This has been ensured by way of a series of fully automated manufacturing procedures including robotics. The bottle pack aseptic system (Form-Fill-Seal or FFS) is a unique and innovative manufacturing technology. Plastic bottles are blow moulded, filled with the solution and sealed under sterile conditions, in a single working cycle where there is no environmental exposure or human contact during manufacturing. The IV fluids are presented in a scientifically designed bottle where there is an extra protective eurohead cap and a resealable rubber disk. The whole process is performed in a class 100 clean room. The air inside this room is cleaned up to 100 particles per cubic feet passing it through HEPA (High Efficiency Particulate Air) filters.
Thus, an advanced sterile environment is maintained in manufacturing the IV fluids in order to avoid the entry of bacteria, pyrogen and inert particles into products. This ensures the highest standards of quality and purity in order to ensure the highest level of safety.
Water Treatment Process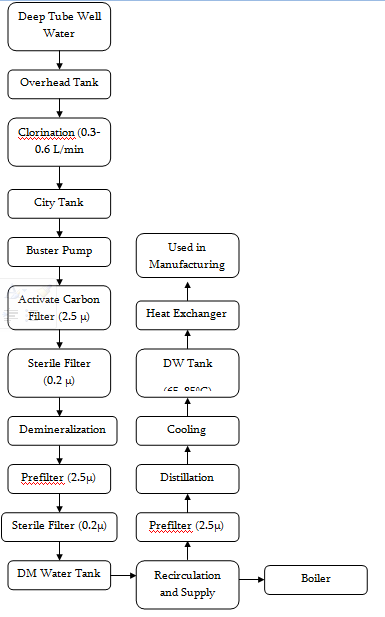 Manufacturing and Packaging Steps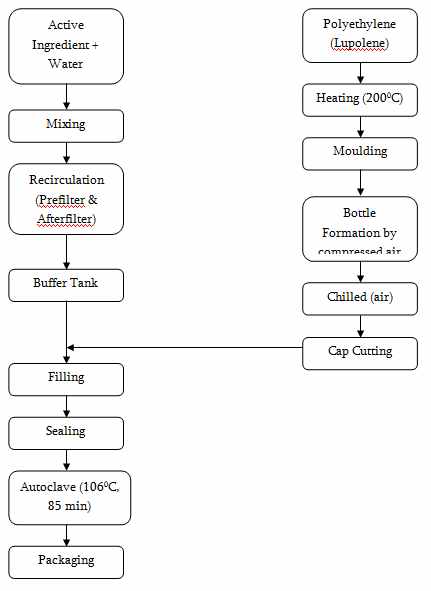 HVAC System
The HVAC system means Heating ventilation and Air conditioning system. The main objective of HVAC system is to maintain a constant temperature and a constant RH in the infusion production area, microbiology laboratory and the office rooms. It is the most modern concept of air conditioning which is the most special features in the infusion unit. HVAC is needed in Pharmaceuticals:
To maintain specified temperature.
To maintain specific relative humidity. (Less than 40% for some hygroscopic material like ranitidine).
To remove dust particle from production area.
To maintain proper airflow to the rooms ensuring that cross contamination does not occur.
To prevent microbial contamination in some area by maintaining particle size within the tolerance range. (Using the HEPA Filters etc).
The process is maintained in the different area by controlling the air pressure (positive and negative).
Microbiology Laboratory
According to the ICH guidelines the microbiological test of raw materials and finished product is an important parameter of the quality drug.  Accordingly the Infusion unit has a special microbiology laboratory in order to carry out the microbiological tests of several sensitive products.
The microbial test program includes the following:
Test of raw material and packaging material.
Test of finished product
Environmental control
Purified water test
Monitoring of surfaces
Personnel hygiene
The microbiology laboratory of contains the following separate rooms:
¨Testing room & Incubation room:
¨ Media preparation room:
There is also a store room to store the reagents, cultures, standard microbes, chemicals and other testing instruments in a required condition
The total testing procedure can be summarized as follows:
Sample collection
Media preparation
Culture preparation
Incubation
Colony count
Identification
Final result
1. Test of Raw and Packaging Materials
Microbial limit test is performed which include: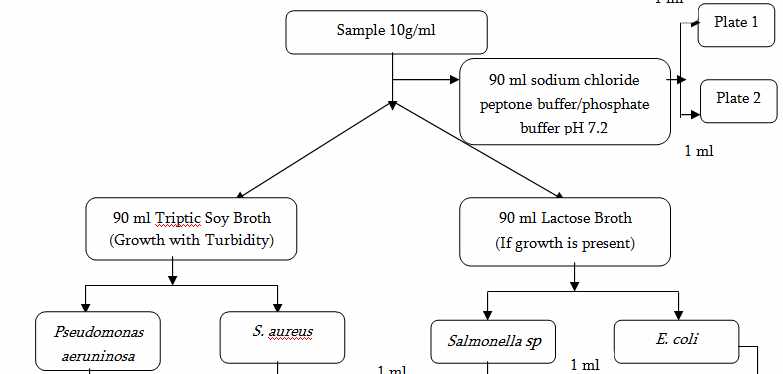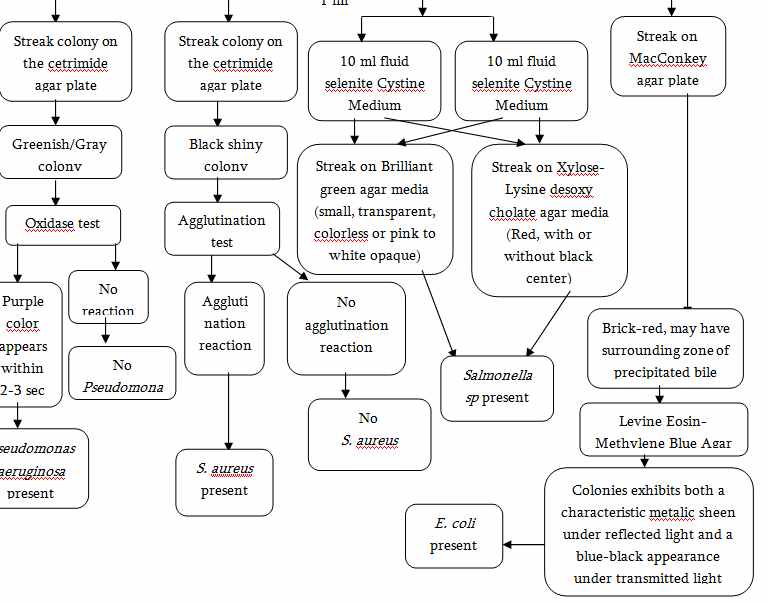 1)Total aerobic viable count
2)Total aerobic bacterial count
3)Total fungal count
4)Presence or absence of Pathogens (E.coli, Salmonella sp. , P. aeruginosa, S. aureus)
Microbial Limit Test for Raw Materials and Finished Products (USP)
2. Test of Products
Bioburden check of intermediate products. It is done with the help of membrane filtration method. First 4 and last 4 bottles are tested for microbes.
Sterility test. 20 bottles of products are collected from critical points of the autoclave and are incubated for 14 days and observed.
Bacterial endotoxin test/ LAL test. It is an in-vitro test method for pyrogen. It has been developed utilizing the gelling property of the lysate of amoebocytes of limulus polyphemus. The flow diagram of LAL test is given below:
3. For the Environmental inspections following tests are performed
i) Settle Plate Method
ii) Air Sampler
4. Purified Water Test
It is done by membrane filtration method. Water is tested from 12 different points daily and 18 different points weekly.
5. Monitoring of surfaces
It is performed by:
i)Contact Plate Method
ii)Swap Test
6. Monitoring of personnel hygiene
Hands, gloves, appearances/clothes are tested by contact plate method.
List of Instrument of Infusion Unit
Sl.

Name of Instrument

Manufacturer/ Supplier

Origin

Uses

1

Deep Tube-well

Aeration Chamber

Sand Bed Filter

Sigma Eng.
Bangladesh
Raw water, supplied water for DM plant

2

Raw water reservoir (Overhead tank – 5000L)
Beximco Infusions Ltd.

3

Dosage station for chlorine with pump and container
LMI MILTON ROY
USA
Killing microorganisms

4

Filter housing for raw water
Pall

5

City water tank (2000L)
Beximco Infusions Ltd.

6

Booster pumps (3000L/H)
Grundfos
Germany

7

Activated carbon filter (1100L)
Hager + Elsasser, GmbH
Germany
Replace organic substance from water and declorinate water for DM plant area

8

Filter house (2.5μ)
Pall

9

Filter house (0.22μ)
Pall

10

Demineralization plants (1 and 2) (Anion and cation exchanger)
Hager + Elsasser, GmbH
Germany
Production of DM water for distillation plants, boiler etc.

11

Mixed bed filter (3.5m3/h)
Hager + Elsasser, GmbH
Germany
Polishing DM waters

12

Filter housing (0.22μ)
Pall

13

Filter housing (0.22μ)
Pall

14

Regeneration and neutralization system (9000L)
Pharma Plan
Germany

15

DM water tank (4870L)
Pharma Plan
Germany

16

Distillation Plant 01
EKSTROM & SONS
Sweden

17

Distillation Plant 02
KEMITERM ENGNEERING A/S
Sweden
Production of WFI and pure steam

18

Distillate Storage Tank 01 (7000 L)
Pharma Plan
Germany

19

Distillate Storage Tank 02 (7500 L)
Getinge
Sweden

20

Steam Boiler (2.6 T/H)
StandardKessel
Germany
Provide Technical steam

21

Oil Free Air Compressor 01 & 02
Mehrer
Operating electronumeric valves & preparing sterile compressed air

22

Water Chiller 01
Finetee Century
Korea
Supply chilled water for HVAC & Production

23

Water Chiller 02
Linde Aktiengesellschaft
Germany
Do

24

Water Chiller 03
Kyungwon-Century Co. Ltd.
South Korea
Do

25

Air Handling Unit 01 & 02
MEISSNER & WURST
Germany
Supply & maintain clean class, positive air pressure

26

Cooling Tower 01
Linde AG, Mainz
Germany
Provide cooling air

27

Cooling Tower 02
BSC
Singapore
Provide cooling air

28

Injection Moulding Machine
PO Yuen (To's) Machine Factory
Hong Kong
Produce Cap

29

Preparation Tank 01 & 02
Pharma Plan
Germany

30

Preparation Tank 01 & 02
Getinge
Sweden

31

Fully Automatic Bottlepack  Machine for 1000ml & 100ml Bottles
Rommelag
Germany
Bottlepacking

32

Cap Welding Machine for 1000ml & 100ml Bottles
Pharma Plan
Germany
Cap welding

33

Fully Automatic Bottlepack Machine for 500ml & 250ml Bottles
Rommelag
Germany
Bottlepacking

34

Cap Welding Machine for 500ml & 250ml Bottles
Pharma Plan
Germany
Cap Welding

35

Spray Type Autoclave
Sauter-Sulgen
Germany
Autoclaving

36

Spray Type Autoclave
Getinge
Sweden
Autoclaving

37

Pressing Conveyor Belt
Pharma Plan
Germany
Leak testing

38

Conveyor Belt
Pharma Plan
Germany
Conveying

39

Visual checking Devices

40

Conveyor Belt
Pharma Plan
Germany
Conveying

41

Labeling Machine with Batch No. Printer
Pharma Plan
Germany
Labeling

42

Ink Jet Printer
Image
France
Printing on Overpack
Engineering Department
Major functions
The main aim of this dept is to support the production department for smooth running. Machineries of this department are of 2 types-
Production machinery
Utilities
A. Operation & maintenance of utility machineries are as follows:
a)      Power supply
b)      water system
c)      Steam
d)      Central compressor
e)      Central air conditioning system
f)       Dehumidification
g)      Fork lift
h)      Hand pallet truck
i)        Vacuum cleaner
j)        Gas
B. Maintenance of production machinery.
a)      Scheduled maintenance
b)      Troubleshooting or breakdown maintenance
C. Maintenance of Q.C machinery.
Utility Machineries
Power station
| | | | |
| --- | --- | --- | --- |
| Machines | Name | Origin | Capacity |
| Generator-1 | WAUKESHA | U.S.A | 920   KW |
| Generator-2 | CATERPILLAR | U.S.A | 1020 KW |
| Generator-3 | WAUKESHA | U.S.A | 900   KW |
| Generator-4 | WAUKESHA | U.S.A | 900   KW |
| Diesel generator | DETROIT DIESEL ALLISON | | |
Primary Requirements to run through Gas engine in the power station:
  Gas
  DM Water
  Soft Water
  Lube Oil
  Battery
  Compressed Air
  Air
Boiler  
There are 2 boiler machines.
| | | | |
| --- | --- | --- | --- |
| Machines | Name | Origin | Capacity |
| Boiler-1 | Cleeve Brooks | U.S.A. | 3 Ton steam/hr |
| Boiler-2 | Cleeve Brooks | U.S.A. | 2 Ton steam/hr |
Hapa Foil Printer
Model: Hapa 226
Origin: Switzerlan
Water Purifying System