Major Functions
This department is related to the management of affairs. It concerns with the following:
HR recruitment planning, training & development, industrial relations, Performance appraisal,  engineering, environmental safety & health etc. In a single word this department controls almost all the section in Beximco Pharmaceutical LTD.
Recruitment of personnel with appropriate qualification and experience to fill all position that has an effect upon quality. Different standard are considered for different position.
Assist new employees to complete joining activities and ensure placement of new comers.
To arrange, induction-training program (orientation program) for new employees. After joining each employee is introduced with all of the departments and their functions to know about company operation.
Prepare and Co-ordinate internship program for the students of different universities.
Prepare Human Resources Inventory Report of the plant monthly. It includes director to daily labor of the company.
Maintain & update personal files of all employees monthly. Such as Conformation of job, increment, promotion, transfer and other letters is adjusted in the employee file.
Supervise and monitor employee attendance, job cards, prepare monthly attendance summary and daily absent report etc.
Monitor and update leaves of plant employees. Each employee has a leave file which integrated the all kinds of leaves like
i.            AL (Annual Leave)
ii.            ML (Medical Leave)
iii.            CL (Casual Leave)
iv.            Special Leave
v.            Maternity Leave
vi.            Leave without pay etc
Inform mangers and employees regarding, personnel polices and procedures of the company.
Coordinate and monitor performance appraisal of plants employees annually.
Assess the training needs of personnel in light with cGMP and other work related issues.
Deal with industrial related issues like negotiation with employees union, ensure the labor rights etc.
Ensure proper implementation of labor laws applicable to factory employees.
Disciplinary action including suspension, punishment and termination.
Ensure healthy labor management relationship for smooth production.
Maintain liaison with Govt. regulatory Bodies. Human Resources department collaborate with following bodies for legal aid, help in any regulatory case.
Ministry of industry
Office of director of labor
Explosive department
Director of fire and Tongi fire station
Tongi Thana, NSI, DB, SB.
Custom & Vat, Tongi, circle
DC office, Gazipur.
SP office, Gazipur.
Civil surgeon, Gazipur
Ensure safety of all employees and company assets.
Ensure proper security management of the plant.
Handle external visitor and arrange necessary uniforms and other accessories.
Supervise transport pool (Distribution, Repair, Maintance, etc).
Supervise over all House Keeping and Gardening of the plant.
Supervise washing facility to provide clean dress as per departmental daily requirement.
 Safety
The safety department of Beximco Pharmaceuticals Limited functions along with the Human Resources Department. It usually provides the basic safety measurements to the employee.
They provide first aid measures for chemicals in case of
  Eye contact
  Inhalation
  Skin contact
  Ingestion
 They also give training to all employees about the activities in case of fire. Its the duty of all to make themselves familiar with
  Position of the fire alarm button
  Nearest escape from each room
  Location of fire fighting equipments and their operating instructions.
They also train up the employees how to escape from fire
  If fire catches cloth
  If there is a lot of smoke
| | | |
| --- | --- | --- |
| Classes of fires | Definition | Fire extinguisher |
| Class A | Ordinary combustible materials such as wood ,paper | Water, chemical foam |
| Class B | Flammable liquid and gases such as kerosene and common organic solvents | Dry chemicals ,chemical foam |
| Class C | Electrical wires and equipments such as motor | Dry chemical |
| Class D | Combustible metals such Na, Mg etc | Sand |
Production Planning Department
A well defined production plan is the pre-requisite for a well established & modern pharmaceutical industry, to achieve the following objectives-
  To be a highly productive industry of good quality product.
  To exist as an expert pharmaceutical industry in the world market.
A well-organized and modern pharmaceutical company like Beximco Pharmaceutical Ltd. always possesses a preplanned production schedule to ensure sound and uninterrupted production of medicine. BPL maintains a very well organized pragmatic production planning which is not only very easy to understand by the staffs but also very easy to apply to ensure the desired excellence of quality.
Its main functions are
Issue of B.P.R: According to the production plan B.P.R is issued by planning department. If any change required in B.P.R, planning will consult with product development for its correction.
Preparation of monthly plan & Its analysis: According to the demand of the market, planning department prepare a monthly plan and according to that plan they suggest production department to manufacture the product.
Ensure the availability of raw & Packing materials: Planning will arrange all types of raw & packing materials by consulting with head office for smooth production.
To Arrange physician sample:  Production department will separate physician sample from bulk production according to the order of the planning department.
Arrange the products for international market: Planning will arrange & supply the products to the international market. After receiving information from E-mail, they take necessary action to meet that demand.
Co ordinate all sections for smooth production: Planning co-ordinate all sections to give highest production will in minimum cost and time.
Compare man hour & achievement: Planning compares man hour & achievement to know the actual efficiency of man and machine.
Keep daily production report & all documentation: Planning department keeps all types of daily production reports & Maintain major documentation.
Task of Production Planning Department at a glance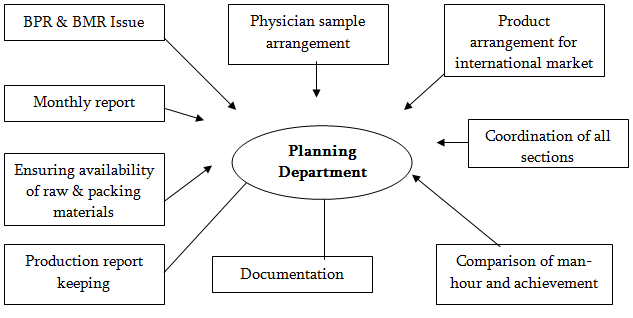 WAREHOUSE
Warehouse is a part of pharmaceutical industry where raw materials, packaging materials are stored before production and finished products are stored after production maintaining the specifications properly. BPL has a large and organized warehouse maintained by a group of sincere and hard working personnels.
Different units of warehouse
BPL Warehouse
BIL Ware-house
Pharmatek Ware-house
Quarantine area: After receiving raw and packaging materials are kept here for QA
approval.
Released area: After getting approval raw and packaging materials are kept here  with great safety. Released area is generally the central area of ware-house.
In process area: According to store requisition(SR)dispensed materials for
manufacturing are kept here.
Rejected area: Raw material, packaging material and finished products which are
unable to get approval from QA are retained here with great safety .Usually this area is located at the corner of the warehouse.
Finished product area:-Generally finished products are started here for delivery to I & I service.
Special area:-It includes cool room, for heat sensitive and flammable materials.
Identification of products and raw or packaging material in Ware-house
Raw materials and finished products are easily identified here with the help of an index which includes different code for different area also.
Packaging materials in warehouse are kept or placed following Alphabetical order.
Activities of ware-house
Activities of ware-house can be divided into 2 parts.
Routine Activities
2. Periodic Activities.
FLOW CHART  of routine ware-house activities (Related to raw and packaging material)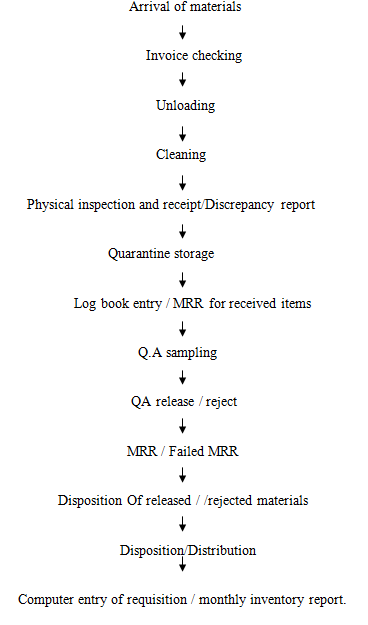 Note: Log book entry of product includes date, "R" No. (for raw materials), "p" (for packaging materials) manufacture / supplier, purchase order No., total weight received, number and size of containers name, invoice no. etc.
Handling of finished goods by Ware-house
(It is also a routine practice of warehouse)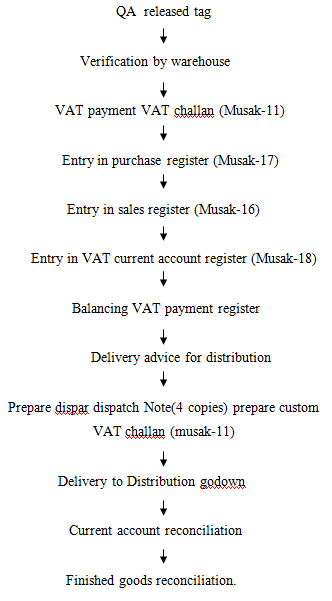 Finished goods transfer note from solid, liquid and antibiotics
Diagrammatic representation of periodic warehouse activities
Role of warehouse in export delivery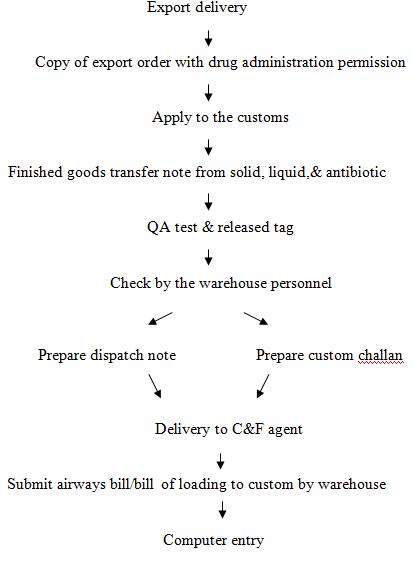 Warehouse play an important role in handling export quality product produced by Beximco for export purpose.
Role of warehouse in New product Launching
Production
Apply to the customs
With costing received from accounts
Approval from drug administration
And bill of entry
Received of an applied copy
QA test & released tag
Product release
Dispensing areas of Warehouse
One dispensing officer always responsible for dispensing the raw materials to the production and packing materials to the packing areas. Following things must be checked by the dispensing officer.
1)      Check that only approved (green tag) materials are brought to the dispensing area.
2)      Check that dispensing area is completely free from others materials.
3)      Check that cleaning is done with IPA and savlon solution.
4)      Check that correct quantity and approved quality of materials are being dispensed as per requisition.
5)      Check that materials come first are being dispensed first, to follow FIFO (First In First Out).
Documentation in Dispensing
Documentation includes,
a)      Serial number
b)      Product name and code
c)      Product batch number
d)     Requisition entry
e)      Cleaning
f)       Material exit
g)      Remarks
h)      Tags
i)        Signature of authorized person etc.
Inventory Functions of Warehouse