INTRODUCTION:
The IPH is a national organization under the Ministry of Health & Family Welfare of the government of Bangladesh. Its major role is to support public health activities, quality control, and production of biomedical agents, training and research.
The institute has a credible history of producing smallpox vaccine, which helped in eradication of the disease from the country. It is also responsible for producing typhoid & cholera vaccines to help control their outbreaks.
BACKGROUND:
The institute began its journey as the, 'School of Tropical Medicine and Public Health', situated at Old Dhaka. It then began functioning as the 'Combined Public Health Laboratory', in 1952 and was finally converted to the 'Institute of Public Health', in 1953 with expansion of activities.
ORGANOGRAM: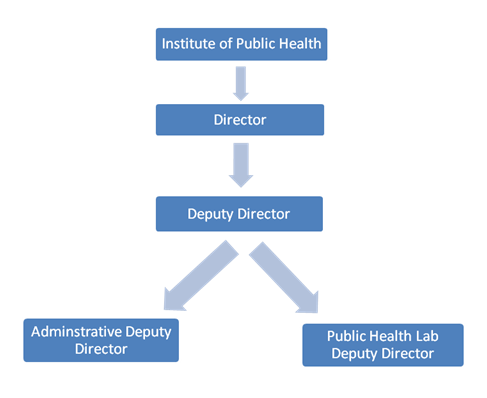 AIMS & OBJECTIVES:
To produce International standard biomedical products such as parenteral fluids, vaccines, serum etc to support health care activities of govt. of Bangladesh.
To play an effective role in quality assurance of raw materials, biomedical products and drugs available in Bangladeshi market.
To assist the government to prevent & control the health hazards caused by adulterated & contaminated food & water.
To provide curative & preventive support by diagnosis of various infectious diseases including polio} measles, HIV / AIDS, diarrheal & respiratory diseases.
To conduct training procedures for health manpower & research activities in related fields of health & public health.
To collaborate & cooperate with other national & international organizations, agencies in the promotion of health & public health services of government of Bangladesh.
SERVICES AND ACTIVITIES OF THE ORGANIZATION:
The activities of IPH are performed through different laboratory sub-units by a group of skilled and experienced individuals.
A) Biological Production Laboratory
Intravenous (IV) Fluid production unit:
 The unit is engaged with production of interna­tional standard life saving Parental fluids such as, Dextrose-saline, Dextrose in ­aqua, normal saline, Cho­lera saline, 3% Sodium chloride solution, Baby saline and peritoneal dialysis fluid.
Blood Bag production unit:
The unit produces CPD blood collection bags of different capacities, as well as infusion & transfusion sets.
Anti Sera production unit:
Production of polyvalent anti snake venom serum (ASVS) against different types of snake bites, using horse serum is undergoing research & preparation phase.
 This unit is preparing & supplying several high quality diagnostic re-agents and chemicals used in government clinical laboratories & institutes.
The internal quality control unit conducts tests to assure the quality of all raw materials & finished products of IPH.
B) Microbiological Laboratory :
The National Polio Laboratory is situated in this unit. The National Polio Laboratory is a SEARO-WHO supported and accredited laboratory functioning as the center for detection of Polio and Non-polio Enteroviruses from stool samples to eradicate wild Polio virus from Bangladesh.
The laboratory is also engaged with the serolo­gical study of measles & rubella to support the natio­nal measles control programme.
The Laboratory is getting ready to work as voluntary counseling & testing center (VCTC) for HIV/AIDS suspects.
The laboratory is involved in detection & diagnosis of epidemic & epidemic prone communicable diseases. The major fields are diarrheal & respiratory infections.
The section is supporting the microbiology laboratory and is jointly engaged with other government health organization, in the communicable disease control programme.
          C) Public Health & Drug Testing Laboratory:          
Public Health Laboratory:
It is the only government national laboratory performing analysis and reporting of food & water samples collected by authorized agencies from across the country. This is done according to the Bangladesh pure food ordinance of 1959, the Bangladesh pure food rules of 1967 and International food codes.
The laboratory is established as per the drug legislation act of Govt. of Bangladesh. It is the only Govt. laboratory authorized to undertake and report test results of medicinal drugs.
D) Oral Rehydration Salt (ORS) production unit:
The ORS production units of IPH are five in number and are situated in Dhaka, Comilla, Jessore, Barisal and Rangpur. The high quality product meets the demand of public sector health. Two new units will start functioning in Mymenshingh & Jhenaidah. The Dhaka unit is situated at 46, Tejkunipara, Tejgaon.
ACHIEVEMENTS:
IPH was awarded the Gold medal within the preventive sector for the eradication of smallpox in the year 1980.
It plays a pivotal role in the public health sector of Bangladesh through following activities: Production of 1.5 million bags of IV fluid/year and 1.6 million vials of ARV/year and it also plays a central role in the Polio eradication program of Bangladesh.
FUTURE PLANS:
Production of the combined DPT vaccines.
Production of Anti-rabies cell culture vaccines.
PERSONAL OBSERVATIONS:
The National Polio lab is well equipped and making serious and effective contribution to the Polio eradication drive in Bangladesh.
Some, if not all laboratory facilities are still un-modern; this should be rectified.
Working environment is not very hygienic, with no proper uniforms.
There is a lack of skilled manpower and financial stability.
IV Fluid Production Unit at IPH: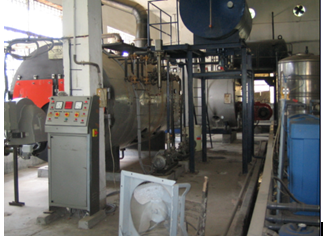 Various types of Saline, transfusion and other bags: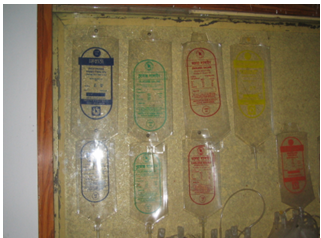 Autoclaving the IV Fluid Bags: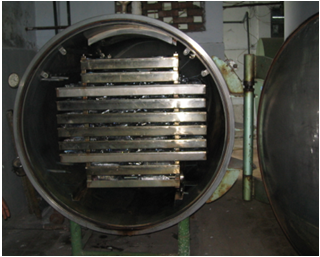 CONCLUSIONS:
IPH is playing a very effective role for maintaining the general public health of our country, so I would urge, the government and others concerned to attend to the financial and moral aspects of its operations. Thus, IPH can become an international reference institute to support public health activities.