OVER VIEW OF THE BANK AND BRANCH
1.1 Introduction of ABBL
AB Bank is the First private bank in Bangladesh. Government permitted private banks to enter in to banking because of sustained poor performance by the banks of nationalized sector. AB Bank limited (ABBL) is sailed as the leading private commercial bank in the baking suture from its journey on April 12, 1982 with opening of its first branch at Karwan Bazar in Dhaka. It was the brainchild of group dynamic entrepreneurs of Bangladesh.
1.2 CORPORATE INFORMATION AT A GLANCE:
(INFORMATION AS PER LAST ANNUAL REPORT 2009)
Name of the bank                                     : AB Bank Of Bangladesh Limited
Status                                                        : Public Limited Company
Nature of Business                                   : Private Commercial Bank
Date of Incorporation                               : 31st December, 1981
Commencement of Business                    : 27th February 1982
Inauguration of the Jubilee Road Branch : 26th July, 1994,
                                                                     Head Office, BCIC Bhaban, 30-31,
                                                                      Dilkusha Commercial Area, Dhaka.
Registration No                                         : C281461 (1992)/95
Chairman                                                   : Mr. M. Wahidul Haque
Managing Director                                    : Kaiser A. Chowdhury
Authorized Capital                                    : TK. 800 Million
Paid up Capital                                          : TK. 519.76 Million
Directors                                                    : 8
Number of branches                                  : 81
Deposit                                                      : TK. 27,361.44 Million
Loan                                                           : TK. 21,384.63 Million
Number of Employees                               : 1525
Telephone                                                   : ( +8802 )9560312
Telefax                                                       : ( +8802 )956-4122-23
SWIFT Code                                              : ABBLBDDH
E-mail                                                         : info@abbank.com.bd
Web Site                                                     : www.abbank.com.bd
1.3 Vision & Mission:
Vision Statement
"To be the trendsetter for innovative banking with excellence & perfection"
Mission Statement
"To be the best performing bank in the country"
Goal of the Bank
To exceed customer expectations through innovative financial products & services and establish a strong presence to recognize shareholders expectations and optimize there rewards through dedicated workforce.
Long term Goal: Keeping ahead of other competitors in productivity and profitability.
Short Term Goal: To attain budgetary targets fixed in each areas of business.
1.4 Change of Name:
AB Bank believes in modernization. The bank took a conscious decision to rejuvenate its past identity – an identity that the bank carried as Arab Bangladesh Bank Limited for twenty five long years. As a result of this decision, the bank chose to rename itself as AB Bank Limited and the Bangladesh Bank put its affirmative stamp on November 14, 2007 vide Bangladesh Bank BPRD circular letter no.-10 dated 22 November 2007. Prior to that shareholders of the bank approved the change of name in the Extra-Ordinary General Meeting held on 4 September 2007.
1.5 Birth of Logo:
The coat of arms of the new logo is inspired by traditional "shital Pati" or sleeping mat". The  knit and the pattern of interlace in the new logo that echoes the intricate weave of Shital Pati symbolizes bonding. This bonding reflects the new spirit of AB Bank.
1.6 Management & Organizational Structure of ABBL
AB Bank Limited, the first private sector bank under Joint Venture with Dubai Bank Limited, UAE incorporated in Bangladesh incorporated on 31st December 1981, under the Companies Act (Act VII) of 1913 as a limited company having its Head Office in Dhaka. The Bank started functioning from 12th April 1982 with the approval of Bangladesh Bank under the guidelines, rules and regulations given for scheduled commercial banks operating in Bangladesh. It was initially a Joint Venture Commercial Bank between Bangladeshi sponsors and Dubai Bank Limited, Dubai (U.A.E).
1.7 Composition of the Board of Directors
Board of directors consists of Chairman, Vice Chairman, Directors and President & Managing Director and Company Secretary.
| | |
| --- | --- |
| Chairman | M. Wahidul Haque |
| Vice- Chairman | Salim Ahmed |
| Director | Feroz Ahmed |
| Director | M. A. Awal |
| Director | Shishir Ranjan Bose FCA |
| Director | Faheemul Huq |
| Director | Syed Afzal Hasan Uddin |
| Director | Mishaal Kabir |
| Director | Md Salah Uddin |
| Director | Md Mesbahul Hoque |
| Director | Md. Anwar Jamil Siddiqui |
| Director | Dr. M. Imtiaz Hossain |
| Director | Runa Zakia Shahrood Khan |
| President & Managing Director | Kaiser A. Chowdhury |
1.8 Capital Structure of ABBL
The authorized share capital of AB Bank Ltd. Was Tk. 282.34 million, divided into 2.82 million ordinary shares of Tk. 100 each. The paid-up capital of the bank was Tk.85 million, out of which, Tk.80 million was provided by the sponsor directors. The government of the Peoples Republic of Bangladesh subscribed Tk. 5 million in the share capital of the Bank and has since nominated one director in the board as per Article 95 of the Memorandum and Article of Association in 1983. During 1984, issuing Public shares of Tk. 15 million raised the paid-up capital. The authorized capital has been raised to Tk.200 crore and paid up capital 74.32 crore as on 31.12.2007.
In the past paid up capital AB Bank, Dubai Bank Limited had the major share comprising 60% of total share holdings. Dubai Bank Ltd. Was the joint sponsor with the local four entrepreneurs. In 1986, Dubai Bank Ltd. Merged with the Union Bank of Middle East (UBME) and subsequently Union Bank of Middle East (UBME) inherited the shares. They continued as shareholders till early part of 1987 when they decided to off-load their investment in Bangladesh. In terms of Article 23 (a) and 23 (b) of the Articles of association of the company and with necessary approvals of the relevant authorities including the Bangladesh Bank, the shares held by them in the company have been transferred to Group "A" shareholders.
1.9 Milestones in the Development of the Organization
AB Bank reached 28 years of its journey, which started with a single Branch operation at Karwan Bazar, Dhaka way back in 1982. AB Bank being the pioneer in private sector banking in Bangladesh will be the first to achieve this milestone. Over the years, AB Bank has contributed in many ways towards development of the private sector banking in the country. AB thrived on customer service and relationship banking, which brought new dimensions to this particular service sector and many more new entrants to banking sector, followed AB.
| | |
| --- | --- |
| Commencement of Business: | February27 1982 |
| First meeting of the Board of Directors: | February 5, 1982 |
| Opening of the first Branch (Karwan Bazar Branch): | April 12, 1982 |
| Listing with Dhaka stock Exchange (DSE): | December 28,1983 |
| Publication of prospectus for IPO: | May 5.1984 |
| Opening of principal Branch | January 16,1986 |
| Opening of ABIFL-Subsidiary of Hong Kong | November 1995 |
| Listing with the Chittagong Stock Exchange | January, 1996 |
| First Foreign Branch at Mumbai, India | April 1996 |
| Launching of ATM | April 12,2002 |
| Operating of Merchant Banking Wing (MBW) | November 2 2002 |
| Incorporate of AB Bank Foundation | November 3 2003 |
| Launching of VISA Card | December 23,2004 |
| Operating of Islamic Banking Branch | December 23,2004 |
| Online Share Transaction in CDS | May 7 ,2006 |
| Obtained permission as a Security Custodian from Securities and Exchange Commission | January 22 ,2007            |
| Arab Bangladesh Bank Ltd. Changed its name to AB Bank Limited (ABBL) | November 14,  2007 |
| Raise the Authorized Capital Tk.600, 00, 00,000/- divided into 6, 00, 00,000 ordinary shares of Tk.100/- each | January 29, 2009 |
Table 2.1: Corporate event of A B Bank Ltd.
1.10 Customer services
Like some bank AB Bank Limited (LTD) has also provide different types of services with his potential customers. The services of AB Bank Limited are:
Corporate Service
Floating of public Issue
Loan syndication
Personal banking Services
      Current Account
      Saving Account
      Short Term Deposit
      Fixed Deposit
Foreign Exchange Transaction
Customer Credit Scheme
E-cash 24 Hour Banking
Branch Banking
ATM and Credit Card
Personal and Car Loan
Safe Deposit Locker
Utility Bill Payment
Opening Student File
International Trade and Foreign Exchange
Lease financing
Capital market Service 
1.11 ORGANOGRAM: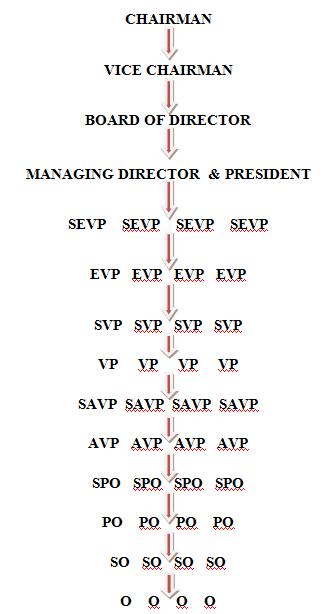 1.12 Introducing the branch
AB Bank Ltd. Karwan Bazar Branch is one of the largest branches of ABBL is located in BSEC Bhaban,Karwan Bazar C/A. It started its function in the year 1986. Presently there are 56 employees in this branch as of 31st March,2011 which includes One VP, two SAVP, Six AVPs, 4 Senior Principal Officers, 5 Principal Officers, 5 Senior Officers, 18 Officers, three Management Trainee Officer, One  assistant and others are messengers, tellers, typist and  security guards.
1.13 Flow Chart of Internship Organogram in AB Bank Ltd of Karwan Bazar Branch
1.14  Flow Chart of AB Bank Ltd. Karwan Bazar Branch: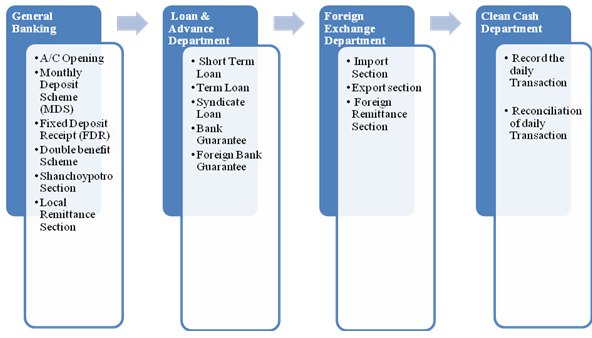 1.15 PERFORMANCE OF AB BANK
1.15.1 Analysis of Capital Structure:
| | | |
| --- | --- | --- |
| Year | Authorized Capital(TK in Million) | Paid Up Capital(TK in Million) |
| 2009 | 6000 | 3373.96 |
| 2008 | 3000 | 2677.75 |
| 2007 | 2000 | 743.26 |
| 2006 | 1500 | 571.14 |
| 2005 | 800 | 878.85 |
1.15.2 Reserve fund:
| | |
| --- | --- |
| year | Amount(TK in Million) |
| 2009 | 3980.3 |
| 2008 | 2702.95 |
| 2007 | 2072.53 |
| 2006 | 1456.47 |
| 2005 | 826.33 |
1.15.3 Deposit mix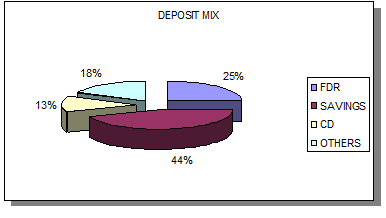 1.15.4 Deposit position of a bank
| | |
| --- | --- |
| YEAR | Amount of deposit(TK in Million) |
| 2009 | 83087.13 |
| 2008 | 68560.47 |
| 2007 | 53375.35 |
| 2006 | 35032.02 |
| 2005 | 27361.44 |
1.15.5 Investment (General)
| | |
| --- | --- |
| YEAR | Amount(TK in Million) |
| 2009 | 16369.3 |
| 2008 | 11395.94 |
| 2007 | 8884.6 |
| 2006 | 6301.28 |
| 2005 | 4060.95 |
| | |
1.15.6 Investment in share & securities
| | |
| --- | --- |
| YEAR | Amount(TK in Million) |
| 2009 | 16369.3 |
| 2008 | 11395.94 |
| 2007 | 8884.6 |
| 2006 | 6301.28 |
| 2005 | 4060.95 |
| | |
| | |