1.1 Introduction:
At present, the banking sector in Bangladesh is growing and it is playing a vital role in our economy. In a nut shell, Bank can be defined as a financial institution which collects deposits from the surplus unit and makes investment to the deficit unit. In this process bank's income is the difference between the lending rates and deposit rates. Banks are of two types; depending on the nature of bank namely conventional banks and Islami banks. Income from interest is the main source of earning of conventional banks following the system of interest. In this system interest is prefixed and not allowed to give or take in accordance with the Islamic system mentioning that it is the source of exploitation. Profit sharing is the main source of earnings of "Islami banks" following the Islamic system. Profit is generated either from buying or selling process which has been made 'halal' in Islam or from sharing profit or loss of the borrowing firms. According to the principle of Islamic Shariah, interest (Riba) is strictly prohibited. Thus, no Muslim is allowed to take or give interest as per the Islamic system. Since Islami Banks are conducting based on profit & loss sharing approach rather than interest basis, have more acceptability to the Muslim mankind. Bangladesh being a Muslim dominated country, the Shariah based banking is gaining popularity amongst the people rapidly.
Now, we need to know the definition of "Islamic Banking" and prove whether its activities are unequal to the conventional Banking system & satisfy the principle of Islamic Shariah. Definition given by 'OIC' is- "An Islami bank is a financial institution whose statutes, rules and regulations expressly state its commitment to the principle of Islamic Shariah and to the banning of the receipt and payment of interest on any of its operation". This definition indicates that Islami banks are more convenient and acceptable to the Muslim mankind.
Based on the Quran and Sunnah, organization of Islamic Conference (OIC) first introduces the idea of Islamic Banking which is also first of this kind in South Asia. It is committed to conduct all kinds of banking activities on the basis of profit-loss sharing system. With some other Islami banks SJIBL is now enjoying a strong title & moving to a leading position among the other Islami and Conventional banks.
1.2 Origin of the Report
The report entitled "Performance Evaluation of SJIBL: A Study on Bangshal Branch" was assigned by my supervisor Rubaba rahman Asst. Prof. Dept. School of Business Administration of The People's University of Bangladesh as a requirement for the completion of the BBA Program. The primary goal of the internship program is to provide the intern with the job experience and an opportunity to relate the theoretical conceptions in the real business environment. The program covers a period of 12 weeks in Shahjalal Islami Bank Limited., Bangshal Branch.
1.3 Objectives & Methodology of the Study:
Need of the study:
With growing competition, among nationalized, foreign, and private commercial banks it becomes necessary to make the customer service more attractive. The expectation of the customers has risen immensely. Reciprocating the necessity, commercial banks are trying to evaluate their traditional banking service to a better standard in order to meet the challenging needs. Side by side these banks have concentrated their attention towards diversification of their products for better performance and existence with better service quality. Under the above circumstances, it becomes necessary for Shahjalal Islami Bank Limited, one of the leading local Islami bank, to focus its attention towards the improvement of its activities. That is why it is quite justified to make an in-depth study and evaluate the activities of SJIBL, Rajshahi Branch. The study may help to identify its lacking in service providing that will be useful towards improvement. Furthermore, SJIBL executives who are actually executing the policies undertaken by the upper management will have a chance to express more suggestions, which will only contribute towards standardization and upgrading of the policies of the organization.
Scope of the Report
This internship report covers all the performance of SJIBL, Rajshahi, with finding problems in the total process and provides possible solutions for Rajshahi branch will be another scope of the report. The area of concentration of this report is confined in investigating different aspects of the banking transactions, problems, and prospects and as well as customer's needs and wants and also their expectations from the customer service of SJIBL. In terms of the customer's expectations, an endeavor is made to give recommendations for removing the problems.
Objectives of the study:
Main objective of the study is to evaluate the work performance of SJIBL.
Specific objectives of the study are as follows
 To know the services of the SJIBL
 To evaluate the performance of SJIBL
Types of Research Design:
There are different types of research design and each differs from other. Research design provides specific guidelines regarding the subject and the type of the study.
1. Exploratory research
2. Conclusive research
Research Design of the study:
Research design is the appropriate plan of action, strategy or method adopted for investigation of collection of data for research process. The research design that is adopted here is EXPLORATORY RESEARCH.
Features:
01. Research design specifies population to be studied.
02. It specifies the method of collecting data.
03. It is a strategy specifying the approach for analyzing data.
METHODOLOGY OF THE REPORT
The following methodologies are followed for the study:
Certain methods and techniques are utilized to collect data for this report. Both primary and secondary sources are used as effective means of collecting data relevant for this report.
Interview is the basic technique that is employed to collect primary data from people within and outside the organization. Information about the varieties of activities within the Customer Service Department is collected through interviews. Besides, on-the-job experience has helped me to learn quite a few things about various activities of the branch.
On the other hand, secondary sources are used to collect data regarding the company's performance since its inception. Publications and database within the organization helped me to gather data.
1.4 Rationality of the research studies:
This report represents the existing services and activities of a newly launched private bank in a new location. (., which will help to identify the Strength, Weakness, Opportunities and Threats (SWOT) of the Bank.)
Source of Data :
Data was collected both from the primary and secondary sources.
PRIMARY SOURCES
Primary data are collected from ———-
Face-to-Face conversation with the respective officers and staffs.
Interviewing the Customers.
Sharing practical knowledge of officials.
SECONDARY SOURCES
The secondary sources are given bellow:-
1) Annual report of SJIBL
2) Relevant file study provided by the officers concerned.
3) Web site of SJIBL
Sampling Unit :
In the study the researcher collected information from the employees and opinion of the customers.
Sample Size:
The researcher chose 5 employees and 25 customers as the sampling size.
Sampling Procedure
In this circumstances researcher used the "Probability Sampling". Disproportionate sampling was adapted.
Research Instrument:
In this study researcher applied the following methods for collecting primary data:
A) Interview (Employees)
B) Interview (Customers)
Limitation of the study:
01.) Shortage of time of the internship program
02.) Customers were busy enough to response
03.) The sample size of the study was small. Thus it may not be fully appropriate.
04.) As the new arrival bank there was shortage of sufficient required data.
Findings:
1.) The Services of the SJIBL
2.) Performance of SJIBL
Profile of the Company
1.5 Origin Of The Organization:
Shahjalal Islami Bank Limited (SJIBL) commenced its commercial operation in accordance with principle of Islamic Shariah on the 10th may 2001 under the bank company's act, 1991. During last seven years SJIBL has diversified its service coverage by opening new branches at different strategically important locations across the country offering various service products both investment & deposit. Islamic banking, in essence, is not only interest-free banking business, it carries deal wise business product thereby generating real income and thus boosting GDP of the economy. Board of directors enjoys high credential in the business arena of the country, management team is strong and supportive & equipped with excellent professional knowledge under the leadership of a veteran banker Mr. Muhammad Ali.
1.6 Corporate Information
Name of the Company Shahjalal Islami Bank Limited
Legal Form A public limited company incorporated in Bangladesh on 1st April 2001 under the companies Act 1994 and listed in Dhaka Stock Exchange Limited and Chittagong Stock Exchange Limited.
Commencement of Business 10th May 2001
Registered Office Jiban Bima Bhaban
Front Block (4th Floor)
10, Dilkusha Commercial Area
Dhaka-1000.
Telephone No. 88-02-9570812, 7160591
Fax No. 88-02-9570809, 9553562
Website www.shahjalalbank.com.bd
SWIFT SJBL BD DH
E-mail sblho@shahjalalbank.com.bd
Chairman Alhaj Akkas Uddin Mollah
Managing Director Muhammad Ali
Auditors M/S. Syful Shamsul Alam & Co.
Chartered Accountants
Paramount Heights
65/2/1 Box Culvert Road (level-6)
Purana Paltan, Dhaka-1000
Phone: 88-02-9555915, 9560332
Tax Advisor M/S K.M Hasan & Co.
Chartered Accountants
87, New Eskaton Road
Dhaka.
Phone: 88-02-9351457, 9351564
Legal Advisor Hasan & Associates
Chamber of Commerce Building
(6th floor), 65-66 Motijheel C/A, Dhaka
No. of Branches 33
No. of ATM Booth 05
No. of SME Centers 05
Off-Shore banking Unit 01
No. of Employees 878
Stock Summary:
Authorized Capital Tk. 4,000 million
Paid up Capital Tk. 2,245.98 million
Face Value per Share Tk. 100
Source: Prospectus of SJIBL
1.7 Company's Vision
To be the unique modern Islami Bank in Bangladesh and to make significant contribution to the national economy and enhance customers' trust & wealth, quality investment, employees' value and rapid growth in shareholders' equity.
1.8 Company's Mission
To provide quality services to customers.
To set high standards of integrity.
To make quality investment.
To ensure sustainable growth in business.
To ensure maximization of Shareholders' wealth.
To extend our customers innovative services acquiring state- of-the-art technology blended with Islamic principles.
To ensure human resource development to meet the challenges of the time.
1.9 Companies Strategies
 To strive for customers best satisfaction & earn their confidence.
To manage & operate the Bank in the most effective manner.
To identify customers needs & monitor their perception towards meeting those requirements.
To review & updates policies, procedures & practices to enhance the ability to extend better services to the customers.
To train & develop all employees & provide them adequate resources so that the customer's needs are reasonably addressed.
To promote organizational efficiency by communicating company plans, polices & procedures openly to the employees in a timely fashion.
To cultivate a congenial working environment.
To diversify portfolio both the retail & wholesale markets.
2.0 Motto
 Committed to Cordial Service.
2.1 Objectives of the Bank
Twenty first century opened the predictable door of globalization. The whole world is being changed with a modern, extensive & technological revolution. Life style & status are widely changing to have a artistic, delightful & flourishing environment. Demand and attitude of the whole mankind is escalating with time revolution. Everyone has a vision of such a life and status. To fulfill such a vision, it needs possessions, prosperity, fortune, prudent deposit and consistent investments.
In the new century, the people of developing Bangladesh have the trance to be pleasing and to be solvent in all aspects. We have several Banks in our country. Unfortunately, the Banks did a few to be a prosperous, service oriented, technology based banking. Shahjalal Islami Bank Limited is committed to fulfill the requirements of the mass people. Shahjalal Islami Bank Limited is patterned of Islamic norms & ethics with modern technology to achieve the goal in the new era.
Humanitarian perfection, Economic progress, Assistance & service to the mass people are the basic objectives of Shahjalal Islami Bank Limited.
2.2 Organizational Structure of SJBIL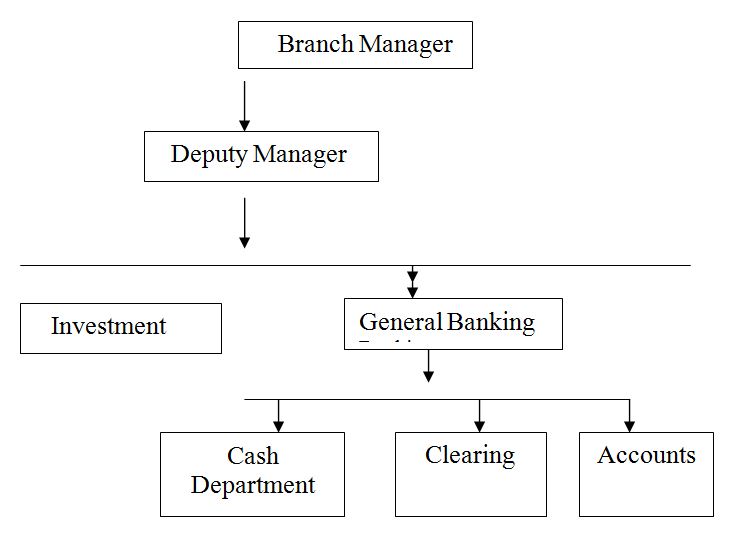 Source: Prospectus of SJIBL
2.3 Functional Departments of the Organization
SL Division/Department Name Of Head / In-Charge
1 Audit & Compliance Division Mr. Md. Ghulam Wahab, EVP
2 Investment Division Mr. Md. Mohashin Miah, EVP
3 Human Resource Division Mr. Md. Mustuque Ahmed, SVP
4 Asset Management Division Mr. Anisul Kabir, SVP
5 Board Secretariat Mr. Md. Emran Hossain, SVP
6 Marketing Division Mr. Md. Shafiqul Islam, SVP
8 IT & Card Division Mr. Md. Ziaullah Khan, VP
7 Financial Administration Division Mr. Sayed Abul Hashem, VP
9 International Division Mr. Shibly Sadeque, AVP
10 Public Relation Department Mr. Md. Samsuddoha, AVP
11 Share Department Mr. Md. Abul Bashar, FAVP
12 Capital Market Services Division Mr. Md. Anwar Hossain, JAVP
13 Common Services Division Mr. Quazi Md. Shoriful Islam, JAVP
Source: Prospectus of SJIBL
Present Activities & Services of SJIBL
Rajshahi Branch
3.1 PROFILE OF THE BRANCH:
Commencement of Business 5th November 2008
Location Habib Plaza
Holding# 111
1st Floor
Zero Point, Shaheb Bazar
Rajshahi.
Telephone No. 88-0721-772401
Fax No. 88-0721-772427
Website www.shahjalalbank.com.bd
E-mail sblrajshahi@shahjalalbank.com.bd
Manager Mr. Md. Abdulla Al Mahmud Siddiqui
No. of Employees 10 officers & 6 supportive staffs
Source: SJIBL, Rajshahi Branch
Organogram of SJIBL
(Rajshahi Branch)
Products
Deposits:
Islamic Banks received deposit under two Islamic Shariah principles:
1. Al-Wadiah
2. Mudaraba
1. Al-Wadiah:
It means Al-Amanah of anything with permission to use. Al-Wadiah deposit or deposit on Al-Wadiah principles means that the bank receives money and valuables from the clients under obligation to return on demand and with permission to use the money/ valuables at bank's won risk. The depositor is neither entitled to receive any profit from the bank nor to share any loss. The bank has the discretion to charge the client for safe-keeping the money and valuables or for any other special service if rendered.
Minimum amount for Current Deposit Account
Al-wadiah Current Deposit Accounts shall be opened by Tk. 5000/& always this amount should be maintained.
Payments on account Demand
This current deposits shall be payable on demand in full by deducting the ban's charges.
No profit
No profit shall be allowed to the customers &bank can use these amounts without any risks.
This account offer-
1. Any number of transactions in a day.
2. Free Cheque book.
2. Mudaraba:
It Means an agreement between to parties under which one party provides capital and the other party (Entrepreneur) contributes his skills, efforts and work for a percentage of profits. The owner of the capital is known as "Shahib-Al-Maal" and the user of the capital is known as "Mudarib". In the event of loss the owner of capital shall bear entire loss unless such a loss arises as a result of infringement, negligence or breach occasioned by the other party. In case of Mudaraba deposit, the depositors are "Shahib-Al-Maal" and bank is "Mudarib".
Shahjalal Islami Bank Limited accepts deposits on the basis of Mudaraba in the following types of accounts, and pays profit, like that of dividend in these accounts, except Alwadia Current Account.
The relationship between banker and customer is not debtor-creditor relationship of conventional banks. The depositor is a partner in business with SHAHJALAL ISLAMI BANK LIMITED.
Types of Mudaraba Accounts:
1. Mudaraba Short Notice Deposit Account
2. Mudaraba Savings Account
3. Mudaraba Term Deposit Account
4. Mudaraba Hajj Scheme Deposit Accounts
5. Mudaraba Monthly Deposit Scheme
6. Mudaraba Millionaire Scheme
7. Mudaraba Multiple Benefit Scheme
8. Mudaraba Monthly Income Scheme
9. Mudaraba Housing Scheme
10. Mudaraba Bibaho Scheme
11. Mudaraba Den-Mohor Deposit Scheme
12. Mudaraba Shikha Deposit Scheme
13. Mudaraba Monthly Deposit Scheme
14. Mudaraba Lakhopoti Deposit Scheme
15. Mudaraba Special Term Deposit Scheme
16. Mudaraba Cash Wakaf Deposit SchemeAverage 70% of profit earned by the bank is distributed proportionately among depositors annually.
Mudaraba Savings Account
Conditions for Application
One account in one name
Profit rate applied by the advice of head office
Interest is to be applied on half yearly basis 7 profit shall be accrued in each month.
No profit is payable (for the relative month) if a customer withdraws more than twice in a week from his/her account.
No profit is payable (for the relative month) if a customer withdraws more than 25% of his/her balance at a time (by single cheque).
Other Conditions:
Any person persons of the age of majority and sound mind can open account singly or jointly. The balance will be payable to him/ her/them or the survivor of the joint account. A guardian can open such account on behalf of a minor.
Clubs, Societies and other similar organizations can also open such account.
Introducer is necessary for opening Savings Account.
No one is allowed to open more than one Savings Account in the same name in a particular branch.
Every Savings Bank Account must have a separate account number.
Withdrawal of money is allowed only through the leaf of the cheque book supplied by the Bank.
The Bank will, as per Govt. directives, realize all taxes/surcharges/levies at fixed rate annually or otherwise as decided by the Govt.
Signature of the client on cheques for withdrawal of money must tally with the specimen signature recorded with the Bank.
The Bank reserves the absolute right to alter/amend these rules of Saving Bank Account as well as rate of interest from time to time.
The Bank reserves the right to close any account if the operation appears to be unsatisfactory or on other genuine grounds without assigning any reason thereof.
Mudaraba Short Notice Deposit Account
Period notice:
1.Deposits shall be payable but on short notice but after 7days
2.The deposits may be accepted for the period &rates of profit are fixed by head office from time to time.
3.Profit shall be paid only for each day held.
4.profit shall be applied on yearly basis.
Types of al-wadiah Current Accounts:
1. Individual Account
2. Joint accounts
3. Partnership concerns
4. Accounts private limited companies
5. accounts of public limited companies
6. proprietary concerns
7. Trust accounts
8. Societies, clubs Associations
9. local authorities
Account Opening procedure:
This section opens account. It receives account-opening application from interested applicants, examines and scrutinizes the applications and then selects the final customers. Selection of customers is very much important as the success and failure the bank is largely dependent on the valued customers. If the customer is found to fraudulent or create some sort of forgery, it will ultimately destroy the goodwill of company. The customer for opening of different types of account must maintain following formalities for various types of A/C.
 Documents required for opening accounts
Individual Account
 Introduction of the account.
Two photographs of the signatories duly attested by the introducer.
Identity (copy of passport)
National ID Card Photocopy.
Joint declaration form (For joint a/c only)
Employee's Certificate (in case of service holder)
Update Trade License, TIN (In case of business)
Joint Account
All item for individual account holder as state above.
Two or more person can open an account.
Authorized person can operate the account.
Authority is automatically revoked by death, insanity, or bankruptcy.
Stoppage of payment by any one of the account holders.
Special instruction regarding operation of the A/c in any of the following forms.
By any of the joint account holder singly.
By either or survivor singly.
By either singly.
By any two or more joint account holding jointly.
By all the survivors jointly.
Partnership Account:
Two photographs of the signatories duly attested by the introducer
Partnership letter duly signed by all partners (Sign should be similar as stated in Partnership Deed)
Partnership Deed duly certified by Notary Public (Deed should be written in Bond of Tk. 50/= if the capital is Tk. 25,000/= but if the capital exceed Tk. 25,000/= bond of Tk. 500/= is required)
 Registration (if any)
Rubber stamp
Update Trade License
Identity (copy of passport)
C. Sole Proprietorship
In case of opening an account by a sole-proprietor of a firm, he/ she should sign the account opening form and finish his/ her specimen signature showing his/ her representative character.
All items for individual account holder as stated above.
Valid trade license or attested photocopy thereof issued by the competent authority.
Membership certificate from local business Association/ Chamber of Commerce.D. Private Limited Company
A company registered under the Company Act, 1913 has a legal entity apart from its shareholder. Private Company means a company which by its articles.
Restricts the right to transfer the shares if any
Limits the number of its members 2 t 50
Prohibits any invitation to the public to subscribe for the shares, if any or debentures of the company.
When a current account is to be opened for a private limited company the banker will have to obtain the following requirements:
All terms for individual account holder as stated above.
Copy of memorandum and articles of association duly certified by the Director of the company.
Certificate of incorporation
Certified copy of resolution of the board of Directors regarding opening of A/C, the execution of papers and conduct of the account.
List of Directors under the signature of the Chairman.
Copies of latest financial statement/ Transaction profile.
E. Public Limited Company
Any seven or more persons associated for any lawful purpose, any subscribing their names to a memorandum of association, and otherwise complying with the requirements of the Act (13A) in respect pf registration, from an incorporate company. When an account is to be opened in the name of a Public limited company the following formalities are to be observed.
 All terms for individual account holder as stated above.
 Certified copies of memorandum and article of association are to be submitted.
 Certificated of incorporation.
 Certified copy of commencement of business for inspection and return in case of a newly floated company.
List of Directors under the signature of the Chairman to be furnished.
Club/Societies account:
 Two photographs of the signatories duly attested by the introducer.
Board resolution of opening A/C duly certified by president/Secretary.
List of Existing Managing Committee
Registration (if any)
Rubber stamp
Permission letter from Bureau of N.G.O. (IN case of N.G.O. A/C
SAVINGS BANK ACCOUNT (SB A/C)
Savings A/Cs is interest bearing deposit accounts. This A/Cs is open for small/ medium depositors. the objective of this A/C is to save small severs money , SB A/C be opened in the name of any about individual of jointly who is / are mentally sound and in the name of club, association and similar institutions subject to production of their By laws and Article of association acceptable to the bank.
Basic requirements for opening of a Mudaraba Savings A/C
1. A/C opener under his / her dated signature at the time of opening the A/C.
2. A/C opener has also to declare that he / she shall comply with to bank rules in force from time to time for the conduct of the A/C by his/her signature on the back of the form.
3. The applicant should be introduce by an introducer, the person who has an A/C in this ranch , by his /his /her signature , A/C type & A/C number and two passport size photographs duly attested by the introducer from whom the banker may make inquiries of the applicant.
4. Every A/C opener is required to supply specimens of signature on the A/C opening form and signature card. Specimen signatures are the signature the banker recognizes for the purpose of customer's signing cheque on the account and issue of other instructions of him for execution.
5.These signature cards should indexed and filed in an alphabetical order and should always by dept under such a proper custody as to prevent them from falling into unauthorized hands and also to exclude the possibility of fraudulent substitution thereof.
6. A/C opener's citizenship certificate is needed to open this A/C.
7. Customer should fill up Customer Transaction profile of prevent Money Laundering under Money Laundering Prevention Act 2002 and KYC (know your Customer) Profile form.
8. To fill up nominee form by introducing the nominees (s)'s photograph by his /her /sing nature and nominee(s)'signature.
Mudaraba Term Deposit Receipt (MTDR)
MTDR is a type of account is opened for fixed period of time. It is not transferable and not negotiable. Many expert bankers think that FDR is not an A/C. it is merely a deposit receipt. It is popularly known as time deposit.
Because these deposits are not repayable on demand but they are withdrawal subject to a period of notice. The prospective fixed deposit holder is expected to fill up an application from prescribed for the purpose stating the amount and the period of deposit the application itself contains rules and regulations of the deposit including the space for specimen signature by using MTDR a party can take loan.
Requirements of MTDR
1. The Willing person first come to the bank and collects a prescribed form
2. Then he /she will fill up the prescribed form with necessary information i.e. name address. About nominee, specimen sing, amount and period of MTDR.
3. MTDR A/C opener's one copy of passport size photograph and nominee's one copy of passport size photograph. which attested, by the A/C holder should be attached with MTDR from
4. After fill up the MTDR from the A/C opener will be deposit the amount that he / she make fixed deposit then Bank officer give FDR A/C code no.
5. Authorized officer writes voucher of MTDR in the following way in single credit voucher amount of MTDR in figure in word along with MTDR A/C no., MTDR no favoring name period interest rate.
6. Authorized officer then issue an MTDR to the MTR A/C opener.
7. Banker should enter all necessary information in the MTDR register or in then MTDR logger book.
Accounting procedure of MTDR
• For issue of MTDR against cash debit cash A/C and Credit MTDR A/C.
• For issue of MTDR against cash debit cash A/C and Credit MTDR A/C.
• For payment of intermesh on MTDR- Debit Exp A/C into on MTDR and Credit FDR A/C (PARTY).
• For realization of tax deduction at source Debit MTDR A/C and credit sundry deposit A/C tax at source.
• For payment of interest to the A/C holder through pay slip Debit MTDR A/C and Credit bills payable A/C pay slip issued.
Encashment of MTDR or only profit of MTDR amount is given through cash debit or PO or transferring to the MTDR A/C holder's any type of A/C.
Maintenance of all kind of Account Opening Form
Maintenance of account opening form is much important since it contains information regarding operation of account and account holder Hence all kind of account opening forms should be preserved in Guard file with proper care before preserving account opening forms in the Guard file there should check out whether every requirement for opening the account is fulfilled
Procedure of closing of an A/C
If the holder wants to close his /her A/C then he/ she would write an application addressing Manager of NCCBL Rajshahi Branch. After inquiring necessary information bank can close the A/C by following way:
1. The banker writes close mark on the A/C opening form.
2. Destroy the cheque book or outstanding cheque leaf and write the series of destroyed cheque below the application.
3. Keeps the A/C opening Form, Destroyed cheque, Signature card, and Application of closing A/C for seven years.
Schedule of Profit Rate
To provide interest-free Banking SJIBL Bank has adopted the following modes of investment:
1. Musharaka (equity participation on the basis of sharing profit and loss)
2. Mudaraba (sharing of profit and loss in business where one of the partners provides expertise and management and other partner provides capital remaining inactive)
An Important Discussion on Cheque:
A cheque is defined in section of Negotiable Instrument Act. 1881 as " A cheque is a dill of exchange drawn on specified banker not express to be payable otherwise than on demand". So a cheque is an unconditional order of the drawer in writing bearing a date to the banker maintaining his account to pay on demand to a named person, his order or bearer, a certain specified sum of money, expressed in both figures and words. The deposits accepted by the banker should be withdrawal by chouse. A cheese in general valid for 6 months from the date of issue and it may be bear future date. There are 3 parties in a cheque issued:
1. The Drawer- The customer who issues the order i.e. A/C holder.
2. The Drawer- The banker on whom the order is issued.
3. The payee- The beneficiary who is to receive the payment.
The salient features of a cheque:
1) Instrument in writing.
2) An unconditional order.
3) On a specified banker.
4) Payee to be certain.
5) A certain sum of money.
6) Payable on demand.
7) To be singed by the drawer.
Material parts of a cheque:
Date
Amount
Payee
Place
Crossing
A) Open Cheque:
Order Cheque: In case of an order cheque it should purport to be endorsed by or on behalf of the payee.
Bearer Cheque: A bearer cheque is payable to the bearer and the banker is discharged from! Inability by payment in due course to the bearer thereof. A bearer cheque is always a bearer one and no endorsement can make it payable otherwise than to the bearer thereof.
B) Crossed Cheque:
The drawer or the holder thereof can cross a cheque generally or specially to a banker. The crossing must be on the face of the cheque. There must be two lines drawn transverse and parallel. There can not be any general crossing without the two transverse lines, with or without the words and company or abbreviation thereof, though the name of a banker without the lines is sufficient to constitute a speck Crossing. A perforated crossing is not disputed. The crossing of a cheque is a material part of the cheque. General crossing is not done to bills of exchange or promissory notes.Effect of crossing:
 Crossing affects the mode of payment of the cheque.
The cheque is not more payable to the payee or holder at the counter of the
bank.
The payment of crossed cheque can be obtained only through banker.
The crossing assures that only rightful holder gets payment.
Even if wrongful person got the payment that can be traced out through banker.
Even if wrongful person got the payment that can be traced out through banker
In case of specially crossed cheque the payment should be made through that bank.
C) Account payee Cheque: A cheque marked 'account payee' or 'payee's account only' between the two parallel lines of general crossing is said to be crossed 'account payee' and ceases to be negotiable.
Reason for Return of Cheque/Dishonor of Cheque:
Insufficient fund
Amount in figure and word differ
Cheque is undated/post dated/stale
Payment stopped by the Drawer
Crossed cheque must be presented through bank
Other specific reasons
Issuance of a cheque book:
For issue of a cheque book there should be a request from the account the first one is issued on the basis of the request form fill up with necessary information by A/C holder. Subsequent issue should be done only on the strength, of the duly signed requisition slip as attached to the cheque book unless the relative cheque book or the requisition slip is reported lost or destroyed by the A/C holder and. loss is properly noted on the banker's records. An Authorized officer will issue cheque book as following way
• Single and uniform branch seal to be used on each leaf of the cheque book if not done earlier.
• A/C no. Sea! To be affixed on each leaf carefully to ensure that the seals on each leaf are clear and distinct. This is essential for identification of the concerned A/C easily on receipt of a cheque for payment and also as a precaution against fraudulent use of a cheque on any other A/C.
• The Authorized officer must sign in full beside the printed no. on each and every leaf of the cheque book by using carbon paper at the back side of the leaf so that his signature also appears on the back of the leaf.
• The name of the A/C is written down on the face of the cheque book and on the requisition slip and the word "issued on" along with the date of issuance is also written down or, the requisition slip.
To provide interest-free Banking SJIBL Bank has adopted the following modes of investment:
1. Musharaka (equity participation on the basis of sharing profit and loss)
2. Mudaraba (sharing of profit and loss in business where one of the partners provides expertise and management and other partner provides capital remaining inactive)
3. Murabaha (buying and selling of commodities goods etc. with profit)
4. Bai-Muajjal (credit sale with profit)
5. Ijara (leasing for rent)
6. Hire purchase or Shirkatul Melk
7. Bi-Salam (purchasing of agricultural products while in production and providing advance one to the producers)
8. Istisna (purchasing of industrial products while in production and providing advance money to the producers).
9. Quard.
Musharaka
It is an investment mode of financing under this mode bank shall participate with the client as a partner of an enterprise. the Islamic shariah Principle of Musharaka shall be 'Shirkatul Inan' which means profit is divisible as per agreed ratio irrespective of capital contribution of
the parties involved.
Mudarabah
It is a mode of investment between 2 parties according to which one of them pays the other a specific amount of money to invest at an agreed ratio of profit &other shall give labor. Here bank shall pay capital to the client &the client will conduct by putting his labor & judgment.
Murabaha
It means amode of finance under which a commodity is purchased at the request of a client as per his specification from the third party with clear understanding & prior contact to sell the same to him at a marked up profit over an above the original price at which the bank purchased it & delivers the same on talking possession at least for one second & there after keeping the goods as bailer under pledge of the bank as security to facilities lifting by the client on cash payment of the price of commodities at a fixed future date either in installment / lump sum.
Bai- Muzzal:
It is defined as a mode of finance under which the goods are sold to the clients at cost plus price payable in a deferred basis either in lump sum / in installment at a fixed future date on purchasing the same as that of industry & agriculture as well as on the financing of domestic &import trade & income generating activities
Bai- Salam :
It is a mode of investment which purchase of commodity is making advance payment by the bank on execution of a written clearly mentioning the specification size of the commodity & the time of delivery at the fixed future date .Generally agriculture industrial goods are purchased in advance under this mode..
Steps of Investment (loan) Operation
Operational Disbursement Procedures Of Investment Of SJIBL:
Bank provides loans by collecting deposits and other sources of funds. This branch has various types of investment (loan) disbursement programs. Before disbursing loan bank follows the following sanctioning process:
1. Application for loan:
A borrower first applies for loan to sanction certain amount of loan allowing with certain required papers & documents.
Needs:
A. obtain affix attested photographs of the clients
B. Scrutinize the application to see that-
a. All columns are properly field in ;
b. Particulars & information given there in are complete & correct in all aspects
c.required document/ papers as listed in the footnote for application is submitted; It is signed by the client as per specimen signature with the bank &duly verified by the authorized official of the bank
Categorization of investment
1. Hire Purcase for commercial purpose under shirikatul melk Commercial
2. . Hire purchase for agricultural purpose under shirikatul melk Agriculture
3.Hire Purcase for Transport purpose under shirikatul melk Transport
4.Hire Purcase for industrial purpose under shirikatul melk industrial
5.Hire Purcase for Real Estate purpose under shirikatul melk Real Estate
2. Credit investigation:
Bank lends its depositors money; therefore, it is required to return back in the ordinary course of business.
 Selection of the borrower: A careful and systematic study of the affairs of the intending borrower is needed to the right selection of borrower. Therefore lending banker should analyze 5C of borrower- Character, capacity, capital, collateral and condition.
 Lending principles: The banker should consider lending principles these are –Safety, Security, Liquidity, Profitability, Purpose, national interest, Diversity.
 Personal interview: For assessing attitude, skill, achievement needs, knowledge etc.
 Collect information from various sources: Bank's own record, borrowers loan application, spot verification, reports from friends & relatives other sources.
3. Credit proposal appraisal:
 Examine Sarriah permissibly of the goods Reject the proposal outright If not permitted by Islamic Sarriah.

 Cheek up credit restriction schedule of Bangladesh Bank &Head office Current Investment Policy Guidelines

 Visit the Business establishment of the client talk to the business & other personalities-

 Location, land & building, product, raw material

 Cash flow, income statement

 Planning, organizing, marketing etc.
Sanction Of Investment
on completion of Appraisal as provided herein above , of the proposal is found viable ,issue Sanction Advice (f-188) if it is within the business power of the Branch mentioning the terms &condition is duplicate to the client & endorse copies to zonal & H/O retaining one copy in the client's file duly accepted by the client.
If the proposal is not within the discretionary power of the Branch ,the branch shall with Appraisal Report on F-167A&F167B to zonal office or H/O
If the Appraisal is within the business power of zonal office , zonal office shall accord Approval / Regret the proposal
If the Appraisal is not within the business power of zonal office shall forward the proposal to H/O with their views & recommendation
On receiving the proposal & the Appraisal Report along with supporting paper head Office will either approve /regret4. Documentation:The security offered for an investment proposal is only a caution. A banker would not normally like to recover the investment amount from the safe of security. A banker accepts properly as security, which is highly liquid, easily realized, easily marketable, sound title, easy to store, stable in its market price.
Document of investment ( loan) may be as follows:

 Pay slip
 Demand promissory note
 Letter of arrangement
 Letter of authority
 Letter of undertaking
 Letter of guarantee
 Letter of continuity
 Letter of Hypothecation
 Supplementary agreement for letter of hypothecation
 Letter of revival
 Memorandum of deposit of title de Requrements from the clients:
 Client must have an account in the stated bank
 Trade license is also required
 Written application for regarding loan

 A/C statement.

 CIB report from Bangladesh bank
 Confidential report from local banks
 Field verification report
 Personal nit worth statement
 Stock report
 Land valuation
 Collateral: It means these securities, which run parallel to or side by side with personal right of action against a debtor in respect of on advance. These types of securities are – Share certificates, bearer's bind, insurance policies, and Legal mortgage.
 Guarantee: At times when the personal security and collateral is not considered sufficient to a banker then he may ask for a guarantee of third party whose financial ability and credit standard is acceptable to the Bank.
 Mortgage:
 Registered mortgage of land

 Irrevocable power of attorney for sale mortgage property

 Legal opinion

 Current rent received

 Original deed
5. Execution of Documents:
It is the procedure of stamping a document. If mistake arises it is to be cancelled. So it is to be properly signed and correctly filled by the executants. The following are to be observed at the time of execution—

 The documents filed by the executants correctly.

 Specimen signature.

 The entire page is to be signed by all the executants.

 Should not have cutting, overwriting.
Documents should be kept safely
Purchase of goods by the bank
a) The bank purchase the goods desired by the client until the ownership of bank on the goods is established
b) After purchase of the goods the risk of goods is borne by the bank untill the possession of the merchandise has been passed on the client
c) Obtain deal wise application Order for purchase on F-136after due study
d) Open investment A/C in investment account register
e) Enter the account particulars that in the investment ledger
f) It should be carefully noted that purchase of goods shall be made only after completion of all the documentation formalities, including pre audit memo
Taking delivery of goods by the bank
1.after finalization of purchase of goods by the Bank officials /any agent from local / out side market the Bank shall request the seller to delivery the goods to the Bank's Authorized official/ agent to the Bank godown against proper acknowledgement
2.After taking delivery of the goods by the Bank / through an agent, the Bank make payment of the price of the goods to producers / sellers /suppliers through DD/ TT/ PO against cash memo which will exclusively be issued in the name of the Buying agent
Investment Schemes of SJIBL
1. Investment Scheme for doctors
2. Investment Scheme for Education
3. Investment Scheme for Executives
4. Investment Scheme for Marriage
5. Investment Scheme for Overseas Employment
6. Household Durable Investment Scheme
7. Housing Investment Scheme
8. Car Investment Scheme
9. CNG Conversion Investment Scheme
10. Rural Investment Program
11. Small Business Investment Scheme
12. Small Entrepreneurs' Investment Scheme
13. Medium Entrepreneurs' Investment Scheme
Investment Scheme for Doctors
Doctors can set up or renovate their Chamber, Clinic or Diagnostic Center with necessary medical Equipments or to purchase personal necessary medical Equipments with the help of Shahjalal Islami Bank's Investment facility for doctors within shortest possible time.
Eligibility
Bangladeshi salaried or a self employed Doctor having at least 2(two) years professional experience.
Ceiling
Maximum Tk.5,00,000/- for General Doctors.
Maximum Tk. 1 0,00,000/-for Specialist Doctors.
Period:
Maximum 60 months.
Age : 25 to 60 years.
Repayment Mode: Equal monthly installment.
Profit Rate: Most competitive within your reach.
Special Feature
Partial adjustment or Full Pre-payment of liability at any time allowed without any early settlement charge.
Investment Scheme for Education
Children are the precious assets in one's life around which all dreams cluster. Shahjalal Islami Bank is here to make your dream true with Investment Scheme for Education.
Eligibility
Any Bangladeshi credit worthy salaried or a self-employed person can avail this facility for their Children.
Purpose of Investment
To pay the Tuition fees.
To pay the Hostel fees.
To meet Travel expenses.
Purchase of computer, books etc.
Investment Amount
In Bangladesh: Maximum Tk. 7,00,000/-
In Abroad: Maximum Tk. 15,00,000/-
Period:
Maximum 60 months.
Margin: – In Bangladesh: 10% margin.
– In Abroad: 20% margin.
Repayment Mode:
Equal monthly installments.
Profit Rate: 14.00% per annum
Special Condition
Student file must be maintained with Shahjalal Islami Bank Ltd.
Special Feature
Partial adjustment or Full Pre-payment of liability at any time allowed without any early settlement charge.
Investment Scheme for Executives
Shahjalal Islami Bank Investment Scheme for executives provides funds for any unforeseen expenditures whenever they desire or need; be it a sudden vacation that they plan with their family or urgent funds required for medical treatment or purchase of furniture or house hold appliances, or house renovation & interior decoration, marriage in family or advance rental payment, Higher education & training.
Eligibility
Any Bangladeshi salaried executives of Corporate Houses, Banks, NBFI, Multi National Company(s), Government Office & Semi-Government Office can avail this facility.
Investment Amount: Maximum Tk. 10,00,000/-
Period: Maximum 36 months.
Age: 22 years to 60 years
Repayment Mode: Equal monthly installments.
Profit Rate: Most competitive within your reach.
Special Condition
Salary A/c & end service benefit will be lien till full adjustment of the liability.
Special Feature
Partial adjustment or Full Pre-payment of liability at any time allowed without any early settlement charge.
Investment Scheme for Marriage
Shahjalal Islami Bank has a Marriage Investment Scheme for the best memories of the customers and their families. This scheme makes it possible that all arrangements are made well in advance & every comfort meticulously.
Eligibility
Any Bangladeshi salaried or a self employed person having 2 (Two) years professional experience
Investment Amount : Maximum Tk.3,00,000/-
Period: Maximum 48 months.
Age : 25 years to 60 years.
Repayment Mode : Equal monthly installments.
Profit Rate: Most competitive within your reach.
Special Feature
Partial adjustment or Full Pre-payment of liability at any time allowed without any early settlement charge.
Overseas Employment Investment Scheme
The wage earners who reside outside the country are contributing to the growth of national economy in terms of their remittance sent from abroad.
It is everybody's dream to go abroad for employment Shahjalal Islami Bank is here to make their dreams true.
Eligibility
Any Bangladeshi Citizen intends to go abroad with employment under genuine work permit Visa.
Investment Amount: Maximum Tk.3,00,000/-
Period: Maximum 36 months with 02 (two) months moratorium period.
Age: 18 years to 45 years
Repayment Mode: Equal monthly installments.
Profit Rate: 14.00% per annum
Special Condition
The client who wants to avail this facility must maintain F/c Account with us till full adjustment of the facility.
Special Feature
No margin requires
Partial adjustment or Full Pre-payment of liability at any time allowed without any early settlement charge.
House Building Scheme: This loan is restricted for only making house building of business
Computer Services :
Shahjalal Islami Bank is computerized and provides the following services & some of these services will be introduced soon.
1. Online services
2. Automated Accounting
3. Integrated System
4. Signature Verification
5. Any Branch Banking
6. ATM Services
7. POS Services
8. SMS Push Pull Services
9. Other Delivery Channel Services (to be implemented)
SJIBL ATM SERVICES
Shahjalal Islami Bank Limited is providing ATM services to its valuable cardholders 24/7 for 365 days. At present the Bank has 5 ATM's of its own and also providing ATM services to its customers through shared ATM with Q-Cash member Banks, DBBL, Brac Bank and other VISA ATMs.
Q-Cash Member Banks are:
All the Q-Cash member banks can make ATM transactions within their network at very nominal fees.
ATM Transaction Charges:
ATM Outlet Charges per transaction
SJIBL ATM Free
Q-Cash Network Tk.10.00
Dutch Bangla Bank Ltd. Tk.20.00
OMNIBUS (Brac bank Ltd.) Tk.20.00
Other VISA ATM Tk.125.00
Source: SJIBL web site (www.shahjalalbank.com.bd)
SJIBL VISA Card Introduction
Card is considered as a new dimension of product resulting from technological development in the banking arena. In line with our affiliation with VISA International for VISA ATMs and POS, the following two products are launched broadening service products of the Bank to the clients:
VISA Electron (SJIBL VISA Debit Card – local)
VISA Prepaid (SJIBL VISA Prepaid Card)
1. SJIBL VISA Prepaid (Prepaid Card – Local)
2. SJIBL VISA Prepaid (Prepaid Card – International)
3. SJIBL VISA Prepaid (Prepaid Card – Dual)
4. SJIBL Souvenir Card (Gift Card – Local)
SJIBL VISA Debit Card:
To a customer, "My card, my money" concept is used for Debit Card. Any accountholder of SJIBL can apply for a SJIBL VISA Debit Card against his/her Al-Wadiah Current Deposit (AWCD), Mudaraba Savings Deposit (MSD) or Mudaraba Short Notice Deposit (MSND) Account. He/she is fully authorized to enjoy the benefits of cash withdrawal from ATMs, liberty of shopping, dining, paying utility bills and having access account information through SMS, etc. round the clock.
Procedure for obtaining Debit card is given below:
At first the applicant should fill up the prescribed application form, which is available at:
a) Card Division NCCBL Bank Head Office
b) All branches of
Required Documents with application form are as follows:
b) Photograph
c) TIN certificate
d) Salary certificate for salaried personnel
e) Trade License memorandum and article of Association/Partnership deed for businessman.
f) Bank Statement
g) Copy of any utility bill as proof of residence
h) Passport Copy (if any)
i) Driving license/Voter !D/Office lD (if any)
j) Car/House ownership document (if any)
Age Limit of the card applicant should be 21 to 60 years.
a) Lower interest rate
b) Lower fees and charges
c) Free supplementary card 'hot one) to spouse only
d) Cash advance facility through ATM
Fees & Charges
A. VISA Debit Card
Particulars Renewal Replacement PIN
re-issue Transaction Charges (ATM)
ON-US Q-Cash Others (VISA)
General
– Primary 500 400 200 Free 10 125
– Supplementary 250 400 200 Free 10 125
Source: SJIBL web site (www.shahjalalbank.com.bd)
Financial Position of SJIBL
| | | |
| --- | --- | --- |
| Year | Amount of total assets | Growth % |
| 2007 | 28346996395 | |
| 2008 | 45216968653 | 59.51 |
| 2009 | 58920895401 | 30.30 |
Comment:
Though the total asset's growth decreases during the year,
it is gradually increasing over the year. So, this is a good sine.
| | | |
| --- | --- | --- |
| Year | Amount of Total Liabilities | Growth % |
| 2007 | 2559265254 | |
| 2008 | 41611527979 | 62.60 |
| | | |
Here liabilities are increasing over the years.
| | | |
| --- | --- | --- |
| Year | Current Ratio | Growth % |
| 2007 | 1.13 | |
| 2008 | 1.11 | -1.76 |
| | | |
| --- | --- | --- |
| Year | Return On Equity (%) | Growth % |
| 2007 | 23.20 | |
| 2008 | 22.67 | -2.28 |
Return on equity shows the bank's rate of return on stockholders' equity. Here return on equity is decreasing over the years which construct a negative view in the mind of the investors.
| | | |
| --- | --- | --- |
| Year | Amount of Total Operating Income | Growth % |
| 2007 | 1628824523 | |
| 2008 | 2322991357 | 42.61 |
| 2009 | 2916761866 | 25.56 |
| | | |
| --- | --- | --- |
| Year | Amount of Total Operating Expenses | Growth % |
| 2007 | 313816132 | |
| 2008 | 513191258 | 63.53 |
| 2009 | 875597545 | 70.61 |
In above we see that net operating income decreases but Operating expenses increases during the past 3years
| | | |
| --- | --- | --- |
| Year | Amount of Net Profit After Tax | Growth % |
| 2007 | 646992691 | |
| 2008 | 817709533 | 26.38 |
| 2009 | 1070568293 | 30.92 |
| | | |
| --- | --- | --- |
| Year | Amount of Net Investment Income | Growth % |
| 2007 | 1013419936 | |
| 2008 | 1273775380 | 25.70 |
| 2009 | 1330603851 | 44.61 |
In above we see that to the net investment income & net operating income during the past 3years are increasing. So, the position is growing.
| | | |
| --- | --- | --- |
| Year | Cost of fund(%) | Growth % |
| 2007 | 10.40 | |
| 2008 | 10.99 | 5.67 |
| 2009 | 11.07 | .72 |
Bank's profit earning assets are increasing at a decreasing rate which is also a positive sine.
| | | |
| --- | --- | --- |
| Year | Profit Earning Assets | Growth % |
| 2007 | 25303841268 | |
| 2008 | 39889424692 | 57.64 |
| 2009 | 53131793268 | 33.19 |
Bank's non profit earning assets are increasing at a decreasing rate which is also becoming a good strength.
 Account Opening
According to the research, the majority customers of the group are operating their accounts more than Five Months in SJIBL Ltd at Rajshahi Branch. Among the targeted 25 customers, 12 customers of them maintain savings account in the bank and 13 customers have current account in the bank.
Reason behind opening an account
In this part 46% customers told that Islami Shariah and location of the bank was the main reason behind opening an account in the SJIBL. On the other hand 27% said that good behavior of the employee has influenced them to open account in the Bank.
Source: Interview (Customers)
Pie Chart-3
Online Banking service
Majority group of clients opined that they have a good knowledge about online banking service. On the other hand 36% of the customers don't have any idea about online banking.
Source: Interview (Customers)
Pie Chart-4
Reasons behind for using online technology in SJIBL:
36% opined that quick service, better performance and free online charge are the main reasons behind using online technology in SJIBL. On the hand 27% customers said that they would get quick service by online technology.
Present Level of customer service
Majority group of customers (64%) opined that the present level of customer service is good in SJIBL Ltd. On the other hand few customers announced that the present level of customer service is moderate or poor.
The behavior of the SJIBL officials
90% of the customers said that the officials are helpful as well as behave better with them in SJIBL. On the other hand only one customer said that bank official's behavior is poor.
Source: Interview (Customers)
Pie Chart-5
 General opinion of the customer
Among the various banking services provided by various other foreign bank and local private and public commercial and islami banks the customers can distinguish some unique quality and advantages for making and managing their banking relation with this bank. The advantages that they feel while maintaining the banking relation with this bank are as follows-
• The Bank is following the Islami Shariah Banking System.
• The bank is more secured in terms of banking transaction and keeping money here.
• The bank has wide access and huge range of service offerings.
• The atmosphere of the bank is more attractive than other banks.
• The bank can provide prompt service.
• The bankers are very friendly to them.
• Even the banking transactions through this bank are reliable and trustworthy to various organizations within the country and outside the country.
According to them there are also some short comings-
• The bank takes high charges for their services.
• Even sometimes they are not aware of various charges for the products and services provided by the bank.
Drawbacks of SJIBL
Limited workforce
In this branch the workforce are only 16 among them only 10 are officers & rest of them are the workers. SJIBL has very limited human resources compared to its financial activities. And about 40% customers are not satisfied with the services delivered by the bank. There are not many people to perform most of the tasks. As a result many of the employees are burdened with extra work loads and works extra hours without any overtime facilities. This might cause high employee turnover that will prove to be too costly to avoid.
Human Resource Expertise
One of the key-contributing factors behind the success of every organization is HR Department; but the HR Department of SJIBL is not strong enough. Here HR department has not opened yet. So the Bank is not being able to properly direct & maintain the HRs of the Bank. As a result, the performance of services provided by the employees is not becoming attractive & effective to draw the full attention of the customers.
State of the art technology
Though SJIBL utilizes state-of-the-art technology to ensure consistent quality and operation yet it is not properly up-to date.
CREDIT CARD FACILITIES
This branch does not provide credit card facilities. So a credit card market is still beyond the bank's capacity which is a lack in the policy making. On the other hand other banks successfully introduce this facility.
ATM-BOOTH
In Rajshahi SJIBL has no ATM booth which is one of the great problems for the Bank. For this reason the customer is paying extra Tk.10/20 when they need encash there amount. And specially for this reason a huge number of customers open there account in other bank. In recent times, it gets popularity that most of the customers want mobilization of there amount of deposits which is possible by the help of the own ATM booth facilities. This system also saves times & increases earning & money circulation & strengthens local the economy.
Marketing:
SJIBL does not have special marketing department in this branch & it dose not adopt different promotional tools like advertisement campaign, billboard, personal selling TV AD. print Ad. on local newspaper & other local media to convey the update message of the bank & the perfect ideas & full features of the Bank, deposit schemes & investment schemes like(Mudaraba, alwadiah, Murabaha, Muashaka ,Bai Muzzal, Bai Salam etc) these concepts are not very much clear to the customers as a result they are not interesting about the Bank &the Bank's products.
RECOMMENDATION & CONCLUSION
 Recommendations:
Advertisement & Promotion:
SJIBL should pursue an aggressive advertisement campaign in order to build up a strong image and reputation among the potential customers. It can come in to the limelight through an aggressive marketing campaign such as advertisement in the newspaper and magazine, more billboard and neon signs, publicity messages and promotional campaigns. SJIBL can also pursue promotional campaigns with its customers particularly the corporate clients in order to build up a stronger rapport with them. Television advertisement is also a major method for attracting the potential customers. As it is a new bank, a strategy of exposing the bank to the public must be taken so that the general people are aware about the emergence and the growth of the bank.
Increase number of employees:
SJIBL has limited number of employees compare to their branches. So to improve their service they have to increase their employees within a shortest possible time. Otherwise they could not operate their banking activities properly and fail to compete with other private banks.
Improvement of service quality:
This is one of the major setbacks of SJIBL as it has not yet achieved its targeted goal that is to provide better services to its customers compare to the contemporary banks as well as the foreign banks. The service is weak in the general banking division where the retail customers are not getting the service properly. The management must take steps to improve this situation. Adequate people with the proper training and skill should be place at this wing of the bank.
Enhancement of remuneration package:
The present compensation package at SJIBL is very unimpressive and not capable to attract quality personal to fill up its position. Many skilled and devoted officers of the bank are depressed with their compensation package. The foreign banks pay almost double than that of SJIBL and other private banks also have a higher scale then this bank, it is high time that the management should consider revising the remuneration package in order to attract quality human resources.
Preparation of a full-fledged Service Rule:
It was a shocking experience to be informed that despite the employee's continuous urge to develop a complete service rule, the respective authority has not taken the necessary initiative towards this end. In today's complex modern banking system, if the employees do not have specific job descriptions, then the hurdles that the employees had to undergo is well felt by the respective sufferers. SJIBL, as yet do not have a full fledge service rule, which is really a big obstacle towards the achievement of higher employee productivity and thus the overall profitability of the organization.
Improvements of the training center:
Now a day's most of the commercial bank has its own training center and we are fortunate that SJIBL has its own training center. We know that effective training is a must in increasing employee productivity.
Establishment of self serving terminals:
Self serving terminals is a new concept of banking service, which allows customers on their own to open new account, transfer funds between accounts, order cheques, stop payments of previously issued cheques and get information of different terms of other services that the bank offers may be initiated in the bank though brushing up and utilization of existing technologies.
Establishment Of ATM booth:
SJIBL should establish sufficient ATM booth centers in the Rajshahi city to compete strongly with the rivals &increase the customers & to satisfy them by reducing their time money &energy & broaden the opportunities to do business in anywhere over the Rajshahi, to accelerate the money circulation to strengthen the local economy. It also help introduce the credit card facility to the customer.
Introduction of credit card:
Credit card is a new arena of present banking service. Already a noticeable number of banks have introduced credit card facility. Other leading private banks have already introduced their credit cards. In order to stay in competition and to provide better service SJIBL is suggested to introduce credit card facility in their shortest possible interval.
Conclusion
Bangladesh is a developing country. Without developing the banking sector it is not possible for the economy to progress rapidly. In such conditions SJIBL, is trying to develop banking sector through delivering service to the people beyond satisfaction with the Islamic shariah. The successful launching and operation of Islamic banks in Bangladesh has established the fact that banking without interest is feasible. Islamic banks have brought together many depositors and entrepreneurs under their fold and coverage. These depositors and entrepreneurs so long avoided interest-based banking on grounds of religious injunctions.
The purpose of the report was to focus on the overall activities of SJIBL, Rajshahi and to evaluate its customer service quality and also to provide some suggestions to improve its different aspects. The whole banking sector of Bangladesh is facing challenges, competition is growing day by day. So without offering differentiate products and better services it is not possible to withstand this competition as it is the precondition of customer satisfaction. SJIBL has a large number of differentiated products and its service quality is also high. So hope it will be in the top of the banking sector in the next couple of years because the upcoming challenges demand higher performance level and utmost customer satisfaction.