Organization Overview of Dhaka Bank Limited
It was a dream of corporate grandeur to be a unique financial service provider that draws inspiration from the riches of golden Bangla, its history and heritage, but adopts global standard, tools and techniques in delivering service.
Dhaka Bank Ltd. is the preferred choice in banking for friendly and personalized services, cutting edge technology, tailored solutions for business needs, global reach in trade and commerce and high yield on investments. The Bank offers the full range of banking and investment services for personal and corporate customers, backed by the state–of–the-art technology and a team of highly motivated Professionals. The Bank offers the full range of real-time online banking services through its all Branches, ATMs and Internet Banking Channels.
At the opportune moment, Dhaka bank Limited was born on the 5th July in 1995. From the very year if its landmark journey Dhaka Bank Limited is widely recognized today for its exceptional service, simplicity, and proximity and cutting-age way of delivery. Apriority of operating profitably and successfully, even in the tough market environment, the bank is acutely aware of the responsibilities that go beyond banking and reflect its commitment to employees, society and environment.
DBL was incorporated as a public limited company under the Companies Act. 1994. The bank started its commercial operation on July 05, 1995 with an authorized capital of Tk. 1000 million and paid up capital of Tk. 100 million.
Vision Statement:
"At Dhaka Bank, we draw our inspiration from the distant stars. Our team is committed to assure a standard that makes every banking transaction a pleasurable experience. Our endeavor is to offer you razor sharp sparkle through accuracy, reliability, timely delivery, cutting edge technology, and tailored solution for business needs, global reach in trade and commerce and high yield on your investments."
Mission Statement:
"To be the premier financial institution in the country providing high quality products and services backed by latest technology and a team of highly motivated personnel to deliver Excellence in Banking"
Goal of DHAKA BANK Limited:
Dhaka Bank Limited inhibits the vision of-
"At Dhaka Bank we draw our inspiration from the distance stars. Our team is committed to assure a standard that makes every banking transaction a pleasurable experience. Our endeavor is to offer you razor sharp sparkle through accuracy, reliability, timely delivery, cutting edge technology, and tailored solution for business needs, global reach in trade and commerce and high yield on your investment."
Strategic Objectives:
Prime objective of DBL is to deliver a quality that demonstrates a true reflection of their vision – Excellence in Banking. Strategic objectives of DBL are to conduct transparent and high quality business operation based on market mechanism within the legal and social framework. It also has following objectives:
Provide customers continually efficient, innovative and high quality products with excellent delivery system.
Generate profit with qualitative business as a sustainable ever-growing organization and enhance fair returns to shareholders.
As a corporate citizen contribute towards the progress of the nation as its corporate social responsibility
Promote employees' well being through attractive compensation package, promoting staff morale through training, development and career planning.
Fulfillment of the responsibilities to the government through paying entire range of taxes and duties and abiding the other rules.
Be cautious about the environment and climatic change and dutiful to make this country a green and clean soil.
Management System:
Since its journey as Commercial Bank in 1995 Dhaka Bank Limited (DBL) has been laying great emphasis on the use of improved Technology. It has gone to Online Operation System since 2003.
And the new Banking Software FLEXCUBE is newly installed. As a result the Bank will able to give the services of international standards.
Divisions and Branches:
The Bank has 71 Branches, 3 SME Service Centers, 2 Islamic Banking centers, 6 CMS Units, 2 offshore Banking Unit and 1 subsidiary across the country and a wide network of correspondents all over the world. The Bank has plans to open more Branches in the current fiscal year to expand the network.
If the Jobs are not organized considering their interrelationship and are not allocated in a Particular department it would be very difficult to control the system effectively. Dhaka Bank Limited (DBL) has done this work very well.
Organogram:
The Organogram or Organizational Structure of DBL indicates channels of communication and reporting relationship. Each Head of Division/Department/Unit In-charge should ensure that the employees under her/him fully understand the Organizational Matrix and follow that reporting relationship and flow of all communications as delineated
Corporate Designation:
All employees of the Bank have, broadly been grouped into three categories and placed in grades, based on the value of the jobs, accountability and the nature of its responsibilities, as follows:
Executive Grade:
From Assistant Vice Presidents to Deputy Managing Director
All the Executives including the Functional Heads are being responsible for effective running of the Banking functions. They have a high degree of independence and make their own decisions under, defined responsibilities as elucidated in their Individual. Any decision beyond, their: defined areas needs to be referred upward.
Officer Grade
From Trainee Assistant Officer/Assistant Cash Officer to Senior Principal Officer
Officers are the employees who deal with routine nature of work, however of independent character, can only make decisions upon obtaining special authority from their superiors. They perform responsibilities as elucidated in their individual Job Description.
Support Staff
Assistant, Telephone/SWIFT/Computer Operator, Receptionist, Godown Keeper, Care Taker, Electrician, Security Guard, Messenger, Peon –are considered as the support stuff.
Support staffs are the employees, who deal with routine nature of work, however of independent character, can only make decisions upon obtaining special authority from their superiors. An employee will be advised individually about their responsibilities as elucidated in their individual Job Description.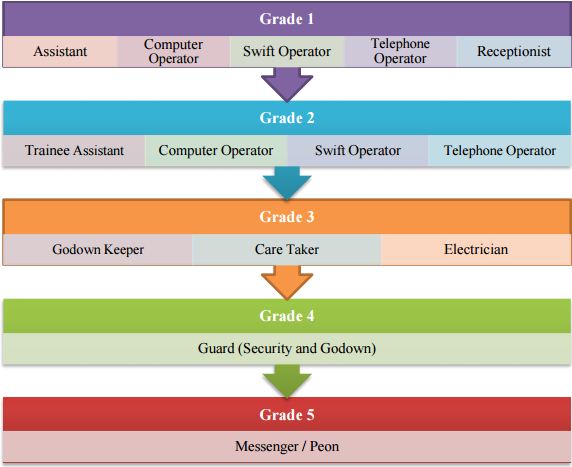 Internee:
Students from different reputed educational institutes may be engaged for 2 3 months (8 to 12 weeks) as decided by the Management on particular assignment or project job. Normal monthly allowance currently may range from Taka 2,000-7,000. Whilst it is understood that the interns have very little or no experience to contribute to the Bank, this is done more to help the students as part of their degree to gather some work environment experience and our contribution to help raise the educational standards of the institution of the country and thus fulfill part of our social obligation (social responsibility) as a Corporate Body.
Products & Services of Dhaka Bank Ltd:
Dhaka Bank Ltd is doing all banking related business. The activities include deposit collection, extending credit facilities to different corporate organization and small & medium enterprises. The bank issues ATM Card to the account holders and it issues Credit Cards to the customers through its retail-banking wing. Being the member of Dhaka and Chittagong Stock Exchange Dhaka Bank helps people to perform stock trading. The accountholders of the bank can enjoy the SMS banking and Internet banking facilities, which are the part of modern technology. Major products are highlighted below: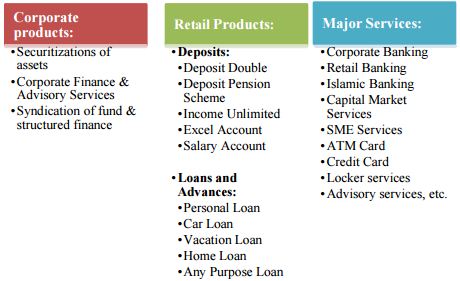 CSR Activity of Dhaka Bank:
DBL involves itself in charity, social welfare and other benevolent activities towards the promotion of the objective of its foundation which would act as a catalyst in creating awareness on development issues and as a facilitator for building bridges with the common goal of sustainable development of the society, providing direct assistance to various development projects and people. Dhaka Bank Ltd. has formed a five member CSR committee headed by the Managing Director to oversee the overall activities and management of the CSR fund of the bank. Dhaka Bank Foundation, established in 2002 as a non-profitable, non-governmental organization, is solely devoted to the cause of charity, social welfare and other benevolent activities towards the promotion of the objective of the foundation.
Health:
Donation of passenger lifts and two haemodialysis machines to BIRDEM Hospital and Tk.
Donation of Tk. 10 million to Centre for Women and Child Health Hospital for setting up pathological laboratory.
Setting up of a 10-bed ward at the proposed Ahsania Mission Cancer and General Hospital, sponsoring Society for the Welfare of Autistic Children (SWAC).
Donating to Bangladesh Eye Hospital, Sponsorship for Shield Trust.
Among Dhaka Bank's contribution as corporate social responsibility, a few initiatives are donation to Asiatic Society of Dhaka.
Disaster Relief:
Relief operation for flood victims at a cost of Tk. 5.0 million.
The bank distributed 10 kg rice, 1 kg pulse, and 1 kg salt to each of the 10,000 distressed families of Araihazar, Sirajdikhan and Belkuchi.
Renovation of the auditorium of Dhaka Reporters Unity.
Social Welfare:
Sponsoring of Anti Drug Debate Festival, Distribution of winter cloths by the employees of the bank.
Sponsoring of Bangladesh Under-19 cricket team.
Awareness creation for Road Safety, Blood Donation, Eye Donation, Prevention of AIDS.
Provided financial assistance for Educational Development Trust of Scholastica to support and nurture academically gifted students.
Sponsorship for BADC School.
Environment:
Sponsored the city beautification program initiated by Dhaka City Corporation by refurbishing
Dhaka Bank Fountain in front of Ministry of Foreign Affairs and Dhaka Bank Park in front of
Dhaka Bank Head Office, beautification at Jashimuddin Crossing at Uttara costing 1.5 m, and also in front of Dhaka Bank Head Office costing 1.2 m.
Awards and Accolades of DHAKA BANK Limited:
Dhaka Bank Limited by dint of its service oriented approach, latest technological update and competitive products & services have been honored with different awards. The awards that have glorified DBL familyCertificate of Merit Award for best published Annual Report & Accounts 2010 by Institute of Chartered Accounts of Bangladesh.
Best Performance Award-2010 to Mr. Khandakar Fazle Rashid, Managing Director by Bankers' Forum.
Overview of Human Resources Division of Dhaka Bank Limited
Dhaka Bank Ltd believes that consistently strong performance of the Bank is the result of the team of committed, knowledgeable and dedicated employees who are focused on achieving the excellence in banking. According to the HR professionals working for the HR Division "Thus human resources is the most valuable asset for the Bank" the Bank is committed to recruiting high-caliber employees and providing them with the motivation, training, working environment and compensation package they need to perform at the highest level. They recognize the importance of making the Bank an employer of choice. To that goal in view, they ensure that the employees understand the strategic plans and objectives of the Bank and are clear about what is expected from them. The Bank promotes the importance of high ethical standards in its employees. They have to act within the prescribed code of conduct and are not permitted to solicit or accept any inducements, which are likely conflict with their duties to clients. Appraisal of their individual performance is done in a rating scale against objectives and the Bank's prescribed core values.
HR Strategic Objectives for 2011-2015
Strategic HR planning is an important component of strategic HR management as well as Human resources division of an organization. HR strategic objectives helps thriving integration of human resources planning with business planning which leads to achieve the vision, mission and business goals of the organization successfully.
Human Resources Division has visionary strategic objectives for the years of 2011-2015:
Realign HR in line with revisited vision, mission and business plan
Ensure critical and essential manpower at all levels
Ensure market driven pay and benefits
Provide career development opportunity
Introduce certification programs, and ensure fair performance evaluation
Ensure compliance with country laws, regulatory directives and corporate norms
Branding Dhaka Bank as the best environment to work for among local banks
Reorganize HR functions, and empowerment of the human resources division
Automate HR process, and integrate with other functional departments
Internship Experience:
I have worked as an Intern at Dhaka Bank Limited from 1 May 2013 to 31 July 2013. The internship program has provided me tremendous opportunities and scopes to learn and get the insights of practical banking works which will help me in developing my future career. Through the internship program I have learnt regular work as well as corporate work experience that I never could have learnt in the classroom. Moreover, besides the regular office work I have learned to deal with the challenges of the banking industry, got the opportunity to apply knowledge gained from the academic experience, explored many scopes to observe various roles and jobs in the banking sector and all these learning's helped me to gain "real world" experience in banking world.
I have worked in the Human Resources Division of Corporate Head Office, which is located in the Biman Bhaban (1st Floor) Motijheel Commercial area. As my major is in Human Resources in my BBA program, being appointed in the HR division helped me extensively to get familiar with the real
HR practices of the banking industry. The office hour was from 10 AM to 6 PM, in between there is a half an hour breaks for lunch. Though the office hour ended at 6 PM, often I had to work more than the scheduled time to complete the works on due time. For first few days it took time for me to cope up and fit in the new corporate work life but gradually I adapted the new work environment. On my very first day I got warm welcome from every employee of the HR division and being introduced with everyone of the division including Head of HR. I was given a specific desk; a chair along with personal computer and stationeries as my work station. From the first week I started to learn about the general and core HR practices being exercised in the organization. Since my first day, I had the chance to handle a multitude of tasks and responsibilities. On a day to day basis I worked closely with the career development unit, compensation management unit and the resources planning unit to provide co-operation and guidance when needed, and to help with the concerns of others whenever needed. Multidimensional work with different units enriched my HR knowledge and their practical application in the real world.
Conclusion:
Human Resource Management always acts to bring out potentials, to develop quality and to also meet all the demand of the work force. In doing this training one of the pillars of HRM, performs both of the company and for the employee.
Training helps to enrich the quality of employees to batter performance. Thus performance affects the activities of the organization to stand out competitive in the ever changing market. As a result of need the training is repeated from the organizational part to have well developed career employee base to remain in the rapid growth.
Again employees feel the necessity of training to emulate in the corporate world flooded with career oriented members. A well trained employee is always confident and satisfied in the motion to have a developing career earned amidst of various training. The need of training in career development also reverberates from employees' part.
So, a proper training in an appropriate method to the right person can differentiate the organization by having flourished career employee which will work as strength of any organization. By such training employees career get enhanced that effects the overall organization and employee as well. So Training has some impact on Career progression in Banks.