Operations at General Banking Division of United Commercial Bank
Overview of United Commercial Bank Limited (UCBL)
United commercial bank started its journey in the year 1983 with an initial paid-up capital of TK 35.50 million with the object of excellence in customer service with pleasure and happiness. Its vision is to be the bank of first choice in all terms, sustainable inclusive business growth by ensuring efficiency, regulatory compliance, good asset quality, combination of experience and professional talents, consistent profitability and of course good governance. The formally started its commercial operation on 27 June in the same year. During the year 2012 the bank set record indeed in terms of advance, deposit and expansion of business through its continuous diversification. The bank obtained license to open offshore unit on June 9, 2010. As on December 31, 2012 the bank feel proud of having 131 branches and 81 ATM throughout the country. Eight more branches are in the offing to be opened in the year 2013 as approved by Bangladesh Bank.
As a fully licensed commercial bank, UCBL is being managed by a highly professional and dedicated team with long experience in banking. They constantly focus on understanding and anticipating customer needs. As the banking scenario undergoes changes so is the bank and it repositions itself in the changed market condition.
UCBL offers all kinds of Commercial Corporate and Personal Banking services covering all segments of society within the framework of Banking Company Act and rules and regulations laid down by our central bank. Diversification of products and services include Corporate Banking, General Banking Retail Banking and Consumer Banking right from industry to agriculture, and real state to software.
With its firm commitment to the economic development of the country, the Bank has already made a distinct mark in the realm of Private Sector Banking through personalized service, innovative practices, dynamic approach and efficient Management. The Bank, aiming to play a leading role in the economic activities of the country, is firmly engaged in the development of trade, commerce and industry thorough a creative credit policy.
United Commercial Bank, since its beginning has attached more importance in technology integration. In order to retain competitive edge, investment in technology is always a top agenda and under constant focus. Keeping the network within a reasonable limit, our strategy is to serve the customers through capacity building across multi-delivery channels. Our past performance gives an indication of our strength. We are better placed and poised to take our customers through fast changing times and enable them compete more effectively in the market they operate.
Objective of the report
To get an overall idea about the banking system of United Commercial Bank.
Broad Objective:
To get an idea about the functions of general banking division of United Commercial Bank.
To know the General banking system of United Commercial Bank.
Specific Objective:
To present my observation and suggestion to the bank.
Methodology
This report contains both primary and secondary date. The sources that have been used to gather and collect data is given below-
Primary Source
Personal interview
Observation
Secondary Sources
Annual Report of United Commercial Bank 2012'
Brochures of United Commercial Bank Limited
Newspaper
Web site
Departments of United commercial Bank
Corporate Banking
Corporate banking is the center of all corporate leading operations of UCBL. It controls all of the 130 branches of UCBL. Several strategic business units (SBUs) are working under this corporate banking unit. Corporate banking unit consist all regular departments such as general banking, retail banking, card division, cash division including some major departments which are not available in other branches. Those are Human resource department, internal AUDIT running group, general banking development division (GBDD), general service division which insures office equipment purchase and establishment of new department. It also has departments like finance accounts division and general accounts division which main operations are check-out the operating functions of all 131 branches around Bangladesh. It observes the profit, loss of the branches and its working system.
General banking division:
This is the major division of any bank. Various types of works are conduct here and major part of the total profit is coming from this department. Account opening, clearing process of inward and outward cheques, online money transfer and different types of savings offer and maintenance are dealing in this division.
Retail banking:
UCB retail banking plays an important role to fulfill the lifestyle need of its customers. Be it deposit to ensure safely in future or a loan to fulfill the future need now, UCB retail offers a range of products to their customers, so that they can live their dreams.UCB strives to bring quality beat practices by being different in fields like consumer lending, liability management and cash management. At present time customer prefers to have the services at their door steps.
To ensure that we have created a well trained direct sales team who take the services to the door steps to our customers. This is one of the pioneer bank which finance home loan all over the country where in most of the banks confined their finance in metro areas only. More than 2200 homes all over the country have been lightened up with happiness through our home finance.
With all possible like personal loan, home loan, auto loan, marriage loan, education loan travel loan, house hold durable loan retail banking portfolio stand at BDT 10,697 million at the end of 2012 against BDT 8,430 million in 2011.
Card Business:
UCB has started credit card operation in 2006 by introducing VISA branded dual currency credit card. The bank has issued more than 50,000 credit cards and has extended its services in divisional and district cities like Dhaka, Chittagong, Sylhet, Khulna, Rajshahi, Barisal, Comilla, Bogra. UCB is the principal member of VISA international. UCB stared its own ATM network in 2009 and has already established 81 ATMs throughout Bangladesh. Another 23 ATMs are to be added to the network by the end 2013. The bank has issued more than 60,000 Debit cards and project is underway for the introduction of pre-paid cards. Today the banks card services are available from all branches across the country. The bank also has different types of credit cards with various limits and features. The bank has introduced special value added services to its Gold Card holders, special discount at selected stores and restaurants and business class airport lounge facilities for outgoing passengers.
Foreign remittance:
Remittances have emerged as a key driver of economic growth and poverty reduction in Bangladesh. Revenues from remittances now exceed various types of foreign exchange inflows, particularly official development assistance and net earnings from export. Considering the role of foreign remittance in the overall economic development of the country the bank has set top priority for mobilizing inward foreign remittance from Bangladeshi migrant workers living and working abroad. The bank has restructured its existing remittance set up with skilled and efficient manpower in order to provide seamless delivery of remittances to the beneficiaries through Banks 130 branch network in strategic locations. Furthermore the bank has also taken initiative to strengthen ties with the exchange companies with whom the bank has arrangement with through strong relationship management and has also taken initiatives to enter into new arrangements with other exchange companies having potential to send higher volume of inward foreign remittance. Up to 31 December 2012, the bank has established relationship with lending exchange companies in Bahrain, France, KSA, Kuwait, Oman, Qatar, UAE and UK. In additional the bank has remittance agreement with global remittance company like western union.
SMS banking service:
SMS banking is another new feature of UCB. It gives customers the opportunity to check out their account balance in their mobile. Through this service individual can see their available account balance and drawing account balance. The process for SMS banking as follows:
First one should have to have an account in UCB bank. Then he/ she has to fill-up an application form in request to have SMS banking service.
The bank may require three working days after receiving the application form for activation of the service.
The account holder is solely responsible to stop misuse of SMS banking services and also to maintain the confidentiality of his/her financial information by ensuring safe holding of the mobile phone/ connection assigned to SMS banking service provided by UCB. If the mobile phone/ connection is lost, stolen or sold to another individual, the account holder shall immediately notify the bank and cancle the SMS banking service.
The account holder hereby agrees that UCB shall not be responsible for any disruption in SMS banking service due to any mechanical failure on the part of UCB/ mobile phone service provider. Registration form should be submitted to the branch, where the account is maintained.
SMS banking service shall remain effective until otherwise advised in writing by the account holder. Operations at General Banking Division of UCBL Page 15 • The bank may revise and/ or change any of the terms and condition at any time with notice to you but does not require any consent.
By providing SMS Banking Service United Commercial Bank may collect service charge from the linked account. United Commercial Bank may revise and/or change the service charge at any point of time.
Foreign exchange department: Foreign exchange department of united commercial bank is responsible for dealing with foreign trade affairs such as dollar endorsement, visa processing in some counties, buying and selling of foreign currencies. One of the major activities of foreign exchange department is processing of L/C (Letter of Credit). United commercial bank gives loan to garment factory. These loans are under control by this department. Export, import and L/C's of these garment factories are done by foreign exchange department of UCB. In short the garment factories who take loans from UCB having an agreement that all of their foreign activities will be done and control by the bank.
GENERAL BANKING DIVISION:
I have done my three months of internship program in the general banking division at UCBL. General banking division is another most important division in banking sector. It plays an important role for generating profit. The main functions and operations of general banking division are:
Account opening.
Giving entry to the account information in the software. UCB bank use PC banking software developed by Leads Software Company for their online transaction.
Giving requisition for cheque book.
Cheque clearing process.
Receiving inward cheques and clearing outward cheques on online.
Issuing Pay-orders.
Issuing D.D (Demand Draft).
Collecting electricity bills
Issuing OBC (Outward bills collections) and LBC (Local bills collections).
Online transaction.
Giving account information and statement to the clients.
Keeping information from transactions on ATM booths and poses.
Doing FDR(Fixed Depository Receipts) and different types of DPS(Deposit pension scheme)
Foreign Remittance.
Accounting opening:
One of the important functions of general banking is account opening. The numbers of different accounts increase the amount of deposit and transaction. There are different types of accounts with different features, those are given below:
C.D (Current Deposit) account.
S.B (Savings Deposit) account.
S.T.D (Short Term Deposit) account or S.N.D (Special Notice Deposit) account.
S.O.D (Security over Deposit) account.
C.C (Cash Credit) account.
O.D (over Draft) account.
Women saving account.
Student account.
Non- interest account.
S.T.D, S.O.D, CC, O.D accounts are loan accounts.
Particulars for opening account:
One copy of account holder photo.
One copy of nominee photo.
One copy of both person national identity card copies.
For student account it needs student identity card copy.
For minor account it needs birth certificate.
Income and profit from here:
The more amount of deposit the bank will have the more amount can profit it generates from it. From this deposit bank earns cash remittance which means it deposit money to Bangladesh bank and earn interest.
Bank charges different amount of money for maintain the account.
It also earns interest from Head Office.
Account editing and entry:
After filing up the account opening form it has to give entry in the software system so that the account gets feasibility for online transaction. It also helps to keep record in the banking system as well as from these clients can see their banking transactions and can bank statement for different purpose.
Cheque book requisition process:
Mainly there are two types of cheque books one for savings account and another for other accounts. For getting cheque book at first one has to fill up the cheque book requisition form. After submitting the form within four working days the books will be available for delivery. Bank also earns money from every cheque book, for savings it charges ninety two taka and for others it two hundred thirty.
Cheque clearing process:
The main function of general banking division is cheque clearing process. It's a software base automated electronic fund transfer system known as BACH (Bangladesh automated clearing house). The branches that are authorized by Bangladesh bank to be in the BACH system can collect/transfer their money without going from one branch to another branch. It takes only one working day for transferring/ collecting money. Through this BACH system all MIRC cheques are get transfer from one bank to another. With the help of BACH system all the banks inside Bangladesh can transfer and collect their money from those branches here they don't have an account. This process is divided into two parts and those are as follows:
Inward cheque clearing process:
It's the process in which UCB bank collects their own cheques issued by other banks. For example: Mr. X has an account in Bank Asia at Dhaka branch but he gets a payment cheque from a person Mr. Y who has an account in UCB bank and he gives Mr. X a UCB cheque.
This type of transaction is done through clearing. The whole process is done through online. Now at first Bank Asia will receives the cheque from the client and will scene the cheque issued by Mr. Y and will send the scene the copy to UCB bank through online. UCB bank will receive the scene copy and will cross-check the both particulars in the cheque and account holder. If everything is ok such as cheque issue date, routing number, amount etc then UCB debits the account of Mr. Y and send it to their principle branch. Then the principle branch deals with Bangladesh bank and credit money to Bangladesh bank. Finally Bangladesh bank credits money to Bank Asia and Bank Asia credits money to Mr. X.
Outward cheque clearing process:
It's the opposite process of inward cheque clearing process. In this process after receiving the cheques of other banks UCB bank receives the cheques and gives entry in a register book. After that it scenes the cheques and sends it to respective bank. Then the banks do the same process as inward clearing.
Income from this clearing process:
UCB charges money for this online clearing process. For high value which mean more than five Lac taka it charges sixty taka and for regular value that mean less than five Lac it charges ten taka only. Sometimes it happens that some outward cheques return because of insufficient money. In this situation bank debits five hundred seventy five taka from the client account who issues the cheque as a penalty.
Issuing pay-orders:
Pay-order is a money transfer instrument. It doesn't charge any cost for issuing payorder. Pay-order can be issued by depositing cash or against cheque. Pay order is an instrument which can be only in-cash or can reverse where it has been issued. For example: Mr. X issues a pay-order from UCB bank in name of his client Mr. Y who has an account in BRAC Bank. In this case Mr. Y has to deposit the pay-order in BRAC bank and BRAC bank can collect the through online clearing from UCB bank. Pay -order can issue on organization, individual or bank. For issuing pay-order it's not necessary to have an account in the bank. Anyone can issue pay-order. The person who doesn't has not any bank account in UCB bank he / she can make it by depositing cash. Pay order helps to increase deposit because usually it takes time to be in-cash. So it's a profitable instrument for bank.
Issuing D.D (Demand Draft):
It's another type of money transfer instrument. For issue pay-order bank charges commission and vat on different amount. The process of D.D is little bit complex from pay-order. Demand draft has to be issued in the same bank but it can be on different branch within the bank. Branch name should be mentioned while issuing D.D. after issuing D.D the branch gives test (it's a secret code within the bank) on that particular amount of money then credit it to the respective branch where the client wants to issue D.D. After receiving D.D the respondent branch re-check the test and then debit the amount.
Collecting electricity bills:
UCB Khan Jahan Ali Road branch holds the mother account of West Zone Power Distribution Center. That means all the electricity bills of Khulna to Barishal collects in this account then it goes to Power Distribution Bangladesh. From this mother account UCB increases its deposit as well as earns interest.
Issuing OBC (Outward bills collections) and LBC (Local bills collections):
Outward bills collection is done when non-M.I.C.R cheques are issued against UCB bank. Local bills collection is just opposite to OBC but after introducing MICR cheques UCB stops doing LBC.
Online transaction:
Through online system client can transfer money from one account to another account within UCB bank but any of their branch. For online transaction bank charges commission and vat on different amount of transaction.
Giving account information and statement to the clients:
With the help of online transaction customers / clients can check their account whenever they want. From this client can see how much money they deposit and how much they withdraw. They can also take their transaction statement when they want to apply for loan or for apply for visa or to see their transaction at a glance. UCB bank charges three hundred forty five taka for each statement.
Keeping information from transactions on ATM booths and poses:
General banking division also keeps information on ATM booths transaction. Wherever it does through poses or cash withdraw.
Doing FDR (Fixed Depository Receipts) and different types of DPS (Deposit pension scheme):
From my internship I come to know that the main motto of general banking is to increase profit as well as deposit. As a result UCB offers different types of deposit scheme.
Features and interest rate for FDR: FDR means Fixed Depository Receipts. From the name it can be understand that which amount of money is to be deposited can't be withdraw any time. If anyone withdraw before maturity can't be able to get the profit amount. Usually FDR's done for the period of one month, three months, six months, one year and five years. The minimum amount for doing FDR is twenty thousand taka.
For one month and above but below three months UCB provides 9.5% interest.
For three months and above but below six months UCB provides 11% interest.
For six months and one year UCB provides 11.5% interest.
UCB money maximize is a double money fixed deposit scheme it gives 13.44% interest. Minimum amount for depository amount for this scheme is 25,000 taka and maximum 25, 00,000 taka. It's usually done for five and half years.
UCB earning plus is done for three years and five years. It gives 13.34% interest. Minimum amount for depository amount is 50,000 taka.
Features and interest for DPS (Deposit pension scheme): Deposit pension scheme is a monthly savings scheme which helps to increase deposit for bank as well as increase savings for clients who opens the deposit scheme. For DPS client has to deposit money every month and gets depository money with interest after specific period of maturity date. There are two types of depository schemes offered by UCB bank. Those are as follows:
UCB women's DPS plus: it's a special depository scheme for women. UCB offers highest interest rate for this scheme. Maturity period for this scheme is 2 years, 3 years, 5 years, 7 years and 10 years. Interest rate for this scheme is 12% for 2 and 3 years. For 5, 7 and 10 years interest rate is 14%.Depository amount for this scheme is 100,300,500,1000,5000,10000,15000 and 25000 taka. DPS can be withdraw at any time before maturity and can get interest for the months it runs.
UCB DPS plus: this scheme is for men and interest rate for 2 years and 3 years is 12% and for 3,7 and 10 years is 13.85%. Depository amount of money is same as above scheme.
COMPARISON BETWEEN UCBL AND SOUTHEAST BANK
Brief description about southeast bank
As I am going to do a small comparison between UCB and Southeast bank so here I gave a small description about SEBL. I choose Southeast bank because it's the closest rival of UCB as both of the banks are situated in the same floor of a building. So it's easy for the customers to compare between the banks and choose the best option. As a result SEBL is giving a strong competition to UCB.
Southeast Bank Limited was established in 1995 with a dream and a vision to become a pioneer banking institution of the country and contribute significantly to the growth of the national economy. The Bank was established by leading business personalities and eminent industrialists of the country with stakes in various segments of the national economy. Southeast Bank is run by a team of efficient professionals. They create and generate an environment of trust and discipline that encourages and motivates everyone in the bank to work together for achieving the objects of the bank. The culture of maintain congenial work environment in the bank has further enabled the staff to benchmark themselves better against management expectations. A commitment to quality and excellence in the service is the hallmark of their identity.
Services given by Southeast bank:
Conventional banking
Loan and advance
Islamic banking
SMS banking
Dual currency VISA credit card
SEBL ATM/ Debit card
Remittance business
Western union
SWIFT services
Locker cervices
ATM services
Internet banking services
Bill payment services
E- Statement services.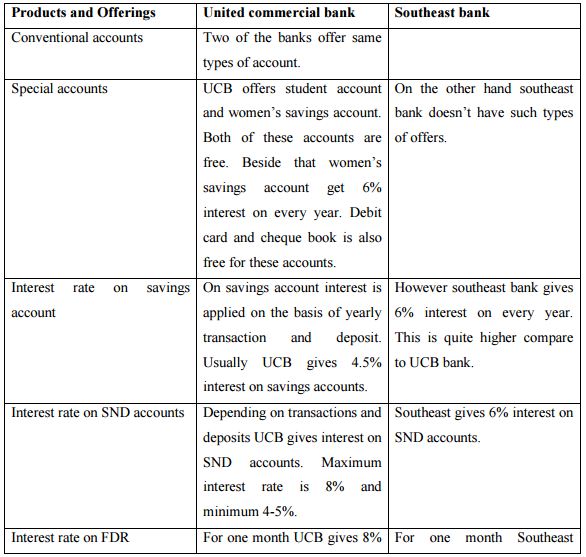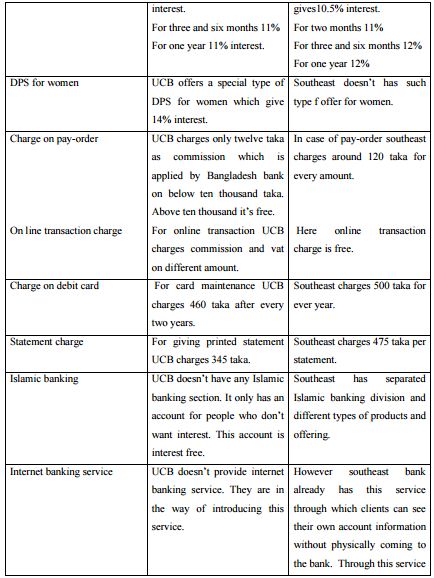 Finding from the comparison:
After doing this small comparison I found that as a new bank, Southeast bank the number of offerings are more compare to united commercial bank. Besides this Southeast bank is also offering a good amount of interest rate compare to UCB bank, which drives more customers and clients from UCB to SEBL. But this is the one side of a coin another side service charges of southeast are higher than UCB. As the main motto of private banks are to give swift service. So in this area UCB is getting advantage as we Bangladeshi want low cost but good service. Here UCB is doing that. So by comparing the general banking division products and services of two banks, I found that both of the banks are providing services in their own way by maximizing their profit.
SWOT analysis
SWOT analysis helps to identify organizations' strength, weakness, threats and opportunity. After doing, SWOT analysis on Khan Jahan Ali Road branch, of United Commercial Bank. I have found these points.
Strengths:
UCB bank always gives priority to their client. For this they are always ready to serve the customers and clients. So their customer satisfaction level is quite good which works as a positive sign for UCB bank.
Centralized management system. This helps to reduce fraud.
UCB bank has completed its thirty years of journey. So it earns goodwill in the banking sector which works as a strength for UCB bank to bring customers.
The bank gives highest interest rate for women savings deposit scheme.
It also gives special offer for student and women. For student and women they offer accounts which offer zero maintenance cost, free cheque book and debit cards.
Weakness:
Sometimes it seems that because of centralized management system it takes time to take any decision.
They are giving less interest rate on FDR and savings scheme compare with other private banks.
Throughout my internship period and talking with employees I found that employees' dedication in work is low here in this branch as most of the employees are not satisfied because of their salary structure and promotion process. As result most of the times customers are not getting their desired service.
Their IT system is not that advance in this edge of 3G technology. Still they are running many paper based work.
The bank doesn't have any organized and updated web-site.
Opportunity:
At first they should introduce Islamic banking section.
They can start brokerage house.
They should develop their IT system and start SMS banking at least every district.
They should deduct their commission charge for online money transfer.
They should start mobile banking like DBBL.
UCB can introduce internet banking service.
Threats:
Main threat for UCB bank is their neighbor Southeast bank which offers and interest rates are quite lucrative.
Other private banks as well as government banks in Bangladesh.
Suggestions of further improvement
As a BBA graduate I am not eligible enough to give suggestions to United Commercial Bank but as per the report requirement and doing three months of internship in the bank and based on my finings and analysis, I would like to give some suggestions for their further improvement.
The suggestions are given below-
Better Customer Service should be provided in order to attract more clients. Increasing number of dissatisfied customer will incur loss to the organization.
In this edge of competition UCB should introduce Islamic banking section to grab more customers.
Now a day's people are very busy and use internet to get information. For that UCB should develop a more organized and effective web-site so that customers can get necessary or basic information about the bank products, offers and interest rate.
"Employee Recruitment Process"- should be done in a fare process so that appropriate and talented employees are selected through the recruitment process and increase the productivity and quality of the service.
It needs to bring some improvisation into the ATM card service to gain the customers satisfaction.
It is high time for UCB to implement the SMS banking service as soon as possible.
It was a great pleasure for me to do my internship in United Commercial Bank at Khulna Branch. Although the branch is smaller than the Dhaka Branch but here I got the chance to do work and learn everything clearly. After completing three months of internship program I learn the following things from them:
Conclusion
United Commercial Bank is one of the most promising private commercial banks in Bangladesh. Every day United Commercial Bank makes an effort to increase their product and services although they provide a wide range of product and services. It is committed to provide high quality financial service to contribute to the growth of GDP of the country and the growth of industrialization, boosting up export, creating employment opportunity for the educated youth, raising standard of living of limited income group and overall sustainable socioeconomic development of the country. UCB always tried its level best to perform financially well. In spite of trying to do well in some aspects UCB faced some financial problems from time to time.
Some of the problems were-excessive bad loans, shortage of loans and advances, scarcity of cash in hands due to vault limit etc. These problems arouse time to time due to economic slowdown, interest rate fluctuation, emerging capital market, inflation in the money market and so on. Fighting with all these problems and competing with other banks every moment the bank is trying to do better to best. If this thing continues we hope that United Commercial Bank will develop even more in the future.