The story behind One Central Park starts with two artists who join the similar dream – architect Jean Nouvel and French artist and botanist Patrick Blanc. One Central Park is an award winning mixed-use building situated in Sydney, Australia. Developed as a joint venture between Frasers Property and Sekisui House, it was constructed as the first stage of the Central Park urban renewal project.
Architects: Ateliers Jean Nouvel
Location: LOT 1 Broadway, Central Park, Australia
Design architect: Ateliers Jean Nouvel
Architect of Record: PTW Architects
Green Walls: Patrick Blanc
Project Year: 2014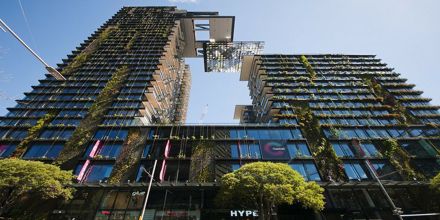 The public park at the heart of the zone climbs the side of the floor-to-ceiling glass towers to form a lush 21st century canopy. Using 250 species of Australian flowers and plants, the buds and blooms of the vegetation form a musical composition on the façade. Vines and leafy foliage spring out between floors and provide the perfect frame for Sydney's skyline. One Central Park is built around a beautiful, spacious park, Chippendale Green that is the heart of the new precinct. More than 6,400 square metres of parks and public spaces welcomes local communities into the heart of Central Park.
Vertical gardens by the inimitable artist and botanist Patrick Blanc wrap the east and north facades of both towers with 38,000 indigenous and exotic plants. The effect is an astonishing tree house retreat – a hi-tech tower of epic proportions, yet startlingly organic.
About One Central Park
One Central Park (OCP) is an inventive and environmentally determined landmark project within the redevelopment of the Carlton & United Brewery site near Central Station in Sydney. The in general planning goal is to adhere to the utmost standards of sustainable residential design under the Australian Green Star rating system and support the vision of an environmentally accountable prospect for the city.
The Gardens
Just like Central Park New York, the 64,000 sqm park is a lush tranquil meeting place where you can unwind and relax with friends and family. Wander or cycle through its tranquil groves or simply sit on the lawns for informal al fresco dining. There are also chessboards and an open-air cinema, as well as occasional markets and music festivals.
Interior Styling
One Central Park two towers each have distinct interior design identities. Created by two different designers, each give a glimpse into the symbiotic living that Central Park offers. The East tower, designed by William Smart of Smart Design Studio, boasts materials, finishes, and colours that identify with high-speed luxury. While Koichi Takada Architects has created the palette, materials, and interior architecture that represent raw organics.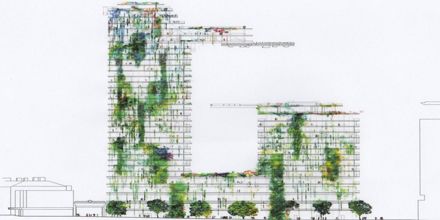 Building features
A number of separate features have allowed One Central Park to be familiar as an inimitable structure at an international level. Key among them is its vertical hanging gardens, cantilevered heliostat, low carbon tri-generation power plant and internal water recycling plant.
Vertical hanging gardens
One Central Park's vertical gardens were inspired by the collaboration of French botanist Patrick Blanc and architect's Ateliers Jean Nouvel. A living tapestry of plants, flowers and vines which stretch over 50 metres high, it has become the world's tallest vertical garden. During the construction phase of One Central Park, the concept of putting the vertical garden onto the building brought with it a variety of complexities and challenges.
Cantilevered heliostat
Central Park's cantilevered heliostat figures as another defining feature of the building. Suspended from the 28th floor of One Central Park's east tower, it serves not only as a predominant design element to the building but as a way of reflecting light to the gardens and atrium below. It operates through a series of motorised mirrors that are positioned 100 metres below the cantilever on the rooftop of the west tower.
Sustainable initiatives
At the core of Central Park is a commitment to sustainability and self-sufficiency, which is reflected in two measures incorporated in the precinct: a low carbon tri generation power plant and an internal water recycling plant.
Central Park is projected to utilise its own low-carbon natural gas power plant, which shall allow for thermal energy to be produced for both residents and employees. The first stage of this measure involves a two megawatt tri generation energy plant which, when completed in November 2015, will run on natural gas and have the capacity to produce carbon thermal energy, heating and cooling for 3000 residences and 65,000 square metres of retail and commercial space.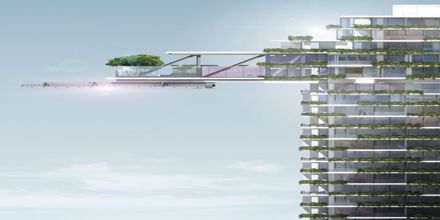 One Central Park façade facts:
350 different species of plants used in the green walls alone
35,000 green wall plants
85,000 facade plants in total
23 green walls = 1200sqm total.
Largest green wall is in the East Tower = 196sqm
5,500 planter boxes surround every level of the East and West Towers and five levels of the retail podium
15km of 4mm diameter stainless steel cables used across the project
2,100 stainless steel springs used to keep vine cables tensioned
2,486 glass façade panels on the East Tower = 12,678sqm of glass
820 glass façade panels on West Tower = 4,428sqmof glass
Total area of glass on both towers = 17,106sqm x 12.5mm thickness x 2.5kg/mm = 534.5 tonnes of glass.