"Moldavite" (Czech: Vltavín), also called Bouteille Stone or vltavin, which is a natural glass that is thought to have formed in the heat of an asteroid impact. It is a forest green, olive green or blue greenish vitreous silica projectile rock formed by a meteorite impact probably in southern Germany (Nördlinger Ries Crater). This event occurred about 15 million years ago, and a splatter of hot glass formed a strewn field across central Europe.
Moldavite is a member of the Tektite group of natural glasses formed from interplanetary collisions. From the Greek word tektos, meaning "molten," Tektites are glassy mixtures of silicon dioxide, aluminum oxide and other metal oxides with an amorphous crystal structure. Unlike other Tektites from around the world which are tar black or brownish-black, translucent Moldavite is a deep forest green and is the only variety suitable for cutting and faceting as a gem.
Moldavite was introduced to the scientific public for the first time in 1786 as "chrysolites" from Týn nad Vltavou in a lecture by Josef Mayer of Prague University, read at a meeting of the Bohemian Scientific Society (Mayer 1788). Zippe (1836) first used the term "Moldavite", derived from the Moldau (Vltava) river in Bohemia (the Czech Republic), from where the first described pieces came.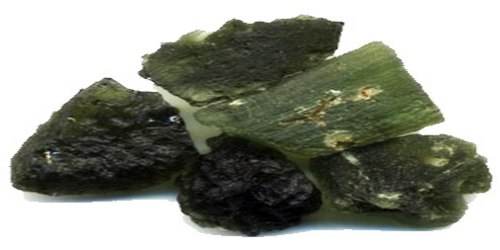 Formation of Moldavit –
Moldavite is thought to have formed about 15 million years ago in the impact event that produced the Ries and Steinheim craters in southeastern Germany. An incoming asteroid is thought to have broken into two pieces that produced this pair of craters. The impacting bodies approached from the southwest. They hit with a high enough velocity to melt and splatter the target rock across a strewn field that includes portions of what is now the Czech Republic, Austria, and Germany.
This beautiful stone is rare, found only in Czechoslovakia, and is named for the area in which it is found, near the Moldau River (called the Vltava in Czech). While scientists differ in theories regarding Moldavite's origin, nearly all agree its formation coincides with the crash of a large meteorite approximately 14.8 million years ago in what is now the Bohemian plateau. The rock metamorphosed by the heat of impact created a strew field of Moldavite in the two, mostly rural, areas of Bohemia and Moravia. Farmers often turned up the stones when plowing their fields, while other specimens worked their way to the surface after spring thaw or heavy rains in the fall. More recently collectors have "mined" for gem grade and museum quality specimens by sifting and digging through loose sands and gravels.
Ninety-nine percent of all moldavite finds have come from the South Bohemian localities, one percent were found in South Moravian localities. Only tens of pieces were found in the Lusatian area (near Dresden), Cheb basin area (West Bohemia) and Northern Austria (near Radessen). Principal occurrences of moldavites in Bohemia are associated with Tertiary sediments of the České Budějovice and Třeboň Basins. The most prominent localities are concentrated in a NW-SE strip along the western margin of the České Budějovice Basin. The majority of these occurrences are bound to the Vrábče Member and Koroseky Sandy Gravel. Prominent localities in the Třeboň Basin are bound to gravels and sands of the Domanín Formation.
Meteorite experts have named these materials "impactites." Moldavite is also considered to be a mineraloid because it is a naturally occurring, inorganic solid that does not have a crystalline structure. It solidified so quickly that atoms did not have enough time to organize themselves into minerals. Today moldavite is found in sediments of Middle to Upper Miocene age. It occurs as droplet-shaped particles of green to brown glass up to a few centimeters in diameter. Millions of pieces have been collected, mostly in the Czech Republic. Specimens are often severely etched into unusual shapes by acidic subsurface waters.
Properties of Moldavite –
The chemical formula of moldavite is SiO2(+Al2O3). Its properties are similar to those of other types of glass, and reported Mohs hardness varies from 5.5 to 7. Moldavite can be transparent or translucent with a mossy green color, with swirls and bubbles accentuating its mossy appearance. Moldavites can be distinguished from green glass imitations by observing their worm-like inclusions of lechatelierite.
Most genuine moldavite has an unusually low refractive index. It typically ranges between 1.47 and 1.51, much lower than most minerals and many man-made glasses.
The shapes of Moldavite give witness to its molten origins, most commonly drop-like (round to very flattened), plate or disc shaped, oval, spheroid, dumbbell shaped, elliptical, rod-like or spiral, all common in splash patterns of liquids. Moldavites from Bohemian localities are more drop-like, elongated or rod-like, while Moravian stones are more spherical. Moldavite occurs most often in shades of deep forest green, though some are pale green or olive, and others, especially from Moravia, are greenish-brown.
Uses of Moldavite –
Moldavite is good for counteracting cynicism and connects even the most world-weary adult with the wonders of the universe. It eases away doubts, even when the cause is unknown, and calms worries about money by providing solutions not previously considered. Carrying or wearing Moldavite in jewelry allows its energies to remain in one's vibrational field throughout the day strengthening its effects and increasing the incidents of beneficial synchronicities in daily life. Because of Moldavite's intense vibration, some may experience light-headedness or a lack of grounding and may need to acclimate themselves gradually to wearing it.
The total amount of moldavite scattered around the world is estimated at 275 tons. There are three grades of moldavite: high quality often referred to as museum grade, medium quality and regular grade. All three grades can be told apart by their appearance. The regular grade pieces are usually darker and more saturated in their green color, and the surface is seen as closely spaced pitting or weathering. This type sometimes appears to have been broken apart from a larger chunk.
Moldavite is a useful stone for star children and sensitive souls who find it difficult being in incarnation on the earth, and who cannot adjust to suffering and deep emotions. Placed on the heart, Moldavite uncovers the reasons and purpose for why one is here and eases the "homesickness" for those whose origin is not Earth.
Moldavite works extremely well in combination with other stones, particularly with the crystalline energies of Quartz varieties. It is a powerful aid for meditation and dream-work, as well as increasing one's sensitivity to guidance, intuition and telepathy, and the ability to understand messages sent from higher realms.
There is a moldavite museum, Muzeum Vltavínů, in Český Krumlov, Czech Republic. The Moldavite Association was established in Ljubljana, Slovenia in 2014. The association researches exhibit and promotes moldavites and other tektites around the world and has member geologists from more than 30 countries worldwide.
Information Sources: