Merchandising Development of Nestle Bangladesh Limited
This report attempts to investigate Nestle Bangladesh Limited's the current merchandising scenario in the markets of Dhaka Metropolitan. As part of the "Merchandising Development" project, undertaken by the Sales Department of Nestle Bangladesh Limited, this report includes information and analysis regarding the visibility and merchandising of Nestle products in retail markets, which have been collected via continuous market visits. The results show that almost 15% of the total retail outlets in 5 territories have major merchandising issues where as the rest are in good condition, as per the Nestle merchandising guideline.
Introduction
With instant coffee, baby food, and bottled water in the mix, Nestlé crunches more than just chocolate. The world's no.1 food and drinks company in terms of sales, Nestlé is also the world leader in coffee (Nescafé). It also makes coffee for the home-brewing system, Nespresso. Nestlé is one of the world's top bottled water makers (Nestlé Waters), one of the biggest frozen pizza makers (DiGiorno), and a big player in the pet food business (Friskies, Purina). Its most well-known global food brands include Buitoni, Dreyer's, Maggi, Milkmaid, Carnation, and Kit Kat. The company also owns Gerber Products. North America is Nestlé's most important market.
Nestle is the world's largest nutrition, health and wellness company not only in terms of its sales but also in terms of its product range and its geographical presence: Nestlé covers nearly every field of nutrition and food business : infant formula, baby food, milk products, chocolate and confectionery, instant coffee, ice-cream, culinary products, frozen ready-made meals, mineral water etc. In most of these product groups and in most markets.
Nestlé is a publically owned company, governed by the Board of Directors. Nestlé has over 250,000 shareholders worldwide (42% Swiss; 22% US Citizens; 10% British; 8% French; and 5% German). Under Swiss law, the names of shareholders are not allowed to be disclosed, so there is no way to tell if there are particularly powerful shareholders that own large blocks of stock in the company.
Nestlé is present around the globe, on all continents, with around 330,000 people working in more than 194 countries with 447 factories and with sales representatives in at least another 70 countries. Nestle has divided its worldwide operations in three zones. These are:
Europe – Adriatic, Benelux, Iberia, Russia+Eurasia
Americas – Austral-America, Bolivarian America, Caribbean & Central America
AOA – Africa, Ocenia, Asia
Since its founding, Nestlé's business practices have been governed by integrity, honesty, fair dealing and full compliance with all applicable laws. Nestlé employees worldwide have up held and lived this commitment in their everyday responsibilities ever since, and Nestlé's reputation remains one of the company's most important assets today.
The Nestlé Corporate Business Principles prescribe certain values and principles which Nestlé has committed to worldwide. This Code of Business Conduct specifies and helps the continued implementation of the Corporate Business Principles by establishing certain non-negotiable minimum standards of behavior in key areas.
The nature of this Code is not meant to cover all possible situations that may occur. It is designed to provide a frame of reference against which to measure any activities. Employees should seek guidance when they are in doubt about the proper course of action in a given situation, as it is the ultimate responsibility of each employee to "do the right thing", a responsibility that cannot be delegated.
According to Nestle's Code of Business Conducts, employees should always be guided by the following basic principles:
– avoid any conduct that could damage or risk Nestlé or its reputation;
– act legally and honestly;
– put the Company's interests ahead of personal or other interests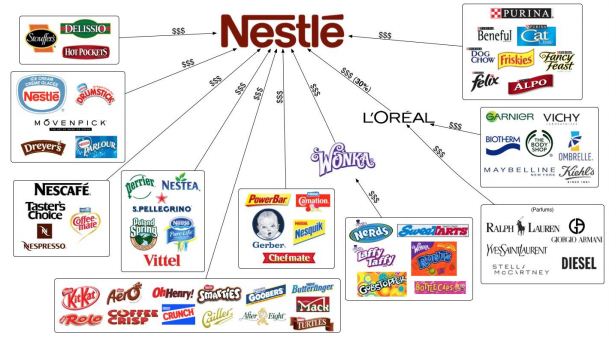 Corporate Business Principles
Nestlé does not have a formal mission statement. Instead of a mission statement, Nestlé uses a clear set of principles and values to guide it through its business and corporate decisions. Nestlé believes that attempting to capture all of its values and principles in a couple of sentences would fall short of what Nestlé strives to achieve. Nestlé operates under ten guiding principles of operations.
The Nestlé Corporate Business Principles are at the basis of the company's culture, which has developed over the span of 140 years. Since Henri Nestlé first developed his successful infant cereal "Farine Lactée", the company has built their business on the conviction that to have long-term success for the shareholders, they not only have to comply with all applicable legal requirements and ensure that all their activities are sustainable, but additionally they have to create significant value for society.
At Nestle, this is known as Creating Shared Values.
The first three principles are in reference to Nestlé's consumer. Nestlé works to enhance the nutritional value, taste, and enjoyment of its products while guaranteeing a safe product that fully informs the consumer about the benefits and pitfalls of its products. The fourth principle is about recognizing the necessity of human rights and exercising and promoting good human rights practices. Guiding principles five and six are about requiring that employees respect each other and their management while also ensuring healthy and safe conditions for all employees worldwide. Principles seven and eight require that Nestlé's customers and suppliers adhere to the same high standards of honesty, integrity and fairness that it expects of itself. Lastly, Nestlé's ninth and tenth principles revolve around environmental sustainability, and Nestlé continuing attempts to advance its environmentally safe practices and sustainability initiatives. It is through adherence to these ten principles that Nestlé can give shared value to society, customers, and shareholders.
Nestlé is committed to the following Business Principles in all countries, taking into account local legislation, cultural and religious practices:
Nutrition, Health and Wellness
Nestle's core aim is to enhance the quality of consumers' lives every day, everywhere by offering tastier and healthier food and beverage choices and encouraging a healthy lifestyle.
Quality Assurance and product safety
Everywhere in the world, the Nestlé name represents a promise to the consumer that the product is safe and of high standard.
Consumer Communication
Nestle is committed to responsible, reliable consumer communication that empowers consumers to exercise their right to informed choice and promotes healthier diets. Nestle respects consumer privacy.
Human rights in our business activities
Nestle fully support the United Nations Global Compact's (UNGC) guiding principles on human rights and labour and aim to provide an example of good human rights' and labour practices throughout our business activities.
Leadership and personal responsibility
Nestle's success is based on their people. The people in Nestle treat each other with respect and dignity and expect everyone to promote a sense of personal responsibility. Nestle recruits competent and motivated people who respect the company values, provide equal opportunities for their development and advancement, protect their privacy and do not tolerate any form of harassment or discrimination.
Safety and health at work
Nestle is committed to preventing accidents, injuries and illness related to work, and to protect employees, contractors and others involved along the value chain.
Supplier and customer relations
Nestle requires their suppliers, agents, subcontractors and their employees to demonstrate honesty, integrity and fairness, and to adhere to our non-negotiable standards. In the same way, they are committed towards their own customers.
Agriculture and rural development
Nestle contributes to improvements in agricultural production, the social and economic status of farmers, rural communities and in production systems to make them more environmentally sustainable.
Environmental sustainability
Nestle commits themselves to environmentally sustainable business practices. At all stages of the product life cycle they strive to use natural resources efficiently, favour the use of sustainably-managed renewable resources, and target zero waste.
Water
Nestle is committed to the sustainable use of water and continuous improvement in water management. They recognise that the world faces a growing water challenge and that responsible management of the world's resources by all water users is an absolute necessity.
While Nestlé has a bit of a checkered past when it comes to corporate values due the infant formula scandal of the 1970s, its new principles seem to be working very well. Per the 2011 Annual Report, in 2010 Nestlé experienced internal growth in several important areas, in spite of overall disappointing results.
Nestlé continues to maintain its commitment to follow and respect all applicable local laws in each of its markets.
Growth Strategy & Business Segments
Since the founding of Nestlé, the company has augmented homegrown brands by using an external growth strategy. Through numerous acquisitions in various industries, Nestlé now operates in seven distinct lines of business. Below is a basic discussion of strategy and operational information of each individual business line.
Powered and Liquid Beverages
Nestlé's powdered and liquid beverages segment accounts for 29.6% of total sales worldwide. This comes primarily from soluble coffee sales, which amount to CHF 9.2 billion of CHF 18.2 billion in total sales. Besides being the largest segment, powdered and liquid beverages also boasts an operating margin of 22.7%, which is the highest of any segment. In 2011, powdered and liquid beverages grew at a 13.0% rate. This segment includes the brands Nescafe, Nespresso, Taster's Choice, and Nestea. The powdered and liquid beverages line includes various powdered drinks, coffees, and teas. Competitors are varied; just in the U.S. coffee market, the company competes with J.M. Smucker Company (owner of the Folgers, Dunkin' Donuts, and Millstone lines), Kraft Foods (Maxwell House), Starbucks, Green Mountain Coffee Roasters (Green Mountain, Keurig). Nestlé is the 5th largest player in the U.S. coffee market with 8.5% market share amongst its various brands.
Water
Nestlé Waters, a division of Nestlé SA, produces 75 different brands of bottled water. The bottled water segment was responsible for CHF 6.5 billion in sales in 2011, down from CHF 7.2 billion in 2010. This segment had the lowest operating margin of any segment, at 8.0%. Nestlé sold 49.7% of its bottled water products in the North American region. 37.4% of sales were derived from Europe, while 12.9% of sales occurred in other regions. The Nestlé Waters lineup includes brands such as: Nestlé Pure Life, S. Pellegrino, Perrier, Acqua Panna, Deer Park, Poland Spring, Ozarka, and Ice Mountain. The Pure Life brand holds the title of "world's most popular bottled water". In the bottled water market, Nestlé competes with differentiated players like the Coca-Cola Company (Dasani, Glaceau, and Vitamin Water) and PepsiCo (Aquafina) as well as low-cost private label store brands.
Milk Products and Ice Cream
The Nestlé Milk Products and Ice Cream segment accounts for 16.4B CHF in annual sales. This makes it the second largest division behind Powdered and Liquid Beverages. This segment had 8.4% growth, which makes it the second fastest growing division, again behind Powdered and Liquid Beverages. The trading operating profit margin is the second lowest in the portfolio, at 13.7%. Nestlé breaks the segment itself into three parts; Milk Products, Ice Cream and Other. Of total segment sales, milk products account for 66.9%, ice cream for 27.2%, and other for 5.9%. Globally these products account for 10.8% of sales in Europe, 29.3% of sales in the Americas, and 33.3% in Asia, Oceania and Africa.
In the general global market, Nestlé is the largest player. In 2012 Nestlé had a global market share of 12.4%. The other major competitors are Dean Foods Company (5.6%), Fonterra Co-operative Group Limited (3.4%) and Dairy Farmers of America, Inc. (3.0%). Nestlé has local production in many different countries and is continuing to expand its presence and production capacity. In addition to local production it appears that Nestlé is attempting to focus on creating targeted healthy products in this segment. One example of this is in Pakistan. In Pakistan 51% of children have an iron deficiency. To take advantage of this Nestlé created powdered milk that contains 42% of the daily requirement per serving and started educating mothers about the importance of iron in a diet. In this segment Nestlé has also taken advantage of partnerships and joint ventures. Nestlé started a joint venture with
Fonterra in 2003 that provides both companies with Milk in Central America. In partnership with the United Nations Development Programme, Nestlé trained 5,000 people involved in farming in Pakistan.
Nutrition and Healthcare
Over the past few years, Nestlé has redefined its strategy to emphasize nutrition, health, and wellness in response to changing consumer preferences and a growing obesity epidemic in developed nations. The company has chosen acquisition as its primary method of growth in these spaces, including an $8.0 billion purchase of Novartis' medical nutrition and Gerber baby foods in 2007, as well as an $11.85 billion purchase of Pfizer Nutrition in April 2012 Nestlé's nutrition and healthcare segment was responsible for CHF 9.7 billion in sales during 2011. Of this amount, 74% of sales were for nutritional products and the remaining portion was attributed to pharmaceutical products. A vast majority of the nutritional sales were derived from infant formula and baby food (Gerber). The remaining portion came from weight-management (Jenny Craig) and nutritional supplemental products (Boost). In 2011, the company also launched operations of its Nestlé Health Science organization. Nestlé's plan is to invest CHF 500 million in developing products to help combat various ailments, including diabetes, heart problems, and Alzheimer's.
Competition in this segment comes in the form of traditional food and beverage companies, specialty health food companies, and drug companies including GlaxoSmithKline and Pfizer.
Prepared Dishes and Cooking Aids
The Nestlé Prepared Foods segment accounts for 13.9B CHF in annual sales, which makes this the third largest division. This segment had 4.6% internal growth, which makes it the second slowest division. The trading operating profit margin is around the middle of the portfolio, at 14.5%. Nestlé breaks the segment itself into two parts, Frozen and Chilled, and Culinary and Others. Of total segment sales frozen and chilled account for 57.7%, and culinary and other account for 42.3%. Globally these products account for 26.7% of sales in Europe, 19.3% of sales in the Americas, and 16% in Asia, Oceania and Africa. Nestlé has local production for many of these products. One way that Nestlé has been attempting to grow in this segment is through acquisitions. In 2002, Nestlé acquired Chef America (Hot Pockets, Lean Pockets, Pizza Mini's, etc.). In 2010, Nestlé acquired Kraft Foods frozen pizza division (Tombstone, California Pizza Kitchen). Another strategy for growth has been through innovation. One example is the on-the-go sleeve for Hot Pockets. This has helped Nestlé take advantage of the growing desire for convenience. In addition, Nestlé has been redeveloping its packaging. It has done this in two ways. One way has been the graphic designs on the packages themselves. Another way has been with the steam-in-bags.
Another potential opportunity is the global growth of the prepared foods market. One way Nestlé has been taking advantage of this is by creating regionalized products. For instance, in India Nestlé is launching a culinary paste for catering professionals. Additionally there is an opportunity in healthier products, that many large companies, including Nestlé, are taking advantage of by reformulating existing products.
PetCare
Nestlé owns many of the world's most popular pet care brands. The pet care brands owned by Nestlé are: Alpo, Baker's Complete, Beneful, Cat Chow, Chef Michael's Canine Creations, Dog Chow, Fancy Feast, Felix, Friskies, Gourmet, Purina, Purina ONE, and Pro Plan. The company has factories that manufacture pet care in 19 countries. The pet care product line makes up over 11% of Nestlé's total sales as a company. Some of Nestlé's top competitors are Mars Inc., which owns Cesar, Greenies, Nutro, Pedigree, Royal Canin, Sheba, Whiskas, KiteKat, Chappi, and Catsan; Colgate-Palmolive Co., which owns Hill's Science Diet, Hill's Prescription Diet, and Hill's Science Plan; Procter & Gamble, which owns Eukanuba and Iams; and Del Monte Foods Co., which owns Meow Mix, Kibbles n' Bits, Milk-Bone, Snausages, Nature's Recipe, 9Lives, and Pup-Peroni.
Chocolate and Confectionary
One of the biggest things that Nestlé is known for worldwide is its chocolate and confectionary business line. Nestlé's confectionary line is made up of chocolate, confectionary, and biscuits. Chocolate makes up over 78 percent of Nestlé's confectionary category, while biscuits make up over 12 percent. The remaining products are included in an additional sugar confectionary category. Nestlé owns the brands Aero, Butterfinger, Cailer, Crunch, Kit Kat, Orion, Smarties, Toll House, and Wonka. Nestlé has 461 factories in 83 countries. Out of these factories, Nestlé has factories that manufacture chocolate or confectionary products in 35 out of those 83 countries. The confectionary product line makes up over 10% of Nestlé's total sales as a company. Nestlé's biggest competitors are Cadbury (Kraft Foods) and Mars internationally and Hershey in the United States.
Nestle Bangladesh Limited
During the time The British ruled the sub-continent, popular Nestle brands started entering Bangladesh. Nestle World Trade Corporation, the trading wing of Nestle S.A sent regular dispatches of Nestle brands to Bangladesh through an array of indentures and agents after it gained independence in 1971 and soon brands like Nespray, Cerelac, Lactogen and Blue Cross etc. became household names.
In the early eighties Transcom Ltd. was appointed the sole agent of Nestlé products in Bangladesh. In 1992 Nestlé S.A. and Transcom Ltd. acquired the entire share capital of Vita Rich Foods Ltd. Nestlé S.A. took 60 percent while Transcom Ltd. Acquired 40 percent. Nestlé Bangladesh Limited started its first commercial production in Bangladesh in 1994. In 1998 Nestlé S.A. took over the remaining 40% share from our local partner when Nestlé Bangladesh became a fully owned subsidiary of Nestlé S.A.
Nestlé's factory is situated at Sreepur, 55 km north of Dhaka. In addition to the new cereal plant, the factory produces instant noodles and repacks milks, soups, beverages and infant nutrition products. The factory produces the Maggi noodles, Munch and cereals and repacks milks, soups, beverages and infant nutrition products. Today Nestlé Bangladesh Ltd. is a strongly positioned organization. The Company is continuously growing through the policy of constant innovation, concentrating on its core competencies and its commitment to high quality food to the people of Bangladesh. Since the beginning of Nestlé's operation in Bangladesh, the chairman of the company has been Mr. Latifur Rahman, one of the top industrialists of the country, his firm Transcom used to import the products of Nestlé. His business house Transcom is still involved in wide range of business like beverage, pharmaceutical, electronics, newspaper, tea export, fast food franchises etc. Still he remains as an honorary chairman of the company although his group Transcom does not capture any share today as Nestlé S.A. holds 100% share of this company.
Currently, Nestlé has a wide range of popular products in the market like Lactogen, Cerelac, Nido, Maggi Noodles, Maggi Soup, Nestea, Nescafé, etc. Nestlé, through its business partner Kallol Distribution Ltd., also markets malt beverage, confectionery, chocolates etc. in Bangladesh.
Specified Objectives of Each Division
Production
Optimize production costs while enhancing product quality so as to make Nestlé products even more competitive in the market place.
Sales & Marketing
Become a billion dollar company by 2020
Double the turnover every three years
Human Resources
Help employees to retain a long term perspective and integrate them fully with the company's business goals.
Retain a broad perspective while addressing individual needs
View growth as a continuous process
Concentrate on attitudinal changes by developing leadership skills, an appreciation of interdependence between units and the enhancement of a sense of belonging to Nestle Bangladesh.
Finance
Maintain profit levels above the average for the food industry of Bangladesh
Functions of Nestle Bangladesh Limited
Nestlé Bangladesh has 10 functions, among which the Managing director controls 3 and the rest is controlled by their individual directors. The General Management take cares of the overall operation of the company, while maintaining their regular governmental affairs and taking key decisions. The Manufacturing Function is where some products are made (like Munch, Maggi, Cerelac) and some, like Nido are repacked. The Human Resources function focuses on the management of employees and organizational culture, as well as retaining the people, motivating them more with each passing day. Supply Chain ensures the stable supply of the products according to the demand of the customers. Marketing looks after the existing brands, market share and product development of the products. Finance and control deals with the financial transactions and most importantly they also apply the control mechanism to remain the company complaint financially and procedurally. The IS/IT department falls under the Finance function, hence they also maintain day to day technicality. Sales and Nestlé Professionals are the revenue generating departments for the company.
Products of Nestle Bangladesh Limited
Despite having hundreds of brands of products available worldwide, in Bangladesh Nestle has 20 products. Nestlé believes all foods and beverages can be enjoyed and play an important role in a balanced and healthy diet and lifestyle; as a result no matter how short the product line may be but it ensures the same quality in compare to the other countries.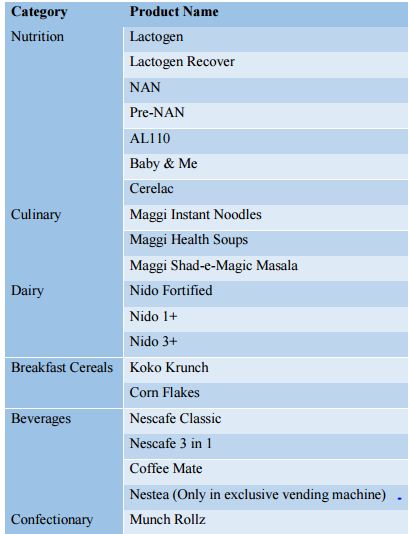 Recommendation
Just like my observations, my recommendation will be divided in two parts as well. In-House Recommendation
Merchandisers should be given proper training after their recruitment. Only after proper training should they be sent out to the field to work.
The Daily Call Report of merchandisers should be thoroughly checked by the Manager or the Territory Officer of the Distribution House.
Since the NCE board is a global initiative taken by Nestle, merchandisers should be taught how to properly calculate and fill out their part of the NCE board.
The merchandising team should be more included in the daily works. The Territory Officer or the Manager should sit in a meeting with them at least 1 day every week to give them proper encouragement, communicate company guidelines and goals.
Since products that have to be withdraw due to being expired hurts the company business a lot and it's the merchandisers' duty to list them down, the merchandisers should be held accountable for this.
Currently there are no KPIs for the merchandisers to evaluate them. A list of KPIs should be set for the merchandisers so that their performance can be measured, as this will lead them to work more thoroughly without any kind of excuses.
One of the reasons behind merchandisers not doing their work properly is that low salary. Currently the merchandisers get almost BDT 6,000/month which includes daily travel allowance. Living in Dhaka City with BDT 6,000 is almost unimaginable. Increasing their salary to at least BDT 8,000/month would be a more helpful and encourage them to work harder.
On-the-Job Recommendation
Manager of the Distribution House should regularly check to see if the merchandisers packed their bags properly. Not having a proper equipment can ruin a merchandiser's entire working day.
Merchandisers should properly plan their routes so that they can cover maximum outlets before they get closed for lunch.
Merchandisers should be trained to have good social/communication skills. Being a good talker can help the merchandisers a lot when they are dealing with critical traders.
Merchandisers should be motivated regularly to own their job. Since it is a field based job they have to be in the streets for 4-5 hours daily despite the sun or storms. I deem daily motivation and encouragement necessary to keep them going and for them to own their job.
The Territory Officer or the Manager should sometimes accompany the merchandisers to the retail outlets to offer them help in critical outlets.
The Project
Literature Review
Merchandising is a branch of marketing theory and practice concerned with maximizing product sales by designing, packaging, pricing, and displaying goods in a way that stimulates higher sales volume. The underlying assumption in merchandising is that consumers may have a general need for (or interest in) a certain class of product, and it is the merchandiser's task to present the product in a way that best captures consumers' attention and persuades them that the product will fulfill their needs and wants. Merchandising employs a wealth of theories about consumer behavior to accomplish this. In the broadest sense, any practice which contributes to the sale of products to a retail consumer is called Merchandising. At a retail in-store level, merchandising refers to the variety of products available for sale and the display of those products in such a way that it stimulates interest and entices customers to make a purchase.
A particular merchandising campaign can involve myriad considerations, such as
Product packaging
Signage
Location in the store
Shape, size, color, and other physical characteristics of the display
Advertising (in-store and other means)
Discounts, prizes, or other promotional offers
This view emphasizes merchandising as a function of choosing product lines to carry that are likely to move quickly, organizing the store to maximize traffic past profitable lines, and maintaining visual displays and advertisements that turn traffic into sales.
A common application of merchandising theory is the practice known as cross-merchandising. This occurs when a manufacturer or retailer links the marketing of one product to the marketing of another. A simple yet powerful example is the use of food displays at grocery stores. Say a store wishes to promote the sales of deli cheeses, which carry an attractive profit margin. To improve the likelihood of selling cheese, the store may locate items consumed with cheese nearby, e.g., crackers and breads, and may even display them directly together or offer samples.
All of these things tend to shore up sales. Another alternative frequently used in higher-end grocery stores is to display interesting facts or information pertaining to the product alongside it. The information may answer common questions about the product (e.g., to reduce uncertainty about buying or using it) or it might be something catchy to stimulate the shopper's interest. For example, the cheese stand might include creatively worded reviews and wine suggestions for each type of cheese (provided that the store stocks wines). If the cross merchandising, the customer will not only buy the cheese but also the crackers or wine.
Although these examples focus mostly on one factor at a time, usually merchandisers must plan the full array of options in a merchandising program. For instance, in addition to merely determining which products have cross-merchandising potential, the company may also decide whether the appropriate emphasis in the display is (1) price, e.g., using a large sign advertising the low price and a utilitarian display; (2) convenience, e.g., locating the items on the main aisle; or (3) luxury, e.g., emphasizing quality, status, mood, or enjoyable experience with a creative or elaborate display.
Product merchandising is one of the core services available for a field marketing campaign and can be very influential when trying to increase a product's sales performance.
Time, effort and money are often invested by companies to create detailed layout plans so that products are positioned correctly on shelving and stands within stores. However, it is equally important to invest in making sure these plans are implemented and kept up to date.
Merchandising is the field marketing service that makes sure of this. When stock is not available for a customer to buy at the point of purchase, they will likely either rethink their decision to buy the item, or find somewhere else to get it from instead; neither of these results is desirable.
Product merchandising is a field marketing service which seeks to address these issues by ensuring that items are in the correct place on fixtures and available to the customer at all times.
Regular visits from trained merchandisers dedicated to these tasks provide the solution. Display blocks can even be cleaned at the same time for added benefit. Comprehensive reporting and analysis can be available almost immediately after a store visit is finished. This includes photographs of the work completed, responses to questions which are pre-decided by the company and even signatures from store staff for accountability.
A customer is more likely to buy from a display if it's full and doesn't have any gaps or missing stock. A good looking display will always attract more sales and greater profits.
Summary of the Project
Nestlé Bangladesh Limited undertook the Merchandising Development Project in 2013 in order to boost its sales revenue and ensure that Nestlé has a strong presence in retail outlets in this age when there is a competitor popping up almost every year. Due to the increasing number of local and international FMCG companies in Bangladesh, the home shelves of the retail outlets are getting less and less every year since every company wants to have a designated place in the retail stores. Nestlé Bangladesh Limited was the first company in Bangladesh who started hiring shelves in retail stores to create a display block to display its products. Almost all other companies have followed Nestlé's footsteps and started their own display programs now.
Nestlé realized that to maintain their strong presence in the retail outlets they need to focus more on merchandising, hence this project.
Objective of the Project
This project consists of two types of objectives. These are:
Primary Objective
State Nestlé Bangladesh Limited's merchandising system.
Identify the lackings that exist in current merchandising system of Nestlé Bangladesh Limited.
Recommend areas of improvement in current merchandising system and suggest ways to go forward.
Secondary Objective
Fulfill partial requirement for completing undergraduate studies in BRAC University.
Merchandising Development
Nestle Bangladesh Limited aims to transform all the outlets/points of purchase to shopper generating point through increasing Availability, Visibility and Accessibility. By the end of this project Nestle Bangladesh Limited believes that it will have:
Improved national merchandising of Nestle product in the market with proper execution of planogram and layout.
Create competitive advantage to ensure hygiene and visibility in and out of Point of Purchase.
Ensure effective use of different PoPM and PoSM
Manage and control market return as per Nestle norm.
The project gives a set of methods to follow to achieve these results. These are:
Establish and follow daily route agendas of DSR/Merchandisers which includes outlets to visit, timing of visit and activities to do.
Leading the field by creating value on shelf with proper execution of Nestle Bangladesh Limited's merchandising guideline with the engagement of Territory Officers/Area Sales Managers/Region Sales Managers.
Ensure regular and effective uses of merchandisers daily call report.
Provide support to TO/ASM's to ensure proper monitoring of Merchandisers/DSRs on daily basis.
Role of Different Functions in the Project
The Merchandising Development project has been undertaken by the Sales Department of Nestle Bangladesh Limited. The Sales Department consists of different functions such as Sales Operation, Channel & Category Sales Development (CCSD), Field Sales (TO,ASM,RSM) and each of these functions play a role in this project.
Sales Operation
Provides DSR/Merchandiser Working Pattern and Working Plan for day to day work.
Assist ASE/TO in the market level to on the job coaching of Merchandiser.
Collect data from field, check out the status and share to respective forum.
Evaluate the project and set next action plan in monthly basis.
Channel & Category Sales Development
CCSD will provide all necessary gears (POSM, POPe, Shop sign, MDR bag, New MDR as per requirement) and all others support needed to prolific the project.
Provide the guideline of Merchandising, uses of POSM and POPM, SM, HC Retail and Pharmacy, Gondola etc.
Share Planograms, SKU Mix & least number of SKU for SM and HC outlet in consultation with sales & business.
Field Sales
Field Sales team will execute the project through DSR/Merchandiser upon having on the job training observations.
Will provide feedback in weekly and monthly basis (with prescribe format) to project coordinator.
Basics of Merchandising in Nestle Bangladesh Limited
Nestle Bangladesh Limited has three basics to merchandising. These are called AVA in short. According to Nestle, their products should have the following three in all retail outlets:
Availability
Ensure shoppers can buy their favorite Nestle brands wherever and whenever they shop.
Visibility
The more shoppers see, the more they buy.
Accessibility
Displays that are located in key traffic areas in store that are easy to access and increase shopper awareness and impulse sales.
Besides these, to help boost visibility and sales Nestle wants every retail outlet to have three must-have point of purchase materials. These are:
Maggi Noodles Basket
Maggi Shad-e-Magic Hanger
Nescafe Hanger
Nestle wants every retail outlet to have these three products and to increase their visibility they provide every outlet with these PoPMs.
Channel Classification
Similar kinds of retail outlets that provides for similar type of consumers to fulfil similar types of needs are called channels. Nestle divides all retail outlets into seven channels:
Super Mart (also known as Modern Trade)
Counter Store
Small Store
Tobacco Plus
Pharmacies
 Tea Bunk
Block Display
The block display is the main part of merchandising. In Bangladesh, Nestle was the first company to start hiring shelves in retail outlets and turn them into block displays. Many, if not all companies are following this trend now.
Usually one or more shelves are hired by the company where only their products are to be kept. Since the traders are being paid a monthly rent for this by the company, they have to follow their rules and guidelines while displaying products.
Nestle Bangladesh Limited currently has two block displays. These are:
Nutrition Hygiene Corner
This display block is especially made to showcase the multitude of Baby Food & Nutrition product Nestle has. This block has blue strips surrounding it and has "Mother's milk is the best" in written in Bangla. The purpose of creating a Hygiene Corner is that since these are baby food they must be kept in a clean and hygienic place so that they do not get contaminated by any external things. Traders are made aware of this fact and are told to keep this space neat and clean to get continued payments, since Nestle does not compromise on quality issues. The products that are to be kept in this display block are:
Baby & Me
AL 110
Pre NAN
NAN 1
NAN 2
Lactogen 1
Lactogen 2
Lactogen 3
Lactogen Recover
Nido 1+
Nido 3+
Cerelac Stage 1
Cerelac Stage 2
Cerelac Stage 3
Cerelac Stage 4
Steps of Merchandising
Nestle has a specific set of guidelines for the merchandisers to follow while working, these are known as the 9 Steps of Merchandising. These are:
Maintaining eye level display
Maintaining block display
Maintaining the layout of the display
Maintaining hotspot display
Having an upright & upfront display
Having a FEFO (First Expire First Out) based display
Maintaining stock depth in the display
Benchmarking other companies display
Maintaining secondary (hangers, baskets) display
Benefits of Merchandising
Traders, Consumers, DSRs and the Company, everyone benefits from a properly merchandised outlet.
Benefits for Traders
Increased sales
More profit
More impulse sales
Well decorated outlet
Benefits for Consumers
Easily find products
Get more information about products
Waste less time in shopping
Benefits for DSR
Gain the trust of traders
Improves customer service
Be responsible for increasing sales
Benefits for Nestle
Increases the brand value and gain more trust of the consumers
Increases sales
Increases market share
Conclusion
For the last four and half months I have been visiting different markets on a daily basis to find out the current overall merchandising scenario in Dhaka. What I found out was that, Nestle Bangladesh Limited is very much focused on maintaining their merchandising guidelines in all the outlets. During my visits to the market as I talked to the traders I also found out that all the traders were very much satisfied with the process in which Nestle does its merchandising, although some traders were a bit annoyed with the company since they do not change products that have been cut by rodents. Another thing which I learned from all my market visits and interaction with the traders is that most traders are not satisfied with the profit margin they get by selling Nestle products and that main reason they keep Nestle products in their stores is because Nestle products have very high demands. This is a matter of concern for the company in my opinion, because it shows that Nestle in Bangladesh is currently running because of the trust its consumers have in its products. Losing this trust would mean instant decrease of sales since the traders are not pushing Nestle's products to the consumers on their own. The recent Maggi Noodles fiasco in India further proves my theory. Due to the excessive lead issue in Maggi Noodles in India, sales of Maggi Noodles in Bangladesh fell by almost 50% in just 10- 15 days. So despite all the merchandising and other ways to boost sales, maintaining a better trader relation with the traders, giving them a bit more profit margin would certainly win a favorable place in the trader's minds and help Nestle increase their sales much more.