I.   Executive Summary:
Natural Cleansing Lotion is entering its first year of operation. This company is providing 100% natural herbal extracts for its target consumers keeping in mind their need of the product. It will be selling its product to almost all the retail shops and accessories shop in Dhaka city.
Market research indicates a specific and growing need of the facial cleanser, which NCL will be providing the customers in their way without any side effects nor harm to the skin of its customers.
II. Situation analysis:
Women are becoming more and more beauty conscious now days. For this reason, many cosmetics companies are emerging with their own products, thus resulting in the saturation of such markets. Companies like Johnson and Johnson's clean of chemicals, but none of these produce herbal. Also, the cleansers they produce are not effective all the time because they are produced from chemicals, and they are clean and clear and PH 5.5 etc, are examples of some of the companies that produce facial cleansers made cause harm to the skin of many people, as I have experienced in my personal life (not to mention the name of the particular cleanser). So, as the cleanser I'm planning to launch in the market will have a competitive advantage in terms of being unharmful chemically. The market for cleansers may be saturated, but the market for Herbal Cleansers may create a new scope as it will be an innovation, and saturation will not affect for the consistency in my of the well-being of my product.
II.1 Market Situation: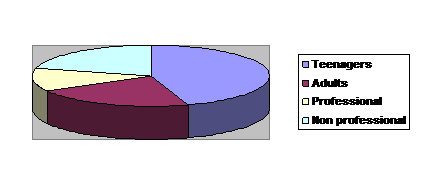 Natural Cleansing lotion posses good information about the market situation and knows great deal about the target customers.
II.1.1 Market Demographics:
The profile for NCL's customer consists of the following geographic, demographic, and behavior factors:
Geographic
      1. The immediate geographic target is the city of Dhaka with a population of 954,000.
      2. The total targeted population is estimated to be 150,000.
Demographics
Age range 16 – 45.
 Female.
Married.
Professional.
Behavior Factors
      1. Beauty conscious.
      2. Tend to eat out at least once a week, typically more.
      3. Live the motto "fashion over function."
      4. Are always aware of the different fashion trends.
      5. Subscribe to, or at least read, several women's magazines that are fashion     orientated.
| | | | | | | | |
| --- | --- | --- | --- | --- | --- | --- | --- |
| Potential Customers | Growth Rate | 2004 | 2005 | 2006 | 2007 | 2008 | CAGR |
| Teenagers | 45% | 73500 | 106575 | 154533.8 | 224073.94 | 324907.2 | 45% |
| Adults | 22% | 28500 | 34770 | 42419.4 | 51751.668 | 63137.03 | 22% |
| Professional | 12% | 23000 | 25760 | 28851.2 | 32313.344 | 36190.95 | 12% |
| Non professional | 21% | 18000 | 21780 | 26353.8 | 31888.098 | 38584.6 | 21% |
| Total | 100% | 143000 | 188885 | 252158.2 | 340027.05 | 462819.8 | 100% |
II.1.2 Market needs:
Natural Cleansing Lotion is providing market with an herbal lotion for deep cleansing of face and neck, to prevent dirt and oil. The basic market needs is to offer a good quality of cleansing lotion at reasonable price through different retail and local stores.
The product is providing its customers with the opportunity to give their best look with herbal extracts. The target market value a higher quality cleansing lotion for their better skin and our company is giving value to their desire.
II.1.3 Market Growth:
The majority of working people and teenagers spend a large percentage of their money on beauty products. One important factor is that teenagers between 14-25 age ranges represent a growth segment and enjoy larger spending than other family structures. They enjoy the choice to spend their spending on life's amenities. So they are the main target market.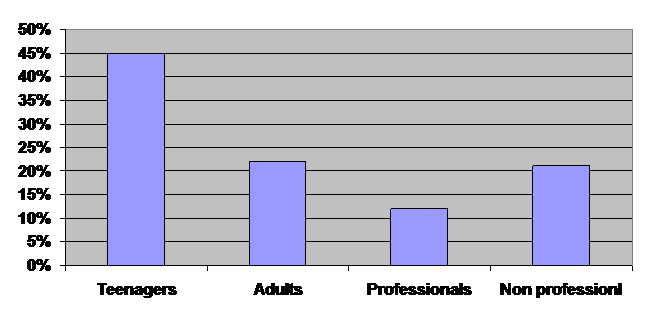 II.2 Product offering:
Our products have the following features:
Specially designed oil and water emollient lotion locks together with the oil secretion and debris build-up on the skin's surface then rinses away immediately leaving a clean, soft continence.
Dispensing lids used to eliminate bacterial contamination.
PH balanced, cleanses skin's surface and pores, removes makeup.
Time saving, one step cleansing lotion that is EASY to use but has all the properties of several more expensive products.
 Use anytime just like liquid soap without the drying properties.
II.3 Competitors:
When we come to beauty products there are not only one competitor. There are many competitors of NCL, they are:
"CLEAN & CLEAR a leading branded cleanser in the China skin care market and it's growing at double digit rates around the world. It's a favorite of young women like those shown here shopping in Shanghai, and its representative of the efforts being made to seize market advantage in the growing skin care category". (http://www.investor.jnj.com/downloads/jnj_2004annual.pdf). Beyond CLEAN & CLEAR, skin care brands including NEUTROGENA, RoC and AVEENO contributed to strong growth for the consumer business segment.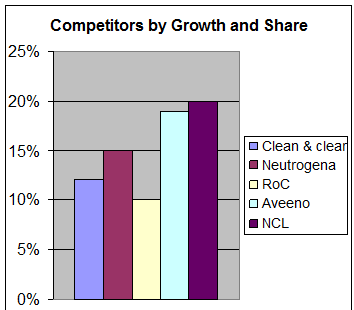 III. Climate:
SWOT Analysis:
A SWOT analysis of the business environment can be performed by organizing the
environmental factors as follows:
The firm's internal attributes can be classed as strengths and weakness.
The external environment presents opportunities and threats.
Strengths:
The product is an herbal product which is skin friendly and environment friendly. It does not cause any harm to the skin and does not have any side-effects.
Weakness:
It is a new product in the market, so people will feel hesitated to use it. The rate of adaptation will be less. There will be low sales at the beginning with negative profits. Bangladeshi people are unaware of the usage of herbal cleaner, so it will be difficult for the company to have a market position.
The R&D department has to be strong enough to challenge the existing competitors.
Opportunity:
–         Participation within steadily growing industry.
–         Ability to decrease the fixed costs as a percentage of an individual sale as volume increase.
Threats:
As it is a new company emerging in the world of market, in its introductory stage it will have few competitors but as the market grows there will be growing number of competitors with rapidly rising sales and rising profits, so the company much make sure that it can meet the challenge with its competitors and retain its customers.
IV. Objectives:
The objectives of Natural Cleansing Lotion include both marketing and financial objectives:
IV.1 Marketing Objectives:
Maintain a gross margin of 35% each month.
Steadily increase market share every quarter.
Develop brand awareness and acceptance, quantifies by a decrease in customer acquisition costs.
IV.2 Financial Objectives:
Increase the profit margin by 0.5% a quarter.
Develop efficiencies in the delivery of the service through advanced training and workflow analysis.
V. Marketing strategy:
The single objective is to position Natural Cleansing Lotion as the premier source for Clean & clear skin. The marketing strategy will seek to first develop brand equity, increase customer awareness and build the customer base, establish connections with target markets and work towards building customer loyalty and referrals.
V.1 Mission:
The motto of this product is to" Make your skin beautiful". Its mission is to meet the demand for an upscale women's retail store with a wide selection and focused customer attention.
V.2 Target Markets:
The target markets are separated into four segments:
Teenagers: Teenagers have the tendency to adopt beauty products more than anyone else in the market. So they are the first target of Natural Cleansing Lotion. The goal with these customers is to promote regular use of the cleansing lotion. The intend is to inform these customers that this lotion will keep their look gorgeous.
Adults: These people are between the age ranges of 25-40. They may be outdoor workers or indoor workers. They are among those people who have income. Usually married women who fall in the adult will use the product more to keep their skin fresh and good-looking.
Working people: Most of these people remain out-door. They deal with smoke, mud and thus pimples and acne grow fast on their skin. They need such a product that will keep there skin clean and clean all the time. So here's this product NCL, which people can carry with them anywhere they go.
Non working people: these people don't go out often but goes hand by hand with latest fashion. They quickly adopt the latest products that come to the market, they are also known as risk takers. They will buy the product to give a try on the product, if they do so they are the main target market.
V.3 Marketing Mix
In brief, our marketing mix is compared of these approaches to price, distribution and advertising & promotion.
PRICE:
Product pricing is based on offering high value to our customers to most price points in the market. Value is determined based on the best quality available, convenience and timeliness in acquiring the product. We will consistently be below the price points offered by clean & clear and mod girl.
DISTRIBUTION:
All products will be distributed through the retail store. The customers can also shop online from our website.
ADVERTISING & PROMOTION:
The advertising and promotion will be through:
Newspapers.
Television.
Posters.
V.4 Positioning:
For a person creating a personalized and unique impression on her face is very important and Natural Cleansing Lotion is giving an opportunity for those people. Unlike Aveeno and clean & clear, NCL give a pleasant facial cleanser with fragrance. It has positioned itself by producing a herbal product.
VI. FINANCIALS:
This section will offer a financial overview of NCL as it relates to our marketing activities.
SALES FORECAST:
The sales forecast is broken into two main streams:
Direct sales 20% growth rate per year.
Web sales 50% growth rate per year.

 MONTHLY SALES FORECAST
Sales forecast
 Months
Jan
Feb
Mar
Apr
May
Jun
Jul
Aug
Sep
Oct
Nov
Dec
Direct Sales
Tk
90,000Tk
90000Tk
50000Tk
55,000Tk
1,00,000Tk
1,50,000Tk 95,000Tk
1,00000Tk
1,00,000Tk
95000Tk
65,000Tk
90,000Web SalesTk
5,000Tk
4,000Tk
4,500Tk
3,000Tk
1,200Tk
7,500Tk 5,000Tk
1,600Tk
1,000Tk
4,000Tk
1,000Tk
1,000
EXPENSE FORECAST:
Marketing expenses are to be budgeted at approximately 5% of the total sales. Expenses are tracked in the major marketing categories of television ads, newspaper ads, web marketing/support, promotional events, others.
Monthly Expense Budget 

Marketing Expense Budget
Jan
Feb
Mar
Apr
May
Jun
Jul
Aug
Sep
Oct
Nov
Dec
TV ads

Tk

12,000

Tk

19,000

Tk

10,000

Tk

55,000

Tk

0

Tk

15000

Tk

9500

Tk

10,000

Tk

10000

Tk

9000

Tk

0

Tk

0

Newspaper ads

Tk

5,000

Tk

4,000

Tk

0

Tk

0

Tk

1,200

Tk

3300

Tk

5,000

Tk

0

Tk

0

Tk

0

Tk

1,000

Tk

1,000

Web support

Tk

0

Tk

0

Tk

0

Tk

0

Tk

0

Tk

0

Tk

6000

Tk

1000

Tk

1000

Tk

1000

Tk

1000

Yk

1000

Promotional events

Tk

0

Tk

0

Tk

5000

Tk

5500

Tk

2000

Tk

1000

Tk

0

Tk

1600

Tk

1000

Tk

0

Tk

0

Tk

1000

Others

Tk

500

Tk

1000

Tk

1000

Tk

1000

Tk

1000

Tk

1000

Tk

1000

Tk

1000

Tk

0

Tk

1000

Tk

1,000

Tk

1000

Total

Tk

17,500

Tk

24,000

Tk

16,000

Tk

61,500

Tk

14,200

Tk

20,300

Tk

16,500

Tk

13,600

Tk

12000

Tk

11000

Tk

7,000

Tk

94,000
VII. CONTROLS:
The following will keep us on track. If we fail in any of these areas, we need to re-evaluate our business model:
♠        Gross margin at or above 35%.
♠        Do not depend on credit line to meet cash requirements.
The difficult and risks that may occur are:
♠        Slow sales resulting in less-than-projected cash flow.
♠        Unexpected and excessive cost increases compared to the forecasted sales.
♠        Overly aggressive and debilitating actions by competitors.
♠        A parallel entry by a new competitor.