Who among us hasn't sat in the bath, thinking to ourselves, "How do eels reproduce?" in our most private moments? Do we truly have no idea how wild eels mate? No, not in the slightest. The love lives of European eels (Anguilla anguilla) and American eels (Anguilla rostrata) have been tracked all the way to their spawning grounds in the Sargasso Sea (a nursery area that's also popular with adolescent sea turtles). The Great Eel Reproduction Mystery, however, persists because no one understands how they get there or what they do once they do.
WHERE DO WE STAND ON EEL REPRODUCTION? While the complexities of eel reproduction in the wild are a mystery, these creatures have been employed for study and cultivation. These studies have given us a glimpse behind the curtain of eel reproduction, but they have only illuminated minor portions of the cryptic interplay in captivity. What occurs on those tens of thousands-of-mile-long journeys across the globe? We're still a little perplexed.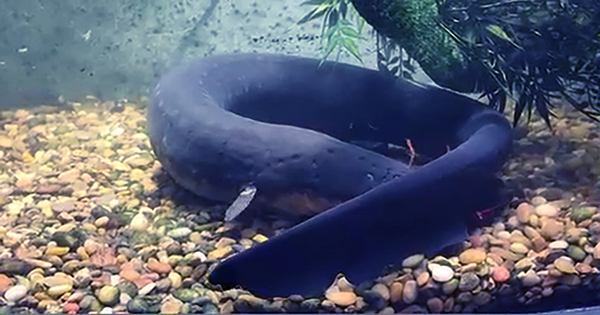 "There have been some studies that have provided us insight into various parts of eel reproduction," stated ZSL Marine and Freshwater Senior Programme Manager and Chair of The IUCN SSC Anguillid Eel Specialist Group Dr Matthew Gollock to IFLScience. "Swim tunnels, for example, have been used to evaluate energy expenditure during spawning migrations, but they cannot account for the pressure involved with these migrations, as well as diurnal mobility within the water column."
"Hormone-treated eels are also being used in the lab to increase reproduction." This has resulted in effective spawning, although the extent to which this matches the wild is unknown." WHY IS IT SO DIFFICULT TO LEARN HOW EELS MATE IN THE WILD? If you're putting on a pair of flippers in the hopes of solving the Great Eel Reproduction Mystery once and for all, we're sorry to say that it's not as simple as popping out to look. This is due to eels' strange and beautiful existence. "Anguillid eels have a complicated life cycle that includes migrations between continental waters, where they feed and grow, and the open ocean, where they reproduce," Gollock noted, "but we're making progress."
"Tracing these migrations is difficult and expensive, thus there has only been a limited amount of study done on the subject." We think that breeding happens below 500 meters [1,640 feet] and is impacted by a variety of characteristics that we are only beginning to grasp in the most studied species, including as the American, European, and Japanese eel, in the last 10 to 20 years due to advances in technology.