HD 42618 b is an exoplanet that resembles Neptune and orbits a G-type star. It is an extrasolar planet (exoplanet) that orbits the star HD 42618 in the Orion constellation. It has a mass of 14.4 Earths, takes 149.6 days to complete one orbit around its star, and is 0.554 AU away from it. According to the most recent parallax records, the star is 76.65 light years or 23.50 parsecs from Earth. It was discovered in 2016 and was announced.
A planet that orbits a star other than the Sun is referred to as an exoplanet. HD 42618 b is an exoplanet that orbits the star HD 42618, which is located 80 light years away from the Sun. The planet's orbital period, or year, is 149.61 days or 0.41 Earth years. It weighs approximately 14.4 Earth masses and orbits its star closer to the Sun than the Earth does. By the end of a year, the Earth will have completed 2.44 orbits around its star.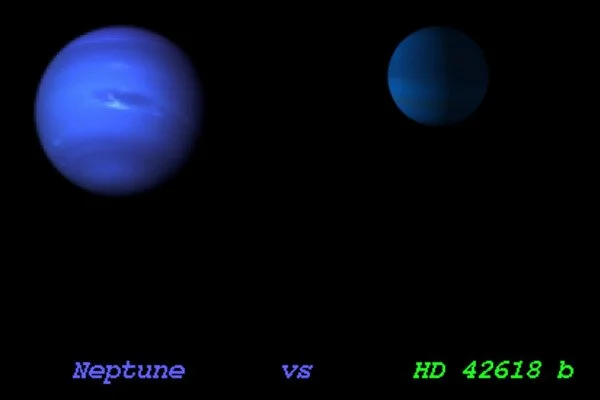 It was announced in 2016 that a candidate exoplanet companion orbiting HD 42618 had been discovered. It was discovered using the radial velocity method and was designated HD 42618 b, with a periodicity of 149.6 days. According to the orbital elements, the planet orbits the host star at a distance of 0.55 AU, with an orbital eccentricity (ovalness) of 0.2 and a Neptune-like mass. A second signal was detected with a period of 388 days, but it is unconfirmed and may be false. A signal lasting 4,850 days is most likely caused by the star's magnetic activity cycle.
HD 42618 b is an exoplanet that orbits the star HD 42618, which is located approximately 76.6 light-years (23.5 pc) from our Solar System. Its discovery was made public in 2016. HD 42618 has an apparent magnitude of 6.8 and an absolute magnitude of 5.0. It is 1.0 times more massive and 1.0 times larger than our Sun. The surface temperature is 5727 degrees Celsius, and the spectral type is G4V. The extrasolar planet HD 42618 b orbits the star HD 42618 every 149.6 days at an orbital distance of 0.55 AU in this planetary system.