Financial Performance
Introduction
The performance of the bank, during the period under review, is more significant simultaneously in development and achievements of continuous growth rate in all the areas of banking operations. The Bank has successfully been marching ahead with its prime business objective by earning a pre-tax profit of Tk.1, 063.30 million registering an annual growth of 64.69% than that of the previous year. It has successfully mobilized Tk.28, 319.21 million deposits from depositors and has arranged disbursement of Tk.26, 046.34 million as investment to 14,532 accounts as on 31st December 2005 through its 28 Branches. The total income and expenditure of the Bank were Tk.3, 433.39 million and Tk.2, 257.63 million respectively during the period under review. The return on assets (ROA) after tax was 1.65% well above the industry average. The achievements were possible because of the service excellence of management term with support from a very resourceful and skilled workforce regarding efficient and specialized services.
 Overall Performance of EXIM Bank Limited
EXIM Bank Limited was incorporated as a public Limited company on the 2nd June 1999 under Company Act 1994. The Bank started commercial banking operations effective from 3rd August 1999. During this short span of time the Bank has been successful to position itself as a progressive and dynamic financial institution in the country. The Bank widely acclaimed by the business community, from small business/ entrepreneurs to large traders and industrial conglomerates, including the top rated corporate borrowers from forward looking business outlook and innovative financing solution.
PERFORMANCE ANALYSIS
EXPORT IMPORT BANK OF BANGLADESH LIMITED
Highlights on the overall activities
As at 31 December 2009
                                                                                                 TAKA
| | | |
| --- | --- | --- |
| Particulars | 2009 | 2008 |
| Paid up Capital | 3,373,959,900 | 2,677,746,000 |
| Total Capital | 7 ,718,885,069 | 5,763,886,880 |
| Surplus/(shortage) of Capital | 812,998,169 | 420,987,980 |
| Total Assets | 86,213,373,094 | 6 8,446,464,000 |
| Total Deposits | 73,835,461,825 | 5 8,833,063,661 |
| Total Investment | 68,609,907,470 | 5 3,637,677,103 |
| Total Contingent liabilities & commitments | 30,109,111,347 | 2 6,070,569,525 |
| Ratio on investments & deposits | 92.92% | 91.17% |
| Ratio on classified & total investments | 2.68% | 1.88% |
| Profit after tax & provisions | 1 ,694,095,372 | 1 ,096,627,046 |
| Classified investments | 1 ,839,691,067 | 1 ,007,844,801 |
| Provision held against classified investments | 522,432,383 | 369,899,801 |
| Cost of fund | 9.09% | 9.52% |
| Profit earning assets | 69,006,561,570 | 56,192,524,486 |
| Non-profit bearing assets | 17,206,811,524 | 12,253,939,514 |
| Return on investment (share & bonds) | 9.38% | 2.03% |
| Return on assets (after tax) | 2.19% | 1.83% |
| Income on investment (shares & bonds) | 238,428,603 | 54,249,612 |
| Earning per share | 50.21 | 32.50 |
| Net income per share | 50.21 | 32.50 |
| Price earning ratio (times) | 7.52 | 12.06 |
Table-3: Performance of the Bank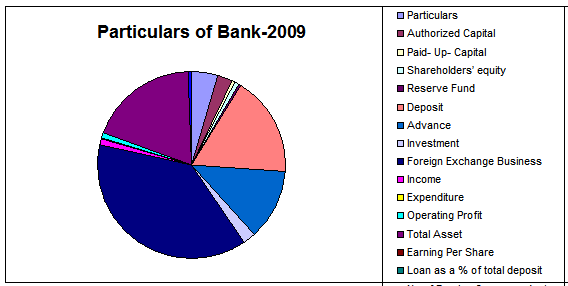 Graph 1: Performance of Export Import Bank of Bangladesh Limited.
[Source of Data: Annual Report 2009]
Capital and Reserve Fund
The Bank started its voyage with an authorized Capital of Tk.1,000 million while it's initial Paid up Capital was Tk.225.00 million subscribed by the sponsors in the year 1999. The Capital and Reserve of the Bank as on 31st December stood at Tk.2179.81 million including paid up capital of Tk.878.85 million. The Bank also made provision on unclassified investment, which is amounted to Tk.263.18 million.
Investment
Total amount of investment of the Bank stood at Tk.32, 641.27 million as on December 31, 2008 as against TK.26046.34 million as on December 31, 2008 showing an increase of Tk.6594.93 million with growth rate of 25.32%.
Investments are the core asset of a Bank. The Bank gives emphasis to acquire quality assets and dose appropriate leading risk analysis while approving commercial and trade investment to clients.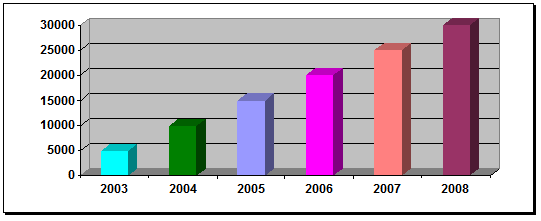 Import Business
Import business is considered as an important segment of foreign exchange business. During this year, the Bank opened 25817 imports, letter of credit and the import volume stood at Tk.49596 million with a growth of 19.70% in comparison with previous year.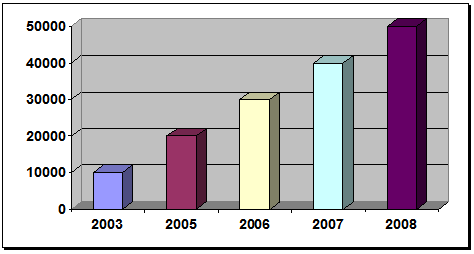 Export Business
The growth of the export business has significantly been increased by 47.78%. It stood at Tk.46254.59 million as of December 31, 2007 against Tk.31285.37 million of the previous year.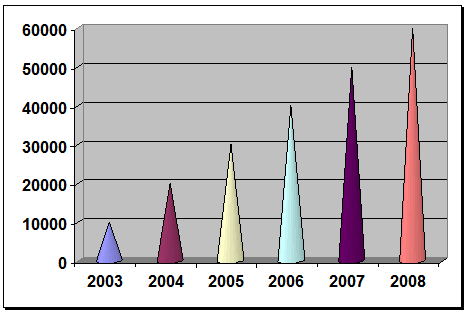 Foreign Remittance
Foreign Remittance of the Bank stood at Tk.343.7 million as of December 31, 2008 as against Tk.222.97 million in 2007.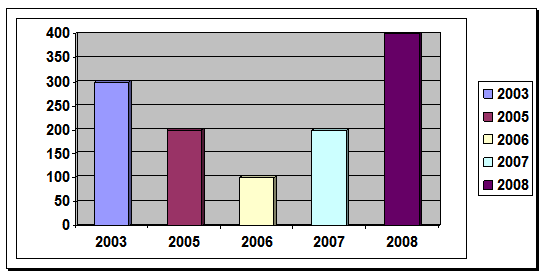 SWOT Analysis
SWOT analysis is the detailed study of an organization's exposure and potential in perspective of its strength, weakness, opportunity and threat. This facilitates the organization to make their existing line of performance and also foresee the future to improve their performance in comparison to their competitors. As though this tool, an organization can also study its current position, it can also be considered as an important tool for making changes in the strategic management of the organization.
S– STRENGTHS
W-WEAKNESS
O-OPPORTUNITIES
T-THREATS
Here is the SWOT analysis of EXIM Bank Bangladesh Limited:
STRENGTHS
Different types of Islamic Banking Products.
The technology of the EXIM Bank is Up-to-date and experienced management team.
The top management officials have all worked in reputed banks and their years of banking experience, skill, and expertise will continue to contribute towards further expansion of the bank.
EXIM Bank has an interactive corporate culture. The working environment is very friendly, interactive and informal. And, there are no hidden barriers or boundaries while
Communicate between the superior and the employees. This corporate culture provides as a great motivation factor among the employees.
EXIM Bank has the reputation of being the provider of high quality services its, potential customers.
WEAKNESS
Insufficient Islamic Investment Risk Analysis and measurement methodology by the employees.
Insufficient number of ATM Booth.
Some of the jobs in EXIM Bank have no growth or advancement path. So lack of motivation exists in persons filling those positions. This is a weakness of EXIM Bank that it is having a group of unsatisfied employees.
OPPORTUNITIES
Latent demand of different type of Islamic banking services.
A large number of private banks are coming into the market in the recent time. In this competitive environment EXIM Bank must expand its product line to enhance its sustainable competitive advantage.
In order to reduce the business risk, EXIM Bank has to expand their business Activities like merchant banking or diversify into leasing and insurance sector.
EXIM Bank can introduce special corporate scheme for the corporate customer or officer who have an income level higher from the service holder.
Wide banking networks inside the country and out side the country.
 THREATS
Increased competition from fellow Islamic Banks and Other Commercial Banks.
Lack of Control and supervision by the Central Bank on the Islamic Shariah.
The default risks of all terms of loan have to be minimized in order to sustain in the financial market. Because default risk leads the organization towards to bankrupt.
The low compensation package of the employees from mid level to lower level position is a threat for the employee motivation. As a result, good quality employees leave the organization and it effects the organization as a whole.
EXIM Bank's has a mission to actively participate in the growth and expansion of our national economy by providing credit, patronizing foreign exchange facility to viable borrowers, efficiently delivered and competitively priced. The followings are the findings of the report:
EXIM Bank mainly concentrates in Export & Import business.
It has a limited number of investment opportunities.
The bank mainly provides three basic investment instruments- Mudaraba, Bai-Muajjal and Izara Bill Bia.
It is follows the Islamic rules in every part of banking services as well as in investment banking.
Difficult to get trusty client. It is a hard job to evaluate a client thoroughly to ensure that there will be no default risk.
 Lack of manpower to supervise all activities of clients. Only three officials are engaged for appraisal, supervising monitoring and record keeping.
 Under Bai-Muajjal agreement it is difficult to purchase product by bank. In Islami Banking system bank is to purchase product for clients but due to lack of man power sometimes bank can not do this.
The branches have limited power for decision making. Only Head Office takes almost all decisions.
It does not have networking system with all the branches within the country.
It is still an unknown bank to many people. Because, it hasn't concentrated on advertisement much.
EXIM Bank Limited is one of successful banks in Bangladesh. By this study I have gathered some practical knowledge about banking activities especially investment activities of Islami Banking System. Policy guidelines have been established and will continue to be developed from time to time taking into consideration economic makeup and market requirement. If the limitations can be removed it will become more successful than at present. So I would like to recommend the followings issues to remove its limitations:
As one of leading Banks in Bangladesh, EXIM Bank should give equal emphasis in every department of banking service.
The investment products should be increased to sustain in long run competition. Islami Bank Bangladesh Limited provides more facilities following Islami Shariah.
The manpower in investment department in Mirpur Branch should be increased to lessen the sufferings of shortage of man power.
For monitoring and inspection of the current status of the Borrowers a new wing of the credit division should be introduced.
The branches should be given more authority to take instant decisions. Only major decisions can be made by Head Office.
Many well established banks give emphasis in advertisement of their existing products. EXIM Bank should concentrate on this matter seriously.
In order to reduce the business risk, EXIM Bank has to expand their business Activities like merchant banking or diversify into leasing and insurance sector.
Lots of new commercial bank has been established in last few years and these banks have made this banking sector very competitive. So, now banks have to organize their operation and do their operations according to the need of the market. Banking sectors no more depends on a traditional method of banking. In this competitive world this sector has trenched its wings wide enough to cover any kind of financial services anywhere in this world. The major task for banks, to survive in this competitive environment is by managing its assets and liabilities in an efficient way.
As an internee student in EXIM Bank Bangladesh Limited at Panthopath Branch, Dhaka I have truly enjoyed my internship from the learning and experience viewpoint I am confident that three month internship program at EXIM Bank Bangladesh Limited will definitely help me to realize career in the job market.
During the course of my practical orientation I have tried to learn the practical banking to realize my theoretical knowledge, what I have gathered and going to acquire from various courses. It is great pleasure for me to have practical exposure of EXIM Bank Limited, because without practical exposure it couldn't be possible for me to compare the theory with practice.
Through the departments and sections are covered in the internship program, it is not possible to go to the depth of each activities of branch because of time limitation. So objectives of the internship program have not been fulfilled with complete satisfaction. However, highest effort has been given to achieve the objectives of the internship program.
So in conclusion it can be said that every organization has its positive as well as negatives and in case of EXIM Bank Bangladesh Limited existence of the later one is less then the earlier one and as the management is determined to reach the pick of success it seems that in near future the negatives will be eliminated. Five years is a very short span of time and the organization, which can establish itself as one of the most reputed private commercial Bank in the country within this short period deserves special credit and with their able leaders EXIM Bank will reach the highest level of success very shortly. I wish the bank all success prosperity in their field.
BIBLIOGRAPHY
Booklets published by EXIM Bank.
EXIM Bank Ltd. Annual Report 2008
Web site of EXIM Bank (www.eximbankbd.com)
Newsletters published by EXIM Bank
Prospectus of EXIM Bank Ltd.