Fernando de Noronha (Portuguese pronunciation: feʁˈnɐ̃du d(ʒ)i noˈɾoɲɐ) island, South Atlantic Ocean, 225 miles (360 km) northeast of Cape São Roque; with its adjacent islets it constitutes part of Pernambuco estado (state), Brazil. The natural beauty of Noronha, which is in the Atlantic and 326 miles (525 kilometers) from Recife and 217 miles (350 kilometers) from Natal, rivals that of any tropical location in the globe.
It has a 26 km2 (10 sq mi) area and consists of 21 islands and islets. Only the named main island, which has an area of 18.4 km2 (7.1 sq mi) and is home to 3,101 residents, is inhabited in 2020. It's in a class by itself when it comes to Brazilian destinations because to its stunning tropical scenery, abundant marine life, including the greatest known concentration of resident dolphins in the world, and crystal-clear waters.
The main island, rising to 1,089 feet (332 metres), has an area of 10 square miles (26 square km) and is of volcanic origin. Off the coast of Brazil, the Fernando de Noronha Archipelago and Rocas Atoll are formed by peaks of the Southern Atlantic underwater ridge. They make up a significant component of the South Atlantic island chain, and their nutrient-rich waters are crucial for the reproduction and habitation of marine mammals including turtles, sharks, and tuna.
The islands are administratively unique in Brazil. Due to its significance as a tuna, shark, turtle, and marine mammal feeding area, UNESCO declared it a World Heritage Site in 2001. Its time zone is UTC−02:00 all year round.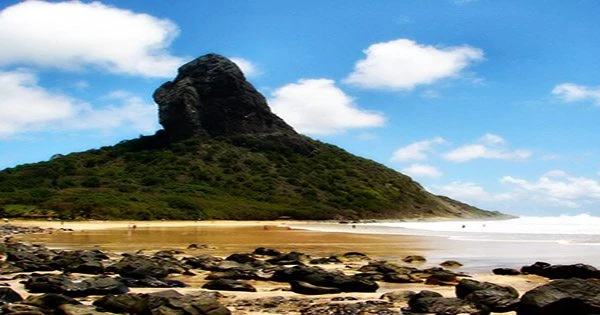 The islands are home to the largest concentration of tropical seabirds in the Western Atlantic. Baia de Golfinhos has an exceptional population of resident dolphin and at low tide the Rocas Atoll provides a spectacular seascape of lagoons and tidal pools teeming with fish. The country's 'beach bible,' Guia Quatro Rodas Praias, awards five stars to just five beaches in the whole country and three are right here.
The island was given to its Portuguese discoverer, Fernando de Noronha, in 1504, and eventually became a Brazilian state dependent on Pernambuco. It was repeatedly attacked by naval powers in the 17th and 18th centuries, but the Portuguese were able to effectively defend it because of its strategic importance in connection to Brazil. Some inmates are still sent to the island, which served as a penal colony in the 18th century. It was used (1957–62) as a tracking station for U.S. guided missiles.
The island became a national park in 1988 and, along with nearby Rocas Atoll, was designated a UNESCO World Heritage site in 2001.
The property includes over 70% of Fernando de Noronha's main island, 21 of the archipelago's smaller islands and islets, and the majority of the nearby waters down to a depth of 50 meters. The sole atoll in the South Atlantic, Atol das Rocas Biological Reserve, is situated about 150 km west of Fernando de Noronha. It is an elliptical reef including two small islands surrounded by a marine reserve. With these two protected areas, the property covers an area of 42,270 ha and a buffer zone of 140,713 ha.
The main island, from which the group gets its name, makes up 91% of the total area; the islands of Rata, Sela Gineta, Cabeluda and São José, together with the islets of Leão and Viúva make up the rest. The central upland of the main island is called the Quixaba. The Brazilian Atlantic Islands are an oasis of fertile waters in the middle of a large ocean floor. These waters are significant for the natural restocking of fish in the area and are a vital breeding and dwelling ground for tuna, shark, turtle, and marine mammals.
Two species of sea turtle breed there: the hawksbill and green turtle, for which the Rocas Atoll is considered the second most important breeding site of Brazil. Fernando de Noronha has a tropical wet and dry climate (Aw/As), with two well-defined seasons for rainfall, if not temperature. The rainy season lasts from February to July; the rest of the year sees little rain. The temperature ranges, both diurnal and monthly, are unusually slight.
These islands have the only specimens of Insular Atlantic Forest and the only oceanic mangrove in the South Atlantic, as well as the highest density of tropical seabirds in the Western Atlantic. Dolphin Bay (Baía dos Golfinhos) hosts an exceptional population of resident dolphin, and at low tide, Rocas Atoll provides a spectacular seascape of lagoons and tidal pools teeming with fish and a great variety of shellfish, sponges, molluscs, corals, etc.
The island is divided between the Fernando de Noronha Marine National Park and the Fernando de Noronha Environmental Protection Area. It is the ideal location to avoid the crowds and engage in minimal activity. There are plenty of things to do; for those who manage to leave their towels, there are sailing tours, hiking along empty beaches, and snorkeling with turtles.