Andrea Pirlo – Italian Professional Football Player
Full name: Andrea Pirlo
Date of birth: 19 May 1979 (age 37)
Place of birth: Flero, Italy
Height: 1.75 m (5 ft 9 in)
Playing position: Midfielder
Spouse: Deborah Roversi (m. 2001–2014)
Children: Niccolò Pirlo, Angela Pirlo
Early Life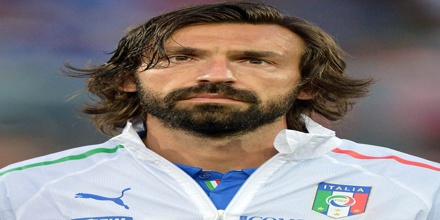 Andrea Pirlo was born on 19 May 1979, in Flero, Italy. He is an Italian professional footballer who plays for American club New York City FC and the Italy national team. He is usually deployed as a deep-lying playmaker in midfield for both his club and national sides, and he is widely regarded as one of the greatest ever exponents of this position, due to his vision, ball control, creativity and passing ability; he is also a free-kick specialist.
He won Italian and Champions League titles with A.C. Milan after changing positions, and starred for the national team that won the 2006 FIFA World Cup. More success followed with Juventus, where Pirlo claimed back-to-back league titles and Italian Super Cups.
Pirlo came in third, second, fourth, and third again in the IFFHS World Playmaker of the Year awards in 2006, 2007, 2012, and 2015, respectively. He placed fourth in the 2012 UEFA Best Player in Europe Award, and seventh in the 2015 edition. He placed 7th in the 2007 FIFA World Player, 5th in the 2007 Ballon d'Or and 7th in the 2012 FIFA Ballon d'Or award. He was also named as part of the 2006 FIFPro World XI and the 2012 UEFA Team of the Year. In 2012, 2013, and 2014, Pirlo was also elected as Serie A Footballer of the Year, and was also named as part of the Serie A team of the Year. After helping Juventus to the 2015 UEFA Champions League Final, he was named to the squad of the season. In 2012, Pirlo was named the eighth best footballer in the World by The Guardian, and in 2013, Bloomberg ranked him the fifth best player in Europe. In 2015, France Football rated him as one of the 10 best footballers in the world who are over the age of 36.
Childhood Life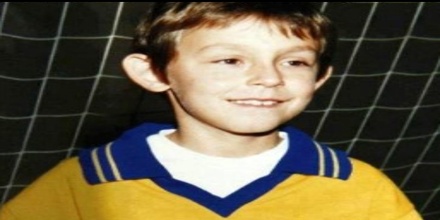 Born on May 19, 1979, in Flero, Italy, soccer player Andrea Pirlo began his career with the Brescia Calcio youth team in 1994. In 1995, at the age of 16, Pirlo made his Serie A debut for Brescia against Reggiana, on 21 May, becoming Brescia's youngest player to make an appearance in Serie A. The following season, he did not appear with the senior team, although he was able to capture the Torneo di Viareggio with the youth side. After emerging as a promising midfielder during the 1997-98 seasons, he signed with prominent Serie A club Internazionale.
Personal Life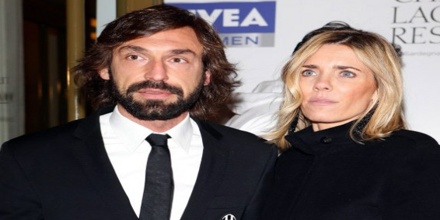 Pirlo and his wife Deborah Roversi married in 2001 and have two children: son Niccolò (born 2003) and daughter Angela (born 2006). In 2014, Pirlo and Roversi divorced after thirteen years of marriage, following Pirlo's affair with Valentina Baldini, a woman he met at his golf club.
Pirlo is one of two children along with his brother Ivan. His father founded a metal trading company in Brescia in 1982 called Elg Steel. Pirlo himself retains a stake in the family business. With regard to his wealth from his family business and footballing career, Pirlo stated in an interview with Italian Vanity Fair magazine that he never talks about money. Pirlo is known for being a wine connoisseur and he also runs his own vineyard in Italy, which produces around 15–20,000 bottles a year.
Playing Career
Born on May 19, 1979, in Flero, Italy, Andrea Pirlo started his professional soccer career with Brescia before moving to Internazionale. Pirlo endured a disappointing tenure in Internazionale, as he struggled to crack the starting unit and was twice loaned out to other clubs. But he impressed as captain of the UEFA European Under-21 Championship–winning team in 2001, and it was during his second loan, to Brescia, that he readjusted to a deep midfield role alongside the great Roberto Baggio.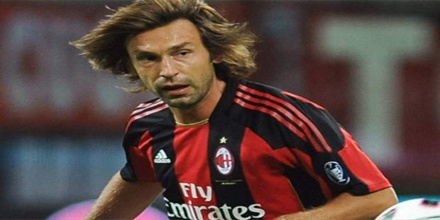 After three seasons on the Inter books, Pirlo was sold to rivals A.C. Milan for 33 billion Italian lire (€17,043,078) on 30 June 2001, the last day of 2000–01 financial year. The transfer fee was partially funded by the movement of Dražen Brnčić in the opposite direction for an undisclosed fee. In the same window Inter swapped Cristian Brocchi (25 billion lire; €12.9 million) for Guly (undisclosed fee; €8.537 million profit) and Matteo Bogani for Paolo Ginestra. The deals were later reported by the Italian press to have been undertaken to create "false profit" by inflating the players' values in the transfer fees in the swap deal. The exchange involving Ginestra and Bogani created an approximate €3.5 million "profit" for both clubs, but this actually manifested itself in terms of useless registration rights.
Pirlo made his Milan debut on 20 September 2001, in a 2–0 win over BATE Borisov in the UEFA Cup, after coming on for Massimo Donati. During his first season with the club, he helped the team to a fourth-place finish UEFA Champions League qualification spot, also reaching the semi-final of the UEFA Cup, the club's best ever result in the competition. On 30 March 2002, he scored his first goal with Milan in a 3–1 home win over Parma, from a free-kick. Milan finished as runners up in Serie A to Juventus in the 2004–05 season. In the 2004–05 Champions League tournaments, Pirlo finished as one of the second highest assist providers with four assists, as he helped Milan to reach the final.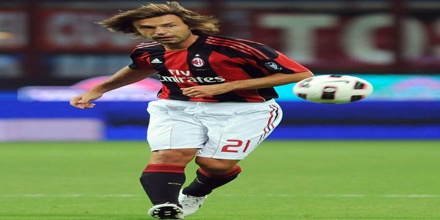 In 2005 Milan once again finished in second place behind Juventus in Serie A (before their 30-point deduction due to their involvement in the 2006 Calciopoli scandal), also reaching the semi-finals of the UEFA Champions League, only to be defeated by eventual champions, Barcelona, and the quarter-finals of the Coppa Italia. In 2006, Pirlo placed 9th in the Ballon d'Or, which was won by his Italy teammate Fabio Cannavaro, and was elected to the 2006 FIFPro World XI.
Pirlo led Milan in minutes played for the 2006–07 season with 2,782 across 52 appearances, as he went on to win his second UEFA Champions League title with Milan, also helping his team to a fourth-place finish in Serie A, and another Coppa Italia semi-final. During the 2007–08 season, Pirlo won his second UEFA Super Cup with Milan, assisting Milan's second goal in the final, and winning the Man of the Match award; he also contributed to the club's first ever FIFA World Club Cup title in 2007, once again setting-up Milan's second goal in the final.
In total with Milan, Pirlo made 401 appearances, scoring 41 goals. With the club, he won two Serie A titles in 2004 and 2011, as well as two Champions League titles in 2003 and 2007, also reaching the final in 2005; he also won a Coppa Italia in 2003, a Supercoppa Italiana in 2004, and two UEFA Super Cups in 2003 and 2007, as well as playing a key role in Milan's first ever FIFA World Club Cup title in 2007. During this period, Milan also finished as runners up in Serie A in the 2004–05 and the 2005–06 seasons, as well as finishing second on penalties in the 2003 Supercoppa Italiana, and in the 2003 Intercontinental Cup.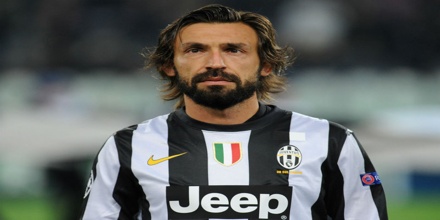 Pirlo signed with Juventus F.C. in 2011 and erased any concerns about his age by leading the "Old Lady" to back-to-back Serie A and Italian Super Cup titles. He was also recognized as the Serie A Player of the Year and named to the UEFA Team of the Year in 2012. Pirlo created over 100 chances and completed 2643 passes that season, with an 87% pass completion rate, completing 500 more passes than any other player in Serie A; the only player in the world to have completed more passes than him that season was Xavi. Due to his performances throughout the season, and his key role in leading Juventus to their first Serie A title in nine years, he was named to the "Serie A Team of the Year", along with his Juventus midfielder partner Arturo Vidal. Pirlo and Juventus also finished runners up to Napoli in the Coppa Italia final that season. He was named as part of the 2012 Serie A team of the Year for his performances. Pirlo also won the Pallone Azzurro, given to the best player of the year in the Italian National Team, as well as placing fourth in the IFFHS World's Best Playmaker of the Year Award. Pirlo and Juventus retained their Serie A title that season. Juventus were, however, eliminated by Bayern Munich in the quarter finals of the UEFA Champions League, and in the semi finals of the Coppa Italia by Lazio; both of these teams were the winners of these respective competitions.
Pirlo also displayed fine form for the Italian national team that won the bronze medal in the 2004 Olympics. He enjoyed the pinnacle of success during the 2006 FIFA World Cup, earning Man of the Match honors three times while driving Italy's triumphant run with his brilliant passes. However, although he remained a highly effective player into his 30s, his contract was not renewed by the Milan club, which was seeking to inject youth into its backfield. Pirlo appeared in all three of Italy's group matches at UEFA Euro 2008. He was named Man of the Match in Italy's second group match, a 1–1 draw against Romania, on 13 June. He was not able to play the first two games in the 2010 World Cup for Italy due to recent injuries. He came off the bench for Italy late in the match on 24 June against Slovakia. Even with his help in orchestrating a renewed Italian offense, Pirlo could not prevent Italy from being knocked out of the first round.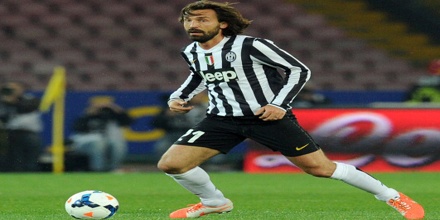 The veteran playmaker proved he was as vital as ever to Italy's cause during the 2012 European Championship, earning Team of the Tournament honors as Italy fell just short in the final. He scored on a free kick while making his 100th international appearance during the 2013 Confederations Cup, a fitting moment in the career of a star accustomed to delivering big plays under the spotlight.
Pirlo scored one goal during Italy's qualification campaign for the 2014 FIFA World Cup, which saw them top their group, undefeated. Pirlo converted a penalty as Italy dispatched Armenia by a score of 3–1 on 12 October 2012, and assisted several goals during the World Cup qualifying campaign. On 5 June 2014, Pirlo was selected by Italy manager Cesare Prandelli as part of his 23-man squad for the World Cup in Brazil. On 12 June, Pirlo announced that he would retire from international football following the tournament.
In total, Pirlo made four appearances under Conte, as Italy qualified for Euro 2016 on 10 October in a 3–1 win over Azerbaijan. On 23 May 2016, Pirlo, along with fellow MLS compatriot Giovinco, was left off of Conte's 30-player shortlist for Italy's Euro 2016 squad.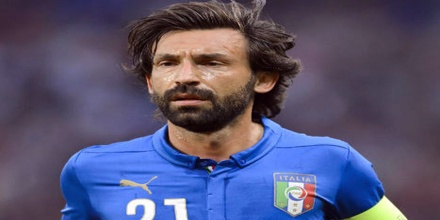 On 6 July 2015, it was announced that Pirlo had completed a move to MLS expansion club New York City FC as their third Designated Player. In doing so, he became the highest paid Italian player in all leagues with an $8 million salary, until Graziano Pellè moved to Chinese club Shandong Luneng the following year. In July 2016, Pirlo was included in the roster for the 2016 MLS All-Star Game. Pirlo finished his second MLS season with the club with one goal and a team seasonal best of eleven assists in 32 appearances, as New York City FC finished in second place in the Eastern Conference, and qualified for the MLS Cup Playoffs for the first time ever, clinching a spot in the Eastern Conference semi-final.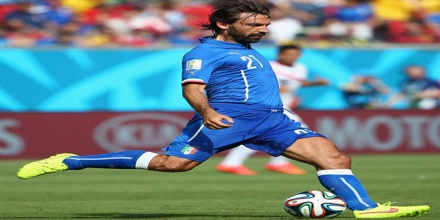 Pirlo is capable of playing in several midfield positions, but is usually deployed by his club and national sides as a central midfielder, in the role of a deep-lying playmaker, due to his vision and passing accuracy. A highly technical and creative player, Pirlo is regarded by players, managers, and pundits as one of the greatest ever players in his position, as one of the best midfielders in the world and of his generation, and as one of the greatest Italian players of all time. He started his career in a more advanced role, as an offensive midfielder, and also played as a supporting striker on occasion. Although he was considered a talented young prospect, even drawing comparisons with former Italian footballer Gianni Rivera, Pirlo occasionally struggled in this role, due to his lack of pace, and competition from other talented and more dynamic players in his position.
Awards and Honours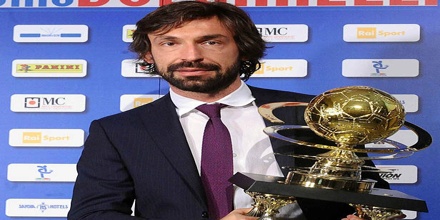 Club
Brescia
Milan
Serie A: 2003–04, 2010–11
Coppa Italia: 2002–03
Supercoppa Italiana: 2004
UEFA Champions League: 2002–03, 2006–07
UEFA Super Cup: 2003, 2007
FIFA Club World Cup: 2007
Juventus
Serie A: 2011–12, 2012–13, 2013–14, 2014–15
Coppa Italia: 2014–15
Supercoppa Italiana: 2012, 2013
International
Italy
FIFA World Cup: 2006
UEFA European Under-21 Championship: 2000
Olympic Bronze Medal: 2004
UEFA European Championship Runner-up: 2012
FIFA Confederations Cup Third Place: 2013
Individual
UEFA European Under-21 Championship Golden Player: 2000
UEFA European Under-21 Championship Top Scorer: 2000
2006 FIFA World Cup: All-star team
2006 FIFA World Cup: Bronze Ball
2006 FIFA World Cup: Top Assist Provider
2006 FIFA World Cup Final: Man of the Match
IFFHS World's Best Playmaker: 3rd place 2006, 2nd place 2007, 9th place 2009, 4th place 2012, 3rd place 2015
FIFPro World XI: 2006
Ballon d'Or: 2006 (9th place), 2007 (5th place), 2012 (7th place)
FIFA World Player of the Year: 2007 (7th place)
UEFA Super Cup Man of the Match: 2007
ESM Team of the Year: 2011–12
Pallone d'Argento: 2011–12
Pallone Azzurro: 2012
Guerin d'Oro: 2012
UEFA Euro Team of the Tournament: 2012
UEFA Best Player in Europe Award: 2012 (4th place), 2015 (7th place)
Juventus Player of the Season: 2011–12
UEFA Team of the Year: 2012
2011–12 Serie A Top Assist Provider
Serie A Team of the Year: 2011–12, 2012–13, 2013–14, 2014–15
Serie A Midfielder of the Year: 2012
Serie A Player of the Year: 2012, 2013, 2014
Premio Nazionale Carriera Esemplare "Gaetano Scirea": 2013
FIFA Confederations Cup Team of the Tournament: 2013
FIFA Confederations Cup Castrol Index Top XI: 2013
UEFA Europa League Team of the Season: 2013–14
UEFA Champions League Team of the Season: 2014–15
C. Milan Hall of Fame
All-time UEFA European Under-21 Championship dream team: 2015
New York City's Ride of Fame: September 2015
Globe Soccer Awards Player Career Award: 2015
UEFA Euro All-time XI: 2016
MLS All-Star: 2016