Although anyolite is advertised as a variety of the mineral zoisite from Kenya and the Arusha Region of Tanzania, anyolite is actually a metamorphic rock composed of intergrown green zoisite, black/dark green pargasite, and ruby. A name derived from "anyoli", the Masai word for green. Anyolite is an ornamental stone mined near Longido, Tanzania. Due to its color contrasts, it is an effective gem and ornamental stone. The contrasting colors make anyolite a popular material for sculptures and other decorative objects. It was first discovered at the Mundarara Mine, near Longido, Tanzania in 1954.
Physical Properties of Anyolite
It is actually formed from the crystallized masses composed of ruby crystals that ate embedded in green zoisite. Hence, this resulting mineral stone adapts calcium aluminum silicate properties, being formed from prismatic crystals and massive columnar and granular habits. Calcium is a mineral found in mica mineral makeup.
Mohs Hardness: 6 to 7
Specific Gravity: 3.20 to 3.50
Refractive Index: 1.695(+/-)
Colour (General): Green with ruby inclusions and black spots.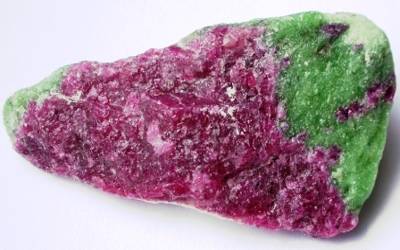 The term anyolite is however not an officially accepted term for a metamorphic rock. It is said to be named after the Maasai word anyoli, meaning "green." Anyolite is also referred to as ruby in zoisite or Tanganyika artstone.
Anyolite has a strong life-force energy that makes it an excellent healing stone for the entire body. It emanates positivity in all aspects of life. It is a metamorphic rock consisting of a granular mass of bright green chrome-zoisite with minor black (in fact very dark green) pargasite (commonly both as grains a few mm diameter), containing conspicuous coarse porphyroblasts of purplish red corundum (var. ruby) which may be up to several centimeters across.
In 2010 it was suggested that a 2 kilogram stone known as the Gem of Tanzania owned by the defunct company Wrekin Construction and fraudulently valued at £11 million was actually a lump of Anyolite worth about £100, although it was eventually sold for £8000.
Information Source: