The latest study, published in the journal Nature Aging, discovered that seven hours of sleep is best for middle-aged and older persons. The study discovered that sleeping for more than seven hours was connected with a decreased ability to recall, learn new things, focus, solve issues, and make judgments.
According to experts from the University of Cambridge and Fudan University, seven hours of sleep is the perfect amount for adults in their middle and upper ages, with too little or too much sleep connected with lower cognitive function and mental health.
Sleep is essential for cognitive function and maintaining healthy psychological health. It also promotes brain health by eliminating waste materials. Sleep patterns often change as we become older, including trouble falling and staying asleep, as well as decreasing quantity and quality of sleep. These sleep disruptions are hypothesized to contribute to cognitive decline and psychiatric illnesses in the elderly population.
Scientists from the United Kingdom and China analysed data from over 500,000 persons aged 38 to 73 years from the UK Biobank in a study published today in Nature Aging. Participants were interviewed about their sleeping habits, mental health, and well-being, and they were put through a battery of cognitive tests. Brain imaging and genetic data were available for almost 40,000 of the study participants.
A good night's sleep is essential at all stages of life, but especially as we age. Finding techniques to improve sleep for older individuals may be critical to maintaining excellent mental health and wellbeing and minimizing cognitive loss, especially for patients with psychiatric disorders and dementias.

Professor Barbara Sahakian
The team discovered that both insufficient and excessive sleep duration were associated with poorer cognitive performance, such as processing speed, visual attention, memory, and problem-solving skills, by analyzing these data. Seven hours of sleep each night was found to be the best amount of sleep not only for cognitive performance but also for good mental health, with people reporting more symptoms of anxiety and sadness and lower overall wellbeing if they slept for longer or shorter periods of time.
According to the researchers, one possible explanation for the link between insufficient sleep and cognitive loss is disturbance of slow-wave or 'deep' sleep. Disruption to this type of sleep has been shown to have a close link with memory consolidation as well as the build-up of amyloid — a key protein which, when it misfolds, can cause 'tangles' in the brain characteristic of some forms of dementia. Additionally, lack of sleep may hamper the brain's ability to rid itself of toxins.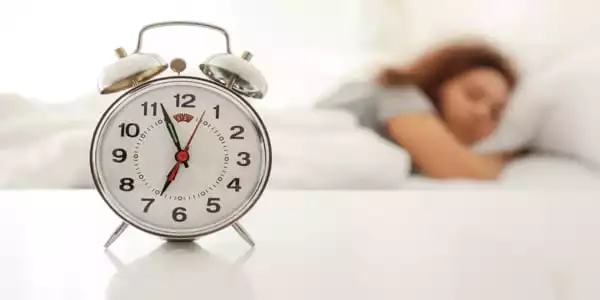 The researchers also discovered a link between sleep duration and alterations in the structure of brain regions involved in cognitive processing and memory, with higher changes linked with more or fewer than seven hours of sleep.
A regular seven hours of sleep every night, with little variation in duration, was also beneficial for cognitive performance as well as good mental health and welfare. Previous research has also linked disturbed sleep patterns to increased inflammation, indicating an increased susceptibility to age-related disorders in the elderly.
Professor Jianfeng Feng of Fudan University in China stated: "While we cannot declare clearly that too little or too much sleep causes cognitive impairments, our research of individuals over a longer period of time appears to corroborate this concept. However, the reasons why older individuals have poorer sleep appear to be complex, impacted by a mix of our genetic makeup and the development of our brains."
According to the researchers, the data show that insufficient or excessive sleep duration may be a risk factor for cognitive deterioration in old life. Previous research has found a link between sleep length and the likelihood of acquiring Alzheimer's disease and dementia, both of which include cognitive loss as a hallmark symptom.
One of the study's authors, Professor Barbara Sahakian of the University of Cambridge's Department of Psychiatry, stated: "A good night's sleep is essential at all stages of life, but especially as we age. Finding techniques to improve sleep for older individuals may be critical to maintaining excellent mental health and wellbeing and minimizing cognitive loss, especially for patients with psychiatric disorders and dementias."